Saturated In Sin is the sixth album from English death metal band Van Helsing, released on December 1, 2003. It is preceded by 2000's It Eats Your Face and followed by 2005's Bloodsoaked Bastards. It marks an addition of a more technical aspect to the guitars and drums.
Track listing
"Redemption By Bloodshed" - 6:00
"Chamber of Satan's Whores" - 4:55
"The Hand of Devouring" - 8:00
"Eaten Into Submission" - 4:34
"Liquid Flesh" - 7:35
"Stabbing the Eye of the Witness" - 8:40
"Gorging On Marrow" - 9:04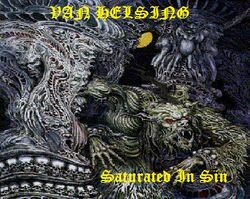 Community content is available under
CC-BY-SA
unless otherwise noted.