Agent File # 0450806

Full Name
Samuel Leo Fisher
Callsigns
Panther (3E)
Paperboy
Matchwood (4E)
DeepBlue (USN)
Zero (ROS)

Known Aliases
Jean-Pierre Martin
Vladimir Stravinsky
François Dayreis
Various others
Born
17 April [REDACTED] (approximate age around early 40s to mid 50s)
Birthplace
Towson, Baltimore County, Maryland, U.S.A.
Rank
LCDR (O-4), U.S. Navy (Retired)
Family
Sarah (Paternal Grandmother) †
[NAME REDACTED] † (Father)
[NAME REDACTED] † (Mother)
Regan Burns † (Ex-wife)
Sarah Fisher (Daughter)
Nationality
U.S. citizen with no criminal record
Occupation(s)
Acting Commander (under Fourth Echelon)
Special Consultant (Paladin 9 Security)
Freelance Operative
NOC (non-official cover) Operative
Field Agent ["Splinter Cell"], (Splinter Cell Program, under Third Echelon)
CIA (SAD) Ops Officer
Navy SEAL Operator
Hair
Brown-Black (Graying)
Eyes
Green (Hazel Tint)
Height
1.77 m (5 ft. 10 in.)
Weight
78 kg (170 lbs.)
Affiliations
Fourth Echelon
Paladin 9 Security (Briefly)

Third Echelon (Unaffiliated, covertly under National Security Agency)
Splinter Cell Program (under Third Echelon)
Joint Special Operations Command
Central Intelligence Agency
United States Navy

Education
Bachelor of Science, Political Science - United States Naval Academy
Scars and Marks
Medium size visible scar on left side of forehead near temple
Status
Active (as of post-2011, Reinstated by POTUS)
Samuel "Sam" Fisher (LCDR, USN-Ret.), callsign: Zero, is a former senior field intelligence operative of the "Splinter Cell" program for Third Echelon, an ultra-secret sub-branch within the National Security Agency (NSA) that anticipated and responded to crises of information warfare ("a war that is hidden from the media and the ordinary man on the street"). His job usually involved him dismantling and sabotaging terrorist organizations in various parts of the world that have plans for global terror. Fisher is a master in the art of stealth, trained in various undercover and covert infiltration tactics. He not only specializes in night-time combat but in urban warfare tactics and fieldcraft-related skills as well. He is also highly trained in Krav Maga and can speak and understand (and occasionally can also read) a wide variety of foreign languages including Russian, French, German, Korean, Arabic, Chinese, Farsi, and Spanish among others.
Throughout his illustrious career, Fisher has been sent on numerous missions of uncovering and preventing mass murder, genocide, warfare, and world conflicts. From his mission of preventing a digital crisis, to his mission of stopping terrorists unleashing a chemical weapon, and his objective of preventing World War III, his life as a dangerous double agent, a wanted man on the run from Third Echelon, working as a freelance covert operative, consulting on security contracts for a private military company, to now commanding an elite "blacker-than-black" Special Ops group known as "Fourth Echelon", comprised of an elite small team of special operators and counter intelligence agents that report directly and only to the President of the United States.
Biography
Early life
Samuel Leo Fisher was born in the affluent Baltimore suburbs of Towson, Maryland, on April 17, [REDACTED]. His father was a 25-year veteran case officer in the Central Intelligence Agency (CIA) who posed as a Foreign Service officer stationed in Moscow during the Cold War. While not much is known of his childhood, it is known that shortly after his parents died when he was a child, Sam was raised by his paternal grandmother, who later enrolled him in a Military Boarding School where he learned to focus his energy, hone his skills, and to either follow orders or be sure to hide the evidence.
After graduating from military school, he went on to attend the United States Naval Academy, where he became an expert member of the intramural karate team. In late 1980, Sam graduated from the Naval Academy with a bachelor's degree in Political Science and was commissioned an Ensign in the United States Navy.
Intelligence Work
Upon graduating from the Intelligence Specialist "A" School at the Navy and Marine Corps Intelligence Training Center, Fisher was stationed at Recruit Training Command Great Lakes in Illinois, where he spent nearly three years as an intelligence analyst. Sometime during this period, he briefly worked for the CIA under "detached duty" status. Not much is known about Fisher's time in the CIA other than that he saw action in Soviet-occupied Afghanistan, where he participated in Operation Cyclone, in which he covertly supported and supplied weapons to the Mujahideen rebel forces who were fighting against the Soviet Army. In the middle of the operation, Fisher was forced to hide under dead bodies to avoid being killed. He also saw action in the former East Germany and in "other Soviet satellite countries leading up to the collapse of the USSR."
At some point during the mid-1980s, Fisher was stationed at Rhein-Main Air Base in Frankfurt, Germany, where he later met and married Regan Burns (in 1984). Within a year into their marriage, Regan gave birth to their only child whom they named Sarah (born 31 May 1985) after his grandmother. They eventually divorced after three years of marriage, and Regan went back to her maiden name. She soon died of ovarian cancer many years later (sometime in 2000).
Military Service
At some point prior or around that time, Fisher went on to pursue a career as an elite Navy SEAL (SEa-Air-Land) and applied for the SEAL training program. After passing the selection process, he was accepted and invited to Basic Underwater Demolition/SEAL (BUD/S) Training at the Naval Special Warfare Center. Upon graduation from BUD/S Class 152 in 1987, Fisher moved on to basic parachute training at the U.S. Army Airborne School (also known as "Jump School") in Fort Benning, Georgia, where he learned a number of skills in air insertions including high-altitude (HALO/HAHO) parachuting, fast roping and rappelling. He then moved on to SEAL Qualification Training (SQT) (formerly known as SEAL Tactical Training (STT) during the late 1980s), acquiring several skills such as long-range reconnaissance, combat diving, sharpshooting, close quarters combat (CQB), demolition and many others. Following his completion of SQT, Fisher attended SEAL Delivery Vehicle School and was then placed on board SEAL Delivery Vehicle Team 1 (SDVT-1), where he earned his Special Warfare Badge (or "SEAL Trident", around the fall of 1988) and served as an assistant platoon commander. He received the Navy Commendation Medal for his performance with SDVT-1. While with SDVT-1, Fisher participated in several clandestine missions, specifically the protection of merchant shipping in the Persian Gulf during the latter moments of the Iran-Iraq War.
In late-December of 1989, Fisher was placed into a CIA task force and took part in a raiding operation on a bank during Operation Just Cause in the U.S. invasion of Panama when he assisted the team that went into the building searching for some of then-General Manuel Noriega's drug money (which they seized) as well as collect information and documents regarding the dictator's money laundering activities which later culminated in Noriega's arrest by U.S. forces on criminal charges of drug trafficking and racketeering.
Shortly after the conflict in Panama ended in January 1990, Fisher was deployed to Iraq, where he spent several months leading up to the Gulf War "sleeping in a ditch on the road between Baghdād and Kuwait" during the Iraqi invasion of Kuwait in August of that year (i.e. Operation Desert Shield) and was present once the Western military intervention by the U.S.-led coalition forces began at the beginning of the Gulf War itself in January 1991 (i.e. Operation Desert Storm). Around this period, he was assigned to SEAL Team 3 (ST-3) where he served as a platoon commander. While with that SEAL Team, Fisher had conducted several combat operations throughout Iraq and led ground-assaults around Kuwait during Desert Storm.
One particular combat operation proved disastrous when Fisher led a squad within ST-3 on a sneak-and-peek mission in southern Iraq in late-February of 1991. The four-man SEAL team (comprised of Fisher, as squad leader, fellow SEAL members Jeff Bradley and Jon Goodin, and a fourth SEAL known only by the callsign "Husky") was scouting for remnants of Iraqi troops during a routine foot patrol while advancing through "a highway in al-Dīwānīyah leading to the capital of Baghdad" when the team was ambushed by soldiers of Saddam Hussein's elite Republican Guard. Of the four SEAL team members, only two were K.I.A.; Bradley died instantly from a roadside bomb and Goodin died from being peppered by small arms fire. Although Fisher survived, he was subsequently captured by the enemy. He was dragged away and taken to an abandoned school to be tortured for information regarding their mission in the region. He was rescued soon after by "Husky", who survived the attack after being knocked unconscious and left for dead thus escaping capture. "Husky" was told that Fisher was missing and presumed K.I.A., then ordered to find cover, hold position, and wait for evac. However, "Husky" defied orders and set off to rescue his squad leader. They were eventually extracted by helicopter after being saved by an airstrike conducted by two U.S. fighter jets while they were forced to defend their position against an assault by Republican Guard soldiers.
Around the latter moments of the Gulf War, Fisher served in a Joint Special Ops Task Force (comprised of his SEAL Team and Marine Division Recon) attached to the aircraft carrier USS Nimitz (CVN-68) where the task force was stationed to conduct various combat missions during the liberation of Kuwait; his actions during one of those missions in then-occupied Kuwait earned him the Silver Star for displaying exceptional heroism (according to his superiors).
Following his exemplary service during the Gulf War, Fisher's dedication and finely tuned field skills led to him receiving numerous commendations. Soon after he was promoted to Lieutenant Commander, recruiters for the Naval Special Warfare Development Group (DEVGRU/SEAL Team 6), the U.S. Navy's highly classified counter-terrorist unit within the Joint Special Operations Command (JSOC) took notice of his abilities and approached him about joining their ranks. Upon successful completion of an Assessment and Selection Course, Fisher went on to the Operator Training Course. After completing the course, Fisher was inducted into DEVGRU. While with DEVGRU, Fisher participated in several counter-terrorist operations in various hotspots such as Senegal, Colombia, Somalia, Burma (also known as Myanmar) and Bosnia. In Senegal, Fisher participated in an operation to hunt down and eliminate a French black market arms dealer who had been arming both sides of a brush war between Mali and Mauritania. Fisher's team eventually tracked down the arms dealer in Dakar where they assassinated him after weeks of searching through the jungles along the Senegal-Mali border.
In Colombia, Fisher took part in a hazardous mission in Norte de Santander to rescue a Marine Recon operator on loan to the Colombian Army named Lt. Douglas Shetland, who was captured after his unit was ambushed by FARC (Revolutionary Armed Forces of Colombia) guerrilla forces during the Selva Verde operation. Since a full rescue operation may not have reached Shetland in time, Fisher decided to disobey orders and went solo to keep Shetland from spilling any information to the enemy. Colonel Moore, commander of all U.S. military forces in the region, ordered him to stand down and not to leave the base, but conceded, telling Fisher, if he left the base he would be on his own. After he snuck off the base avoiding his fellow SEALs, Fisher made his way through the jungle and a guerilla-controlled village to the bunker where Shetland was being held, but was discovered, and put in a cell. After escaping from his cell, Fisher retrieved his confiscated gear and rescued Shetland.
Fisher was later given a staff assignment at Special Operations Central Command (SOCCENT) in Tampa, Florida, where he spent a year of shore duty assisting in the operational planning of SDV missions. After being awarded the Defense Distinguished Service Medal, Fisher spent time as a SEAL instructor at Naval Amphibious Base in Little Creek, Virgina. Upon receiving his honorable discharge from the Navy in September of 1996 after 20 years of outstanding service, Fisher immediately sought to continue working for the CIA.
Rejoining The CIA
Before Fisher could be re-hired by the Agency, he had to go through background checks, take the entrance exam, and go through a series of interviews and psychometric, numerical reasoning, psychological, psychoanalytical, aptitude, and polygraph tests. Upon passing the entrance and psychological examinations, Fisher was accepted as a "Career Trainee". After an orientation period, he was sent to "The Farm", the CIA's secret training facility in Camp Peary, Virginia, for intensive operational training. There, he went through the Clandestine Service Trainee (CST) program, which trained him in so-called "operational intelligence" or "tradecraft" skills. This means Fisher was taught to become a master in the finer points of espionage - everything from recruiting foreign assets to detecting surveillance to clandestine communications methods as well as infiltration and exfiltration techniques. While at The Farm, Fisher received exceptionally high marks for physical endurance, logic, and psychological ops exercises.
Employment at NSA
After training, Fisher was given official cover status (which means he became an operations officer posing as an U.S. government employee under a diplomatic post and therefore with diplomatic immunity if ever caught in an act of espionage). His cover was that of a Defense Department attaché due to his exemplary skills with intel (or intelligence) and his knowledge of politics. He was then assigned into the Special Operations Group of the CIA's Special Activities Division. As a paramilitary operations officer, Fisher's clandestine and covert duties took him to various locations around the world including North Korea, Russia, Panama and Belgrade (during the NATO bombing campaign). He was eventually assigned for a few weeks as a senior member of a security detail to a provisional joint CIA-NSA task force investigating cyber terrorism against American interest in Europe (resulting in a letter of recommendation from his superior). During the task force assignment, Fisher's exemplary work and his career profile caught the attention of an NSA official named Colonel Irving Lambert, USA (Ret.), who contacted Fisher and made him an offer of employment with the NSA. After accepting the offer, Fisher was subsequently put through a thorough medical and psychological exam, a polygraph interview and an extensive background investigation. Upon successfully completing the entire application process, Fisher was selected to serve in a newly-established top-secret directorate within the NSA tasked with protecting critical U.S. information systems by spearheading the American information warfare initiative.
Third Echelon Initiative
Dubbed "Third Echelon", this new initiative was formed in 2003 in response to the growing use of sophisticated digital encryption to conceal potential threats to the national security of the United States. For decades the NSA has engaged in the passive collection of moving data by intercepting communications en route. But as communications become more digital and sophisticated encryption more expansive, passive collection is simply no longer sufficient. So hoping to bridge the chasm between simply gathering actionable intelligence and acting on that intelligence, the NSA formed Third Echelon as its own in-house covert operations unit.
Commanded by Colonel Lambert, Third Echelon marks a return to "classical" methods of espionage, enhanced with leading-edge surveillance and combat technology for the aggressive collection of stored data in hostile territories. Instead of filtering the world through satellites and antennas, Third Echelon field operatives, designated as "Splinter Cells", physically infiltrate dangerous and sensitive enemy locations to gather the required intelligence by whatever means necessary. Their prime directive, in a nutshell, is to do their jobs while remaining invisible to the public eye. In other words, they go back to the nitty-gritty world of human spies out there in the field, risking their lives for the sake of taking a photograph or recording a conversation or copying a computer hard drive. They're authorized to work outside the boundaries of international treaties, but the U.S. government will neither acknowledge nor support their operations.
"Splinter Cell" [Under Third Echelon]
("The Original Splinter Cell")
Colonel Lambert believed Fisher would be the perfect candidate for an experimental Black Ops project within Third Echelon called the "Splinter Cell Program" due to his impressive abilities, skills and combat experience. Although only told that he would be tasked with handling covert missions either too sensitive or too risky for traditional entities such as the CIA or standard Special Operations Forces, Fisher exuberantly accepted the position of being the first recruit of the program. Afterwards, he was then told the details of Third Echelon and his training began. To prepare him for such work, Fisher was sent to "The Farm" for a period of over several weeks undergoing an indoctrination screening process in which he was evaluated and tested to see if he possessed the skill and ability to undertake dangerous and covert solo missions for the organization while acting in total discretion.
While at The Farm, Fisher went through Covert Ops training, which taught him how to be a ghost, capable of moving through areas completely undetected, by not only to the average eyes, but electronic eyes as well. He also underwent advanced, extensive training for hand-to-hand combat, torture and interrogation resistance, explosives handling and defusal, moderate computer hacking (cryptography), covert intelligence gathering (special recon), advanced stealth tactics (concealment, infiltration techniques, exfiltration, silent movement, and silent combat on a solo operating scale), urban warfare, surveillance, to escape and evasion (E&E) methods, among many other useful skills vital to his survival in the field. Not to mention highly advanced all-around combat training. He was trained by Colonel Lambert himself (while being observed by Anna "Grim" Grímsdóttir, at the time Third Echelon's technical director). Because of his military experience, Fisher excelled in his training, receiving tremendous high marks for physical stamina, marksmanship, and concealment during exercises.
After completing the screening process, Fisher was inducted into the Splinter Cell program and informed of Third Echelon's mandate. He was told that as an elite "Splinter Cell", a remote team would be supporting him. He would be used in situations where more than one operative - even though highly secret - would arouse too much attention. His job would be to infiltrate secure installations, seize critical intelligence, destroy dangerous data or equipment, and neutralize the enemy as needed, without leaving a trace. The doctrine of Third Echelon is that although killing may compromise secrecy, "the choice between leaving either a witness or a corpse is no choice at all." This unconventional status would allow him to disregard any law, agreement, or framework of ethical behavior in order to accomplish a mission (i.e. "Fifth Freedom"). As Colonel Lambert told Fisher "all means are acceptable." For example, he may kill in combat or by assassination, may torture or kidnap people, may deploy on U.S. soil, and may even spy on other U.S. government agencies. However, if he were to ever be captured or killed, the U.S. government would disavow him, either by claiming that he has gone rogue or by denying that he was affiliated with U.S. intelligence at all.
Georgian Information Crisis (2004)
For his first trial assignment as the first official Splinter Cell, Fisher was dispatched to the former Soviet Republic of Georgia. On 7 October 2004, the CIA had lost contact with Alice Madison, a CIA operations officer who was monitoring widespread communication shortages plaguing Georgia. A second officer, William Robert Blaustein, was inserted into the Georgian capital of Tbilisi to locate Madison, only to drop from contact four days later.
Fearing for the lives of American agents compromised at the hands of a suspected terrorist effort, Third Echelon activated Fisher and inserted him into T'bilisi on 16 October. He was ordered to locate the two missing agents and evaluate the situation. During his investigation, Fisher discovered that Blaustein and Madison were killed for getting too close to information Georgian president Kombayn Nikoladze needed to protect. Nikoladze had been waging a campaign of systematic ethnic cleansing and mass murder against the neighboring Muslim population of Azerbaijan in an attempt to seize that country's vast oil resources.
NATO intervened in the situation and pushed most of the Georgian commandos from Azerbaijan, with only a few well-hidden cells remaining. One of those cells, entrenched in an oilrig on the Caspian Sea, was exchanging data with the presidential palace in Georgia via a secure network. Hours after a successful U.S. attack on the oilrig, Nikoladze went underground and retaliated by initiating an information crisis in the U.S., using advanced computer algorithms developed by Canadian computer hacker Phillip Masse to wreak havoc upon America's electronic infrastructure. Fisher was dispatched to hunt down Nikoladze and stop the crisis.
After a couple of difficult missions in which Fisher infiltrated CIA headquarters in Langley and the Nadezhda Nuclear Power Plant in northern Russia, Grímsdóttir and a team of her fellow analysts were eventually able to trace communications (via a microwave relay) between Nikoladze and the Chinese Embassy in Yangon, the capital of Myanmar (formerly known as Burma). Fisher discovered that Nikoladze was working with rogue Chinese general Kong Feirong to develop nuclear weapons.
In a desperate act of defiance against the U.S., Nikoladze arranged the immediate, live webcast executions of the captured U.S. soldiers. Fisher, however, was able to rescue the captives in time. Following the rescue, Nikoladze returned to the Georgian Presidential Palace in order to retrieve a nuclear suitcase bomb codenamed the "ARK", which was later placed on American soil. Infiltrating the Georgian Presidential Palace, Fisher assassinated Nikoladze, ending the information crisis and stopping Georgia from detonating the ARK.
As Nikoladze had been neutralized, Phillip Masse was still on the loose. Seeing as how he could still be a threat to the free world through digital means, Fisher was sent to the Kola Peninsula in northern Russia to eliminate him. After killing Masse outside a factory not far from Severmorsk, Fisher was ordered to go to a nearby submarine port somewhere on the coasts of the Kola Peninsula to prevent a threat of a loose nuclear weapon from being retrieved from the Vselka, a Typhoon-Class nuclear submarine. His mission was to stop Colonel Alekseevich's remaining troops from taking control of the Vselka. In his efforts, Fisher was able to raise the sub to the surface in order to board the vessel and disable Alekseevich's soldiers from using it. To prevent a threat from losing a nuclear weapon, Fisher discovered that they were unable to retrieve the nuclear weapon and were spared by him. Fisher escaped the submarine via a torpedo launch tube.
Indonesian Crisis/LAX Incident (2006)
In 2006, nearly two years after the crisis, the U.S. established a military presence in the nation of East Timor to train that country's military forces in their fight against anti-separatist Indonesian guerrilla militias. Foremost among those Indonesian militias was the Darah Dan Doa (Blood and Prayer), led by Suhadi Sadono. A Charismatic militia leader, Sadono once trained by the CIA to help fight Communist influences in the region, had grown resentful of the U.S. support of East Timor. Sadono initiated a suicide bombing and follow up attack on the U.S. Embassy to Dili, capturing a number of U.S. military and diplomatic personnel including the CEO of the private military company (PMC) Displace International: Douglas Shetland, Fisher's old friend and comrade whom he rescued during a mission in Colombia some years prior.
On 28 March, Fisher was sent to infiltrate the embassy and gather intelligence on the Darah Dan Doa. He succeeded in his mission, and Delta Force retook the U.S. Embassy. However, Sadono escaped and the U.S. launched a military campaign on Indonesian soil in an attempt to hunt him down, much to the protests of the Indonesian government.
After following trails which led to a Cryogenics Lab in Saulnier, Paris, on a train heading for Nice, in the streets of Jerusalem, and infiltrating the jungles of Jakarta, Fisher ultimately learned that Sadono had masterminded a scheme known as "Pandora Tomorrow", by placing a series of biological bombs (ND133s) equipped with weaponized hantavirus on American soil. Every 24 hours, Sadono made encrypted phone calls to each of the bomb carriers to delay the release of the virus. If he was killed or detained, the virus would be released and millions of Americans would die. Because Sadono was fighting on the front lines in the conflict, the U.S. couldn't risk killing him, and was forced to withdraw its forces.
Fisher was sent to infiltrate Darah Dan Doa strongholds in order to learn the location of the Hantavirus bombs. Shetland and Displace International assisted him in this endeavor. Fisher ultimately learned the location of the bombs, and other Third Echelon field operatives (then SHADOWNET operatives) were sent in to neutralize them, bringing an end to Sadono's threat against the United States.
Third Echelon decided to capture Sadono alive instead of merely assassinating him, due to the problems created when Fisher assassinated President Nikoladze during the Georgian Information Crisis.
Although Fisher managed to capture Sadono, Third Echelon learned that a rogue CIA officer, Norman Soth, had acquired the last hantavirus-armed ND133, and intended to detonate it at Los Angeles International Airport (LAX). Soth had participated in Operation Redbeard, establishing U.S.-friendly guerrilla cells in Indonesia to fight Communism. One of these cells was Sadono's group, the Darah Dan Doa. However, the U.S. government pulled support of Operation Redbeard and ended up supporting the Timorese, leaving Soth on his own. Soth eventually went underground and aligned himself with Sadono and the DDD, becoming Sadono's chief bodyguard. However, Soth had no interest in Sadono's cause, and merely wanted to strike back at the U.S. federal government for betraying him years earlier.
Fisher infiltrated LAX, killed Soth and his group of terrorists (disguised as airport workers and security guards), and prevented the detonation of the last hantavirus-armed ND133, which was disabled by the LAPD bomb squad before it was deployed.
NSA Mole and Stolen Weapons Cache
In August 2006, four months after the incident at LAX, Fisher was sent on a mission to discover the NSA mole, and anyone who was behind the plot to steal an NSA weapon cache to sell to foreign terrorists. He infiltrated a steel factory in Warsaw, Indiana, eavesdropped on Agent Ernest (then knocked him out), and captured the mole, Agent Frasier, for later interrogation. He successfully located the weapon cache.
Information Warfare Attacks/East Asian Crisis (2007)
In 2007, a year after that incident, Fisher was dispatched to a lighthouse outside Talara, Peru, on 24 June, to locate Bruce Morgenholt, a missing computer programmer who worked on deciphering Phillip Masse's algorithms, which were designed for information warfare attacks. Morgenholt had been captured by a Peruvian separatist group called "The People's Voice", led by Hugo Lacerda. Masse, whom Fisher assassinated in the winter of 2004, was a genius far ahead of his time, and the United Nations (UN) had extensively studied the algorithms he used to launch his attacks on the United States. The resulting "Masse Kernels" were being touted as the superweapon of the 21st century. Fisher was tasked with making sure they did not fall into the wrong hands.
During this time, tensions were running high between China, North Korea, and Japan, following Japan's formation of an Information Self Defense Force (I-SDF). Considering this to be a violation of the Post-World War II Constitution, Chinese and North Korean forces established a blockade in the Yellow Sea against Japanese shipping. Because Japan and the I-SDF are allies of the United States, the USS Clarence E. Walsh (CG-80), the U.S. Navy's most advanced warship, commanded by Captain Arthur Partridge, Fisher's old friend and former commanding officer, was dispatched to the Sea of Japan. The U.S. hoped this show of strength would get China and North Korea to back down.
Meanwhile, Fisher arrived too late to prevent Morgenholt's death. He was also unsuccessful in stopping the release of the Masse Kernels. Fisher was told to go onboard the Maria Narcissa, a cargo ship in the Pacific Ocean 90 km southwest off the Panama Canal, to kill Hugo Lacerda and track the weapon deliveries so Third Echelon could find out whom they were dealing with. After completing the mission, unknown parties used the algorithms to black out Japan and the Eastern Seaboard, including New York City. Japan had previously suffered similar attacks that crashed its economy, and Admiral Toshiro Otomo of the I-SDF contacted the U.S. government and warned them that North Korea and China were probably responsible. Meanwhile, following a lead discovered in the MCAS bank in Panama (the same bank Fisher raided in '89), Fisher traveled to New York to investigate Abrahim Zherkezhi, a man who worked with Morgenholt. He found out that Displace International was protecting him. He broke into the Displace International offices and learned of one Milan Nédich, later identified as "Milos Nowak", a Bosnian war criminal. Fisher found that Nowak/Nédich secretly relocated Zherkezhi to Hokkaido.
Fisher traveled to Hokkaido and, at a hotel bar, met with Shetland, who claimed that Nédich was clean. Regardless, Fisher infiltrated the hideout that Zherkezhi was being held in. There, Fisher killed Nédich, and witnessed Shetland murdering Zherkezhi. Shetland escaped and went underground.
Meanwhile, the U.S. show of force backfired when a North Korean "Super Silkworm" anti-ship missile sank the USS Walsh on 4 July, initiating a war between North Korea and South Korea/United States. Since North Korea claimed the missile was launched unintentionally, Fisher was sent to the Korean peninsula (including the South Korean capital city of Seoul), to determine if North Korea was truly responsible for sinking the Walsh, or if the Masse Kernels were involved.
Fisher eventually learned that Displace International had orchestrated the entire war. They used the Masse Kernels gained from Zherkezhi to hijack North Korea's missile systems, and sink the Walsh, in order to draw the U.S. into a war from which the company could profit through its status as a leading American defense contractor. Fisher also realized the mastermind behind the entire plot was none other than Douglas Shetland. Ultimately, Third Echelon sent him to Tokyo, Japan, to spy on a meeting between Shetland and Shetland's unknown accomplices, who shockingly turned out to be Admiral Toshiro Otomo of the I-SDF. At the meeting, Shetland betrayed the I-SDF, and a firefight subsequently broke out between Shetland's soldiers and I-SDF assault troops. Amidst the chaos, Fisher pursued Shetland to the roof, where, after a tense standoff, Fisher killed Shetland.
Even after Shetland's death, one loose end remained. Admiral Otomo had acquired a copy of the Masse Kernels from Shetland, and attempted to return Japan to Imperial rule by blackmailing the Japanese government officials and senior JSDF officers. He threatened to use the algorithms to launch a North Korean missile against a Japanese city. Because North Korea would be supported by China, and the U.S. would back Japan, the incident would spark World War III. Although Otomo's I-SDF black-ops forces managed to fight off G-SDF commandos sent to stop him, Fisher infiltrated Kokubo Sosho, the I-SDF's secret underwater base in Tokyo Bay and managed to put an end to Otomo's plans. Otomo attempted to commit seppuku (suicide), but Fisher saved his life and captured him. Otomo stood trial at the UN and took full responsibility for the entire Korean crisis, returning stability to the Far East.
After his actions in ending that crisis, Fisher was promoted to the position of a "senior field operations officer". His exemplary work has made him Third Echelon's premier operative.
JBA Operation/Red Mercury Plot (2008) In September 2007, shortly after those events, Third Echelon sends Fisher and John Hodge, a "Splinter Cell-in-training", to Iceland to investigate suspicious activities at a geothermal plant 20 km from Akureyri. There, they discover Islamic terrorists prepping a nuclear missile for launch. Fisher was able to stop the launching of the missile, but unfortunately Agent Hodge was killed after he disobeyed an order to stay hidden. During the mission, Fisher learned that a "drunk driver" had killed his daughter, Sarah. Overcome with grief, he was unable to concentrate on the operation and was pulled out by Colonel Lambert.
After many months, Fisher, devastated and depressed, begs for another mission to distract himself from his grief. Lambert reluctantly agreed and offered him "the most dangerous mission of his career" as an NOC (Non-Official Cover) agent (i.e. CIA and NSA agents who infiltrate criminal organizations, and are used for HUMINT (HUMan INTelligence) purposes. As with similar organizations, the U.S. government denies any involvement in their activities) - a scheme set by the NSA to explore the motivations of a domestic terrorist group known as John Brown's Army (JBA), Fisher became a notorious criminal by staging many bank robberies and mock killing sprees. He finally surrendered after a three-day hostage crisis and was sent to Ellsworth Federal Penitentiary in Kansas where he was placed into the same cell as JBA member Jamie Washington, and with his cooperation, they break out of prison. Once the two escaped, Jamie offered Fisher an invitation into the JBA.
At their compound in New York, Emile Dufraisne, the leader of the JBA, gave Fisher the order to shoot Cole Yeagher, the pilot of the helicopter they used to escape the prison. Fisher reluctantly complied and killed him, thus proving his loyalty to the JBA. He was then sent on a mission to take over a Russian oil tanker in the Sea of Okhotsk 200km off the Siberian Coast so that JBA ally Massoud Ibn-Yussif could use it to deliver one of the bombs. There, Fisher murdered the entire crew of the tanker and took it over.
After that, Fisher was sent with Dufraisne and Carson Moss, Dufraisne's head of security, to the Jin Mao Hotel in Shanghai, China, where Dufraisne was meeting with a Pakistani nuclear scientist, Dr. Abdul-Ahmad Aswat. CIA agent Hisham Hamza ordered him to record a meeting between Emile and Dr. Aswat. During the meeting, Aswat sells Emile several kilograms of a nuclear material called "Red Mercury". With Third Echelon on high alert, Fisher was told to collect a sample from the safe in the meeting room. While in the process, he was contacted by Moss, who ordered him via radio to steal notes from Aswat's hotel room. Fisher was then ordered to assassinate Dr. Aswat (because he was a "liability") in which he complied to keep his cover.
With both the Red Mercury and Dr. Aswat's notes, the JBA constructed a bomb that they wish to test. Fisher was given the task to plant the bomb and arm it on a cruise ship (called the Georgia Lee) off the coast of Cozumel, Mexico. He informed the situation about his mission and the bomb to Lambert, who in turn allowed Fisher to proceed with his "mission" while simultaneously gathering the deactivation codes to covertly disarm the bomb. After remotely disarming the bomb, which shifted the blame of the bomb's failure to detonate to someone else, Fisher not only furthered his cover with the JBA but save the lives of 2,156 passengers including the ship's crewmen. Unfortunately that decision cost the life of his partner in the JBA, Enrica Villablanca, the group's medical doctor and weapons specialist, who was shot dead while pleading for the mercy of Emile and his mercy wasn't much when he killed her for failure.
Fisher's trust was almost at its highest when Emile took him to Kinshasa in the Democratic Republic of Congo where they would meet with Alejandro Takfir and Massoud Ibn-Yussif, allies of the JBA. Fisher was able to bug the meeting and found out that all three terrorists each had Red Mercury bombs like the one he planted on the cruise ship. They planned to destroy Mexico City, Los Angeles and New York City. During that meeting something happened and Agent Hamza's cover was blown.
Fisher was given the order to assassinate Hamza, who had fled to the Congolese presidential palace in Kinshasa. He made his way through the streets, which was an all-out war zone between the rebels and government forces. He took up a position with a sniper rifle from the top of a radio tower adjacent to the palace. There, he decided against killing Agent Hamza and killed the Congolese rebels that had him hostage. Fisher safely extracted Hamza from the palace and covered his tracks by making it seem like Hamza was killed in the explosion of the palace.
When Fisher returned to New York it was showtime for Emile and his detonation of the Red Mercury bomb he had. He knew he couldn't let the bomb go off and that would mean he would lose his cover that night. But Fisher wanted to keep it for as long as he could but that was challenged when Lambert was captured by the JBA for sneaking around the complex and Emile gave him the order of killing him. Fisher reluctantly complied and shot Lambert, who later dies due to loss of blood sustained from his gunshot wound.
Soon after, Fisher's cover was blown. All the members of the JBA were after him and he had to defuse the bomb. With the help of fingerprint, retina and voice codes from the group's chief members as well as retrieving his equipment, he entered the labs below the headquarters, found the bomb and defused it. Fisher killed nearly all the JBA members including Dufraisne, whom he killed after a brief fight when Emile resisted surrender. But before he was killed, Dufraisne told Fisher about one more Red Mercury bomb Moss had. When SWAT came in he resisted arrest, incapacitated a SWAT officer, stole the man's uniform, and escaped to go find Moss. The NYPD pursued Fisher through New York, but he boarded a stolen Coast Guard boat that Moss was using to deliver the last bomb. After a brief scuffle, Fisher killed Moss, disarmed the bomb, and escaped the boat seconds before it was destroyed. He then went into hiding after being publicly labeled as the "wanted murderer" of then-Third Echelon Director Irving Lambert.
The Fisher Investigation (2009)
After the events that took place in New York and becoming a fugitive, Fisher had to sneak into the graveyard to visit his daughter's grave. There, he was arrested, taken into custody and interrogated. During this time, Fisher recalled past events and missions. One of many of the events he recalled from his past was a solo rescue he conducted to save his team's liaison while he was Navy SEAL (*read Military Service for in-depth info*). Other events also recounted was his time as a Splinter Cell agent, such as the infiltration of an oil rig during the Georgian Information Crisis.
Fisher eventually admitted that he had "killed" his handler, Colonel Lambert. However, Fisher stole the evidence against him and escaped, culminated in ending his employment with 3E.
Freelance Intelligence Work
The D.C. EMP Event /Third Echelon Conspiracy (2011)
Three years after going undercover during the JBA Operation, Fisher (who had resigned from 3E) came out of hiding to begin looking into the death of his daughter, Sarah. During his investigation, he found some suspects in Malta who may have been involved. While in Malta, Fisher was informed by his former 3E colleague, Grim, that a group of armed, low-level thugs are attempting to kill him in Valetta. After interrogating their leader, Dimitri Gramkos, he learned that Andriy Kobin was responsible for the death of his daughter. After neutralizing a number of Kobin's men while infiltrating his mansion, Fisher brutally interrogates Kobin about his daughter. Shortly after Third Echelon's Splinter Cell agents dropped in and apprehended him, Fisher was shipped to Price Airfield in Virginia for questioning.
Fisher, with Grim's assistance, was able to escape Price Airfield and went to the Washington Monument to meet his old acquaintance Victor Coste, the CEO and founder of Paladin Nine Security and the same SEAL who went by "Husky" that saved Fisher's life from a hostage situation in Iraq during the Gulf War. At the Washington Monument, Fisher received EMP devices from Coste and details about the PMC working with Third Echelon. Fisher headed off to White Box, which Black Arrow, the PMC with Third Echelon, was using to get EMP technology.
After leaving White Box, Fisher headed to the Lincoln Memorial to get an audio recording of a discussion between Tom Reed, the then-new Director of Third Echelon, and Lucius Galliard, the CEO of Black Arrow. Fisher learned about a group called "Megiddo" from an interrogation of Galliard and goes to Third Echelon HQ to recover equipment and data from Tom Reed's computers.
At Third Echelon, Fisher found Kobin again in Reed's office (which is/was the 3E Director's office) and interrogated him again for more information about the EMP bombs and his daughter, who Fisher found out to be alive at White Box. Kobin directed Fisher to Grim's office, to which Grim agreed that what he would find out was for the best. Fisher was enraged to find out that his best friend and 3E's late director had been lying to him about Sarah's death.
Fisher headed to the Michigan Avenue Reservoir, where the EMP bomb that was going to hit Sarah's apartment was located. After taking out the bomb, with assistance from Vic, Fisher headed to the White House. Grim devised a plan to get him near Reed: she shot Fisher in the shoulder and stripped him of his equipment.
Once the Splinter Cell agents had been dispatched by both Grim and Fisher, he brutally interrogated Reed, learning that Reed was the mole inside 3E during the JBA op and the reason that Lambert had needed to fake Sarah's death. Shortly afterwards, Sam spared Reed, thus leading Grim to execute Reed from point-blank range.
Some time later, Fisher raided an interrogation facility ran by Black Arrow, who were questioning Coste and forcing him to recall the time between the last moments of Sam's deep cover op in New York and the events involving the Third Echelon conspiracy and the EMP incident in the nation's capital. According to an unknown source, Sam successfully rescued his old friend and "brother", as Coste told his interrogators about how Sam referred to as being his "family".
Private Sector
Paladin Nine Security, Security Consultant
Blacklist Zero (2011-2012)
Six months after the events in D.C., Fisher went into retirement but was bored with civilian life. He was then visited at his home in Virginia by Coste who recruited him into Paladin Nine, as a special security consultant, much to his daughter Sarah's dismay. While working at Paladin Nine with Victor Coste and tech specialist Charlie Cole, Fisher took contracts and ran operations which he and Coste believed in for the PMC until an attack on a U.S. military base in Guam left Vic critically wounded by a fragmentation grenade left behind by a soldier who was actually a member of a group that perpetrated the attack known as "The Engineers".
Return To Government Work
Fourth Echelon (Special Missions Unit)
4E Psychological Report
The following is a report of Sam Fisher's updated psyche profile and his new position as the Field Commander & Lead Field Ops Agent of SMU 4th Echelon:
"Although these are my first interactions and observations of Commander Samuel Leo "Panther" Fisher, I feel that I'm finally getting a glimpse of the man behind the legend. He doesn't brag about what he's done or what he can do, but you can see his training in the way he moves and the critical assessment with which he evaluates his surroundings. If he were to read my evaluation, I'm sure he'd agree. [...] It's hard to pry details from the former Echelon agent. He is focused, to the point, and makes it clear when he's done with a subject. His mandate was never to seek out conflict, but to perform damage control before there was any evidence of a disaster. Fisher's skills and temperament ensure that he keeps a clear head under pressure and is always prepared, regardless of circumstance. I'm interested to see if he has a levelling influence on some of our more hotheaded Specialists such as Briggs or Kestrel. Though his sarcasm can seem abrasive to those who aren't familiar with him - and maybe even to those who are - it hides a deep thoughtfulness and attention to detail. He can see right into the heart of an issue, or person - I look forward to his assessment and his suggestions for the improvements we can make to our training program. [...] He doesn't want to talk about his daughter, but I feel that's more of a warning than an indication of any residual conflict between them. [REDACTED] (Comment_S. Fisher: Great observation, moving on.) Fisher is very much a solo operator, though he possesses a sense of duty to his colleagues and teammates and shows his affection through action. I'm hoping to draw him out of his shell and show him the benefits of working with the 4th Echelon Initiative. Based on his background as an instructor I feel he'll appreciate more than the resources we can offer him, but also gain some satisfaction in the influence he'll have on the new initiative within the Echelon Program, and his teammates. (Comment_S. Fisher: Is one of the benefits coffee, because I'm running low.)" - DoD Official [NAME REDACTED]
The Blacklist Attacks (2013)
Sometime after the attack on the U.S. military base in Guam, Fisher was later appointed by President Caldwell as the acting commander of a special operations and counter-terrorism unit called "Fourth Echelon (4E)", with Grímsdóttir as the unit's technical operations officer, on-loaned CIA agent Isaac Briggs as a new field operative and Charlie serving as the tech specialist at Sam's request. The unit was mandated to prevent a series of escalating terrorist attacks against U.S. interests known as "the Blacklist".
Sam was sent into Benghazi, Libya, to pick up a man who had walked into the CIA safehouse: Andriy Kobin, the same man Sam left behind at Third Echelon HQ in D.C., before it was destroyed. Sam went to Libya to extract Kobin, as he had information about the attack on Guam. Fisher freed and interrogated him, then imprisoned him on the Paladin, a custom-built cargo plane converted into 4E's mobile HQ. Following the buyers for Kobin's weapon, 4E goes to a terrorist training camp in Mirawa, eastern Iraq. Fisher infiltrated and discovered that the agent was Jadid, an ex-MI6 agent. Fisher then discovered a kill room with a soldier's corpse, and a message from a man Fourth Echelon identified as Majid Sadiq, the leader of the Engineers.The second Blacklist attack is set in Chicago, IL. The Engineers were trying to poison the city's water supply with weaponized syphilis, which Fisher managed to stop. Tracking down leads, Fisher goes to Paraguay to find Nouri, a source of Engineer soldiers. He breaks into his safe room and then extracts him under fire from a hit squad. Instead of imprisoning him, he turns him loose as an asset. Following intelligence gained from Nouri, Fisher goes to London to uncover what a sleeper cell is doing. Briggs provides sniper fire while Fisher infiltrates the mill. He sneaks into where they are deploying cargo, and plants a tracker on the cargo: a variant of VX nerve gas. He gets infected, but continues the mission. He is briefly captured by Sadiq, who is on-site, but Briggs rescues him and disobeys Sam's order to pursue Sadiq to save his life. Briggs is then taken off active duty.Intelligence gathered in London points to Iran as the force behind the Blacklist. Facing a possible war against the country of Iran, Fourth Echelon decides to visit the reconverted American embassy in Tehran (now Quds Force HQ) to uncover the truth. Fisher then escapes the embassy with data on the truth and Briggs picks him up in a van, being subsequently returned to active duty. They are pursued, and Grim decides to use the drone to free a path. They escape, and President Caldwell says that there was a "drone malfunction." The mission gives proof that Iran is not behind the attacks.The third Blacklist attack targets Philadelphia, Pennsylvania. The Engineers have held hostages on a metro train and also plan to bomb outside the subway terminals into the city streets, where Sam and Briggs cooperate and take out the Engineer driver with their snipers. Fourth Echelon is held up in thwarting the fourth Blacklist attack, American Fuel, by a virus implanted in the Paladin. With the combined efforts of Kobin and Fisher, the plane is kept from crashing at the last moment, but the attack goes through, and the continuity of government protocol is issued.The American Fuel attack was against a Liquid Natural Gas Facility in Sabine Pass, Louisiana. The Engineers introduced a virus into its fire suppression systems, then rammed a tanker truck into the facility. Fourth Echelon deployed Fisher into the facility to activate a terminal so Charlie could reactivate the defenses. From intel acquired on the ground from Navy SEALs, Fisher then chased after the High-Value on-site Engineer, interrogating him until he managed to get the fact that Sadiq was going to attack Site F directly. Sadiq raids the bunker of Site F, taking all the high government officials hostage. Sam surprises him and they engage in close combat. Sam manages to defeat him, but Sadiq claims that he'd already won, threatening Sam that if he kills him, all twelve nations that stand behind him will rise up in his defense. If he puts Sadiq on trial, he will spill every secret he knows about special operations, including Fourth Echelon. Leaving him with no choice, Sam employs the Fifth Freedom and unofficially imprisons him. Majid Sadiq was announced dead by President Caldwell, who relays it to the country without revealing the existence of Fourth Echelon or anyone's name on it. Sam than reunites with Victor Coste, who had recovered from his injuries and was in the process of interrogating an imprisoned Sadiq, seemingly in Guantanamo Bay.
Operation Watchman (2019)
Some time during 2019, six years after the Blacklist operation, Fisher (callsign "Matchwood") was deployed to Bolivia in order to recover sensitive intelligence data from a rogue CIA officer. Knowing the mission to be a difficult task, Sam has Grim (callsign "Paladin") contact CIA case officer Karen Bowman in order to borrow a Ghost Recon fireteam led by operative SSgt. Anthony Perryman (callsign "Nomad"). Sam's deployment takes him to a Unidad base in La Cruz, where he infiltrates the base ahead of the Ghost Recon team and assassinates the rogue agent prior to Nomad's arrival. Upon greeting Nomad, Sam hacks into the Unidad servers in order to erase all traces of the sensitive information while Nomad's team provides tactical support and security. While exfiltrating from the base, Sam discloses the nature of the intelligence to Nomad, revealing it to contain sensitive high-technology research and development that could "change the nature of warfare" and "put (the special operations community) out of business."Upon having a brief reunion with Bowman, Sam learns that Grim has another emergency for him to take care of, hearing the words "Empty Quiver" (U.S. military code for the seizure, theft, or loss of a functioning nuclear weapon) from the Joint Chiefs of Staff. Fisher compliments Nomad's skills and takes a brief coffee break with Bowman before returning to the Paladin.
Awards and Decorations
After 20 years of service as a high ranking officer of the U.S. Navy, Sam Fisher was not only qualified to wear his SEAL Trident and Basic Parachutist wings but also wore the following awards and medals he attained during his decorated career within the Naval Special Warfare Command (i.e. Navy SEALs):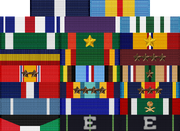 Personal Decorations
Navy Cross
Defense Distinguished Service Medal*
Silver Star
Purple Heart
Joint Service Commendation Medal
Navy & Marine Corps Commendation Medal
Navy & Marine Corps Achievement Medal, w/1 gold award star (2nd award)
Combat Action Ribbon, w/1 gold award star (2nd award)
Honorable Discharge Lapel Pin, Navy
* - DDSM Citation:
"The Secretary of Defense of the United States of America has presented the Defense Distinguished Service Medal to Lieutenant Commander Samuel Fisher, United States Navy, for exceptionally distinguished performance of duty contributing to national security and the defense of the United States. The distinctive accomplishments of Lieutenant Commander Fisher reflect great credit upon himself, the United States Navy, and the Department of Defense."
Unit Awards
Navy Presidential Unit Citation
Navy Unit Commendation
Service Awards
Navy Good Conduct Medal, w/4 bronze service stars (5th award)
Campaign and Service Medals
National Defense Service Medal, w/2 bronze service stars (3rd award)
Southwest Asia Service Medal (2nd award)
Kosovo Campaign Medal
Armed Forces Expeditionary Medal
Service and Training Awards
Sea Service Deployment Ribbon, w/4 bronze service stars (5th award)
Navy & Marine Corps Overseas Service Ribbon, w/3 bronze service stars (4th award)
Foreign Awards
United Nations Medal
NATO Medal (Bosnia)
Kuwait Liberation Medal (Saudi Arabia)
Kuwait Liberation Medal (Kuwait)
Marksmanship Awards
Navy Expert Rifleman Medal
Navy Expert Pistol Shot Medal
Other Accoutrements
Special Warfare insignia
Naval Parachutist Badge
Note
This character is the protagonist of the Tom Clancy's Splinter Cell video game franchise.