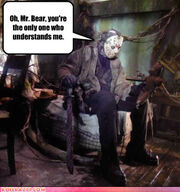 Saints Row: Jason Voorhees is a comedy 3D 2012 film where Jason Voorhees is the main protagonist instead of antagonist.
Cast
Thomas Dekker as Jason Voorhees
Chelan Simmons as Olivia Voorhees
Ryan Merriman as Steven
Steven Yeun as Jesse
Addy Miller as Joan Voorhees / Jason and Olivia's Daughter
Ken Foree as Ghostface
Tony Todd as Zombie Slaya, A retired rapper
Plot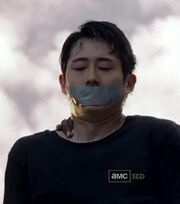 Jason Voorhees (Thomas Dekker) is a simple funny guy. He have a crush on Olivia (Chelan Simmons) when Jason ask Olivia for a Date Olivia ignore it and say that she need to review. Jason was sad and he talks to his Teddy Bear he call Mr. Bear. Later Jason's Friend Jesse (Steven Yeun) was going to visit Jason but Steven (Ryan Merriman) appear on his back and hit his head causing Jesse to sleep.And meets zombie slaya (Tony Todd) and Ghostface (Ken Foree). Jason is excited to meet zombie slaya because he is jason's favorite rapper, then steven bring Jesse into his house and Tied him with a tape and Gagged him with a Tape. Steven is annoyed on Jason so Steven try to kill Jason but Fails. The Next Day Jason try to convince Olivia to date with him and Olivia accept the Date making Jason Happy. Jesse wakes up and make him a bait to Jason if Jason don't stop asking Olivia to date with him he will kill Jesse. Olivia witness it and save Jesse. Then Jason ask Olivia to Marry Him and Olivia Reply "Yes". Olivia and Jason with Jesse Leave the Town and Go on Camp Crystal Lake. Jason tell Olivia that his Mother Pamela Voorhees die in a Heart Attack. When Jason Lost his Teddy he find it but Steven is holding it. Steven Said that he will Destroy the Teddy Bear if he don't break up with Olivia. so both fight and Jason defeated Steven. Steven said that he wil kill them all. Then Olivia and Jasons Wedding was held and some visitors was there Including Jesse. Steve came and was killed when a lamp burst and crushed him to death. after many months Olivia and Jason's Daughter Joan Voorhees (Addy Miller) was Born and they live happily ever after.
Characters
Jason Voorhees
image:5713196926 e903984d75.jpg
Portrayed by:
Thomas Dekker
First Appearance:
Saints Row: Jason Voorhees
Last Appearance:
Saints Row 2: Freddy Kreuger
Status:
Alive
Olivia
image:600full-chelan-simmons.jpg
Portrayed by:
Chelan Simmons
First Appearance:
Saints Row: Jason Voorhees
Last Appearance:
Saints Row 2: Freddy Kreuger
Status:
Alive
Steven
image:Ryan-merriman.jpg
Portrayed by:
Ryan Merriman
First Appearance:
Saints Row: Jason Voorhees
Last Appearance:
Saints Row: Jason Voorhees
Status:
Deceased
Jesse
image:Steven Yeun4.jpg
Portrayed by:
Steven Yeun
First Appearance:
Saints Row: Jason Voorhees
Last Appearance:
Saints Row 2: Freddy Kreuger
Status:
Alive
Joan Voorhees
image:Addy Miller 1.jpg
Portrayed by:
Addy Miller
First Appearance:
Saints Row: Jason Voorhees
Last Appearance:
Saints Row 2: Freddy Kreuger
Status:
Alive