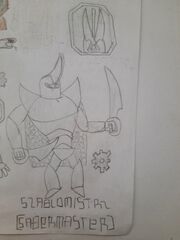 Sabermaster - one of the Neobionts from the Neobiontomania.
Profile on computer
Type: Metal
Character: Neutral
Height: approx. 2.15 m
Human Origin: No.
Sapient: yes
Systematics: Protozoan
Body Type: Armored Humanoid / Knight
Abilities: Strength, endurance, increased resistance to hot and cold, fencing skills, horn extension
Natural weapons: sabers, horn
Anatomy
Strongly built, he looks like a knight with a long, curved, flattened side horn. He can make sabers for himself (usually up to two, as it is quite a tiring process). There is a chain cape on his back (it is part of his body, it grows and can regenerate, but he does not feel pain). Probably descended from a single-cell colony that mutated into Saber-makers in a mysterious cataclysm.
Behavior
Courageous, faithful, intelligent and kind, although some are quite jovial.
Environment
A civilized being, so mainly cities (sometimes they also establish villages).
Skills
Very strong and tough, he can, for example, ram his opponents with a horn on his head. He fights well in hand-to-hand combat. The fact that it is made of organic metal also gives it a fairly high resistance to fire and ice.
Weaknesses
Sensitive to acids, electricity and plasma.
Food
As omnivorous as humans (for the supplement has very low nutritional requirements).
Known examples
Wendell's Sabermaster
Dwayne's Sabermaster
Translation to the another languages
English: Sabermaster
German: der Säbelmeister
Polish: Szablomistrz