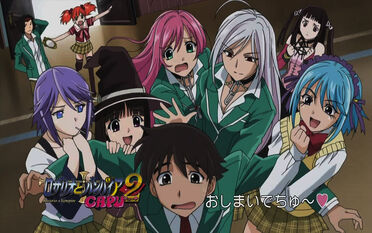 Rosario + Vampire is a 2018 comedy action fantasy film based on a anime show, starring Mason Cook and Jessica Belkin.
Summary
Tsukune Aono, an average teenager, is unable to get into any local high schools due to his poor grades. However, his parents are happy to have him enroll in a private school called Yokai Academy, which he discovers is a boarding school for monsters. The school teaches monsters how to coexist with humans, including disguising as them, but any real humans on campus are to be killed. Although he fears for his life, Tsukune befriends a beautiful vampire girl Moka Akashiya, who likes the taste of his blood. Fighting a school bully, he accidentally removes the rosario around Moka's neck, and discovers that she turns into a powerful vampire with a completely different personality.
Cast
Mason Cook as Tsukune Aono
Jessica Belkin as Moka Akashiya/Inner Moka
Chloë Grace Moretz as Kurumu Kurono
Nina Lu as Yukari Sendo
Holly Taylor as Mizore Shirayuki
Sophie Turner as Koko Shuzen
Sabrina Carpenter as Ruby Tojo
Daniel Huttlestone as Ginei Morioka
Ross Butler as Fang Fang Huang
Megan Lee as Ling Ling Huang
Gavin Casalegno as Hokuto Kaneshiro
Hal Sparks as the voice of The Bat
Cobie Smulders as Shizuka Nekonome
Maggie Lawson as Ririko Kagome
Emmanuelle Vaugier as Mako Yakumaru
Jon Cryer as Nurari
Sofia Vegara as Aspara
Nick Offerman as Tenmei Mikogami
Neil Patrick Harris as Okuto Kotsubo
Ariel Winter as Deshiko Deshi
Jayma Mays as Kasumi Aono
Chris Pine as as Kōji Aono
Anya Taylor-Joy as Kuyo
Josh Radnor as Issa Shuzen
Lucas Hedges as Akua Shuzen
Perla Haney-Jardine as Kahlua Shuzen
Madison Davenport as Kyōko Aono
Charlie Tahan as Natsuhiko Amaji
Danielle Rose Russell as Ran Otonashi
Camren Bicondova as Rin Otonashi
Isabelle Fuhrman as Ren Otonashi
Abigail Breslin as Kotori Yunagi
Sasha Pieterse as Tamao Ichinose
Joel Courtney as Saizo Komiya
Chandler Riggs as Kozo Kasahara
Elliot Fletcher as Kubisaku Nagai
Ansel Englort as Bozaburo Taira
Jennifer Stone as Keito
Violett Beane as Tonko Oniyama
Chelsea Kane as Shijimi Chono
Emma Kenney as Sumae Mizuno
Nicholas Hamilton as Tadashi Wanibuchi
David Mazouz as Morisaki
Colin Ford as Kotaro Ijuin
Quotes
Girl: So Moka and Tsukune are going out or something?
Girl: Huh. I don't really know them that well.
Girl: But then again I did hear the other somebody who they say Moka kissing Tsukune on the neck.
Girl: Whoa. Seriously.
Ginei: What kissing him on the neck?!
(Back with Fang Fang, Hokuto and Natsuhiko)
Fang Fang: Whoa, check it out. Whoa. It's so un real. Whoa.
Hokuto: There it is campus.
Natsuhiko: Wow. Hard to believe this is been for thousand years.
Fang Fang: It's beautiful don't you think?
Hokuto: We need to hurry. Let's check out the map. We'll be head it out right into the center of the campus. At least won't be traffic worried about.
Fang Fang: Yeah. You've got that right.
Hokuto: The sword is part of the statue. We should be clearing visible once we get close.
Natsuhiko: Whoa. Get a lot a that thing. Hey, I thought the world supposed to be desert it.
Hokuto: Oh, man. It's Ginei. He must cover the sword.
Fang Fang: Get out of here. I'm trying to distract them.
Hokuto: Are you sure.
Fang Fang: Don't worry about me. I'll find out and we meet at the statue.
Hokuto: Right. Becareful come on, Natsuhiko. Let's go.
Fang Fang: Good luck, my friends you gonna need it.
Ginei: Ahh! No way! You gotta be freaking kidding me!!!!
Girl: Who's out there?
Kou: (refering to Girl's outburst) Wrong place, wrong time we.
Tsukune: Eh, heh, heh.
Girl: You were peeping on us? You slime ball!
Tsukune: No. I swear. I was just passing by.
Gin: Looks like I better hurry while the iron's hot. Especially since now I know how to drag a wedge between Tsukune and Moka.
Moka: I hate perverts.
Hokuto: I think the building with the statue is right about here. I think. That sword can be anywhere.
Natsuhiko: Yeah, Ginei didn't destroy it. Let's keep looking.
Hokuto: Right.
Natsuhiko: Come on. over here. let's go.
Hokuto: Whoa. What is this? It's awesome. man. Natsuhiko, over here! Look up there.
Natsuhiko: Hey, that's it.
Hokuto: Natsuhiko, found it. Good job. That's it alright. It's gotta be.
Natsuhiko: Well, get a sword and let's get out of here.
Hokuto: Right. (Grunts)
(Fang Fang arrives)
Natsuhiko: Fang Fang.
Fang Fang: Guys. that Ginei's way too powerful. We have to get out of here.
Hokuto: Guys, get it.
Natsuhiko: Right. Fire! Okay, come on, guys.
Hokuto: Right!
Fang Fang: Okay.
Natsuiko: Guys, this is we're serious trouble.
Hokuto: We got to get that sword. Come on everybody pull.
All: (Grunts)
Natsuhiko: We've got a hurry!
Hokuto: The sword won't bunge. We've gotta get it out. Come on keep pulling. (grunts) Harder!
Natsuhiko: This isn't working. It's gotta be another way? Where's the map, Hokuto? Oh.
Hokuto: I've got it right here. Hey, look the ring it looks like it fits on the statue's finger. I've bet that will release the sword?
Fang Fang: Hurry, Hokuto!
Natsuhiko: Hey, it's cut lose. Ha, Hokuto alright. you're a genius.
Fang Fang: Let's get out of here, guys!
(Fang Fang, Hokuto and Natsuhiko runs away)
(At Newspaper Club)
Tsukune: Look it was all just big coincidence I was passing by right when they looked out. They don't buy it. Why would everyone believe me?
Ginei: Hey, you see that? Climb up and take a peek.
Tsukane: What for?
Ginei: To change things with Moka. Why else? Use the drum over there to climb up. Dude I don't have to tell you that Moka's smoking hot. I was howling first time I saw her. And I said to myself I definitely want her to join my pack.
Tsukane: Wait, Gin, what are you talking about? Aah! What the hell? The girls locker room?
Gin: You know no one likes the peeping tom, Tsukune. Poor Moka what do you think she do when you do I full you're doing just that. I told you this just things with Moka.
Tsukune: Hey, you set me up, you skunk bag!
Girl: Hey, did you guys see that? The window!
Girls: (Screaming)
Girl: Pervert!
Girls: (Screaming)
Tsukune: Argh!
Girl: Look is him!
Girl: Creep! Let's kick his ass! Hey, sicko! You're not getting away with this!
Girl: You're the peeping tom, huh?
Girl: Fess up you, sneeseball!
Tsukane: No. You've got it all wrong. I'm not the peeper. I swear.
Girl: No? Then, what are you doing in the window?
Girl: That sure look like peeping to me!
Tsukane: Well, you see...
Moka: Tsukane?
Tsukane: Moka?
Moka: It's that true? You peeped on them?
Tsukane: This is all just a big misunderstanding! I did look at them. But that's just...
Girl: Just confessed!
Tsukane: Oh, no. Not again. Wait, Moka!
Girls: So you are the peeper aren't you?
Girl: Even admit it!
Girl: You fifthy pervert!
(Girls beats Tsukane up)
(Tsukune Aono was suddenly screaming)
Natsuhiko Amaji: Hey, do you hear that?
Hokuto Kaneshiro: What? Sounds like someone's screaming.
Fang Fang Huang: What is it? What are you trying to say? It sounds like Tsukune is screaming. Trouble at the old mill? What, are you insane? Somebody fall through the ice? It's summer. Bobcat?
Natsuhiko Amaji: Tsukune's in trouble! Come on! Holy crap!
Hokuto Kaneshiro: Oh my God!
Fang Fang Huang: We should go.
Natsuhiko Amaji: Boy, that was embarrassing. Waliking in on Tsukune got beat up by those girls and called him the peeper. Wait a minute. Oh, we can't tell anyone about this. That is the last thing in the world we want to do. What a day! We've done everything in the world. So, I guess the only thing left to do is tell you that someone who framed Tsukune.
Kurumu Kurono: Good Lord!
Yukari Sendo: Oh, no!
Mizore Shiryayuki: Uh, any idea who it was, guys?
Natsuhiko Amaji: No, we didn't see his face. All we know is someone who framed him.
Fang Fang Huang: How are we gonna do that?
Kurumu Kurono: We should work together.
Yukari Sendo: Yep, we need to stop him.
Kurumu: What? Tsukane?
Yukari: Yeah, he was seen peeping in a girls locker room in campus.
---
Moka: Not them, Tsukune! Just kiss me!
(Moka, Kurumu, Yukari, Mizore, Akua, Kahlua, Koko, Ruby, Ling Ling, Deshiko, Ran, Rin, Ren and Kotori kiss Tsukune on the lips)
Tsukune: Aaaah! All fourteen of you?!
The Bat: Yeah. Me too, so pucker up.
Notes
Trivia
Tenmei Mikogami, Aspara, Kuyo, Issa Shuzen, Tamao Ichinose, Saizo Komiya, Kozo Kasahara, Kubisaku Nagai, Bozaburo Taira, Keito, Tonko Oniyama, Shijimi Chono, Sumae Mizuno, Tadashi Wanibuchi, Morisaki and Kotaro Ijuin are the main antagonists.
Tsukune becomes Temporary Vampire.
Community content is available under
CC-BY-SA
unless otherwise noted.