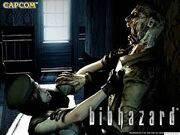 Resident Evil 
is based on the video game of the same name and a remake of the 
Resident Evil 
non-canon movie franchise. It is a 2016 horror movie and is for horror movie fans, fans of the games and Zombie movie fans.
Plot
Characters
Chris Redfield:
Jill Valentine:
Barry Burton:
Rebecca Chambers:
Albert Wesker:
Richard Aiken:
Joseph Frost:
Enrico Marini:
Forest Speyer:
Kenneth J. Sullivan:
Brad Vickers:
Kevin Dooley:
Lisa Trevor: 
Deaths
Kevin Dooley: Ripped apart by Cerberuses. 
Joseph Frost: Ripped apart by Cerberuses. 
Kenneth J. Sullivan: Decapitated and devoured by a Zombie. 
Forest Speyer: Pecked to death by infected crows. Shot in the head by Chris Redfield as a Zombie.
Richard Aiken: Devoured by a Neptune.
Enrico Marini: Shot in the chest by Albert Wesker. 
Albert Wesker (Human): Impaled by T-002. 
Weapons
Beretta 92FS Samurai Edge Custom: 
Beretta 96FS Samurai Edge Custom:
Colt Python Custom:
Remington 1866 Derringer:
Winchester Model 1897:
Benelli M3 Super 90:
Mossberg 590:
Hybrid Grenade Launcher:
M202 FLASH:
Flamethrower:
Creatures 
Zombie:
Cerberus:
Crimson Head:
Web Spinner:
Black Tiger:
Neptune:
Hunter:
Chimera:
Infected Crow:
Infected Adder:
Infected Wasp:
Yawn:
Plant 42:
T-002: 
Soundtrack 
Community content is available under
CC-BY-SA
unless otherwise noted.