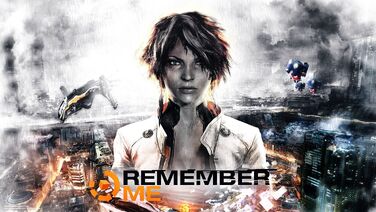 Remember Me is a science fiction action-adventure film based on the video game of the same name directed by TBA and produced by Drew Gars. The film stars Noomi Rapace as the main character, Nilin.
Plot
The film is about a memory hunter working for an underground resistance called the Errorists. At the start, she has been stripped of nearly all her memories by mega-corporation Memorize. With the help of a mysterious man named Edge, she goes on a quest to bring down Memorize and recover her lost memories.
Cast
Noomi Rapace as Nilin
TBA as Edge - Nilin's friend who guides Nilin through the cities and slums of Neo-Paris and the leader of the Errorist movement.
TBA as Sebastian Quaid, The nefarious doctor of La Bastille, Dr. Quaid is a man of questionable moral and high authority within the fortress-like prison. He delights in torturing his subjects during the memory removal.
Jamie Foxx as Headache Tommy, Nilin and Edge's ally in the war against Memorize, Tommy is a veteran and one of the few Memory Hunter's to ever escape the Bastille.
TBA as Olga Sedova, a wife and bounty hunter, Olga is looking to avenge her husband David Sedova with the capture of Nilin.
TBA as Bad Request, a rank armature Memory hunter, Bad Request is resourceful young man who idolizes Nilin's abilities and reputation among Errorist movement.
TBA as Kid X-Mas/Ulf Hansen, a former Memory hunter that specialized in dueling his fellow hunters, Kid X-Mas abandoned the Memory hunting for the "winning side" and the glamour of television fame.
TBA as Madame/Astrid Voorhees, the Governor of La Bastille; a self-obsessed woman who toys with the memories of the prisoners of the Bastille. She is an expert in the field of memory manipulation and torture.
TBA as Scylla Cartier-Wells, the President of Memorize, Scylla is driven by the need to remember every detail of her waking life so as to never make a mistake like the one that disfigured her twenty years ago.
TBA as Charles Cartier-Wells, the inheritor of Antoine Cartier-Wells' Sensen technology behind Memorize. Charles is elusive and shown only to the public in bombastic posters advertising the good of his creation.
Community content is available under
CC-BY-SA
unless otherwise noted.