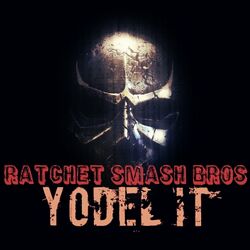 Ratchet Smash Bros: Yodel It is an upcoming fighting video game set to be released in 2018. The gameplay is a direct rip-off of the Super Smash Bros series, but better.  
Roster
Travis Bickle (Taxi Driver/Protagonist)
Ratchet and Clank (Ratchet and Clank series)
Liar's Dice Mexican (Red Dead Redemption)
Kratos (God of War)
BonziBuddy (BonziBuddy)  
Elsa (Frozen)
Microsoft Sam (Microsoft)
JonTron (YouTube, Game Grumps)
Waluigi (Super Mario Bros.)
The Linux Penguin (Linux)
Eric Cartman (South Park)
Jeice & Burter (Dragon Ball Z)
Pyro (TF2)
Rocket Raccoon (Guardians of the Galaxy)
Groot (Guardians of the Galaxy)
Baraka (Mortal Kombat)
Merle Dixon (The Walking Dead)
Daryl Dixon (The Walking Dead)
Treebeard (Lord of the Rings)
Shockwave (Transformers)
Armor King (Tekken)
Man With No Name (Clint Eastwood/Fistful of Dollars)
Kano (Mortal Kombat)
Oscar, Knight of Astora (Dark Souls)
Caesar (Planet of the Apes)
David Bowie/Ziggy Stardust
Ermac (Mortal Kombat)
Fulgore (Killer Instinct)
Ganondorf (The Legend of Zelda)
Reptile (Mortal Kombat)
Hideo Kojima (Metal Gear Solid)
Kotal Kahn (Mortal Kombat X)
Necro (Street Fighter III)
Trevor Philips (GTA V)
Walter White (Breaking Bad)
King Dedede (Kirby)
Maurice (Planet of the Apes)
Kenny (South Park)
Kenny (The Walking Dead)
Michelle Obama (Real life, idiot)
Vladimir Putin (Real life, idiot)
Dawn (Total Drama Island)
Riley Heligo (Smegland)
Kraid (Metroid)
Boufallant (Pokemon)
Driscoll Berci (Bleach)
Bazz-B (Bleach)
Chester Cheetah (Cheetohs)
Bosses
Chakravartin - Tutorial boss
DarkSydePhil - First and easiest boss
Demoman (TF2) - Second boss
Shrek (Shrek) - Third boss
A Woolly Mammoth (Pleistocene Era) - Fourth boss
Plague Knight, Specter Knight, King Knight, Propeller Knight (Shovel Knight) - Fifth boss
A Box of Cheez-its - Sixth boss
Bane (The Dark Knight Rises) - Seventh boss
Gigan (Godzilla: Final Wars) - Eighth boss
Mike Tyson (Real life, idiot) - Ninth boss
Gaius (Shadow of the Colossus) - Tenth boss
Sandor Clegane (Game of Thrones) - Eleventh boss
Remote Kontrol (Robot Revolution) - Twelfth boss
Roger Rabbit (Who Framed Roger Rabbit) - Thirteenth boss
Daft Punk - Fourteenth boss
Ultron (Marvel Comics) - Fifteenth boss
Goro & Kintaro (Mortal Kombat) - Sixteenth boss
Mark Wahlberg (Real life, idiot) - Seventeenth boss
Lanky Kong (Donkey Kong 64) - Eighteenth boss
Smaug (The Hobbit) - Nineteenth boss
Velstadt, The Royal Aegis (Dark Souls 2) - Twentieth boss
Gwyn, Lord of Cinder (Dark Souls) - Twenty-first boss
Gravelord Nito (Dark Souls) - Twenty-second boss
Zeus (God of War) - Twenty-third boss
BG9 - Penultimate boss
Necro - Final Boss.
Secret Bosses
Thanos - Secret Boss
Hex - Secret boss
Dawn of the Planet of the Apes on Blu-ray - Secret Boss
Dawn - Secret Boss
Smoke & Noob Saibot - Secret boss
Cinder - Secret boss
The Looking Glass Knight - Secret Boss
Stages
Story Mode
Character Gallery
Roster
Bosses
Secret Bosses
Trivia
The game wouldn't have any female characters except for Michelle originally. The publisher company gave the creator, Bog, 3 extra months to work on the game. Therefore, Dawn and Elsa were added.
According to WatchMojo the top 10 fan-favorite characters are: Shrek (10th), Elsa (9th), Ratchet and Clank (8th), Daft Punk (7th), Roger Rabbit (6th), Ermac (5th), Liar's Dice Mexican (4th), Zeus (3rd), Daryl Dixon (2nd), and Necro (1st).
Community content is available under
CC-BY-SA
unless otherwise noted.