RFART419 is an American mixed media artist on the Parody wiki.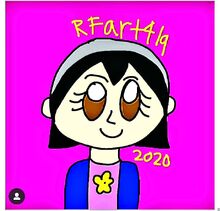 She's mostly known for "Dororo's Ariel Cosplay" parodies inspired by "Sgt. Frog" anime.
Her Instagram account website is located in this URL:
https://www.instagram.com/rfart419/?hl=en
History
Humble Beginnings:
RFART419 is a Parody wiki user who originated in the United States.
She started her Instagram account on June 28, 2019.
She even had her first trip to Asia, like Japan, Hong Kong China, Singapore, & the Philippines throughout July 2019 in her own right.
Her favorite Disney park so far is "Tokyo Disney Sea", which she's lucky to visit there in person in her own right on July 10, 2019. It is located in Chiba, Japan.
She had a dream of visiting Japan in general since her childhood.
She eventually became famous among various Japanese Instagram users for being a rare notable Western Instagram artist who celebrates Japanese "Marine Day" on Monday, July 15, 2019 at Odaiba Beach, Tokyo, Japan in her own way because of it since then.
Post-Japan 2019 trip journey
From August~9-30-2019, She had to say a bittersweet Goodbye to her "Sony Sketch" online community account before it gets shutdown for good.
Later on, She met SandraCureClover from Brazil, Kyoko.Ng from Canada, & HanaDoremi1 from Portugal on Instagram. They became best Instagram friends since then.
On Late November 2019, Her famous "Disney Princess Keroro Platoon" parodies inspired "Sgt. Frog" anime have been published ever since, like Dororo cosplaying as Ariel from Disney's The Little Mermaid movie.
Disney Princess Keroro Platoon parodies & 2020 reunion
RFART419 put her Instagram on hiatus on late November 2019. After several failed attempts to become famous on Twitter & Pixiv, She eventually got reunited on Instagram around March 2020.
To this day, "Disney Princess Keroro Platoon" created by RFART419 is perhaps one of the most popular "Disney Princess" parodies in history.
Community content is available under
CC-BY-SA
unless otherwise noted.