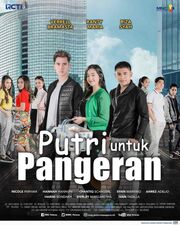 Putri untuk Pangeran is a Indonesia Television Series production by MNC Pictures
Plot
Tells the story of the struggle of a kind-hearted girl who does not realize that she is a descendant of an angel. Putri is studying at Bunga Bangsa University while trading to help her mother's economy, who is a single parent. On the other hand, Putri has the power to hear other people's hearts, which she gets from the genetics of an angel in her body. However, Putri must be the victim of a handsome senior bully on her campus because she made an accidental mistake. Pangeran never finished teasing Putri because he still didn't accept what Putri had done, until finally an incident changed the Pangeran view of the Putri. Luckily, Putri has Rizky who is very empathetic to her. Rizky always helps Putri in trouble. Did the Pangeran and Putri finally express their feelings to each other? Was it Rizky who first expressed his feelings to Putri?
Cast
Trivia
Community content is available under
CC-BY-SA
unless otherwise noted.