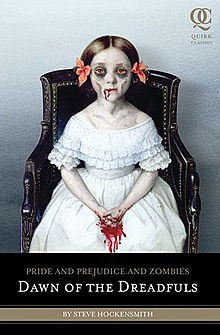 Cast
Jane Levy as Elizabeth
Scarlett Johanseen as Jane
Elizabeth Blackmore as Mary
Gabriella Wilde as Lydia
Chole Grace Moretz as Kitty
Julianne Moore as Miss Bennette
Nathanial Parker as Mr. Bennette
Christian Hall as Fitzwilliam Darcy
Joseph-Gordan levitt as Master Hawksworth
Daniel Gillies as Dr. Kecklipenny
Teddy Sears as Lord Limpley
Chris Colefer as Captin Cannon
Matt Bomer as Lieutinet Tindall
Darren Criss as Ensign Pratt
Dylan McDermoitt as Mr. Bingley
Alex Pettyfer as Geroge Wingham
Stephen Moyer as Mr. Collins
Jessica Lucas as Charlotte Lucas
Courtney Cox as Lady Catherine
Pilot
Year 2013 and the Bennettes move into a amercian mansion on a plantation where severl murders happend. One of there friends died and they attend the funneral As the ends there friend breaks out of his coffin and Mr. Bennette kills the zombie. Mr. Bennette decides to train his five daughters Lizzy, Jane, Mary, Lydia and Kitty in zombie killing style. He turns his green house into a dojo and hires Master Hawksworth to train the girls. The grils don't like the idea of using weapons but then they get the henag of it. Master Hawksworth takes the grils to a lake  where zombies are coming out of. They kill them and when Lizzy kills her the girl says "Were the Dawn of the Dreadfuls and we will all kill you and walk the Earth."
The Scientist
Sudddenly a scientist named Doctor Kilepenny arrives in Haydonville with dreams of domesticating zombies. Lizzy befriends Doctor Kilepenny and he says that he can help her. Lizzy and Lydia are woken up by growling from inside there house somewhere. They find a zombie and they bash his head open. They show Master Hawksworth who is staying with them. Master Hawksworth drags the body to the lake where he finds his brother Doctor Kilepeeny. They both demand to know what eachother are doing here. Lizzy is woken up in a trance and she walks out of the mansion and into the woods where she finds a man. He says "Dawn of the Dreadfuls will start soon."
Danny Clairty
Community content is available under
CC-BY-SA
unless otherwise noted.