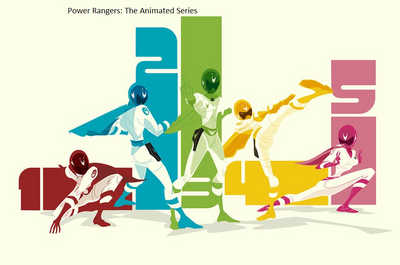 Power Rangers: The Animated Series 
is an upcoming cartoon animated tv series based on the Power Rangers and will be created by Man of Action. Also the first Power Rangers series to be TV-G and have 110 episodes! 
Synopsis 
Characters 
Rangers 
Anthony Drake/Red Ranger (Voiced by Josh Keaton): 
Thomas Parker/Blue Ranger (Voiced by David Kaufman): 
Otis Green/Green Ranger (Voiced by Daryl Sabara): 
Pepper Rogerson/Yellow Ranger (Voiced by Cree Summer): 
Katrina Stark/Pink Ranger (Voiced by Cindy Robinson): 
Jordon Adamson/Gold Ranger (Voiced by Roger Craig Smith): 
Claire Adamson/Lime Ranger (Voiced by Zelda Williams): 
Jo Johanson/Orange Ranger (Voiced by Ashley Johnson): 
Michael Parks/Silver Ranger (Voiced by Gerg Cipes): 
Sean Wayne/Brown Ranger (Voiced by Stuart Allen): 
April Prince/Teal Ranger (Voiced by Mae Whitman): 
Ian Richardson/Purple Ranger (Voiced by Seth Green): 
Kyle Baker/Cyan Ranger (Voiced by Yuri Lowenthal):
Sadie Baker/Grey Ranger (Voiced by Tara Strong): 
Jessica Baker/Bronze Ranger (Voiced by Lacey Chabert): 
Hopetron/Christopher "Chris" Barton/Rainbow Ranger (Voiced by Robin Aktin Downes): 
Allies 
Supporting Characters 
Minor Characters 
Villains 
Emperor Negazax (Voiced by Steven Blum & Tom Kane) 
Empress Negaette (Voiced by Laura Bailey) 
Prince Negazax, Jr. (Voiced by Robin Aktin Downes) 
Princess Negaette, Jr. (Voiced by Tara Strong & Kelly Hu) 
Dr. Monstar (Voiced by Jeffery Combs) 
General Nilbog (Voiced by Steven Weber) 
General Boltron (Voiced by Tom Kane) 
Commando Razoroy (Voiced by Jason Hood) 
Commando Divacog (Voiced by Jackie Clarke) 
Commando Stingoblin (Voiced by Peter Daube) 
Commando Shadowinger (Voiced by Fred Tatasciore) 
Lieutenant Dreamlok (Voiced by Peter Gentil) 
Lieutenant Psychorage (Voiced by Crispin Freeman) 
Lieutenant Magmedor (Voiced by Robin Aktin Downes & Dean Young) 
Lieutenant Horrorgor (Voiced by Peter Cellun) 
Deceptisoldiers (Various Voices) 
Monsters 
Exodus (1-2) (Voiced by Dean Young): 
Shiku the Hunter (1-2) (Voiced by Diedrich Bader): 
Shockpox (3) (Voiced by Mark Mitchinson): 
Admiral Skeleizer (4) (Voiced by Campbell Cooley): 
Admiral Laserling (4) (Voiced by Kelson Henderson): 
Doctor VooDoohead (5) (Voiced by Doug Stone): 
Cameracon (6) (Voiced by Tom Kane): 
Vacuumockingbird (7) (Voiced by Troy Baker): 
Heckminator (8) (Voiced by Dee Bandley Baker): 
Conwing (9) (Voiced by Jason Faunt): 
Mazeger (10) (Voiced by Nic Sampson): 
Ninjaurai (11) (Voiced by Phil Brown): 
Wizardmaster (13) (Voiced by Nolan North): 
Feartox (14) (Voiced by Kevin Michael Richardson): 
Freak Creeper (15-16) (Voiced by Fred Tatasciore): 
Hypnomaniac (16-17) (Voiced by Dee Bandley Baker): 
Toxismasher (18) (Voiced by Jason Hood): 
Aresnal 
Zords & Megazords 
Episodes 
It's Morphin Time! Pt. 1: When the evil Emperor Negazax and his army are free and plans to destroy Earth. Luckily, a wise saga know as Hopetron chosen five teenagers are chosen to become a new team of heroes know as the Power Rangers. But only finds three. The three rangers are powerless against both Exodus and Shiku when Hopetron finds two other teenages to become the Yellow and Red Rangers. Now, five rangers are united as one to stop Emperor Negazac. During the fight, Emperor Negazax appears which the episode ends. 
It's Morphin Time! Pt. 2: As Emperor Negazax is seem to be more powerful than which his defeat the rangers as a one man-army. The Rangers goes back to the Command Hideout when they must find a way of how to combine their zords when Empress Negaette make Exodus and Shiku into giant monsters.
Quest for the ElephantZord: When the singal for the lost ElephantZord was found, Anthony sent to find the ElephantZord and his being follow by Shockpox who plan on taking over the ElephantZord. Meanwhile, the others battles both Prince Negazax, Jr. and Princess Negaette, Jr. in their monsteious forms. 
The Armadillo and the Vulture: Hopetron sent Otis to find the ArmadilloZord and Katrina to find the VultureZord while the others battles Adrimal Skeleizer and Adrimal Laserling. 
Jinxed!: 
Evening the Odds: 
The Secrets of the Gold and Lime Rangers!: 
Heckminator: 
The Red, the Gold and the Yellow: 
Be a Maze: 
An New Enenmy, General Boltron: 
Nilbog's Last Stand: 
The Green Wizard: 
Fear Factor: 
The Mysterious Orange Stranger Pt. 1: 
The Mysterious Orange Stranger Pt. 2: 
The Mysterious Orange Stranger Pt. 3: 
The Ultinate Endgame Pt. 4 
Community content is available under
CC-BY-SA
unless otherwise noted.