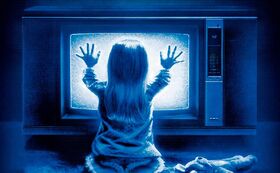 Poltergeist is a 2019 horror film and the remake/reboot to both the 1982 and the 2015 film of the same name.
Summary
A family whose home is invaded by malevolent ghosts that abduct the family's younger daughter.
Plot
TBA
Cast
Jake Gyllenhaal as Steven Freeling
Amy Adams as Diane Freeling
Anniston and Tinsley Price as Carol Anne Freeling
Maia Mitchell as Dana Freeling
Sal Pandolfo Jr. as Robbie Freeling
Estelle Harris as Tangina Barrons
Mary Steenburgen as Dr. Lesh
Lukas Haas as Marty
Boris Kodjoe as Ryan
Ted Danson as Mr. Teague
Trivia
This film is 119 minutes long.
Rated PG-13 for intense frightening sequences, and for language.
It is distributed by

Warner Bros. Pictures

 and produced by

New Line Cinema

, Metro-Goldwyn-Mayer and 20th Century Studios Formerly Known As 20th Century Fox.
Releases on April 19, 2019.