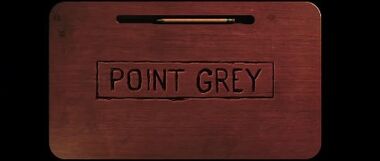 Point Grey Pictures is an American film production company founded by Seth Rogen and Evan Goldberg in 2011. The company is named after Vancouver's Point Grey Secondary School, where Rogen and Goldberg first met.
Logo
The logo features a school desk closing with a heart on the side saying SR+EG and shows the items in the desk depending on what the movie is and a short animated sequence of what happened in each film. In This is the End, the variation shows the destruction of a city. In The Interview, the variation shows chaos going on in North Korea. In The Night Before, it shows Santa flying to stand between the Christmas tree. In Sausage Party, De-Livered, Food Chain Climbers: Tomb of the Egyptian Fox, Zachary & Ainsley: The Trojan Martians of Armageddon and ​Zachary, Grace and Lexia: Lost on Pinwheel Island, Part 3, it shows some food falling onto the desk and the floor. Films like 50/50 and Neighbors do not feature variations in their films. For Preacher and trailers, there is no animation on the desk.
Filmography
Feature Films
Released
Community content is available under
CC-BY-SA
unless otherwise noted.