Pirates Of The Caribbean: The treasure of the lost abyss (realesed in some countries as Pirates of the CARIBBEAN: The return of Davy Jones is a 2022 American Adventure Fantasy film,
Pirates Of The Caribbean:

The Lost Abyss

Theatrical release poster

Directed by
Joachim Ronning
Produced by
Jerry Bruckheimer
Screenplay by
Ted Elliott, Craig Mazin
Based on
Characters created by Ted Elliot,Terry Rossio, Stuart Beattie & Jay Wolpert

Walt Disney Pirates of the Caribbean

Starring

Orlando Bloom

Bill Nighy

Brenton Thwaites

Kaya Scodelario

Kevin McNally

Penelope Cruz

Music by
Geoff Zanelli
Cinematography
Henry Braham
Editing by
Roger Barton,

Craig Woods

Distributed by
Walt Disney Pictures,[1]Jerry Bruckheimer Films
Release date(s)

July 9, 2022

(United Kingdom)

July

10, 2022

(United States/Canada)

Running time
129 minutes
Country
United States
Language
English
Budget
$170 million
Box office
$540 milion
the six and final instalment in the Pirates of the Caribbean film series.
The movie is directed by Joachim Ronning. The movie is written by Ted Elliott and Craig Mazin
Jerry Bruckheimer whom has served as the producer for all the previous instalments returns again as the producer.
The film began production in febbraury 2021 and was filmed in location in Australia.
The film stars Johnny Depp reprising his role as the eccentric pirate protagonist Captain Jack Sparrow, Orlando Bloom as Will Turner, Keira Knightley as Elizabeth Turner, Bill Naghy as Davy Jones, Penelope Cruz as Angelica Teach, Kevin McNally reprising his role at the Jack Sparrow sidekick Joshamee Gibbs, Golshifteh Farahani as Shansa, Brenton Thwaites as Henry Turner, Kaya Scodelario as Carina Barbossa and Stephan Graham as the bumbling Captain Jack aspiree scholar Scrum.
In the film Captain Jack Sparrow must find the legendary Sword of Cortez for defeating his old enemy Davy Jones resurrected after the destruction of the Trident of Poseidone and with the help of Henry Turner, Carina Barbossa and Angelica Teach.
Plot
Cast
Johnny Depp: Captain Jack Sparrow
Bill Naghy: Davy Jones
Brenton Thwaites: Henry Turner
Kaya Scodelario: Carina Barbossa
Kevin McNally: Gibbs
Penelope Cruz: Angelica Teach
Stephen Graham: Scrum
Golshifteh Farahani: Shansa
Stephen Dillane: John Benbow
Martin Klebba: Marty
Angus Barnett: Mullroy
Giles News: Murtogg
Adam Brown: Cremble
Danny Kirrane: Bollard
Derloy Atkinson: Spike
Orlando Bloom: Will Turner
Filming began on Febbraury 2016 in Australia.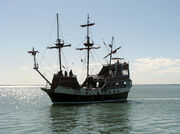 Community content is available under
CC-BY-SA
unless otherwise noted.