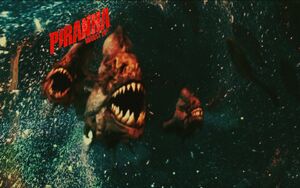 Piranha's 3D is a 2015 animal horror movie directed by Wes Craven.
Plot
It's Spring Break and Trent wants to go swimming with his friends.The beaches and pools are already filled,so they decide to swim in the closed cavity ruin.As they arrived at the deep,wide sea inside the cavity,the first teen jumps in the pool and is eaten by a big unnatural fish.The others panic and Brody tries to kill the piranha with his lightgun.The cavity escape breaks in and a lot of Piranha's entering the water.They habve got one way!They have to reach the other side of the sea.
Cast
Nathan Kress as Trent Rogers
Ariana Grande as Carrie Iron
Demetrius Joyette as Brody Carson
AnnaSophia Robb as Gia Thompson
Isabelle Fuhrman as Shirley Vine
Gage Golightly as Hannah Till
Dylan Sprouse as Seth Freeman
Jaden Smith as Noah Micks
Michelle Rodriquez as Deputy Nichols
Joe Mantegna as Deputy Horris
Sigourney Weaver as Mrs.Jolene Iron
anthony rogers as Tommy Iron
Haley Joel Osment as Ryan Freeling
Survivors
Carrie Iron,Gia Thompson, Ryan Freeling, Deputy Nichols, Tommy Iron
Deaths
Noah Micks-Bitten in two pieces and fully eaten by a piranha
Seth Freeman-Killed by a piranha swarm,as he tried to kill some piranhas
Deputy Horris-Sacrificed for Gia to escape
Hannah Till-Accedentally shot by Trent in a fight with a piranha
Shirley Vine-Broke her head as she tried to climb to the other sea side
Brody Carson-Slayed by the cave-in
Trent Rogers-Sacrificed for Carrie to escape
Ending
At the end,Carrie swims to the other side,where Gia catches her.They both cry in despair and Carrie wants to help Trent.As Gia told her,that he is dead she breaks in and cries.Suddenly Deputy Nichols arrives and search for her partner.As she realizes that the meanwhile sleeping girls are alive,she carries them into her truck.She then walks back and shouts for Deputy Horris then Tommy Iron shows up and save Carrie and everyone else. As she notices,that the piranhas eaten all the people,she throws some grenades in the sea and runs to the truck.The cavity explodes and they drove away.Then Carrie wakes up in her bed with Gia next to her.Carrie's mother tells them,that they only were dreaming.As Carrie asks where Trent is,her mother looks to the door,where Deputy Nicols is and bite her lips."On a better place",she said and the movie ends.
Main Cast Gallery
Anthony rogers
Community content is available under
CC-BY-SA
unless otherwise noted.