The Pignosed Giant Wombat is an animal that evolved from a prehistoric Nototherium that survived and remained mostly unchanged. It is a herbivore that feeds on grass, leaves, shrubs, ferns, horsetails, and fruit. It lives in Eastern, Southeastern, Southern, Southwestern, Western, Northwestern, Northern, Northeastern, and Central Australia. It is about 3.2 feet tall and 5.9 feet long, weighing about 530 pounds.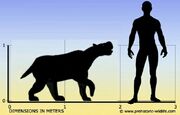 Pignosed Giant Wombat
Domain: Eukarya
Kingdom: Animalia
Phylum: Chordata
Subphylum: Vertebrata
Class: Mammalia
Infraclass: Marsupialia
Order: Diprotodontia
Family: Diprotodontidae
Genus: Nototherium
Community content is available under
CC-BY-SA
unless otherwise noted.