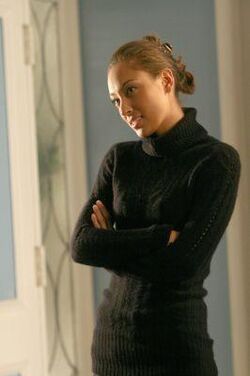 Patricia Meadow Torelli is a main character in the American crime drama, Law & Order: New Orleans.
Biography & Personality
Born in New York City, New York in November 1987, Patricia grew up in a Mafia-led family. Raised alongside two older brothers and one younger brother, Patricia aimed to get out of her family's criminal lifestyle by becoming a police officer as an adult. While she flourished in the NYPD (eventually making detective) and in her marriage to a prominent defense attorney, it all came to halt when her mob boss father was arrested on racketeering and money laundering charges and evidence against him disappeared. Eventually, an associate of her father's confessed to stealing the evidence, but allegations swarmed around her for a long time that she was involved, eventually derailing her career and marriage. She then left New York behind to make a fresh start for her and her children.
She is divorced and has a son and a daughter.
Torelli, despite being a strong believer in family sticking together, also believes that you don't have to follow in your family's footsteps if they are on a bad path. This puts her in the sympathy edge for criminals and others in similar positions.
In the twentieth season premiere, Torelli is hired the New Orleans D.A. office to replaced the retired Gino Carcaterra, who gives her some parting advice.
Relationships
William Reagan (ex-husband)
Giancarlo "Jackie" Reagan (son)
April Reagan (daughter)
Salvatore Torelli (father)
Tracee Torelli (mother, deceased)
Brian Torelli (older brother)
Corrado Torelli (older brother)
Ralph Torelli (younger brother)
Trivia
Community content is available under
CC-BY-SA
unless otherwise noted.