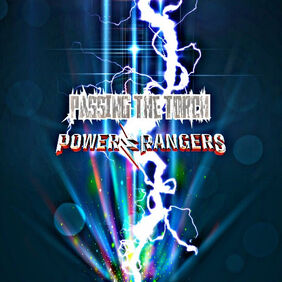 Passing The Torch
is a 2021 live action, adventure, drama and comedic superhero movie and is the sequel to the other sequel films
M.M.P.R
,
Green With Evil: Power Rangers
and the 2017
Power Rangers reboot
movie. It's based on the same superhero team from the same name from the 90's TV series "Mighty Morphin' Power Rangers" and features a few of the same actors from the original show and the reboot film. After the 2017 reboot managed to green light TWO sequels, both films became critical and financial successes at least making the top three spots in the box office. Continuing onwards with their plans to spark a new Power Rangers franchise,
Lionsgate
and
Saban Films
green light and produced ANOTHER sequel but it was cancelled due to somebody coming up with
a new idea
.
Synopsis
Once again, our Mighty Morphin' Power Rangers have overcome adversity in the form of the menacing Lord Zedd. Everything once again goes back to the way its supposed to......or so it seems.......

......because there's still the menacing Rita Repulsa still on the loose.

After escaping from Zordon for about the second time, Rita had went through the terrains of Mohave Desert in order to revive her long lost imprisoned brother, Rito Revolto.
It's more then likely both siblings are both after the same thing......and after yet ANOTHER series of attacks and near deaths, it becomes clear to the Rangers that the Zeo Crystal is too dangerous for them to keep on their grasp......especially since they have to deal with the loss of some of their own.
Cast
Dylan O'Brien as Thomas "Tommy" Oliver (White Ranger)
Dacre Montgomery as Jason Lee Scott (Red Ranger)
Naomi Scott as Kimberly Ann Hart (Pink Ranger)
Ludi Lin as Zack Taylor (Black Ranger)
RJ Cyler as William "Billy" Cranston (Blue Ranger)
Becky G as Trini Kwan (Yellow Ranger)
Amandla Stenberg as Aisha Campbell
Ricardo Hoyos as Rocky DeSantos
Taylor Lautner as Adam Park
Johnny Depp as Rito Revolto
Elizabeth Banks as Rita Repulsa
Bryan Cranston as Zordon
Bill Hader as Alpha 5
Austin St. John as Lucas
Lulu Wilson as Pearl Scott
Zach Roerig as Farkas "Bulk" Bulkmeier
Eric Knudsen as Eugene "Skull" Skullovitch
Robert Patrick as Zedd
Mariska Hargitay as Dulcea
Madison Iseman as Katherine "Kat" Hillard
Community content is available under
CC-BY-SA
unless otherwise noted.