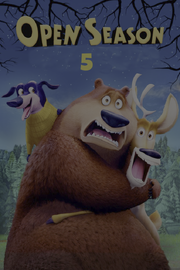 Open Season 5 is a 2022 computer animated family adventure travel film that is a sequel to the 2006 film Open Season, and it's direct-to-video sequels, Open Season 2, Open Season 3 and Open Season: Scared Silly. It is directed by Roger Allers and Jill Culton, who directed the first film, Matthew O' Callaghan, who directed the second film, Cody Cameron, who directed the third film and David Feiss, who directed the fourth film. Martin Lawrence reprises his role as Boog from the first film and as well as Ashton Kutcher reprise his role as Elliot, because the two actors where replaced by the four new actors in the three sequels. It is the fifth installment in the film series, and it is the fifth film to be released in 3D.
Summary
TBA
Plot
TBA
Cast
Martin Lawrence

as Boog

Ashton Kutcher

as Elliot
Cody Cameron as Mr. Weenie
Debra Messing as Beth
Billy Connolly as McSquizzy
Jon Favreau as Reilly
Gerogia Engel as Bobbie
Jane Krakowski as Giselle
Carlos Alazraqui as Gordy
Patrick Warburton as Ian
Danny Mann as Serge
Melissa Strum as Ursa
Crispin Glover as Fifi
Steve Schirripa as Roberto
Sean Mullen as Roger
Fred Stoller as Stanley
Diedrich Bader as Rufus
Oliva Hack as Charlene
John Cygan as Nate
Karley Scott Collins as Gisela
Clara Bravo as Giselita
Charlie Bright as Elvis
Maddie Taylor as Buddy and Deni
Nika Futterman as Rosie
Michelle Murdocca as Maria
Jeff Bennett as Earl
Maurice LaMarche as Rico
Rose Byrne as Amy
Notes
Martin Lawrence, Ashton Kutcher, Jane Krakowski, Billy Connolly, Jon Favreau and Patrick Warburton reprise their roles as Boog, Elliot, Giselle, McSquizzy, Reilly and Ian from the first and second film and in the fifth film. Charlie Bright and John Cygan are now voicing Elvis and Nate in this one. However, Rufus and Charlene also return in the fifth film as well. Gordon Tootoosis who voiced Gordy in the first film, passed away in July 2011, Carlos Alazraqui, who voiced him in the video game, replaces his late voice actor to voice Gordy, Rico from the second film will also return in the fifth film as well.
The film is distributed by Columbia Pictures and

Sony Pictures Animation

 with Metro-Goldwyn-Mayer co-producing.
Rated PG for rude humor throughout.
Released on October 19, 2018.
Opening Logos: