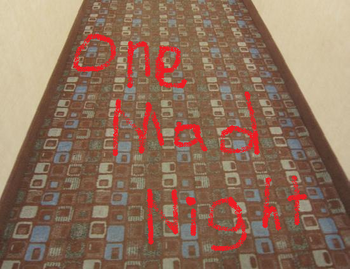 One Mad Night
is a murder mystery comedy interactive Youtube video created by Drew Gars and presented by the comedy website
Funny or Die
. It features an esemble cast that includes Seth Rogen, Craig Robinson, Emma Watson, Jennifer Lawrence, Ben Affleck, Gars himself and others playing fiction versions of themselves solving a murder.
Plot
Film producer Drew Gars invites celebrities into a see if they can survive a night a closed Universal Studios Hollywood. But is starts to turn into a night of madness when one of the guests is found dead, now the rest of the guests have to solve the mystery on who is the killer before it's too late.
Synopsis:
We see Seth Rogen and James Franco in a police interrogation room. The detective (Wise) interrogating them tells them that in the other room, he has 17 guests dead, and Craig Robinson injured. Rogen insists on telling the story on what happened several hours ago. So the story begins.
Rogen and Franco were driving to the Hampton Inn because the received an invitation from Martin Scorsese for a "weekend of fun". When they arrive at the hotel, they find that
Cast
Most of the film's cast portray fictional, exaggerated versions of themselves (with the exception of Ray Wise):
Seth Rogen
James Franco
Craig Robinson
Jesscia Chastain
Emma Stone
Jennifer Lawrence
Emma Watson
Drew Gars
Ben Affleck
Dwayne Johnson
Jonah Hill
Channing Tatum
Danny McBride
Robert Downey, Jr.
Chris Pratt
Jimmy Fallon
Scarlett Johansson
Conan O'Brien
Miles Teller
Kevin Hart
Johnny Depp
Benedict Cumberbatch
Tom Hanks
Brie Larson
Ryan Reynolds
Anne Hathaway
Ray Wise as Detective Baron
Trivia
The film is rated R for crude and sexual content throughout, brief graphic nudity, pervasive language, drug use, strong graphic horror violence and gore.
The film's original title for this was A Mad Weekend, but it was changed to One Mad Night.
Community content is available under
CC-BY-SA
unless otherwise noted.