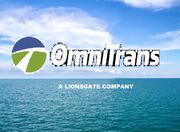 Omnitrans Pictures is an American production company owned by Omnitrans, it was founded in 2021.
Filmography
Theatrical films
Teen Heroes series
The Skies of America
Sleep of the Lions
Lecter
Endless Runner
Color by Names
Titanic revival series
Stretch Armstrong: The Movie
Las Vegas Heist series
Invasion Earth series
Danger Street
Robin Hood series
Himalayas: Path of the Yeti
Laws of Reggeaton
Cavemen
Funfair Fever
Across the World with Mr. Joy series
Bravest Warriors
The Mines of Magma
Galactrons
Life on Mars
Track & Field series
Snowboarder series
The Tribe of Pets
Quest of the Ancient Relics
One Hundred Years of Solitude series
Baghead!
A Bend in the River
Pamplona: Running of the Bulls!
Detective Agency
Fairies series
Six Million Dollar series
The Power Soccer
Curse of the Zombies
Mystery Manor series
Need a Good Janitor?
Harmony Mischief
The Smarter Guys series
Who's Cursed? series
Back at 14
Baseball Days
Show Me the Paw series
The Dentist series
Duck Attack! series
Smarten Up the Side
Ultimate Athlete
Man of the Draw
Pest Control
Box' o the Willows series
Lookalike
Fox and Boy
Cool Jacket
You Going to Hell: Earth's Nost Wanted
The Intergalactic Champion
Partyin' in Da House
Magic Art
We're Back: A Repite Story series
Subsidiaries
Green Studios
New Horizons Pictures
Japanimotion
Frankenstein Pictures
Bio-Hazard Studios
Licensed they got so far
See Omnitrans/List of acquisitions
Trivia
Omnitrans Pictures is inspired by Walt Disney Pictures, Warner Bros., Metro-Goldwyn-Mayer, Paramount Pictures, Universal Studios, Columbia Pictures, TriStar Pictures, 20th Century Fox, Lionsgate, and RKO Pictures.