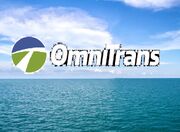 Omnitrans is an American diversified multinational mass media and entertainment conglomerate. It is the world's third largest media conglomerate in terms of revenue, after Comcast and The Walt Disney Company. It was founded in 2020. It's owned by Omnitrans Joint Powers Authority, which owns original Omnitrans, the transit company in San Bernardino County. Omnitrans is a massive and too powerful conglomerate, so they could easily beat other companies. They can also acquire other companies for as how much money as they want.
Subsidiaries
Omnitrans Commercial and Businesses

Omnitrans Gas Station
OmniOS
Kabuki
Omnitrans Architecture, Engineering & Construction
OmniFinancer
Omnitrans Credit Card
OmniSchools
Ring-Ring
Omnitrans Post Service
Omnitrans Aerospace Industry
OmniAgriculture
Energy Power
Omnitrans Science Research
Omnitrans PaySystem
OmniCement
Omnitrans Luxery Kitchens
Omnitrans Toy Donation
Omnitrans Water Company
Omnitrans Seismology System
OmniMining
Omnitrans Dental Care
Omnitrans Stores & Retailers
Omnitrans Worldwide Services, Inc
Omnitrans Children's Center, Inc.
Moon Star, Inc.
Harbor Group
Omnitrans Fan Club

Omnitrans Restaurant-Shop
Omnitrans Products

OmniFoods

Omnitrans Frozen and Sea Foods
Readibake

Electrocity
Omnitrans Art Materials
Omnitrans Clocks & Watches
OmniClothing
Greenclover
Omnitrans Sporting Goods
Derek
Omnitrans Office Supplements
Byocle
Omnitrans Mattress & Pillows
Omnitrans ToyPet
OmniPerfumes
OmniCookware
OmniRobotics

Omnitrans Health Group

Omnitrans Physical Therapy
OmniPharmacy

Omnitrans Consumer Products and Interactive Media
Acquistions
See Omnitrans/List of acquisitions
Distribution by Country
North America
United States
Canada
Mexico
Puerto Rico
South America
Argentina
Bolivia
Brazil
Chile
Colombia
Ecuador
Guyana
Paraguay
Peru
Suriname
Uruguay
Venezuela
Europe
Albania
Andorra
Armenia
Austria
Azerbaijan
Belgium
Bulgaria
Croatia
Cyprus
Czech Republic
Denmark
Estonia
France
Georgia
Germany
Greece
Hungary
Iceland
Ireland
Israel
Italy
Letvia
Luxemburg
Macedonia
Malta
Monaco
Netherland
Norway
Poland
Portugal
Romania
Russia
Spain
Sweden
Switzerland
Turkey
Ukraine
United Kingdom
Vatican City
Africa
South Africa
Ethiopia
Kenya
Madagascar
Malawi
Seychelles
Tanzania
Angola
Central African Republic
Chad
Republic of the Congo
Swaziland
Benin
Capo Verde
Ghana
Guinea
Liberia
Mali
Nigeria
Togo
Algeria
Egypt
Libya
Morocco
Sudan
Asia
Bangladesh
China
Afghanistan
India
Indonesia
Hong Kong
Japan
Iran
Malaysia
Nepal
Jordan
Philippines
Singapore
South Korea
Taiwan
Pakistan
Thailand
Vietnam
Syria
Iraq
Qatar
Saudi Arabia
United Arab Emirates
Oceania
Australia
New Zealand
Fiji
Samoa
Tonga
Vanuatu
Slogans
Welcome to the Next Generation - Used as official motto.
Everyone can do, we distribute - Used for its distribution.
There's nothing better than TV - Used for Omnitrans Entertainment Group.
Trivia
The company is inspired by Comcast, ViacomCBS, The Walt Disney Company, WarnerMedia, Sony, Corus Entertainment and RCA.
Omnitrans is the first (and only) multinational company to make everything at the same time.
The company headquarters is 1700 West Fifth Street, San Bernardino, California
Also, it acquires companies from other countries to import at international market.
It's Named after the transit company in San Bernardino County.
The company use this logo from original Omnitrans, which is created in 2012.
Community content is available under
CC-BY-SA
unless otherwise noted.