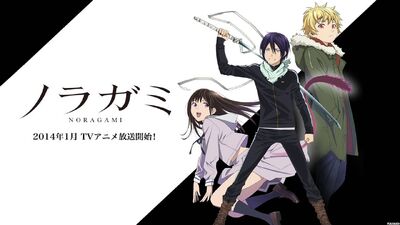 Noragami is a 2016 supernatural action-fantasy comedy romance film based on the anime, starring
Summary
Hiyori Iki was a regular middle school student until she was hit by a bus while trying to save the life of a jersey-wearing person named Yato. This incident causes her to transform into a half-phantom. Soon after she learns that Yato is a god, her life is never going to be the same again.
Plot
Cast
Ansel Elgort as Yato
Peyton List as Hiyori Iki

Addison Riecke as Young Hiyori Iki

Dylan Sparyberry as Yukine
Ken Watanabe as Tenjin
Evana Lynch as Kofuku
Jennifer Lawrence as Bishamonten
Ian anthony Dale as Rabo
Emi Takei as Mayu/Tomone
Gregg Sulkin as Kazuma
Armie Harmer as Daikoku
Umika Kawashima as Nora
Gary Oldman as Kuraha
Mieri Kitani as Tsuyu
Noah Shnapp as Keiichi
Austin Abrams as Suzuha
Community content is available under
CC-BY-SA
unless otherwise noted.