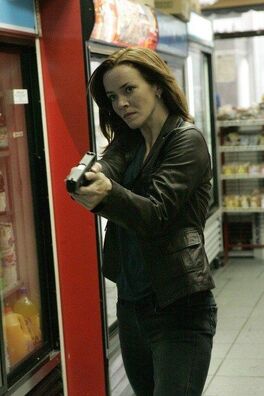 Nicole Richter is a main character in the TV series, The Sullivans.
Biography
Born in Minnesota in March 1984, Richter was the only child of her father, a bait and tackle shop owner and her mother, an restaurant manager. Her paternal uncle was a undercover cop in Denver and she looked up to him. He was killed in a line of duty when Nicole was 15.
Richter joined Denver PD in 2014 and emerged as one of the top patrol officers for five years. Richter then became a top-notch undercover officer and was eventually promoted to sergeant until, during an undercover sting operation, she sustained three gunshot wounds, including a major one that almost killed her and put her in the hospital for a month. As the result of the injuries, she was put on oxycodone to help recover, and in time became addicted. As such, she went in-and-out of rehab several times for it, which put a hold on her career. After completing her latest stint, and deciding that she needed a change from undercover work, she transferred to any new unit she could.
She was married to carpenter Joe Harper, who divorced her because of her job and her addiction. They have a son name Brian who is 14-years-old at the start of the series.
The Sullivans
Season 1
TBA
Personality
Richter is a tough, no-nonsense police sergeant and has been hardened by her undercover operations. She is dedicated to her work.
Relationships
Trivia
Community content is available under
CC-BY-SA
unless otherwise noted.