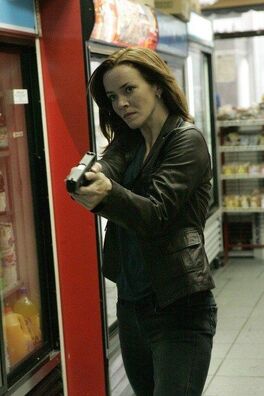 Nicole Richter is a main character in the TV series, The Sullivans.
Biography
Born in Minnesota in March 1985. Richter was the only child of her father, a bait and tackle shop owner and her mother, an restaurant manager. Her paternal uncle was a undercover cop in Denver and she looked up to him. He was killed in a line of duty when Nicole was 15.
Richter joined Denver PD in 2014 and emerged as one of the top patrol officers for five years. Richter then became a top-notch undercover officer and was eventually promoted to sergeant until, during an undercover sting operation, she sustained three gunshot wounds, including a major one that almost killed her and put her in the hospital for a month. As the result of the injuries, she was put on oxycodone to help recover, and in time became addicted. As such, she went in-and-out of rehab several times for it, which put a hold on her career. After completing her latest stint, and deciding that she needed a change from undercover work, she transferred to any new unit she could.
She was married to carpenter Joe Harper, who divorced her because of her job and her addiction. They have a son name Brian who is 14-years-old at the start of the series.
The Sullivans
Season 1
She appear in the squad as a replacement of late Landon Kruger while the team was dealing the brutal beating of Holly Ross. Ritcher was met with a lukewarm reception because of her history of opioid addiction stemming from an injury in the line of duty and the team still missing the late Kruger.
Ritcher gets involved in investigation of the violent assault of Elaine Prescott. While working on the case, her adopted son Wayne gets an interest on her. But when Wayne makes a pass on Richter, she attacks Wayne, causing him to break down and accuse her of trying to set him up in front of her horrified colleague but Ritcher defended herself. Despite huge setbacks, Richter grows suspicious over Wayne's behavior after the police left concern over his secret. Richter follows Wayne to a nearby chapel where she overhears him talking about his life. As she starts to leave, Wayne sees and confronts Richter, who decides to open up to Wayne about her past and failed marriage. Later, when Richter escorts Wayne back to the institution, they was both attacked by a mysterious man before Wayne overpowers and beat him to within an inch of his life. Wayne breaks down in Richter's arms.
Season 2
Richter is partnered with Francis. On their first day, they tracked a group of incels which Francis wounded one of them who was holding a woman hostage, allowing Richter to tackle him down.
Personality
Richter is a tough, no-nonsense police sergeant and has been, for the most part, hardened by her undercover operations. She is dedicated to her work, but does have a soft side that she gradually reveals over the course of the series. When partnered with Kyle Francis at the start of the second season, she becomes sort of a mentor towards him, almost seeing him as the second child she never had. When her actual son Brian comes out as gay in the same season, she is quick to accept him for who he is.
Relationships
Trivia
Community content is available under
CC-BY-SA
unless otherwise noted.