Níðhöggr is the debut album form Swedish doom metal band Yggdrasill Burning, released on June 5th 1992. The songs are named and sung in Swedish, before the band turned to singing in English in their subsequent releases. The album was re-issued in 2005 with translations and photographs showing the recording and compilation of the album, as well as a letter written from Michael Tägtgren to the producer Hans Skökog, who produced the band's albums from 1992 until 2005. It is followed by 1993's Of Loki We Serve.
Reception
Níðhöggr was not reviewed in 1992 following its release, until it reached the USA and U.K in 2005 with a re-issue. Reviews were favourable, saying that the album shows a clear evolution of sound between Níðhöggr and the band's most current album at the time, 2004's Læraðr.
Track listing
"Rosor Rödfärgade (Roses Dyed Red)" - 9:37
"Djurets Lya (The Beast's Lair)" - 10:14
"Svart Flod (Black River)" - 8:34
"Himlen (The Heaven)" - 9:48
"Käftarna på Varelsen (The Jaws of the Creature)" - 10:53
"Segrande Söner (Victorious Sons)" - 7:03
"Epilog: En Avgång (Epilogue: A Departure)" - 9:00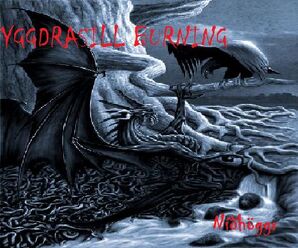 Community content is available under
CC-BY-SA
unless otherwise noted.