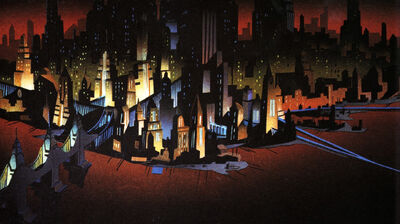 Mythic city is a 2025 neo-noir urban fantasy film based on the books by C.B. Smith, directed by Steven Spielberg, produced by Kathleen Kennedy, guillermo del toro, and George Lucas,and staring Josh Brolin, Daniel craig, Rachel weisz, Hailee Steinfeld, and Doug Jones. released was by Walt Disney studios and Amblin Entertainment. It is considered the first film to connect the Disney Live Action universe.
Plot
Cast
Hailee Steinfeld as Dorothy Gale

Malina Weissman as young dorothy

Josh Brolin as Gunnnolf
Doug Jones as Frankenstein's monster
Daniel Craig as Arthur Pendragon
Rachel weisz as Guinevere Pendragon
Lily James as Cinderella, also known as Ella
Richard Madden as Prince, also known as Kit
sacha baron cohen as the scarecrow
alan cumming as the tin-man
will ferrell as the cowardly lion
jeff bridges as uncle henry
Alfred Molina as the black talon
​Soundtrack
Also the soundtrack and three songs: original sin, Sway, and the night has a thousand eyes among several. all done in a swing 1930s/1940s style. Haliee steinfeld's cover of the night has a thousand eyes was even on the billboards at number 17.
1 Sway
3 whose afrid of the Big Bad Wolf
9 The Night has a thousand eyes
Reception
when the film was released it received critical and commercial success, receiving a 85% fresh on rotten tomatoes, and 8/10 by imdb. the film was nominated for 5 academy awards, and received 2 for best visual effects, and production design.
Sequels
The film was followed one year later by Mythic city 2: The Dragon's Fire. And then the following year by Mythic city 3: the shadows over the city and the Mythic city comic series by marvel.
Community content is available under
CC-BY-SA
unless otherwise noted.