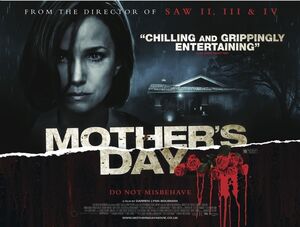 My Bloody Mothersday 2-Mommy's back is the sequel of My Bloody Mother's Day.
Plot
After the happenings from the first movie,the survivors are back in their normal lives.They don't know,that Carol Cliff is back again and her children are not as dead,as the seemed.They lock the girls in a little house in an empty field and torture them,and the house owners...
Cast
Katie Cassidy as Serena Cliff
Sasha Pieterse as Kayla Rice
Michelle Ang as Wendy Rogers
Lily Collins as Charlene Simmons
Arielle Kebbel as Robyn Wiress
Ashley Tisdale as Odete Stowell
Ariel Winter as Carrie Stowell
Ariana Grande as Chloë Stowell
Rachel Weisz as Leandra Stowell
Cory Monteith as Theo Stowell
Moises Arias as Marcus Stowell
Liam Neeson as Brian Stowell
Rebecca De Mornay as Carol Cliff/Natalie Koffin
Garrett Hedlund as Izaak Koffin
Briana Evigan as Lydia Koffin
Adam Sevani as Jonathan Koffin
Mark Salling as Addley Koffin



Survivors
Serena,Kayla,Wendy,Charlene,Odete,Carrie,Chloë,Leandra,Theo,Natalie Koffin,Lydia,Jonathan
Killers
Natalie Koffin
Addley Koffin
Jonathan Koffin
Izaak Koffin

Deaths
Marcus Stowell:Natalie told him to kill the bondaged wendy.He refused and is 
               hunted through the house,till Jonathan shot his head in the 
               field.
Jonathan Koffin:Stabbed in cartoid artery with tacker needles by Kayla and 
                Odete in the cellar;They hid the corpse in a box,then they hide
Brian Stowell:Burned ears with hot water by Natalie;shot in head by Leandra,
              because of his pain.
Addley Koffin:Hit with baseball bat by Chloë,Strangled by Charlene and finally
              slayed with a TV by Theo and Carrie.
Izaak Koffin:Burned head away with gaslamp by Serena after she knocked out 
             Natalie,who tried to kill Addley's murders with a grenade.
Robyn Wiress:Left bleeding in the house.She took the car key from death Izaak
             and helped Serena,Wendy,Kayla,Charlene and Odete escape.Not sure 
             if she bled.You can see in the last scene gasping in the field.

Ending
After Addley's death,Natalie is walking down the cellar and finds his death body.She notices,that only Robyn is still bondaged and cuts her serveral times with a knife.She sinks in and act like she's dead.Natalie is going to search for the hidden ones.Then she find the dead Izzak.Natalie freaks out and slaps Lydia and commands her to search for the Stowell's.She looks under a working bench and find the scared Carrie and Chloë.She gives Chloë their key car,which she took from dead Izaak,who stoles it from death Brian.She told the girls to be quiet and take her brother and mother and leave.Then she goes to her mother and hits her with wooden block.She walks down to the backyard,where the Stowell's waitand put her mother in the trunk.Then the family and Lydia entering the car and drive away.At the local hospital they stops and Lydia carrys her unconscious mother to the information.After that,you can see the family and the girls picknicking near the field,as Carrie finds the crawling Robyn in the field and screams.
Main Cast
Soundtrack
1.We are young (3:06)-F.U.N feat. Janelle Monae
2.This country is badass (3:53)-Sasha Pieterse
3.Kid's in america (3:19)-Cindy Lauper
4.Bad Karma (2:43)-Ida Maria
5.I will always love you (4:10)-Ariana Grande
6.Bump in the night (2:30)-Briana Evigan feat.Cast
7.Oh Mother (4:29)-Christina Aguilera
8.Can't fight the moonlight (3:01)-Katie Cassidy feat.Ashley Tisdale
9.Family Portrait (3:56)-P!nk feat.Michelle Ang and Rachel Weisz
10.Mommy's song (4:32)-Rebecca de Mornay feat. Cory Monteith and Adam Sevani
11.Nothing tears us apart (2:29)-Garrett Hedlund feat.Carrie Underwood
12.Glitter and Gold (3:45)-Rebecca Ferguson

Ending
(Natalie find his dead son)
Natalie:No!Not my Addley!Aaaddlley! (cries and sinks in)
Robyn:(put on her bondages,as she arrived from stealing keys) 
Natalie:(walks over to her) You!You dirt bird!Look what you've done!
Robyn:It wasn't my fault,ok?It was an accident!
Natalie:You did it!You killed by poor little Addley
Robyn:Don't act like he's innocent!You all are insane bastards!
Natalie:(Cuts her everywhere)
Robyn:(screams) Stop it!You bitch! (sinks in)
Lydia:Enough!Don't you see,that she's dead?
Natalie:Your brothers...
Lydia:I know...I saw them!
Natalie:My poor little baby (hugs her strong) We need to get your sister Serena
Lydia:Mom,she's...
Natalie:And then,we'll be a family!
Lydia:(stands in front of her face) Mom,she isn't your daughter!
Natalie:Why does she killed your brothers?
Lydia:She had complices! Let's get them!
(leave the room)
Kayla:Robyn,Robyn!Wake up!
Robyn:Kayla!She search for you!Take this (gives her a car key)
Kayla:What's this for?
Robyn:I removed this stuff and got it from this dead idiot!
Kayla:The father?
Robyn:No!The pervert brother!No take the girls and leave!
Kayla:But...
Robyn:Take the girls and leave!!!
Kayla:Take care for you okay?
Robyn:You know me!
(walks out the room)
Kayla:Where r u guys?
Wendy:Where's Robyn?
Odete:Is your friend okay?
Kayla:I guess!She gave me this!We now get the bastard's truck and leave.
Odete:But-My sisters...
Serena:She's right,we can't go!
Carrie:(runs in with Chloë) We gotta hide!The brother is comming!
Chloë:He got a hunting gun!
Izaak:Where are you,my sweeties?Come to daddy!Now that you lost yours!
Izaak:I'm here for you! (stopps in front of a bench;Carrie is hidden down)
Chloë:(runs to him and hit his back with a bat) Motherfucker!
Izaak:Aargh!You'll gonna pay for that (loads his gun)
Chloë:Crawles on her knees and hide
Izaak: (shot glasses) Don't worry,i'll get you soon!
Charene: (jumps onto him and grabs his neck strong) That's what u get!
Izaak:(hits her with the gun)
Chloë:(pulls him on the ground)
Carrie:Charlene!(Grabs the tv) I need help!
Theo: I won't leave you alone! (pulls the tv and drop it on Izaak)
(Izaak dies on an electric shock)
(Natalie walks in)
Natalie:No!Noooooo (freaks out) You!You killed all of my sons! (get a grenade)
Lydia:Mom!Don't!They're childs!
Natalie:They killed too!Go outside the house!
Serena:(hits Natalie with a shovel)
Natalie:(falls down)
Serena:You okay?We just need to leave now!Odete you're going with us!
Chloë:What's with us?
Serena:Your dad has the car key!Get that,your mom is knocked out!I saved her.
Theo:Don't worry,i drive!Where is she?
Serena:In the yard!Come on you guys!Kayla is still waiting!
(the girls leave and the family members hide in the cellar)
Natalie:(notices,the girls are gone) Aaargh!Lydia!You let them escape!
Lydia:They knocked me out (lies)!
Natalie:You let them escape! (slapps her) Now,get the stupid family here!
Lydia: (walks in the cellar and finds the sisters)
Lydia:Ssht!Don't be scared!Here are your keys!Now go!
Carrie:Why?
Lydia:She took your father and your brother!She need help!Now go!
(goes upstairs and knocks Natalie with a wooden block out)

Community content is available under
CC-BY-SA
unless otherwise noted.