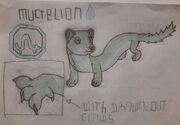 Muctelion – one of the Neobionts from the Neobiontomania series.
Profile on the computer
Type: Water
Character: Neutral
Size: Length 40cm + tail 12cm, Height 8cm
Human Origin: No.
Sapient: No.
Body Type: Weasel
Systematics: Mustelidae
Abilities: Speed, agility, swimming, breathing underwater, shooting slime
Natural Weapons: Teeth and Claws
Anatomy
Similar to an ordinary weasel (oblong, almost serpentine body, short limbs, long tail, pointed head with round ears), but with a dark green coat with a turquoise belly and skin and pads. The eyes are usually turquoise-green (although they can be of different colors), the nose is black.
Behavior
A lively, quite unruly creature. However, it can become a faithful companion.
Occurrence
Swamps
Abilities
It is very fast and agile, which is helped by very flexible joints and a relatively large number of vertebrae. It has quite sensitive senses. As a representative of the Water type it can swim well and even breathe underwater. He can also spit poisonous, sticky, green mucus. Waterproof fur.
Weaknesses
Like many other Water Neobionts, it is quite vulnerable to fire.
Food
Basically carnivorous (mostly birds and rodents).
Famous examples
Etymology
From the Latin words "mustela" ("weasel") and "mucus" ("mucus").