Morgan Shane is a main character in the TV series, Hartman and it's spinoff, Vargas & Shane.
Biography
Born in Philadelphia, Pennsylvania in May 1993. Morgan was raised in a loving hardworking family. Her father was a businessman and her mother was a doctor. She has two older slibings; Charlotte and Keanu and one younger brother; Ben (later renamed as Emily, become man to female).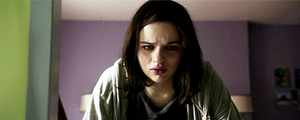 In April 2008, a 14-year-old Morgan accompanied her father on a business trip to New York. While there, they were meet by fellow businessman and family friend Gordon Fontana. One night Gordon charmed his way into Morgan's hotel room while her father was conducting overnight business, and then forcibly raped her overnight. The abuse continued every other night for a few weeks afterwards, until Morgan and her father returned home. Morgan never told her family about her rape due to the belief that it was mainly her fault. Upon learning that she was pregnant, she lied to her family, saying she had had a one-night stand with a boy in New York. Her family took Morgan to Louisiana in where she gave a birth to a boy (Gordon's son), Jonathan, in January 2009. She never informed Gordon about his son, not wanting him anywhere in the boy's life or hers.
Hartman
Season 9
In ninth season, Morgan was hired by D.A. office and soon got involved in the case of the death of a popular TV star. At the prime suspects trial, Morgan helped the Major Case Squad by bending the rules to dig up new evidence on the suspect that nailed him as the killer and led to his conviction. Morgan also help the squad on the case of a shooting at a theme park which left a father and young girl dead and another young girl injured.
After closing the case, Morgan was horrified when she came face-to-face with Gordon when seeing him with his wife and her boss Ellis Fontana and their daughter Angela in her office. When she and Gordon came face-to-face, he quickly recognized her and she pit up a brave and friendly front, citing that her Gordon is an old business partner and family friend of her father. Shane then left the office in a hurry and ended up throwing up and breaking down in the bathroom.
Morgan struggles to cope over seeing Gordon again when working to prosecute another case but later, she caught Gordon's step-daughter Ariel Vargas leaving his house. Morgan confronted Ariel over what her stepfather is, causing Ariel to reveal her own on-going abuse at Gordon's hands. Stunned, Morgan admits to Ariel that she herself was raped by Gordon as well when she was a teenager. Ariel tells Morgan that she wants Gordon to pay for everything that he's done, and shows her Gordon's keys, telling her that she is going to dig up as much evidence as she can find on him and then expose it all.
Season 10 to 11
TBA
Season 12
Shane was in the D.A. Office, speaking to her son on the phone who was staying with his grandparents when she witnessed an argument between Lowry and newly elected D.A. Gideon Chess when a 7.5 earthquake struck the city. She, Lowry and Chess were the only survivors trapped inside the D.A. Office.
Vargas & Shane
Season 1
TBA
Season 2
Somewhere between Shane meeting Vargas and the bombing of Vargas's house, Bridger and his conspirators kidnapped Shane. Bridger took the picture of her and send it to Vargas, ordering her to surrender to them or Shane will have her death streamed live. Vargas arrived and tried to force them to release her, but was forced to stand down and Bridger cuffed her. As they were transported, Vargas told Shane that Cisneros was killed when her house was bombed. As they were driven to the abandoned park ranger station, she and Vargas put up a resistance, but were soon overpowered and were taken inside the station, where most of Vargas's extended family were held captive. Then Bridger and the others set the building ablaze, leaving them to die in the fire. As Shane and Vargas sadly accepted their fate and held their bound hands together, a mysterious masked man came in and saved everyone. As Vargas and Shane followed him, their savior was revealed to be Vargas' still-alive father, Diego Vargas.
TBA
Season 3
TBA
Personality
Shane is a tough, gritty ADA who bends the rules to get dirt on the defendants and seek justice for those who deserve it. Due the long time abuse she suffered from family friend Gordon Fontana, she often appears cold and closed off from people, and becomes especially protective of her son, a product of abuse. However, when confronted with the opportunity to make Gordon pay for his crimes, she doesn't hesistate to take it, and following his conviction and imprisonment, she becomes more open with herself to her friends and family.
Relationships
Trivia
An episode of Hartman season 9 mentions her birthdate as May 12, 1993.