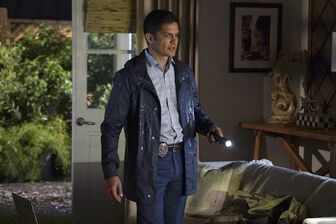 Miguel Ruiz is a main character in the TV series, The Sullivans.
Biography
Born in Fort Worth, Texas in February 1987. Miguel was the oldest of four children. His childhood was less than ideal: his father was often a drunk and was abusive on-and-off, and his mother suffered from biopolar depression. Eventually, when Miguel was 12, his father walked out and his mother's depression left her unable to care for her children. As such, the four Ruiz children were bounced from relative to relative for years there after, even split up on several occasions. Miguel eventually achieved an academic scholarship and moved to Denver for college, eventually deciding to stay there. Over the years, he gradually reconnected with his siblings and mother, but refused any contact from his father.
Miguel later joined the Denver Police Academy in 2016 at the same time as Drake Sullivan. The two became friends at the academy and graduated in the same class. After their rookie years, they eventually became partners on patrol and eventually were promoted to detective in 2023. Miguel and Drake spent a year in the Homicide/Robbery Bureau before eventually transferring to the newly-formed Family Justice Unit.
The Sullivans
Season 1
TBA
Season 2
TBA
Personality
An effective detective in his own right, Miguel tends to have a soft spot for children, particularly those who have dysfunctional families, due to his experiences with his own. However, he also has a turbulent personal life. This stems from commitment issues, likely due to the lack of stability during his childhood and adolesence, which have led to the breakdown of his two marriages. Nonetheless, Miguel remains a dedicated father to his children from both marriages.
Relationships
Roman Ruiz (father, deceased)
Anna Ruiz (mother)
Two unnamed ex-wives
Angel Ruiz (son)
Martika Ruiz (daughter)
Lupé Ruiz (daughter)
Lucia Ochoa (younger sister)
Santiago Ruiz (younger brother)
Victoria Ruiz (youngest sister)
Trivia
Service weapon: Colt 1911 80 Series
Community content is available under
CC-BY-SA
unless otherwise noted.