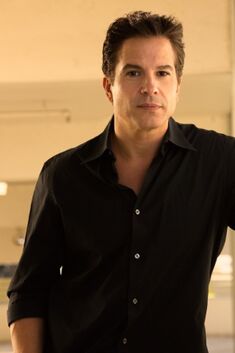 Miguel Reyes is a main character in the American crime drama, Law & Order: New Orleans.
Biography & Personality
Born in Guadalajara, Mexico, in April 1975, Miguel Reyes and his family emigrated to the U.S. when he was five. As the middle child of five kids, and the only boy, Miguel gained a deep respect for women at a young age. On his high school graduation night, he witnessed a woman being assaulted by her jealous boyfriend, and chose to intervene and stop him. The sense of protecting a woman inspired Miguel to study law enforcement and join the police academy. Once instated to the N.O.P.D., Miguel quickly rose through the ranks, even managing to make Lieutenant at a young age.
He is divorced, but on good terms with his ex-wife, and has two children, Santiago and Christina.
Miguel is portrayed as a dedicated cop, with a real sense of duty. While he is by-the-book most of the time, he doesn't heisitate to bend rules, especially when it comes to criminals who abuse women and children.
Miguel joins the MCCIS, transferring from the Sex Crimes Unit in the seventh season, as the replacement for Gino Carcaterra, who retired for a job at the D.A.'s office in order to care for his MS-stricken wife better. The squad, who was still getting used to Gino's departure, slowly began accept him. Eventually they accept him to the point of giving him utmost respect after he is made Interm Squad Commander following the departure of Captain Renko, mid-fourteenth season.
Relationships
Palmero Reyes (father)
Gabriella Reyes (mother)
Teresa Reyes (older sister)
Bernice Reyes (older sister)
Jenni Reyes (younger sister)
Lupita Reyes (younger sister)
Robin Reyes (née Thompson) (ex-wife)
Santiago Reyes (son)
Christina Reyes (daughter)
Elena Ruiz (girlfriend)
Trivia
Service weapon: Heckler & Koch USP
Speaks fluent Spanish.
Ranking:

Lieutenant (Season 7-21)
Captain (Season 22)
Community content is available under
CC-BY-SA
unless otherwise noted.