Metal Sonic


Universe
Sonic
Appears in
SSBSW
Debut
Sonic & Knuckles (1994)
Availability
Unlockable
The almighty Mecha Sonic has been confirmed to be playable in Super Smash Bros. Smash Wars.
Special Moves
Metal Sonic's Special Moves
Standard Special Move = Hand-Gun
Side Special Move
= Double Missile Shot
Up Special Move
= Jet Boost
Down Special Move
= Spin Charge
Final Smash
=
Semi Super Mecha Sonic
Final Smash #2
=
Earth Punisher
Final Smash #3
=
Metallix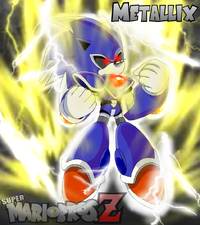 Taunts
Up: Laughs menacingly.
Side: Looks at one of his Chaos Emeralds, then puts it away.
Down: Gains strength while light surrounds him.
Victory Pose
Victory Theme: (Coming soon)
Laughs evilly and says, "I am the ultimate god!"
On-Screen Appearance
Lands onto the stage and comes out of the smoke.
Character Choice
Does an evil mechanical laugh.
Snake's Codec Conversation
Snake: "Uh...Otacon, either is it Sonic transformed into a robot or is it just me?"
Otacon: "No, Snake. That's Mecha Sonic. He's Sonic the Hedgehog's robotic foe. That thing is the strongest of the others so far."
Snake: "The others?"
Otacon: "Stronger the foes that you have faced so far, Mecha Sonic has the strength to overcome his foes. Not even weapons work against that beast!"
Snake: "Bah! I think you're trying to toy with me, Otacon. Strongest of the others so far...ha! I bet I can use my C4 when he charges right at me."
Otacon: "Um, I wouldn't think about it, Snake. Besides, he-"
Snake: "Ah, shut up and let me best this 'beastly' thing."
Palette Swaps
Metal Sonic's palette swaps affect the color of his robotic body.
Blue
Red
Orange
Yellow
Green
Purple
Brown
Black
Gray
White
Gold
Camouflage
Mecha Shadow
How to Unlock
(Not confirmed yet)
Character Quest Ending
Metal Sonic defeats Sonic and Mario, and takes all 7 Chaos Emeralds. He then transforms into Metallix and rules the World of Trophies with an iron fist.