You MUST read the Wiki Policy in its entirety before editing on this wiki!
Welcome to the Fanon Wiki, the official encyclopedia dedicated to everything fiction, including fan-fiction, roleplay, and stories!
---
We currently have 35,767 articles since our founding in 2006.
---
You MUST read the Wiki Policy first! • Also check out: Staff • Recent Activity
---
FEATURED ARTICLES!
---
Hello, and welcome to the Fanon Wiki.
This is a wiki about fan created characters, timelines, and anything else about existing storylines, you can create fanon relating to anything. You can create an article by typing the title in the box below and clicking "create article" and start typing in there, but before you do so, please read the official wiki policy.

If you need any help, contact Chris6d, or another staff member.

Where To Start
Categorize any uncategorized pages. If a category that the article/page should be in doesn't exist, create the category.
Use the Special:Random feature to find random articles to improve.
If you are new to wikis, you may want to try the tutorial on the Central Wikia
A list of all help pages can be found at Category:Help
Top Choice
JK JangWorks is a 2017 action-adventure comedy movie involving LEGO, produced and released by Chris6dFilms. The film is a wacky tale starring Chris6d, JangBricks and JK Brickworks. More >>>
Top Choice
Picking is a card game played with two to five players and one player is the dealer... More >>>
Top Choice
Burger Time is a 2017 app which involves the players making burgers for people at a burger joint. It involves a man whose brother formerly tried to kill him. The app was a commercial success. Read More >>>
Join the Community!
If you see this, your JavaScript might be disabled or DiscordIntegrator plugin isn't working. If the latter, please contact a wiki administrator.
Birthdays
Congratulations to the wiki users whose Birthdays are this month! Click on their names to wish them a Happy Birthday!
If it's your Birthday this month, you can be featured by replying with your Birthday here! w00h
Admin's Note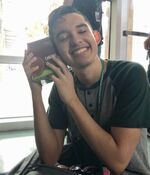 Hello, this is Aaron Alberto (Etherean4), I would like to welcome all of you to Fanon Wiki where stories are endless and neverending in imagination, creativity, and entertainment. Dream a dream, ever wanted to show the world your story ideas? Well you have come to the right place to do so! Feel free to contact me or any other admin for help, you can also reach me on my social media.
Twitter: @Aar0nalberto [1] or Instagram: @aarth.scape [2] I also have a YouTube channel[3]
I am proud to announce that despite all the obstacles that I have been facing since April of this year...MY DEBUT BOOK, THE MAGICAL TRAIN is coming October 2020 !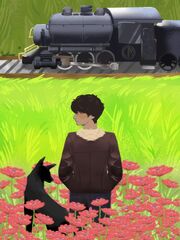 My book's early edition just came out ! :) Now ready for purchase: https://www.amazon.com/dp/B08HTGG6B1
Life Advice
A lot of you are really creative and talented ! And since I am aware that a lot of you are young, here is some life advice for you all: A lot of you are really imaginative from what I have seen on Fanon Wiki, and it appears to me that it is obvious that a lot of you have creative talents ! Well as you get older you will eventually need to get a job, so start as early as you can if you want to pursue a more creative, free-range based job as early as possible ! Wether it be drawing, writing, music, freelancing etc. Work for yourself before anything else, do not fall into the rat race of life ! Along the way, people will envy you, while simultaneously imitating you. They will try to tamper down your talents, however do not let them, keep being you, you will shine no matter how much darkness surrounds you in your efforts through bringing light to others with your creativity. Be an original, not a copy. Ground yourself in reality and create!
Sincerely, Aaron Alberto Vela
Featured Poll
Community content is available under
CC-BY-SA
unless otherwise noted.