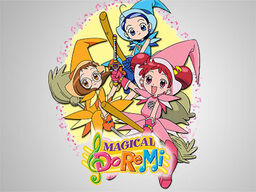 Magical Doremi is a 2015 magical comedy film based on an anime TV series, starring Francesa Capaldi, Mackenzie Foy, Caitlin Carmichael, Ashley Gerasimovich, Claire Geare, Emily Alyn Lind and Samantha Bailey.
Summary
Eight-year-old Dorie Goodwyn aspires to be a user of magic, as she believes it would solve all her problems and help her confess to a boy she liked. One afternoon, she comes upon a magic shop and correctly suspects that the shop owner is a witch. The shop owner becomes a "witch frog" (majogaeru), as this happens to witches when their true identities are discovered. In order to retain her original form, the shop owner, Patina, takes Dorie as her apprentice to turn her into a witch. Dorie must take nine witch exams at night to become an official witch; however, she must never let her own identity as a witch be found out or the same fate that befell Majo Rika will happen to her. Because of Dorie's constant mishaps in magic, Patina refers to her as an "ojamajo", a portmanteau of the words "ojama" ("troublesome") and ("majo" ("witch").
On her way, Doremi is joined by her two best friends, Reanne Griffith and Mirabelle Haywood, as well as her younger sister, Caitlyn. While taking tests to become better witches, at the same time, Doremi and her friends help out their classmates and friends with their own problems via magic, as well as battle Majo Rika's rival, Majo Ruka. All is going well until they meet Ellie Craft, a child idol, who does not share the same morals in using magic as them. Eventually, Ellie allies with Dorieand the girls and even saves them from turning into witch frogs at the cost of her own consciousness.
Plot
Cast
Francesca Capaldi as Dorie Goodwyn
Mackenzie Foy as Reanne Griffith
Caitlin Carmichael as Mirabelle Haywood
Ashley Gerasimovich as Ellie Craft
Claire Geare as Caitlyn Goodwyn
Emily Alyn Lind as Sarah Anderson
Samantha Bailey as Hana
Jessica Tyler Brown as Fami
TBA as Penny
TBa as Justin Bailey
TBA as Todd Washington
TBA as Amanda
TBA as Gia
Mackenzie Brooke Smith as Autumn Harrison
Leslie Mann as the voice of Patina
TBA as Laralie
Main Cast Gallery
Quotes
Notes
Caitlin Carmichael will have a blue wig for her role.
Ashley Gerasimovich will have a purple wig for her role.
Claire Geare will have a pink wig for her role.
Community content is available under
CC-BY-SA
unless otherwise noted.