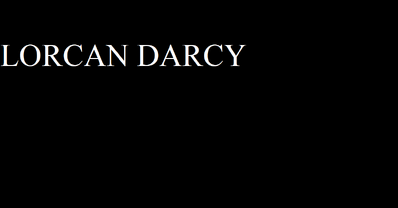 Lorcan Darcy is the 2018 drama adventure film that serves as the first installment of the Lorcaverse. It was directed by Seth Rogen and written by Steve Googan. It stars Ansel Elgort in the lead role. It also co-stars Claire Blackwelder, Judy Greer, Bryce Dallas Howard, David Tennant, Lisa Kudrow, Jennifer Aniston, Victoria Justice and Bella Thorne. It features the late actress Dana Plato from the TV series Diff'rent Strokes and the 1992 Interactive fiction video game by Digital Pictures for the Mega CD, Sega CD, Sega CD 32X, and 3DO, Night Trap.
Summary
The story follows in the first half of the film, Lorcan Darcy (Ansel Elgort) as he escaped from the police after fire a crossbow at his brother and has nobody to turn to, until he is got accidentally transformed into a mystical blue entity when he unlocks his new powers. Now he must find his way to fix his mess with a help from the second Dino Charge Purple Power Ranger, Kendall Morgan (Claire Blackwelder).
Some times later in the second half, Lorcan's abusive father (Ron Leibman) challenge him into a game from 1992 called Night Trap and if he wins, Lorcan comes home and if Lorcan wins, he won't. Inside of the game, he discovers that five more teenage girls head towards the estate, Kelli, Ashley, Lisa, Cindy, and Megan. S.C.A.T. was able to place agent Kelli Medd (Dana Plato)[b] within the group as an undercover agent. The girls are not aware of her true identity.[3] Also with the girls is Danny, Lisa's younger brother. What the gang does not know is the house is infested with Augers, vampiric beings that need blood to survive. The Martin family themselves are in the process of becoming vampires.
Plot
Gallery