Look What They Made Me is a supernatural horror-slasher film, starring Christ Hall, Danielle Panabaker, Bella Sana and Katie Cheesy.
Summary
a doll just possessed from the demon and evil spirit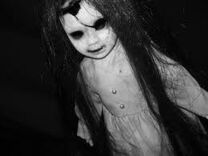 Hanna (Bella Sana) daughter of Sam (Christ Hall) and her wife Julia (Danielle Panabaker) a doll killing someone that who turn her into a doll and her friend toys
Plot
in 2011 Sam get married with Julia and in 2012 Julia have a daughter Sam was happy. the doll just revenge and she will kill her family and her wife "but not her daughter".
Sam in her new home and Hanna go to have some friends and Hanna see a doll and she like it and hug her and the doll eye was happy and not kill her and keep her forever and Hanna take her in the house and see her with Sam and Sam scare with that doll.
Sam told Hanna throw it away but Hanna keep it and never throw it because she love it. her mom get it and Hanna told her no and the doll bites Julia fingers. Hanna is happy to have it. the doll turn her into a doll and she now a killer doll.
Jack (Connor Gibbs) is playing a video. Hanna go to her father room and hold a knife. her father is sick and her father scream and stab in the heart 5 times. Jack go to see her father and scream with killed by Hanna.
Jack died in the news. Hanna possessed the toys and now going to kill anyone. Jill (Katie Cheesy) eating some meatloaf and the demonic toy hold Jill leg and almost killed her.
The Doll taked Hanna and put her in the portal possessed world and Julia told her "DO Not Do it" and the doll "Bye Bye" and the Doll jump and the portal close and eaten Hanna forever
Julia stab by Robot Toy and Sam disappear at the lose
Casts
Bella Sana as Hanna/The Doll
Katie Cheesy as Jill (Hanna Friend)
Connor Gibbs as Jack (Hanna Friend)
Christen Hall as Sam
Danielle Panabaker as Julia
Danny Glover as Jack Dad
Deaths
Hanna-eaten forever
Jack- get killed by Hanna
Sam-teleport and get killed by The Doll
Julia- stab by Robot Toy
Jack Dad- get stab by Hanna 5 Times
No Survivors
Trivia
Not Rated for Bloody Contest, Bad Ending and Gore Violence
Community content is available under
CC-BY-SA
unless otherwise noted.