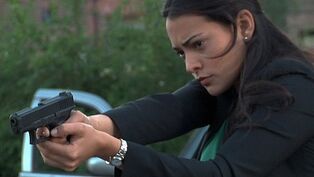 Lola Rebecca Bryan (ñee Sanchéz) is a main character in the American crime drama, Law & Order: New Orleans.
Biography & Personality
Born in Mexico City, Mexico in April 1987, Lola was born to a family who emigrated to the United States when she was just four. The youngest of five children, she had always wanted to make a difference in the world, and at first aspired to be a journalist. During college, she had an internship at a local newspaper. Her superior seemed to believe in her and gave her all the best assignments, even recommending her for a full-time position. However, near the conclusion of her internship, he took Lola out to dinner and attempted to seduce her. When she refused, he threatened to revoke his promises and refuse to give her college credits for her hard work. She threw a drink in his face and stormed out, quitting the internship the following day.
After becoming disillusioned with journalism as a result of the experience, she took a gap year, during which she married her longtime sweetheart, and eventually decided to become a police officer, joining the academy and graduating as one of the best in her class. After eight years as a uniformed patrol officer, she finally decided to try the detective's exam and passed. She spent a year-and-a-half with the Warrents Squad before becoming pregnant. Following the birth of her daughter Iris, she took five months maternity leave, during while she decided to transfer to the MCCIS.
Lola is fiery and passionate about her job, and especially about cases regarding women being exploited in terms of their profession, due to her own experience.
In the twenty-first season premiere, Bryan arrives at the squad having freshly come off of maternity leave to replace Kasey Shepherd.
Relationships
Grant Bryan (ex-husband)
Iris Bryan (daughter)
Unnamed parents
2 unnamed brothers
2 unnamed sisters
Trivia
Community content is available under
CC-BY-SA
unless otherwise noted.