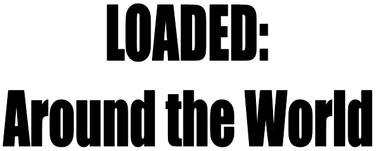 Loaded: Around the World is a half-hour-long series and an enhanced version of Loaded on the public TV station Fuse TV. During the show, videos from one specific artist play. Usually there is a mix of old and new videos for each artist. Depending on the video length there are between 5 and 6 videos per episode. VOCALOID singers (such as Hatsune Miku and KAITO) also appear in this music series.
List of artists featured
10 Years
2 Chainz
21 Savage
2NE1
311
3 Doors Down
3LW
5 Seconds of Summer
50 Cent
6lack
702
98 Degrees
Aaliyah
Aaron Carter
AC/DC
The Academy Is...
Adele
Adrian Marcel
Aerosmith
AFI
Against Me!
AKB48
Akon
Alanis Morissette
Alessia Cara
Alicia Keys
Alien Ant Farm
All-American Rejects
Amy Winehouse
André 3000
Angels & Airwaves
Anna Kendrick
Ariana Grande
A$AP Ferg
A$AP Mob
A$AP Rocky
Ashanti
Asher Angel
Audioslave
Austin Mahone
Ava Max
Avenged Sevenfold
Avril Lavigne
Babyface
BABYMETAL
Backstreet Boys
Bad Bunny
Bazzi
Bea Miller
Beastie Boys
The Beatles
Bebe Rexha
Beck
Belly
Beyoncé
Big Bang
Big Boi
Big Sean
Big Time Rush
Billie Eilish
Billy Ray Cyrus
The Black Eyed Peas
BLACKPINK
Blackstreet
Blaque
Blink-182
Blur
Bone Thugs-N-Harmony
Bow Wow
Bowling for Soup
Brandy
Brian McKnight
Bright Eyes
Britney Spears
Bruce Springsteen
Bruno Mars
Bryson Tiller
BTS
Bush
Busta Rhymes
Calvin Harris
Camila Cabello
Cardi B
Capone-N-Noreaga
The Chainsmokers
Chance the Rapper
Charli XCX
Charlie Puth
Chevelle
Childish Gambino
Chloe x Hallie
Chris Brown
Chris Stapleton
Christina Aguilera
Ciara
Clean Bandit
Cö shu Nie
Coheed and Cambria
Coldplay
DaBaby
Daddy Yankee
Daft Punk
Dan + Shay
Dashboard Confessional
Daughtry
Dej Loaf
Demi Lovato
Depeche Mode
Desiigner
Destiny's Child
DJ Khaled
DJ Snake
DMX
Dr. Dre
Drake
Dua Lipa
E-40
Earth, Wind & Fire
Ed Sheeran
Eir Aoi
Ella Mai
Ellie Goulding
Elton John
Eminem
En Vogue
Enrique Iglesias
Evanescence
Eve
Fabolous
Faith Evans
Faith Hill
Fall Out Boy
Fat Joe
Fergie
Fetty Wap
Fifth Harmony
Fleetwood Mac
Flo Rida
Florida Georgia Line
Foo Fighters
French Montana
Fun
Future
G-Eazy
GARNiDELiA
Ghostface Killah
Ginuwine
Girls' Generation
Gloria Estefan
Good Charlotte
Gorillaz
Green Day
Gucci Mane
GUMI
Guns N' Roses
Gwen Stefani
H.E.R.
Halsey
Hanson
Hatsune Miku
Hillary Duff
Hoobastank
Hootie & the Blowfish
Hozier
Hyde
Iggy Azalea
Imagine Dragons
Iron Maiden
IU
J Balvin
J. Cole
Ja Rule
The Jackson 5
Jagged Edge
Janelle Monáe
Janet Jackson
Jason Derulo
Jay-Z
Jennifer Hudson
Jennifer Lopez
Jermaine Dupri
Jesse McCartney
Jessica Simpson
Jessie J
Jhené Aiko
Jimmy Eat World
Joe Budden
JoJo Siwa
Jonas Brothers
Judas Priest
Juice Wrld
Juicy J
Justin Bieber
Justin Timberlake
Kagamine Len
Kagamine Rin
KAITO
Kamui Gakupo
Kana-Boon
Kane Brown
Kanye West
Karol G
Kasane Teto
Katy Perry
Kehlani
Keith Murray
Keith Urban
Kelis
Kelly Clarkson
Kelly Price
Kelly Rowland
Kendrick Lamar
Ke$ha
Keyshia Cole
Khalid
Kid Ink
Kid Rock
The Killers
Kings of Leon
Kodak Black
Korn
KYLE
Lady Gaga
Lenny Kravitz
LFO
Lil Jon
Lil Nas X
Lil Wayne
Lil' Kim
Lil' Mo
Limp Bizkit
Linkin Park
Lionel Richie
LiSA
Little Big Town
Lizzo
Logic
Lorde
Ludacris
Luis Fonsi
Luna Haruna
Luther Vandross
Lynyrd Skynyrd
M.I.A.
Mac Miller
Machine Gun Kelly
Macklemore
Macy Gray
Madonna
MAGIC!
Maluma
MAN WITH A MISSION
Mandy Moore
Marc Anthony
Maren Morris
Mariah Carey
Mario
Mario Winans
Mark Ronson
Maroon 5
Marshmello
Mase
Matchbox Twenty
Meek Mill
Megadeth
Megan Thee Stallion
Megurine Luka
MEIKO
Metallica
Method Man
Michael Jackson
Migos
Miley Cyrus
Missy Elliott
Monica
Monsta X
Muse
Mustard
My Chemical Romance
Mýa
Mystikal
N.E.R.D.
Namine Ritsu
Nas
Ne-Yo
Nelly
Nelly Furtado
New Found Glory
Next
NF
Nick Jonas
Nickelback
Nicki Minaj
Nicky Jam
Nine Inch Nails
Nipsey Hussle
Nirvana
Nivea
No Doubt
Normani
The Notorious B.I.G.
NSYNC
Oasis
Offset
The Offspring
Omarion
One Direction
OneRepublic
Outkast
Ozuna
Panic! at the Disco
Pantera
Paramore
PARTYNEXTDOOR
Pearl Jam
Pentatonix
Pharrell Williams
Pink
Pitbull
Post Malone
Prince
Prince Royce
Psy
Pussycat Dolls
Q-Tip
Quavo
Queen
Quincy Jones
R. Kelly
Radiohead
Rae Sremmurd
Rage Against the Machine
Rammstein
Red Hot Chili Peppers
Redman
Rich the Kid
Rick Astley
Rick Ross
Ricky Martin
Rihanna
Rise Against
Robin Schulz
Roddy Rich
The Rolling Stones
Romeo Santos
Run-D.M.C.
Sabrina Carpenter
Sage the Gemini
Salt-N-Pepa
Sam Smith
Sammie
Scarface
Schoolboy Q
Sean Combs
Seether
Selena Gomez
Shakira
Shawn Mendes
Sia
Skylar Grey
Slipknot
Snoop Dogg
Soundgarden
Spin Doctors
Stefflon Don
Stone Temple Pilots
Sum 41
Swae Lee
SWV
System of a Down
SZA
T.I.
Taking Back Sunday
Tamar Braxton
Tamia
Taylor Swift
Tenacious D
Three Days Grace
Tinashe
TLC
Toni Braxton
Tony! Toni! Toné!
TQ
Train
Travis Scott
Tupac Shakur
Twenty One Pilots
Twista
Ty Dolla $ign
Tyga
Tyrese
U2
The Used
Usher
Uverworld
Van Halen
Wale
Walk the Moon
WC
The Weeknd
Weezer
Whitney Houston
Will Smith
Wiz Khalifa
Wyclef Jean
Xzibit
Yellowcard
YG
Ying Yang Twins
Young Thug
Zedd
Zendaya
Community content is available under
CC-BY-SA
unless otherwise noted.