| | |
| --- | --- |
| | The owner of this page is DinosaursRoar. According to policy, no other user, with the exception of admins, may edit this page without the owner's permission. If they do, they will receive an automatic 3 month block. If you are the Owner, and someone edits your page, alert Chris6d immediately. |
A
complete list
of the
introduced species
for even
quite small areas
of the world would be dauntingly long (
literally
). Humans have introduced more different species from
today's world
(even genetically-engineered ones),
prehistory
(through
Time travel
), or
fiction
(through
Universe travel
, aka Universal travel, Dimension travel, or Dimensional travel) to new environments in the
real world/modern times
than any single document can hope to record. This list is generally for established species with truly wild populations
—not kept domestically, not kept in zoos/safari parks, not kept in pet stores, nor kept on ranches—
that have been seen numerous times, and have the very
successful breeding populations
. While most introduced species can cause negative impact to new environments they reach or were brought to, some can have positive impact, just for conservation purpose.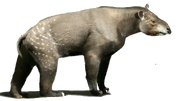 In this list, if the species has an I symbol next to the species name, that means that species is an invasive species, if the species's name doesn't have an I symbol next to it, it isn't an invasive species, but they can still thrive even if it's not an invasive species.
(Note: All deadly and non-deadly diseases on earth (the ones that are viruses, bacteria, etc.) including ebola, malaria, zika, rabies, stomach bug, and others, as well as non-mushroom-type fungi, are eradicated on earth, so they aren't listed here)
See also
Community content is available under
CC-BY-SA
unless otherwise noted.