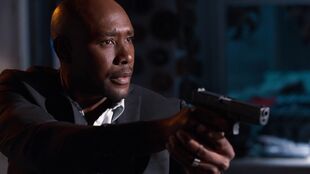 Lewis Robbins is a main character in the TV series, Hartman.
Personality
Born in Baltimore, Maryland in July 1972.
Hartman
Season 1
TBA
Season 2
TBA
Season 3
TBA
Season 6 & 11
TBA
Personality
A by-the-book lawman, Robbins often has a black-and-white view of criminals. While he does have sympathy for those who have had rough upbringings that they couldn't escape, he points out that it's not always an excuse or justification for their crimes.
Relationships
Lee Robbins (father)
Wilma Robbins (mother)
David Robbins (brother)
Quentin Robbins (brother)
Mel Robbins (sister)
Lester Robbins (brother)
Tonya Robbins (sister)
Aaliyah Robbins (wife)
Dakota Robbins (daughter)
Toni Robbins (daughter)
Malcolm Robbins (son)
Janetta Robbins (daughter)
Tracy Robbins (daughter)
Trivia
Community content is available under
CC-BY-SA
unless otherwise noted.