Line 1,872:
Line 1,872:
 

'''#16 - "Shades of White"'''

 

'''#16 - "Shades of White"'''

 
 
−

A bride is found decapitated and dismembered on her wedding day, and the MCCIS takes the case. At first suspecting a jealous ex, the squad looks in a new direction after one of the bridesmaids turns up shot to death, execution-style. Soon the groom's brother is revealed to be the murder, having been obsessed with the bride for years, and killed and dismembered her for rejecting her advances, as well as the bridesmaid after she figured everything out. In court, Althena Li (guest star Ming-Na Wen) returns to defend the brother and clashes once again with the squad and D.A.'s office, in trying to prove his innocence. Despite her cuthroat tactics, the brother is convicted and given a double-life sentence without parole.

+

A bride is found decapitated and dismembered on her wedding day, and the MCCIS takes the case. At first suspecting a jealous ex, the squad looks in a new direction after one of the bridesmaids turns up shot to death, execution-style. Soon the groom's brother is revealed to be the murder, having been obsessed with the bride for years, and killed and dismembered her for rejecting her advances, as well as the bridesmaid after she figured everything out. In court, Li (guest star Ming-Na Wen) returns to defend the brother and clashes once again with the squad and D.A.'s office, in trying to prove his innocence. Despite her cuthroat tactics, the brother is convicted and given a double-life sentence without parole.

 
 
 

Meanwhile, O'Bannon deals with his deliquent sister, who's in trouble with the law again, and at the end, the D.A.'s office is visited by none other than former ADA Janet Ashe (special guest star Paula Patton).

 

Meanwhile, O'Bannon deals with his deliquent sister, who's in trouble with the law again, and at the end, the D.A.'s office is visited by none other than former ADA Janet Ashe (special guest star Paula Patton).

Line 1,880:
Line 1,880:
 

Queen, Frease and Winston investage the murders of three seemingly random people, they soon suspect a serial killer is at work, when they find that all the victim's eyes are blue.

 

Queen, Frease and Winston investage the murders of three seemingly random people, they soon suspect a serial killer is at work, when they find that all the victim's eyes are blue.

 
 
−

Meanwhile, Ashe reveals she is awaiting test results of weather or not her cancer is in full remission, Parker's family visits him in the hospital, and McCorrea and Shields once again clash with Althena Li in court.

+

Meanwhile, Ashe reveals she is awaiting test results of weather or not her cancer is in full remission, Parker's family visits him in the hospital, and McCorrea and Shields once again clash with Li in court.

 
 
 

'''#18 - "To Hell and Back"'''

 

'''#18 - "To Hell and Back"'''
---
Revision as of 21:25, 14 February 2016
"In New Orleans' war against crime, the Major Criminal Case Investigation Squad pursues and brings down the worst offenders, and works in coalition with the District Attorney's Office to prosecute them. This is one of their cases." ― The opening narration by Steven Zirnkilton. (Season 12-present)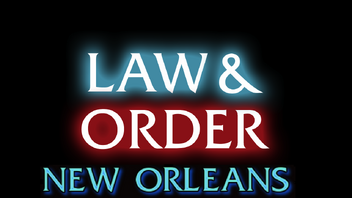 Law & Order: New Orleans is an American police procedural and legal drama television series, adapted as a spin-off of the long-running crime drama Law & Order. Created and produced by Dick Wolf, the series premiered on NBC on September 23, 2011.
Set in New Orleans, LA, the series follows the same two-part approach as the original series, but like SVU and CI, also allows significant development for the series characters. In each episode, when a crime is committed, the victims are represented by two separate yet equally important groups: the New Orleans Police Department, where a team of elite detectives and their ranking captain investigate the crime, and the New Orleans District Attorney's Office, where the D.A. and his team of A.D.A.s conduct the people's case against the offenders in the trial, with D.A. Investigators often assisting the police in their investigations to make sure they run smoothly. In every episode, the first half hour focuses on the investigation by the detectives, followed by the second half the of episode focusing on the prosecution of the offenders by the assistant district attorneys.
Investigating the crimes are the N.O.P.D.'s Major Criminal Case Investigation Squad (MCCIS), who all report to their captain. It is their job to investigate the crime, collect evidence, interview witnesses and then, when the evidence points to a suspect or suspects, place the suspect(s) under arrest. The matter is then taken over by the prosecutors of the New Orleans District Attorney's office. They discuss deals, prepare the witnesses and evidence and conduct the people's case in the trial.
Both teams work with the Medical Examiners Office, Crime Lab and psychiatrists from both the police department and DA's office, and deliver it those that abuse it, Big Easy-style. In the style of the original Law & Order, episodes are often "ripped from the headlines" or loosely based on a real crime that received media attention. At times, a particular case could take an entire season's length to be closed.
A spin-off, Hartman, focusing on popular recurring character Chloe Hartman, has premiered.
Production
Current Cast
Law
Order
Recurring Cast
Former Main Cast
Former Recurring Cast
Jessica Chastain as Officer Chloe Hartman (Season 1-2, 6-7, 12)
Jeremy Renner as Max Browning (Season 1-2, 6-7)
Michelle Rodriguez as Jasmine Gutierrez (Season 1-2, 12)
Joel Courtney as Jack Hartman (Season 1-5, 7)
Abigail Breslin as Lauren Hicks (Season 2-5, 7)
Olivia Wilde as Beth Cades (Season 3)
Bruce Greenwood as I.A. Detective Steven Croft (Season 4)
B.D. Wong as Special Agent Dr. George Huang (Season 5-6)
Johnny Sequoyah as Alice Sebastian (Season 5-9)
Danay García as Keisha Salazar (Season 6)
Diane Lane as Beth Adams (Season 6-7)
Bill Paxton as John Levinson (Season 7)
Ruth Negga as Detective Amelia Narios (Season 7-9, recurring; 11, guest)
Courtney B. Vance as Tony Okafor (Season 8)
Brit Marling as NYPD Detective Riley Price (Season 8-9)
Summer Bishil as Detective Jo Qadri (Season 9, 13)
Sam Worthington as Sean Carter (Season 9)
Kate Beckinsale as Detective Carla Valentine (Season 10, recurring; 9; guest)
Christy Knowings as Joyce Hughes (Season 10, recurring; 6, guest)
Rory Cochrane as James Wallace (Season 10)
Joey King as Claire Valentine (Season 10)
Rumer Willis as Officer Simone Hackney (Season 5-12)
Stephen Quadros as Officer Chester North (Season 9-12)
Tristin Mays as Alisha Nelson (Season 12, 15)
Thandie Newton as Detective Stella Hughes (Season 3-5, 10-13, recurring; 7, guest)
Justin Bieber as Detective Alec Evans (Season 12-13)
Calum Worthy as Detective Kenton Frye (Season 12-14)
Regina King as M.E. Niobe James (Season 1-15)
News
Law & Order: New Orleans News (Archive)
Season 16 News:
Will premiere on December 21, 2015. (Until then, nobody post or mess around with anything, or it will be deleted, understood?)
Will consist of 22 episodes.
Tamera Mowry-Housley will be upgraded to the main cast in Maggie Q's place.
Jazz Raycole will upgraded to the main cast. 
Megalyn Echikunwoke will join as the new Medical Examiner.
Texas Battle will join as a new detective.
Gary Sinise will recur as Trent Cutter for five episodes.
Jake McLaughlin will play Leon Frease, Detective Dolphin Frease's brother for thirteen episodes. Leon will be ADA Shields' love interest.
Paula Patton will return as Janet Ashe for a five episode arc which will uncover whether her cancer has taken a turn for the better or a turn for the worse.
Chace Crawford, Alisha Wainwright, Amber Heard, Michael Welch and Sinqua Walls will guest star for two-parter as a group of terrorists who hold the patrons of a movie theatre hostage, with Keith Parker (Mason Dye) and Alisha Nelson (Tristin Mays) among the hostages. 
Ming-Na Wen will appear in seven episodes as 'Defense Attorney Althea Li, a rival attorney who has a personal vendetta against Zhao, but since Zhao has left the MCCIS, Li takes her frustration out on the rest of the team.
This season will put more focus on Det. Shepherd, Lt. Reyes, and ADA McCorrea's personal lives.
Bill Pullman will plays Dolphin and Leon's father, Robert Frease for six episodes.
Joan Allen will plays Dolphin and Leon's mother, Anna Frease for four episodes.
Episodes
Season 1 (2011-12)
#1 - "Scream"
A young girl is found murdered at a local park. Detectives Parker and Queen try to find the girl's family when they go missing following the girl's death. Detective Marquez and Detective Zhao meet a rookie officer Chloe Hartman (Jessica Chastain) and found out Chloe's parents was murdered when Hartman was 7 years old by a criminal. Marquez and Zhao team up with Hartman to find the criminal who could be Hartman's parents's killer.
#2 - "Silent and Terror"
Officer Hartman gets a call from an old friend who told her he shot and killed his wife, before turning the gun on himself. Parker and Queen investigate and discover that a string of affairs the wife had let to her husband killing both of them. ADA McCorrea and ADA Ashe found out the woman's most recent secret boyfriend was her husband's brother.
Meanwhile, Captain Hicks learns about and is shocked about his brother's arrest of their estranged cousin's murder and believes he could've been framed by somebody. Can Sgt. Carcaterra help Hicks and clear his brother's name?
#3 - "Creatures of the Night"
Queen and Zhao investigate when a 16-year old girl is raped and beaten while celebrating her birthday. Queen and Zhao found out somebody was planning to ruin the girl's life for revenge against her parents. Max Browning, an ex-Marine and the son of a dangerous rapist, is released from prison after 15 years. Parker discovers that Max is the father of Officer Hartman's 15 year old son, Jack (Joel Courtney) and becomes worried about Officer Hartman and her son.
But Parker later learns out that about 16 years ago, before Jack was born, Max's father raped 5 females, and killed two of them (one of which was a 13-years-old girl). Max killed his father when he discovered his father's sick nature, and was sent to prison for second-degree murder. Parker told Captain Hicks about Max and worried Hartman telling her son about her father. But after Jack gets arrested for beating a bully who was bothering him up, Parker and Hicks start to worried that Jack could end up as his father.
#4 - "Train"
Marquez and Jacobs work together to investigate a mass murder at a train station. DA Grimes found out the first murder on train station happened 9 years ago. Grimes asks Sgt. Carcaterra to help Marquez and Jacobs to find the killer. ADA McCorrea and ADA Ashe found out Carcaterra was the first officer to respond to the shooting and the only survivor 9 years ago at the mass murder. Parker and Hicks told Queen about Max. When they visiting Max after his released, Parker, Hicks and Queen found Max's new girlfriend Jasmine (Michelle Rodriguez) does not know about Max is the father to Officer Hartman's son. Parker, Hicks and Queen agree to not to tell Jasmine. 
#5 - "Moonlight River (Part 1)"
Parker and Queen visits Jacobs at a bar for a drink. Then Queen hits a schoolgirl with his car, by accident leaving her in a coma. Parker and Jacobs try to help Queen and his future on the force with the help of Grimes, McCorrea and Ashe. Zhao discovers the schoolgirl was a victim of cyberbullying. When she try her best to stay away from Max who seemingly wants to rekindle their old flame, Officer Hartman help a teenager girl who is pregnant and a runaway. The case reminds Hartman of when she was young and got pregnant with Max's baby.
#6 - "Bleeding Love (Part 2)"
Queen is left fighting for his life after getting shot by the schoolgirl's father who wanted revenge for putting his daughter in a coma after Queen is exhonorated. The MCCIS found in hard when the schoolgirl's father threatening ruining Queen's future. Hicks visits Hartman and discovers some shocking secrets about Jasmine: she may possibly be a serial assaulter who targets teenage boys. They worried about telling Max about his girlfriend becoming a murderer.
#7 - "Shoddy"
The MCCIS tracks down a ruthless contractor whose ingnorance of safety regulations caused a building collapse that left 5 people dead and dozens more injured.
#8 - "Vroom"
The MCCIS tracks a car theft ring who is solely targeting Ferraris for some reason. Parker and Zhao go undercover in the ring to get the identity of the man-in-charge.
#9 - "The Brave Reason"
Hicks's son is arrested after several large bags of cocaine was found in his bag. McCorrea and Ashe try to help Hicks's son then the MCCIS discover that the drugs actually belong to a known thug who'd been pushing Hicks's son to join his gang. Meanwhile, Max found out Jasmine planning to get rid of Hartman and expresses her of dislike her. When Max visit Hartman to tell her this, he ends up kissing her.
#10 - "Bad Wednesday"
Queen returns to work after hospital. When he returns home, he and his family discover the body of 11-year old boy in his. Parker found out the boy planning to break into Queen's house then somebody stab him to death. Jacobs tells Marquez he has feeling for her and Hartman struggles with her feelings after Max's visiting and the kiss. Hartman tells Hicks, she worried about Jack's future and thinks Hicks is right about Jasmine.
#11 - "Final Destination"
The MCCIS tracks down a escaped convict and discovers that he was hired for some sort of job. At the same time, McCorrea and Ashe must retry a bank robber who killed 5 people in his escape, but left one witness who is all to eager to tes. Plus, Hartman gains a new partner Officer Wade Lockett (Cress Williams) and ends up taking an very unexpected step in her relationship with Max.
#12 - "Black and White"
Hartman and Lockett are injured and end up in hospital when trying to break up a fight between members of the KKK and the New Black Panther Party. Parker, Queen, and the rest of the MCCIS must work quickly prevent a race riot. When she is resting in hospital after getting shot in the shoulder, Hartman shocked to see Max when he visiting her.
#13 - "Casino Royale"
Marquez and Jacobs go undercover in a casino when a man who won a poker game against all odds there turns up dead. Jacobs faces off against a known millionaire in another poker game and Marquez think the millionaire could be the man's killer. Queen found out his brother in hospital after getting brutally mugged and Hartman becomes worried when she learns that Jack's skipped school for three days.
#14 - "Peace of Mind"
The MCCIS hunts a serial killer who poses as a taxi driver, lures his victims in, then kills and dumps them at remote locations. Meanwhile, Caracterra must find a way to deal with his sister's abusive ex-husband, who has been stalking and threatening her, and Hartman, after feeling sick, goes to the doctor and learns that she's pregnant (after sleeping with Max in "Final Destination"). 
#15 - "Black Mirror"
Parker learn about Max's family's past when a woman (Olivia Hussey) who is Max's biological mother committing suicide after her family left her. Hartman is worried telling Max about her being pregnant with his child for the second time. She remembers the time when she meet Max, and his father going to prison for rape and murder and when she was pregnant with Jack. Jacobs and Hicks found out Queen and Marquez have both been missing for 4 days now.
It is revealed at the end, Jasmine kidnapped Queen and Marquez and she is taking them away from New Orleans.
#16 - "Race Against Time"
With Queen and Marquez goes missing for almost a week now, the team found out Jasmine kidnapping them and taking them away from New Orleans. Ashe found out Jasmine's past and family (including about how she'd been repeatedly sexually assaulted and raped her oldest brother and several others throughout her life since she was 9) and Hartman think she should tell Max about her pregnancy and Hartman found out she was the same with Max's mother when they are both young and pregnant (Max's mother was pregnant with Max's father's baby and Hartman was pregnant with Max's baby).
#17 - "Time Left"
The MCCIS finds Queen and Marquez and then close in on Jasmine, who is raging with jealousy that Max will leave her for Hartman. In a standoff situation, Jasmine reveals that as a child, everybody either betrayed or left her (friend, family, teachers, mentors, etc) and now Max will go too. Persuaded by Parker and Lockett, Hartman reveals to both that she is pregnant with Max's child for the second time, but is willing to let him be with Jasmine, who reveals that she too is pregnant with Max's baby. Max admits that he has feelings for both women and asks them to just end this for the sake of their future children. Touched by this, Jasmine surrenders peacefully and is arrested for kidnapping and attempted murder.
#18 - "Father and Daughter"
Queen and Marquez in hospital with their families after their kidnapped, Parker teams up with Carcaterra and Jacobs to find a officer who kidnapped his daughter away from her mother. After visiting Jasmine, Max becomes conflicted about tells Hartman to keep the child, and worried his son Jack will end up like he used to be in the past.
#19 - "The Good Son"
Hartman and Max planning to visit their son at school after worried about Jack's growing erratic behavior. Worried about her son, Hartman told Max, she is keeping the baby. Hartman ask Parker and Hicks to find the person who put the drug inside of Jack's bag. Queen and Marquez return to work after hospital.
#20 - "In the Line of Fire (Part 1)"
Parker's past is bring his family in danger after Travis Cooper, a criminal mastermind he locked up years ago, escapes prison and kidnaps Parker's wife and three sons and take them hostage. A friend from Parker's past return to help Parker to save the family. The situation is gets even more dangerous when Queen ends up ambushed and injured by Cooper who took Parker's family hostage.
#21 - "In the Line of Fire (Part 2)"
Parker worried about his family and Queen's safety, Jacobs found out about Parker, Cooper and their past and Hartman worried when somebody broken into her house who was looking for Jack.
#22 - "In the Line of Fire (Part 3)"
After Parker's sons is rescue and leave Paula's life still in danger. Marquez and Hicks found out Jacobs has gone AWOL and Hartman try to protect her son.
#23 - "In the Line of Fire (Part 4)"
Marquez, Carcaterra and Zhao look for Jacobs and Parker and Hicks try found Paula and Queen. Parker come face to face with Cooper to try to save his wife and Queen. Hartman asks Max's help to help their son after the bully coming after him for revenge (for Jack beating him up at Creatures of the Night)
Season 2 (2012)
#1 - "Girl on Fire"
Five and half months after the first season finale, Parker's family is safe after their kidnapping and things are back to normal for the MCCIS. When a political frontrunner for Louisiana senator is assassinated, the team must dig deep into her personal life to find out who and why. Also, visiting the doctor, Hartman and Max found out their child is a girl.
#2 - "Murder House"
The MCCIS is called into action when a family of five is murdered in their own house. Parker and Queen found out that the family's house was the scene of another family murder about 18 years ago. Realizing that somebody is trying to make history repeat itself, the detectives start investigating the neighbors.
#3 - "The Boogeyman"
Jack's 16th birthday takes a horrifying when a man who is wear Michael Myers's mask murders seven people on Jack's birthday. Queen and Jacobs find it difficult to find this killer with on their own, so psychologist Dr. Frances Kimball (Jada Pinkett Smith) is brought in to help. Meanwhile, a 6 months pregnant Hartman visting Jasmine who is nearly 8 months pregnant in prison. After a bad argument about Max, Jasmine suddenly collapses and is taken to the hospital due to the prison's infirmary not having the proper medical equipment.
#4 - "Rain (Part 1)"
A heavy rain storm are hits New Orleans. Parker, Paula and their sons get into danger when their car breaks down and they must find their way back through a crime ridden area. Heavy rain trapped people and the police inside of the police station and in the hospital, Hartman and Max find themselves in a frenzy when a pregnant Jasmine who's still recovering from her collapse goes labor prematurely.
#5 - "Storm (Part 2)"
The NOPD and NOFD work to try to rescue the citizens and the stranded police. Parker, Paula and their sons try to get to safety from heavy wind and rain and small time criminals. At the hospital, Max and Hartman struggles to keep themselves, Jasmine and her newborn baby boy safe when flood is hits the hospital.
#6 - "El Diablo"
Two weeks after the rainstorm, the MCCIS is called into investigate four dead bodies riddled with gunshots that washed up on the streets. Despite most of the evidence being washed away, the team with Oscar, Niobe, and Kent's help deduces that the dead people were all gangsters and were in New Orleans shopping district at the time of their deaths. They suspect possibly one of the store owners killed them and try to figure out why.
Meanwhile Max and Jasmine's newborn son Daniel, remains at the hospital (due to being born premature) which leaves Max worried about how he can be a good father to either of his sons (Jack and Daniel) and his soon-to-be-born daughter. Queen, a father himself, steps in to give Max some much needed advice.
#7 - "Bad Education"
The MCCIS goes undercover at a local high school to investigate a suspicious rise in crime there. Parker, Zhao and Jacobs (diguised as teachers and a guidance counselor) investigate the case of a student who recently found dead in the boy's locker room. They believe the student died due to some sort of hazing and start investigating the students there. Meanwhile, Queen and Carcaterra team up to find the killer of a 16-year old babysitter (also a student) and the woman whose kids the boy was watching gives them a suspect: her possesive ex-boyfriend.
Also, Max and Hartman stop a 14-year old pregnant girl from committing suicide. When the girl reveals she became pregnant by rape, Hartman and Lockett investigate the claim, while the former also tries to convince the girl not to kill herself and the baby.
#8 - "The Watch"
The MCCIS's assignment in the school continues. Jack tells his father about him witnessing a female student having sexual relations with the PE teacher. Max shocked to find out Jack are planning to ruin the PE teacher's life for his inappropriate actions. Hartman, overhearing this, tells Parker, who, along with Cpt. Hicks, gets the idea to send Marquez undercover as a student who drop out school 9 years ago. She is assigned to follow the PE teacher and the student to catch them in the act. But when two girls are found murdered in the school bathroom, Marquez finds herself in a possibly deadly situation.
#9 - "School's Out"
When three rich teens are found murdered, Parker, Queen and Jacobs found out the dead student's school is hiding something that the three may have found out. The PE teacher from Jack's school is fired after his affair with student was found out, and in retaliation, he ambushes beats up Jack in the boy's locker room. Jack is left in a coma at the hospital, and the student who the teacher have affair is kidnapped by her lover.
#10 - Nine Lives"
Jacobs, Zhao and Marquez team up to find a killer who has murdered nine people in a matter of nine weeks. Parker, Queen and Carcaterra try to find a group of students who is kidnapped by a crazy school driver and Hartman and Max visit their son in hospital after he wakes from his coma.
#11 - "Crazy in Love"
A teenage girl's ex-boyfriend is arrested for her murder. Zhao believes somebody has framed him due to him becoming hesitant to speak in his defense and asks McCorrea and Ashe to help stall his trial until she can uncover the truth. Parker and Jacobs investigate what seems to be a teen's suicide, until signs later point to murder. Queen found out his eldest son got arrested after being mistaken as a mugger, Hartman visit Jasmine and brings Daniel with her and Hicks's wife and two daughters visit Hicks and his son.
#12 - "The Jury"
Hartman has jury duty and and is the only juror who doesn't see enough evidence a news reporter accused the another reporter of raping her and got her pregnant. Nobody in the jury duty knows Hartman is a officer. McCorrea and Ashe try to help the pregnant rape victim identify her attack in court before the jury. Hartman finds herself in deep trouble after people in the jury duty and in the court found out she is a officer. Hartman found out that reporter was stalked for months before being raped impregnated.
#13 - "Sweet Justice"
During a visit to Hartman's parents's grave, Max, Chloe and Jack find a 13-year old girl murdered on the grave of Queen's father. With Oscar and Niobe's finding, the MCCIS learns that the killer of the girl also murdered Queen's father when he was 15, which opens up old wounds for the detective. Parker and Hicks become worried about Queen and his desire for revenge for killing his father, causing Hicks to forbid him from participating in the investigation. Queen, determined to get his long denied justice however, decides to take the case anyways behind his superior's back.
#14 - "One Day (Part 1)"
With Queen suspended (after disobeying Hicks' orders about investigating his father's case, despite catching the criminal), the MCCIS tries to continue business as usual. Parker and Carcaterra take the case of the murder of an Islamic man that seems to be an open and shut case. However, T.A. Kent Walker makes the discovery that the man was part of a terrorist group, and shortly afterwards, a mail bomb is detonated in the MCCIS, injuring Jacobs, Zhao, and Lockett, and causing Hartman to suddenly go into labor and end up kidnapped.
#15 - "The Sceret Place (Part 2)"
Parker and Hicks lead the team to rescue Hartman after she been kidnapped. Parker asks Hicks to bring Queen back to help them to found the one who planted dentonated the bomb in the MCCIS. Jacobs, Zhao and Lockett end up in the hospital due to injuries sustained after the bomb explodes. And Hartman struggles with labor pains while being held captive.
#16 - "The Lucky Day (Part 3)"
After being rescued, Hartman is rushed to the hospital where she gives birth to her daughter. The team catch the bomber and question him. The team found out about Jacobs, Zhao, and Lockett, they are safe after bomb explosion. Max arrives to visit his daughter for first time and learns along with Hartman that their daughter must stay in the hospital due to being born premature.
#17 - "Law and Crime"
Three weeks after the bombing, Parker, Marquez and Carcaterra try to find the killer of a local reverend was poisoned. Hartman and Max plan to name their daughter and Hicks asks Queen to return to work.
#18 - "Silence"
With Queen back at work, the MCCIS tracks down a serial rapist, who is apparently a phantom, due to him always making sure his victims cannot see or hear him. Meanwhile, Jacobs, Zhao, and Lockett return to the MCCIS but are restricted to desk duty pending a physical evaluation. McCorrea feuds with an old rival, a defense attorney, in the rapist case. And Max and Hartman bring their daughter, whom they have named Aurora (after Chloe's mother), home.
#19 - "Beat Again"
A young teenager is discovered severely beaten up in an alley. Marquez and Carcattera discover her boyfriend then she was blackmail by the bully who was her to take her boyfriend (the girl's boyfriend) out  and she was the victim of cyber bullying. Hicks visit Hartman and Baby Aurora and Hartman thanks the captain for all of his efforts in rescuing her from the bomber ("The Sceret Place").
#20 - "Bad News"
Hicks and Parker try to find a father who kidnapped his son from his mother in a major custody dispute. It's learned that the boy was physically abused during the couple's marraige and all signs point to the father as usual. However, when it's discovered that the mother is the abusive one, and had tampered with the custody case in order to get custody of the boy to recieve child support and alimony, McCorrea, who grew up with an abusive mother himself, takes the case to a personal level. Meanwhile at school, Jack become friends with Hicks's youngest daughter Lauren.
#21 - "The One That Got Away"
When buying a new stuff for Aurora, Hartman's credit card is maxed out and she is certain it is identity theft. Hartman, with the help of Carcaterra, finds out a woman called Lucy Bennett had been stealing her identity and credit history for about a month now and the latter take her down. It's revealed that Lucy is actually the former wife of a mob boss's son who faked her death and changed the identity of herself and her kids to get away from him. When the man come to town looking for her, the MCCIS must protect Lucy and her children from the dangerous man.
#22 - "Choices"
Jacobs and Zhao pass their physical and return to the field just in time to help the MCCIS with the case of a female jogger attacked in the park, in what is the latest in a string of attacks. Lockett also returns to active duty with a new partner (due to Hartman's maternity leave). Also, with now two infants (Daniel & Aurora) to raise, Hartman considers taking a career break to become a stay-at-home mom.
#23 - "True Blood"
Jacobs and Carcaterra found out a young teenager and his lover commited suicide together. They discover that both teens familis have had a long standing war between them. But the lover's sister was murdered, Jacobs and Carcaterra found out one of member of the boy's family could murder her. Jack and Lauren share a kiss outside with Hicks watching them.
#24 - "Fear (Part 1)"
When, Paul Myers, Hartman's parents' killer escapes from prison and begins stalking her, Parker and the MCCIS come to her aid. They discover the killer was an aquaintance of Hartman's father and killed him and her mother after Hartman's father turned him in to their boss for stealing and got him fired from his job.
At the end, Max and Hartman, return home only to find the place ransacked, Jack unconcious, Daniel and Aurora missing, and a note to Hartman that says, "GUESS WHO?"
#25 - "Anger (Part 2)"
The MCCIS heats up their search for Myers. Hartman is out of her mind with worry about Daniel and Aurora, but Parker assures her that they will be found. The search leads them to every member of Myers' family, who all claim that there is only one member who would still hide Paul: his brother Richie.
The team then raids Richie's house and finds Daniel safe, but Aurora is nowhere to be found. They then hear a scuffling in a bedroom and then 4 shots. They break in to find Max, (who had conducted his own search) standing over Paul's dead body with an unharmed Aurora in his hands.
At the end, D.A. Grimes, agrees not to press charges against Max, and Chloe decides to take a career break from the NOPD, to focus on her family. Hartman tells Parker, her family is moving Los Angeles for a while to forget the events.
Season 3 (2012-13)
#1 - "Afterlife"
Five months after last season's finale. D.A. Grimes is shot by unknown hitman when coming home after working late. Parker and Queen are shocked and found out the chief of police put Detective Stella Hughes (Thandie Newton), who happens to be the older sister of their Forensic Specialist Oscar Hughes, to join to search of the hitman. Stella is partner with Parker and Queen to make their case. Meanwhile, Marquez is called to her daughter Ava's school after getting into a fight with an 8 year-old girl.
#2 - "Blood Diamond"
Oscar and Stella's grandmother was murdered and her secret diamond are missing. Stella team up with Parker and Jacobs to find her grandmother's killer. Hicks's youngest daughter, Lauren are shocked to see Jack in the shop and Jack told Lauren, his parents did not know he is in New Orleans and they know Jack with his friend. Lauren are shocked to found out Jack came to New Orleans to see her again and tell her, he is in love with her.
#3 - "Un-Break My Heart"
Parker, Stella and Jacobs take the case of a woman commiting suicide at the high school where her husband is a teacher. When it's discovered the reason of the suicide was because the woman discovered her husband's affair with a 15-year old student of his, they work to press charges of statutory rape on him. Jack continues to see Lauren in secret without nobody's knowledge and McCorrea and Ashe visit D.A. Grimes, who is still recovering in the hospital.
#4 - "A View to a Kill"
When one of Parker's closest friends is shot dead by drug dealers, Paula becomes worried about her husband and asks Hicks to take Parker off of the case before he does something he'll regret. Meanwhile, Grimes is shocked when his granddaughter Sienna (Amber Tamblyn) visits him in hospital, and while going to visit too, Jacobs meets and falls for nurse Beth Cades (Olivia Wilde).
#5 - "I Don't"
The MCCIS is called in when a groom suffers anthrax poisoning on his honeymoon and is hospitalized. While the bride is suspected at first due to the man's wealthy status, Parker and Marquez, along with FBI Agent Simon Royce (Adam Jamal Craig) believe that his poisoning was a mistake and that a House Representative staying at the same hotel as the newlyweds was the true. They then must find the person responsible before they make another attempt to kill the congressman.
#6 - "Back in Blue"
When the Chief of Police issues a "beat cop" action in order to show that the N.O.P.D. isn't turning soft, the MCCIS (including Hicks) all put on their old patrol uniforms and hit the streets. During this time, they encounter small stuff, like purse-snatchers, pickpockets, and public urination, to moderate crimes like drug dealers, domestic violence cases, and sexual assaults in progress, and large crimes such as robberies, burglaries-in-progress and crazed gunmen on the streets.
#7 - "Lover"
The night before her wedding, a woman was raped by her ex-boyfriend. Parker and Zhao team up with the Hughes siblings (Oscar and Stella) who know the woman personally, to find her ex-boyfriend. Russell Washington (Kevin Costner) takes over D.A. Grimes's work when he is still recovering in the hospital.
#8 - "New Orleans (Part 1)"
Jack goes to visit Lauren, but both find themselves in danger when they witness a murder, forcing them to go into hiding from the killer. The MCCIS tries to found the two teens before the killer, a professional hitman, gets to them. Meanwhile, Washington visiting Grimes and tells him there is nothing to worried about.
At the end, the team makes an arrest, but after the person turns out not to be the killer, they find out that Jack and Lauren are running off to New York to get away from the killer and the killer has gone to New York to found the two.
#9 - "New York (Part 2)"
In New York, Jack and Lauren take refuge with Lauren's relatives, but the killer is still on their tail. Parker and Hicks follow them and team up with Detectives Cyrus Lupo and Kevin Bernard (guest stars Jeremy Sisto and Anthony Anderson) to locate the kids and killer as soon as possible.
#10 - "Miami (Part 3)"
After ducking the killer in New York, Jack and Lauren arrive in Miami to hide with a friend of Jack's. The killer is predictably right on their trail, and so are Parker and Hicks, who team up with Dante Vaughn (James Marsden), Ashlee Boyd (Maggie Gyllenhaal), Colin Harper (Greg Kinnear), and Nina Cassady (Milena Govich) to stay on their trail.
#11 - "Los Angeles (Part 4)"
Jack and Lauren, after once again dodging the killer, head to Los Angeles, but do not attempt to contact his parents for their safety. Parker and Hicks then get in contact with the L.A.P.D. office and are paired up with Detectives Ricardo Morales and Tomas Jaruszalski (guest stars Alfred Molina and Corey Stoll) to once again locate them before the killer does. Back in New Orleans, Grimes return home with Sienna after two months in hospital.
At the end, Parker, Hicks, Morales, and Jaruszalski locate both Jack and Lauren at the same time as the killer. A shootout ensues, and the killer manages to escape. After placing Jack and Lauren into protective custody, Parker and Hicks discover the killer's identity and where the he's going next: London, England.
#12 - "London (Part 5)"
In the fianle of the five part arc, Parker and Hicks head to London, England to bring back the hitman, Lee Graham, alive or dead. Working together with London MPS DS's Ronnie Brooks and Joe Hawkins (special guest stars Bradley Walsh and Ben Bailey Smith) and Interpol Agent Alphonse O'Donnell (guest star David O'Hara), they must now search the underworld of England to find and bring down the killer once and for all.
When they are in protective custody and hiding in London, Jack and Lauren's life is in danger after dangerous murderous rampage when they escape. Graham is face to face with Jack and Lauren. Parker, Hicks, Brooks, and Hawkins arrived to get Graham. Graham attack Jack and Lauren before getting shot by Hicks.
#13 - "Bad Boys"
Queen found himself with two troublesome detectives who are planning to take down a gang who beat up a NOPD officer. Parker and the rest of the team try to find Queen and the two detectives (who have a track record of property destruction) before more trouble ensues. Meanwhile, D.A. Grimes returns to work, just in time to help McCorrea and Ashe with the case of a man who beat his wife into a coma.
#14 - "Undercover"
The team goes undercover when they board a train to prevent a planned robbery. Things turn bad to worse when Parker, Jacobs, and Carcaterra end up jumping out of the train after their cover blown, forcing them try to catch up with the rest of the team.
At the end, the team arrive and manage to arrest Joshua Jones. Parker and Queen, however, find Stella stabbed twice in the stomach by Jones, ane bleeding profusely. The police take Adams to jail and Stella is rushed to the hospital.
#15 - "Survival"
With Stella fighting her life in the hospital after getting stabbed by Joshua Jones, the team try to found Adams's gang before they can flee the state or hurt another innocent person. Meanwhile back at the MCCIS, Oscar angrily loses his cool with Jones after the criminal dares to make derogatory comments about Stella. D.A. Grimes begins thinking about his future as D.A. and asks Washington, to eventually become District Attorney.
#16 - "Love Passion"
Washington find himself with a victim, Emily James (Kirsten Dunst) who is McCorrea and Ashe help her is bring to fall to each other during the jury. Grimes worried about Washington's relationships with Emily. Then Ashe are shocked to found out the young victim who she and McCorrea helping.
#17 - "Double Jeopardy"
Bryan Hennen is acquitted of the murder of his 10-year-old son, Scott, when his brother, Keith, testifies that he was the real killer and produces some evidence that suggests so. Afterwards, Keith, after being indicted for murder, produces evidence that he was in Florida at the time of the murder and learned the details of the crime from Bryan, who is the real murderer, and falsely confessed to save him. Keith is charged and imprisoned for perjury, and Bryan gets off scot free. However, Parker and a few other detectives believe that they may be able to retry Bryan for the murder of his son on different grounds. Will it work?
#18 - "Bribery"
The MCCIS is shocked to learn that a man on death row, Dan Lancaster, for the brutal double murder of his ex-wife and her new boyfriend is, indeed, innocent of the crime when they find a piece of evidence that corroborates his story of being out of town at the time of the murder. At his new trial, however, the jury disregards the new evidence and re-convict Dan of the murders. Shortly afterward, Zhao spots several jury members doing suspicious activities, and this, along with an anonymous phone call, leads the MCCIS to believe that someone bribed the jury members to vote guilty.
#19 - "Life and Death"
Marquez's past comes back to haunt her, when her ex-husband, Angel Marquez, comes back to fight for custody of their daughter. Meanwhile, Parker and Jacobs take charge of another dispute case between two families, which turns violent when the two patriarchs of the families end up in the hospital. As that happens a son of one family attempts to kill the other's patriarch, but ends up shooting and wounding Beth Cades, Jacobs' girlfriend, whom he had been planning to propose to at dinner. Despite the other doctors and nurse's best efforts, she dies of her wounds as the son flees into the city. Jacobs is left devestated, taken off duty and sent home to grief and Queen is sent to notify Beth's folks, while Parker and Carcaterra are sent to bring in the son.
Season 4 (2013)
#1 - "Bounty"
Three months after the third season finale, the MCCIS is back to business as usual...or as usual as possible. The team aims to track down a quartet of bank robbers who escaped custody and are looking to collect their stolen money and flee the country. The team's efforts are hampered however, when bounty hunters Nash Steele and Wayne Flake (guest stars Michael Chiklis and Kevin Sorbo) swoop in and intend to capture the criminals themselves to claim a big reward.
Meanwhile, Marquez is still fighting her ex-husband for custody of their daughter and Jacobs has descended into drinking following his would-be-fiancé Beth's killing.
#2 - "Lift"
A man is found dead on a construction site elevator. The MCCIS discovers that he was an Slavic national in the country supposedly on business. Upon traceing his trail back from the Ukrainian consulate, they discover he might have been into something big and bad and might have accomplices.
Meanwhile, Queen must deal with his younger son Jabari, who was caught with ecstasy in his possession, Marquez's ex-husband tries to use her police work against her in the custody case, and Jacobs's drinking gets worse as he begins coming in to work late and starts displaying erratic and temperamental behavior.
#3 - "Trust Me"
Jacobs gets in trouble after causually having drinks with Marquez's ex-husband, Angel and talking about lots of bad stuff and making up stories about Marquez. The next day, Angel report Marquez as a bad mother, leaving Jacobs to face the ire of the squad, and his alcohol abuse to increase.
Meanwhile, Parker, Queen, Carcaterra and Zhao go undercover to going after a ring of car thieves after Washington got arrested for being mistaken for car thieves, which McCorrea and Ashe later have trouble prosecuting when evidence goes missing.
#4 - "Post-Mortem"
Jacobs's drinking continues to increase as he starts showing up to work hungover, causing the MCCIS to stage try and stage an intervention for him. This fails to do any good, as later on, when taking a case where a man shot his girlfriend in a drunken argument, the memories of Beth's death finally cause Jacobs to snap, and he beats the man to a bloody pulp. As a result, Hicks suspends Jacobs for 90 days without pay.
Meanwhile, Marquez's custody battle continues, but starts to turn in her favor as McCorrea decides to offer a helping hand in the case.
#5 -  "Murder College"
Lauren's first day at college turn horror when a 17-year old freshman is found murdered in a campus science classroom. Parker, Hicks and Zhao go undercover as teachers to found the killer in the university. Marquez makes progress in her custody case against Angel, and Jacobs gets fired from his new bartending job after getting caught stealing liquor. 
#6 - "Terminal"
Karl Vance, a biker gang hoodlum whom Carcaterra locked up ten years earlier on drug running charges, escapes prison and begins to hunt down the many people responsible for his incarceration. After killing two, Parker and the others suspect that Carcaterra and his family might be next on the list and that Vance has Stage IV pancreatic cancer, making him a man with nothing to lose.
Meanwhile, McCorrea finds the ace in the hole to win Marquez her custody bid, and Jacobs is arrested for DWI and is later robbed of his money upon Grimes bailing him out.
#7 - "One's Calling"
The MCCIS celebrates Marquez winning her custody bid against Angel, (who was granted visitation), and later takes the case of a painter found dead in her studio apartment. The investigation leads back to an art gallery that has more going on to it than meets the eye.
Meanwhile, Jacobs's alcholism ends up landing him in bed with a prostitute who unknown to him belongs to a dangerous pimp. At the end Jacobs wakes up in his apartment to find the woman dead and him covered in her blood.
#8 - "Breaking Point (Part 1)"
The team is called in to the murder at Jacobs's apartment. Jacobs insists his innocence, but due to his recent actions, and his hungover lack of memory, even his own team has a hard time believing him. To make matters worse, Internal Affairs detectives Trent Cutter, Nathan Phoenix, Ingrid Cho, and Steve Croft (guest stars Gary Sinise, Hill Harper, Kelly Hu and Bruce Greenwood) are put on the case. Croft pushes Jacobs viciously hard in the interrogation, reminding him of his failure to protect, and nearly forces him into confessing but is stopped by Parker and Hicks. Croft then announces that they intend to press murder charges against him and see to it that he never wears the badge again.
After having his car impounded, learning he's about to be evicted from his apartment, and failing to convince anyone he knows to help him, Jacobs reaches the breaking point and decides to end it all by crawling out onto the balcony of his apartment building. He is spotted and his former teammates arrive and try to talk him down, but all Jacobs says is that the pain of losing Beth will never stop until he's dead. The team tries to reason with him, but he lets go of the balcony railing and falls. The team then sees his body on the now-smashed roof of a nearby parked car and rushes downstairs.
#9 - "Cuckoo's Nest (Part 2)"
Jacobs ends up in a coma at the hospital, leaving the MCCIS worried about Jacobs's life. Cutter and Phoenix found out more of the murder in the apartment and Hicks and Parker worried about Jacobs's future. Jack and Lauren move in together and find themself in the part of the murder mystery.
In the end, another prostitute comes reveals that her and the dead woman's pimp murdered the girl for sleeping with a cop (Jacobs). With that, the pimp is arrested and the case against Jacobs is dropped, though he remains in a comatose state, and Croft vows to keep a closer eye on the MCCIS.
At the end, the MCCIS visits Jacobs in the hospital, to find his family there waiting for him to wake up.
#10 - "Deep"
The MCCIS investigates the murder of attorney Linda Byrd, who is found with a deep cut in her throat. Suspecting it ties back to the Deep Throat Killer, who kills victims by deeply slashing their throats, Parker and Queen put all of their energy into solving the case. Meanwhile, Marquez and Zhao visit the still comatose Jacobs at the hospital.
#11 - "Boys and Girls"
A case of he-said, she-said ensues during a rape case between two college students in Lauren's college. The MCCIS's investigation uncovers a long string of blackmail and extortion between the rich students and the scholarship students.
Meanwhile, Jacobs's family does their best to pay his still growing expenses, while still waiting for his emergence from his coma.
#12 - "Uncle Thomas (1)"
Jack meets a man, Thomas Browning, who is Max's half brother and Jack's uncle in New Orleans. Jack found out his uncle has a darkest secret ever in his life. Beth Cades's younger sister, Nina (Nicola Peltz) visits Jacobs in hospital and she told Jacobs's family, he feel upset about the tragic death of her sister, as she had talked all about him all the time, and was expecting a proposal from him.
Meanwhile, McCorrea got attacked on the courthouse steps, leaving Ashe and Grimes try to found out who and why with the help from the Hughes siblings (Oscar and Stella)
#13 - "The Talented Mr. Browning (2)"
The MCCIS found themselves tracking down Thomas Browning, a noted con-artist and thief when he uses a hotel millionaire's murdered son's identity to get close to a young beautiful rich teenager, Melissa Anderson (Willa Holland). Jack found out about his uncle's darkest past and need to help find him before it is too late.
#14 - "The First Case"
While being interviewed, Parker and Queen flashback to the day they met and became partners 23 years prior: After being assigned two each other as rookie officers, the two at first were at odds with each other. As time came by they grew to like and respect each other. Their friendship was solidified when Queen saved Parker's life when Parker was shot when the two reponded to a bank robbery, and Parker arrested the surviving robbers. Parker thanked Queen for saving his life while the latter recoverd in the hospital.
Meanwhile, Marquez brings her daughter to visit Jacobs in the hospital, where to their amazement, Jacobs finally wakes from his coma.
#15 - "Quick-Stop"
Jacobs, now awakened, leaves the hospital without telling anyone. The MCCIS learns about Jacobs going AWOL and they become worried he will start drinking again. When everbody looking for Jacobs, Hicks and Jack found out Jacobs has gone to a church where he enters the program and becomes baptized and a born-again Christian. The baptism is cut short when a man takes the church's congregation, Jacobs, Hicks and Jack hostage to force one of the high members to admitting to molesting him years ago as a child.
#16 - "Homefront"
Jack and Lauren find themselves in danger when a trio of gangsters try to rob them at knifepoint at a train station, which ends with Jack shooting and paralyzing one of them in self-defense. The MCCIS found out one of the gangsters who Jack shot is the son of a ex-gangster. The ex-gangster then plans to take revenge on Jack for shooting his son in the train station by targeting the MCCIS as well as Jack and Lauren. Jacobs is discharged from the hospital enrolls in a AA class and begins an psych evaluation to deal with his drinking problems and depression.
#17 - "Psycho-Roids"
Parker and Queen stop a crazed bodybuilder from holding up a bodega, but are drawn into a case of illegal steroid dealing when the man suddenly dies in their custody. Meanwhile, Marquez visiting Jacobs at his home and forgives him for nearly ruining her custody battle against Angel. Before Marquez leave, Marquez kisses Jacobs that leaving him in shock.
#18 - "The Exorcism Of Annabelle Michaels"
McCorrea and Ashe are put on the case of a priest charged with negligent homicide for his spiritual oversight over a girl named Annabelle Michaels, which included a failed exorcism that supposedly led to her death. The MCCIS discovers Annabelle suffered from epilepsy and psychosis and changing their investigation's course. Parker and Queen try to found out what exactly happened during the exorcism before Annabelle died. Jacobs returns to work and Marquez apologizes for the kiss at his home.
#19 - "Untouchable"
Parker and Zhao arrest a man for assault and attempted murder, but are stunned when the U.S. Marshals force him to be released. It's revealed that the man's twin sister is a witness in an upcoming federal trial and as a result the man believes he is above the law. The MCCIS must find a way to stop the man before he goes to far.
#20 - "The Bomb"
After a bomb explodes in a high-end corporation's building, the MCCIS looks into a disgruntled ex-employee, who claims the company stole his ideas.
#21 - "Easter Hunt"
New Orleans celebrates Easter, but when a man who dress as a rabbit found dead in the park, Queen, Zhao and Carcaterra try to found the killer. Parker, meanwhile, must deal with an informant with important info on a drug case.
#22 - "I Spy"
Parker, Queen, Hicks and Carcattera go undercover as FBI after an agent was shot dead in a parking lot. 
#23 - "Line of Duty"
Parker and Queen go missing after getting into a car accident. The team become worried about the fates of the two detectives and Denise and Paula help the MCCIS to find Parker and Queen.
Jacobs visits Marquez and lets out his grief about losing Beth. After telling her about his feeling, Jacobs kisses Marquez.
#24 - "Oldboy"
Jack and Lauren found a man who been kidnapped as a child and locked up for 25 years. The man from a case in Hicks's past, the one he was unable to solve. After telling Queen and Parker the story, Hicks sets out to find the kidnapper, only to find out that the man has started his own search to take revenge on the person who locked him up after 25 years.
Meanwhile, the N.O.P.D. find themselves in big trouble when a reporter, Derrick Warren (Jeff Daniels) digs up dirt on them for falling to find the killer of his 15 years old son, 12 years ago.
#25 - "The News"
The MCCIS need to deal with reporter, Derrick Warren, after Warren threating to tell the real truth to the public when the MCCIS falling to find the killer 12 years ago. It turns bit worse when Warren catches Jacobs and Marquez kissing and told the people about them. With the media scrutiny undermining their casework, the MCCIS try to find a way to stop Warren's campaign of vengeance.
#26 - "Broken Edge"
Detective Zhao and Captain Hicks try to found the killer of high school teacher who been murdered at her own house. Parker, Queen, Jacobs, Marquez and Carcattera try do something to charge Warren after they has enough of his slamming them via the media.
#27 - "Taking Chance"
Following the last episode, Warren is shot and killed by a sniper while leaving work. Internal Affairs sends Detectives Cutter, Phoenix, Cho and Croft to the MCCIS to investigate. Croft, who has a personal grudge against Parker and Queen for proving him wrong on a high profile case years ago, is determined to have their badges, going as far as to frame them for the crime using the collected evidence.
At the end, despite their seemingly solid alibis, Parker and Queen are arrested by the IA detectives for Warren's murder.
#28 - "Without a Trace"
As Parker and Queen sit in jail, the rest of MCCIS try to clear their names and find the true killer, which proves difficult with Croft undermining them at every turn. However, Jacobs finds a new piece of evidence that busts the case wide open. In the end, the shooter, who is a person who's life Warren ruined by slamming him mercilessly in the media, is arrested, as is Croft for evidence tampering, and obstructing justice in trying to frame Parker and Queen.
Also at the end, Grimes retires from the D.A.'s office and says goodbye to his colleagues and the MCCIS.
Final appearance of Robert Duvall (Alan Grimes) as a regular.
Season 5 (2013-14)
#1 - "Judgment Day"
5 months after the last season's finale, Detective Stella Hughes is arrested and accused for killing a man who attempted to rape her at her own house, but other evidence causes the police to believe it was murder, as no weapon was found and Stella. McCorrea finds himself becomes romantically involved with Oscar's sister as he defends during her murder trial.
In the end, thanks to Tech Analyst Walker, it's revealed that the man who had broken in had been lured there by a hacker who had broken into Stella's e-mail and sent fraudulent messages describing how she wanted him to rape her, to him in her name, causing the events of the episode. Stella is then exonorated and the hacker is arrested for illegal hacking, manslaughter, and reckless endangerment.
Kevin Costner (Russell Washington) joins the cast as a regular.
#2 - "Undercover Blues"
Marquez and Jacobs's relationship grows strong when they are sent to undercover as a teenager to found a group of radical student activists after they set up a bomb that injured Queen's sons and his friends during the football game at their school.
#3 - "Happy Birthday"
After a 16-year-old boy collapses and dies on his birthday, Parker and Zhao discover that he was poisoned. Upon learning that the boy had an unusually large life-insurance policy, which named his parents as the main beneficiaries, taken out on him only weeks before his death, Parker and Zhao arrest his parents, who begin pointing the finger at each other. Meanwhile, Queen and Denise visit their sons in the hospital after the explosion, and when, visiting her father at work, Lauren finds a positive pregnancy test in a trash bin. 
#4 - "Smooth Criminal"
While taking Hicks's son to the bank, Carcaterra and Evan found themselves in danger when criminals hold up the bank. When one attempts to shoot Evan, Carcattera takes the bullet, saving Evan's life. The MCCIS try to found Carcaterra's shooter after the robbers escape. Jack and Lauren try to find out who's pregnancy test that Lauren found in the police station.
At the end, the pregnancy test is revealed when Lauren and Jack went back to the police station and put the trash bin back. Lauren and Jack are shocked to found out who is pregnancy test it is: Marquez's.
#5 -"Young"
The MCCIS and general public are shocked when all evidence implicates a 10-year-old boy in the shooting deaths of his parents and older sister. Lauren visiting Marquez and told her, the pregnancy test was found in the police station was her. When Lauren take Marquez to the doctor, Marquez found out she is pregnant (with Jacobs' baby). Marquez told Lauren, she is pregnant that leave Lauren in big shock.
In the end, the boy is sent to juvenile hall and the case is the final straw for Detective Hughes, who bids farewell to her brother and the other MCCIS members as she tranfers to Narcotics.
#6 - "Paranoia"
Zhao is in trouble when her cover is blown in a drug sting that goes wrong and results in the deaths of three college students. She is questioned by the MCCIS and IAm and Hicks and Parker worry about her future. After discovering out about Marquez's pregnancy, Lauren and Jack snoop around some more and discover Marquez and Jacobs's secret relationship. Detective Brianna Adams (Abbie Cornish) joins the MCCIS as Detective Stella Hughes' replacement.
#7 - "White Noise"
The daughter of a known psychic found murdered at her mother's house. While The MCCIS try to found the killer, another psychic tells Jacobs, a woman is pregnant with his child but refused to tell the woman's name is. Meanwhile, Queen's sons coming home after 4 weeks in the hospital.
#8 - "Be Unhappy"
A known children's entertainer is found stabbed to death and castrated. When the MCCIS investigates, they end up uncovering a whole web of child molestation victims dating back to the entertainer's heyday, leaving them with an endless number of suspects. Meanwhile, Jack and Lauren decide to return to Los Angeles together to continue their college education and get away from all the MCCIS drama for awhile.
#9 - "Breaking News"
A young journalist is pulled out of a river with her throat cut deeply. Parker and Queen conduct an investigation and leads back to a food processing factory she had been investigating for unscruptulous practices. Meanwhile, rookie officer Simone Hackney (Rumer Willis) joins the MCCIS and is partnered with Lockett.
#10 - "Origin (Part 1)"
Parker, Queen, Carcaterra and Hicks try to found the killer of a school bully. Jacobs is partnered with new Detective Adams continued to see a psychic who told him about a woman being pregnant with his child.
At the end, the psychic's husband breaks into Jacobs's house, accusing his wife of cheating on him with Jacobs. Adams arrives unexpectedly not long after, and struggles with him, which ends with him he stabbing her in the neck with scissors and running off, leaving Adams to died.
#11 - "Lair, Lair (Part 2)
Adams in the hospital after getting stabbed by the psychic's husband. With time running out for Jacobs to find the truth, Marquez is forced to tell him about her pregnancy, while the rest of the MCCIS searches for the husband.
#12 - "911"
Parker, Queen, Carcaterra and Zhao investigate when Zhao gets a phone call from two kidnapped girls. The MCCIS must scramble to locate them and along the way, Zhao and ADA McCorrea deduce that they are child pornography victims. Meanwhile, Hicks orders Jacobs and Marquez to get new partners: Jacobs is partnered with Adams, and Marquez with new transfer from Chicago, Detective Elijah Okafor (Edwin Hodge) and see new the squad's new psychiatrist, FBI Special Agent Dr. George Huang (B.D. Wong).
#13 - "Mad Dogs"
A biker gang begins delivering a reign of terror all over Louisiana. When they arrive in New Orleans, they continue it, and start using intimidating tactics against the police. The MCCIS and D.A.'s office must team up with the FBI and DEA to bring the gang down once and for all.
#14 - "Error"
After walking in on a teenage boy apparently raping his daughter, an enraged man shoots and seriously wounds the boy. However, it was then discovered that the boy was not raping her; they were actually acting for a date rape awareness video that they were doing for school. After the man is arrested, the boy's family cry for justice after the his doctor informs them that he is now a quadriplegic. The perpetrator's lawyer later successfully convinces the judge that the man was protecting his daughter and that his action was a simple error in judgment, and so the case is dismissed and the charges are dropped. Shortly afterward, the perpetrator, unable to deal with the guilt of what he did, unsuccessfully attempts to commit suicide after receiving death threats, being informed that the victim's family is filing a huge lawsuit against him, and having his furious daughter walk out on him. As he recovers in a hospital, the MCCIS discovers that the shooting may not have been an accident after all...
At the end, the father is found guilty of attempted murder and is sentenced to 20 years to life for the shooting. The episode ends with the family dropping their lawsuit against the man and thanking the MCCIS for bringing their son's shooter to justice.
#15 - "Dignity (Part 1)"
A string of rapes strikes New Orleans, and the latest victim is a young Middle Eastern immigrant. The MCCIS and D.A.'s office is left with their hands full when none of the victims will come forth and the rapist's wealthy parents, refusing to believe that their son of is capable of such actions is stonewalling them with a powerful attorney. To make things worse, as the two groups continue to fight for the victim's justice, one of their own is brutally attacked.
#16 - "Envy (Part 2)"
As A.D.A. Ashe recovers from her brutal beating in her office, the MCCIS searches for and eventually captures her attacker. Upon confronting him and discovering why he attacked Ashe (he believed Ashe convincing his sister to testify about her rape ruined her), McCorrea tells him that he's no better then his sister's rapist. The brother attacks McCorrea, but he overpowers him and, out of revenge, beats him to a pulp. With his entire career on the line, McCorrea must convince the disciplinary committee to let him keep his license and job, while Washington has another A.D.A. take over the rapist's case.
#17 - "The Ripper"
A man who is wearing a Jack The Ripper costume murders five woman in New Orleans, and the MCCIS finds out that the killer is a college student who learning about Jack The Ripper and wanted to become him. Washington shocked to see his son, Shane (Nicholas Hoult).
#18 - "Hypocrite"
The spokesman of a small gay rights group is found brutally beaten and left for dead in a dumpster, and the MCCIS later learn that several days earlier, the man was spotted at a traditional marriage rally holding a "Marriage: 1 Man & 1 Woman" sign just hours after giving a speech on the importance of marriage equality, and the members of his group found out about it and were not happy. As the MCCIS tries to find out who the guilty party is, the man awakens from his coma and insists that the MCCIS just forget about it and move on.
#19 - "Slave"
An teenage African immigrant is found dead with multiple bruises and contusions. The MCCIS discovers that while she was brought over on a education visa, the couple she had been sponsored by had been treating her like a slave, for both physical and sexual purposes. Upon interrogation, they admits that they got the girl with help from a non-profit immigration that is actually a front for a secret slave trade sydicate. Therefore, Queen, Okafor, and Lockett go undercover to bring the syndicate down from within.
#20 - "Picture This"
Queen's son, Marcus, is accused of taking a photo of his best friend's death during a fight instead of helping him and the photo ends up being showed to the whole school. As the MCCIS tries to determine whether or not a crime was committed, McCorrea, Ashe and Washington try to help Queen and his son.
#21 - "Blindside"
A woman is shot to death outside a drug store and the only witness is her blind 8-year old son who can identify the suspect by the sound of their voice. As the MCCIS investigates, they discover that the woman might not have been the intended target. Meanwhile, Carcaterra gets some bad news: his wife has multiple sclerosis and Marquez goes to the hospital and finds out that she and Jacobs are expecting twins.
#22 - "Orphan"
A orphan teenger boy is pushed to death off a roof before meeting his new parents. While the MCCIS tries to found the boy's killer, Jacobs become friend with a 9 years old orphan girl, Alice Sebastian (Johnny Sequoyah) and Marquez are shocked to found out about Alice's birth parents. Carcaterra tries to keep his family together following his wife's multiple sclerosis diagnosis.
#23 - "Silver Lake"
A young woman is found dead in the lake, covered with silver paint. The MCCIS believe the woman was the victim of the prank before her death. Meanwhile, Jacobs and Marquez found out more about Alice's birth parents.
#24 - "Trackdown (Part 1)"
After a riot breaks out at Orleans Parish Prison, the entire N.O.P.D. is put on high alert when ten inmates escape. The MCCIS, having arrested six of those criminals, is put together to lead the charge to round them all back up again.
#25 -"Trackdown (Part 2)"
With all but four of the inmates captured, the MCCIS speed up their search. Now desperate to avoid going back to prison, the criminal storm a museum and take the patrons, including a class of third-and-fourth graders hostage. The MCCIS try to work end the situation before anyone ends up hurt and discovers that one convict is secretly on their side.
Season 6 (2014)
#1 - "Daddy Dearest"
A young woman tries to get her father freed from prison after uncovering a repressed memory of her being forced to tell the police that he was molesting her when she was younger, which he is currently imprisoned for. Unfortunately for her, McCorrea and Ashe uphold the conviction because she has no hard evidence, leading the woman to take matters into her own hands. Can the MCCIS stop her from breaking her father out of prison before it is too late?
At the end, the daughter, now imprisoned for breaking her father out, is informed that some new evidence has been found that may exonerate him, but she will have to remain in prison for her crime.
#2 - "Mommy Dearest"
A teenage girl shoots her mother by accident when she mistakes her for a burglar. The mother is left in a coma and her daughter arrested for attempted murder when it is discovered that the two had a very bad relationship and evidence suggesting that it was not an accident. Meanwhile, Marquez meets Jenny Carter (Emma Stone) who is Alice's birth mother. Jenny tells Marquez that 10 years ago, she had an affair with someone from the District Attorney's office during the trial of her ex-boyfriend's murder, and asks for a DNA test to know who is Alice's father.
#3 - "Suspicious"
A man brutally murders his wife and his best friend, and Parker and Queen find out the man discovered his wife and his best friend having an affair before he murdered them, giving the D.A.'s office just what they need to put him away. However, did the man REALLY kill them? Ashe and Jacobs get suspicious when Jenny visits McCorrea and Jacobs believes McCorrea could be Alice's father. Also, Marquez is shocked when her sister, Keisha, drops by out of the blue.
#4 - "Family Hood"
A family is injured in a car accident that turns out not to be an accident. The MCCIS discovers that a gang has been harrassing the family in revenge for the father testifying against their leader and having him put away. Ashe tell Jacobs and Marquez that 3 days after the trial, she saw McCorrea and Jenny kiss each other and Ashe know McCorrea and Jenny slept together once during the trial. Jacobs told Marquez about Jenny's affair with McCorrea during the trial 10 years ago and that he very well could be Alice's biological father. Also, Keisha meets her niece and her new adopted niece for the first time.
At the end, the DNA turns out not to match McCorrea and Jenny tells Marquez and Jacobs that Alice's father turns out to be an court officer she got together with after McCorrea broke off their affair.
#5 - "Response"
The MCCIS investigates the sudden suicide of a paramedic. Parker and Queen discover that the man was being blackmailed in regards to a sexual assault that happened back in high school, and aim to trace the blackmailer to bring them to justice. Meanwhile, Keisha does her best to help Marquez and Jacobs as they prep for their baby's arrival, and Carcaterra and his wife visit the doctor in regards to her MS treatment.
#6 - "Trend"
A fashion mogul has an attempt made on her life. The MCCIS places her into protective custody, while they try to find out who wants her dead. When it turns out to be an obsessive fan who has something even worse planned to get her attention, the team must track him down at all costs. Also, Zhao plays hostage negotiator during a crisis for the first time.
#7 - "Hostages"
Washington is kidnapped by a man who wanted revenge for sending him to jail 13 years ago. The MCCIS found out the man is ex-cop Patrick Matthews (Robert Patrick) who went to jail for raping his niece. Matthews threatens to kill Washington if he can't re-open and investigate the rape case without the MCCIS's help. Parker and Queen found out Matthews is playing a game on Washington to found out happening about Matthews's niece's rape, 13 years ago. McCorrea and Ashe hope they can uncover the truth about the rape case and the MCCIS tries to find Washington before it is too late.
#8 - "Chloe (Part 1)"
The MCCIS get suspicious after three women was murdered and their first name are Chloe. They believe somebody is target people name Chloe but after a shooting in a café and the shooter shoots the wrong woman, they are shocked to discover the real target is: Chloe Hartman, who the MCCIS used to know her as a officer. Parker has Hartman's family moved back to New Orleans until the killer is caught. Hartman reunites with her old partner Lockett and meets his new partner Officer Hackney.
At the end, as Hartman is about to head home, a man grabs her and hold a gun at her. The man told Hartman, he wanted her and then locks her in the trunk of her car, then drives off with her in the trunk.
#9 - "Orphan Black (Part 2)"
Hartman is kidnapped by the killer and discovers has been obsessed with her for years. The MCCIS found themselves looking for Hartman, they learning about the killer's obsession with the name Chloe.
#10 - "Guardian Angel"
A homeless man kills three criminals trying to hold up a bodega with the combat skills of a soldier. When cornered in a church where Parker and his family are, the man is discovered to be an ex-Marine who suffered severe PTSD following his stint in the war in Afghanistan. After the MCCIS are able to defuse the situation, McCorrea and Ashe must prove in court that them the man acted appropriately in stopping the crooks.
#11 - "Beginning"
A lesbian activist is brutally murdered, and her breasts are cut off. The MCCIS links this killing to the string belonging the "Queer Killer", a serial murderer who targets male and female LGBT activists. Ashe urges the team to make it their business to put an end to this killer and his rampage. Meanwhile, Marquez goes into labor at McCorrea's office, and the two end up in a car accident on the way to the hospital putting the lives of Marquez and her unborn babies at risk.
In the end, however, thanks to McCorrea, Marquez pulls through and gives birth to a boy and a girl, whom she and Jacobs name Lucas and Sofia.
#12 - "Vindicate"
With Marquez on maternity leave, and Jacobs taking time off to be by her side and his children's, Detectives Adams and Okafor step up to join the team in the case of the rape and murder of a suburban mother of three. When Hughes and M.E. James test the DNA it ties to an old similar case from back in 1999, in which the perp was caught and sentenced to life with no parole. Realizing the wrong man has been in jail along, McCorrea sets about securing his release, while the MCCIS looks for the real rapist/murderer.
#13 - "Intent"
Sergeant Robert Goren (Vincent D'Onofrio) comes from New York appears to help the MCCIS solve the the murder of two MMOPRG gamers (one in New Orleans, and one in New York) who were two of the top gamers in both states. The investigation reveals the men's unscrupulous characters, which leaves countless suspects to investigate. Meanwhile, Carcaterra tries to help his wife adjust to her now-disabled state.
#14 - "Bias"
An 9-year old African-American girl is brutally beaten, gang-raped and sodomized by three white teenagers. The MCCIS quickly arrests the teens, but they are just as quickly let out on bail due their wealth. However, the case takes a different turn when the three teens themselves are attacked, raped, and sodomized, while out partying. When it was revealed that the girl's father ordered the attack on the teens to get justice for his child in case they were acquitted, McCorrea and Ashe are forced with a tough case that challenges their views of the law at all ends.
#15 - "The Social Network"
Adams' half-brother, Liam and his girlfriend, Casey are arrested and accused of blackmailing a 15-year old girl and driving her to suicide. Adams and Hicks believe somebody making up a story about Liam and Casey blackmailing the girl. Adams believe Liam and Casey become the victim of the prank. Adams's mother, Beth and her stepfather, Ralph appear to be there for Liam, while Parker and Zhao try to help Adams to clear Liam and Casey's name before it is too late.
#16 - "The Deliveryman"
Queen goes undercover as a mailman after another is killed while making a delivery in the morning. With Adams's help, Queen finds out somebody wanted to get rid of the man, but who and why?
#17 - "Drop Dead"
A wealthy CEO drops dead during a dinner party. Though it's though initially that he died of a stroke, the MCCIS discovers it was by cyanide poisoning. Turning their attention to his wife, she seems to fit the black widow profile to a tee, but is she really behind his death? Or as Detective Zhao puts it, could there be something else going on here?
#18- '"Love"
A woman recently paroled after serving 2 years in prison for armed robbery goes on the run with her four children when Child Protective Services refuses to return them to her. Meanwhile, Oscar and Stella's younger sister, Joyce (Christy Knowings), visits from her modeling gig in town.
#19 - "The Juror (Part 1)"
When a serial killer stands trial for killing six teenagers, the MCCIS fears that he may be acquitted to due his charismatic and charming nature.
#20 - "The Juror (Part 2)"
With one of the jurors having been abducted, it's a race against time for the MCCIS to find her and the killer's accomplice and return her to to court before a killer is set free. Meanwhile, Ursula's MS reaches new harrowing levels, leaving Carcaterra with the biggest decision of his life.
At the end, Carcaterra chooses to retire from the N.O.P.D. and take a job at the D.A.'s office as an Investigator, in order to help care for his ailing wife.
Season 7 (2014-15)
#1- "Beautiful Monster"
Five months after the season finale, Lieutenant Miguel Reyes (Marco Sanchez) joins the MCCIS as Carcaterra's replacement and Shilo Bennett (Sam Jones III) starts his first day as a investigator. Parker and Queen, now Sergeants, investigate the stabbing death of a teacher in Queen's daughter Rachel's Pre-Alegbra classroom. Meanwhile, Adams is shocked to see her uncle, John Levinson (Bill Paxton) who visiting her. Unknown to Adams, John has been hiding a secret. It is revealed that 30 years ago, John was sent to jail for 25 years for raping his sister. Adams's family believes he is nothing but a monster, except his niece who is the only one who did not know.
At the end, Parker and Queen arrest Rachel's Pre-Alegbra teacher's killer and take him to police station with Rachel and her friend watch the killer going to jail. Adams visits her uncle and saying thank you to him after saving her from getting robbed. Then after his niece leave, John calls Beth, he will see her soon that leave Beth in shocked and worried about her own daughter.
First appearances of Marco Sanchez (Miguel Reyes) and Sam Jones III (Shilo Bennett).
#2- "Deception"
A woman thought to have been murdered by her ex-boyfriend, who is serving a life sentence for that crime, is spotted alive and well at a convenience store by Zhao. When the MCCIS tracks her down and confronts her, she admits that she expertly faked her murder with the help of a best-selling book on how to perfectly fake your death in a variety of ways. Shortly after this, the woman is given police protection after her vengeful ex-boyfriend begins stalking her after his conviction is overturned. Later on, she admits that the book's author personally helped her in faking her murder, and as luck would have it, he is still in New Orleans on a book tour. As reports come in of outrage towards the woman and sympathy towards her ex-boyfriend, the MCCIS arrests her and the author and charges them with wasting police time and taxpayer money.
At the end, the woman and author are both found guilty, but end up getting light sentences and no jail time. The episode ends with the ex-boyfriend angrily confronting McCorrea and Ashe, then storms away, promising that this is not over.
#3 - "The Living Daylights"
Parker and Queen investigate when a former drug dealer was murdered by his ex-gang who wanted revenge for him leaving. Adams tries to find her uncle's attacker after he was attacked at his own home.
#4 - "The Black Dahlia"
The MCCIS investigate the murder and dismemberment of a movie actress. They believe the woman's death is the same death as Elizabeth Short's death in 1947 and somebody is following the story.
#5- "Pain"
The MCCIS tries to determine whether a crime was committed in the case of a man who allowed his 15-year-old son, who had recently been diagnosed with a terminal brain tumor, to kill himself.
At the end, the man is found guilty of helping his son kill himself, and is sentenced to a year in prison, plus five years probation and treatment.
#6 - "Unknown"
The MCCIS trying to protect a young woman who believes she is being stalked by her sister's killer.
At the end, in the hospital, Parker, Queen and Adams visit the woman after she got shot by the killer. When Parker and Queen leave, Adams shocked to see the doctor who he help Beth giving birth to her and he told her the real reason why Beth left New York and went to New Orleans because her brother. Then, Adams left shocked when she found out about her uncle's past and her mother's rape after the doctor show her a evidence when 30 years ago, John raped his 16 years old sister and that why her family would always avoid bringing John up or discussing him after 30 years.
#7 - "Innocent (Part 1)"
After discovering the truth about her uncle, Adams' world comes crashing down around her. The MCCIS does their best to convey the situation for her, but to no avail. But when a man from John's past arrived at New Orleans, Adams becomes worried a innocent person will become another victim and she worries about herself and her future as a detective. Meanwhile, the MCCIS investigates a bank robbery committed allegedly by Ku Klux Klan members.
Adams' mother visits her daughter, but drunk Adams refuses to talk to her mother. Having had enough of her daughter's behavior, Beth finally tells Adams the truth: John is her biological father and Beth was pregnant with his child (Brianna) after her rape that leave Adams in shocked and in tears.
#8- "Guilty (Part 2)"
After discovering the truth that her uncle is her father, Adams angrily confronts him on it. He coldly tells her that her mother deserved it because she was nothing but a "whiny little pest" growing up and still is today. Adams, devastated, starts stalking John. Meanwhile the case of the bank robbery takes a turn when two of the robbery suspects are murdered in jail overnight. Parker and Jacobs decide to go undercover within the clan to find the mastermind and his next move.
In the end, Adams goes to her mother's house and finds John there, beat her mother up. She is then attacked by him and forced to shoot him twice in the chest.
#9 - "Natural Selection"
A 13 year-old girl on the run with her 9 year-old brother after she shot their abusive parents to escape. The MCCIS need to found the girl and her brother before it is too late. Meanwhile, after her arrest, Adams finds herself dealing with the fallout of having to shoot her uncle/father.

#10 - "Blast"
The bombing of a synogogue draws in the FBI to work with the MCCIS to find those responsible. After an extensive investigation, the team manages to capture the mastermind along with several other terrorists. However, the remaining terrorists attempts to storm the MCCIS precinct to free their leader, leading to a massive shoot out that, while eventually won by the NOPD, puts a load of stress on Hicks's heart, causing him to have a massive heart attack.
#11- "Stay"
The MCCIS remains worried about Hicks's heath while he recovers in the hospital after heart attack, and Reyes is given temporary control of the squad. Jack and Lauren return to New Orleans after learning about Hicks. Meanwhile, Marquez and Okafor investigate the death of an elderly lady and find that it's similar to several other deaths of elderly people in the same area, leading to suspect a serial killer.
#12 - "Strike"
A shooting in the streets leaves two teenagers and two NOPD officers dead. The MCCIS is put on top of the case to find the other killers. Upon investigating, it's revealed that the dead teens were part of a violent white supremacy group who has a contingency of attacking police officers. The squad pulls a sting operation to catch the remaining shooters and recover the weapons used in the killings. Meanwhile Reyes is worried about Adams, who is still having trouble coping with the revealation of her family's secrets, and her having to kill her uncle/father, so he choose her to partner with Zhao.
#13 - "The Target" 
Parker, Queen, Zhao and Adams investigate a restaurant shooting. Along with Carcaterra and Bennett, they discover D.A. Washington who was having lunch there that day, was the shooter's target, forcing him to go into protective custody until they resolve the case. Meanwhile, Jacobs and Marquez become stressed dealing with the twins even with Alice and Ava's help, causing them to seek out a daycare for them and Jack spends time with Lauren and Hicks.
#14 - "The Messengers"
Parker and Queen investigate the stabbing murder of one of Queen's daughter Rachel's best friend and eventually find out she was stalked before her murder. Jacobs, Okafor, Adams, and Marquez are assigned to locate an escaped prisoner Frank Sebastian (Scott Speedman) who turns out to be a former court officer, as well as Jenny's ex-boyfriend and Alice's father.
#15- "Vile"
A 12-year old girl and 13-year old boy are found nude, strangled to death, and posed in a sexual-like position. As the MCCIS tries to unravel the truth behind the sick crime, they run afoul of the leader of a pedophile rights group who advocate adult-child sexual relationships. Suspecting that the killer is in the group, Parker and Jacobs are forced to take the most sickening assignment of their careers: going undercover in the group to flush him out.
Meanwhile, Queen and Adams, with the help of A.D.A. Ashe, learns more about Frank and Jenny: Frank was sent to prison for killing a serial rapist who was released on a technicality and how Jenny, unable to raise a child on her own, gave Alice up for adoption. Also, Detective Amelia Narios (Ruth Negga) joins the MCCIS as an IAB liasion and is revealed to be Bennett's girlfriend. And Hicks returns to active duty from the hospital, only to tell the squad that he's submitted his retirement papers for the sake of his health.
#16 - "Frozen"
The body of an 11 year-old boy, frozen to death, is fished out of a lake. Parker, Zhao, Reyes and Adams believe the boy was murdered before he was frozen and try to find out by who and why. Meanwhile, Queen, Marquez and Jacobs take Frank to visit Alice, his biological daughter for first time.
#17 - "Abuse"
Adams and Okafor save a 9 year-old girl who was about to kill herself about jump into the train. Parker and Queen believe the girl is being abused by her violent teenager brother, but her parents refuse to believe it. 
#18 - "Custody"
Jacobs is accused of accidentally killing his sister's ex-boyfriend, Ryan Howard, while arresting him. With Jacobs's future is at risks, Parker and Queen must found out what happening before Howard's death. After receiving an unexpected email, Adams finds out she is being stalked and turns to Zhao for help.
In the end, M.E. James, determines that Howard had died from sudden cardiac arrest due to him neglecting to take his heart medication, and Adams's stalker turns out to be and obsessive ex-boyfriend all the way back from college.
#19- "Date"
Bennett and Narios's dinner date at a diner goes sour when several robbers try to hold up the place. The two are forced to shoot the men down, though Bennett is wounded in the process. As he recovers, someone from his past as a cop brings him back to the only case he ever worked undercover (an ecstacy smuggling ring), and allows him to finally put it behind him.
#20- "Home"
A string of assaults on several homeless people take a turn when one dies in the hospital. With much of the community working on a new program for the homeless, Parker, Marquez, Adams and Hicks decide to go undercover as homeless to catch them once and for all. Meanwhile, Okafor reunites with his war veteran uncle, who he learns is homeless himself, and agrees to help care for him.
#21 - "Return (1)
After several teen girls are found hanged on a brigde, Hicks begins receiving taunting phone calls. He soon realizes that the Hangman, a serial killer who terrorized New Orleans in the 80's and 90's, and the one criminal he could never catch has returned after an extended hiatus. With his retirement nearing, Parker, Queen, and the rest of the MCCIS, set out to find the killer and help Hicks' close his final case.
#22 - "Endgame (2)"
As the chase continues, the Hangman begins taunting, the MCCIS by hanging a dummy in a club the detectives searched. With the MCCIS getting nowhere, they wind up recieving help from, Dr. Captain Jackson (Jeremy Irons) a psychologist from New York, and their old friend Chloe Hartman, who reveals that the Hangman's been busy in Los Angeles, and other cities, as well as two girls who had encountered the Hangman outside a club when he, posing as a photographer tried to lure them back to his studio, allowing him to finally put a face and eventually, an ID to him: Thomas Lift, a former photography major who washed out of college after a girl was chosen over him for a special position (which is why he hangs them, because he feels he was hung out to dry by the school for being denied the position). 
Eventually, they track Lift to his studio, and learns that he has another girl captive. After an intense standoff, the girl is saved and Hicks shoots and kills Lift, putting an end to the Hangman's reign of terror once and for all.
At the end, Hicks retires from the N.O.P.D., and the MCCIS and D.A.'s office throw a party to celebrate his retirement and finally bringing the Hangman down, with Hartman and her family, along with Stella Hughes, and his family, including daughter Lauren in attendance.
Final appearance of James Caan (Eddie Hicks) as a regular.
Season 8 (2015)
#1 - "Let Me Go"
Six months after Hicks' retirement, Parker, Queen and Adams investigate the murder of a 16 year-old girl who was stabbed to death in her home. When five more teens turn up dead, they discover that the killer is a schizophrenic, who having obssessively watched serial killer films, has become unable to distinguish their fantasy from reality. Meanwhile, new captain Colton Renko joins the MCCIS as Hicks's replacement.
First appearance of Chuck Norris (Colton Renko) as a regular.
#2 - "Endless Love"
Denise's sister asks Parker and Queen for help when her daughter runs away with her boyfriend and asks their help to find them before they leave town. Meanwhile, as Jacobs and Adams investigate the murder of one of Adams's childhood friends, Adams becomes closer to another.
At the end, the day after Adams arrests the killer of her childhood friend, the Frankenstein Killer is accosted by a drunk man. The killer then kills him and sets him on fire and walks away.
#3- "Frankenstein"
Concluding from the last episode, Parker, Queen, Zhao, Jacobs and Adams investigate the death of a alcoholic advertising executive. They found out the Frankenstein Killer is behind it, and conclude that he is not killing at random, but targeting people all connected to a past incident. When the killer decides makes a bold move by infiltrating the MCCIS squad to kill his next victim, the squad finds themselves in an intense standoff.
#4- "Playing With Fire"
Zhao, Marquez and Jacobs investigate when a teenage girl is accused of setting her younger sister on fire, killing her. Meanwhile, Parker, Queen, Renko and Adams must brief IAB's liaison detective Amelia Narios on the fatal standoff with the Frankenstein Killer in the MCCIS.
#5 - "The Call"
Marquez and Jacobs finds a pregnant woman when her abusive ex-boyfriend tries to kill her. As it turns out, the woman is an ex-girlfriend of McCorrea's and he takes her in to provide for her shelter from him. When the ex-boyfriend tracks her down and breaks into his house, McCorrea kills him in self-defense. However, the man's brother, a lawyer, not knowing of his brother's abusive ways, believes it was an act of revenge and campaigns to have murder charges filed against McCorrea, all the while slandering his name in the press. The MCCIS teams up with Carcaterra and Bennett to prove McCorrea innocent, and show the lawyer the monster his brother truly was.
#6- "Grandma's Revenge"
An elderly woman informs the MCCIS that she believes that her 4-year-old granddaughter is being abused by her parents, but, unfortunately, a lack of evidence forces the MCCIS to close the investigation. When the parents beat the girl to death and are arrested, the enraged and grief-stricken grandmother shoots and kills both of them at the police headquarters after smuggling in a gun in her purse. McCorrea and Ashe are once again faced with a tough case in trying the still-grieving woman, whose lawyer insists was too grief-stricken to know what she was doing, and therefore is not guilty of anything; while also trying to prove possible police misconduct in earlier reports of abuse by the girls' parents.
At the end, the woman is found not guilty by reason of mental defect and is sent to a mental health facility.
#7- "Pressure"
A woman is found brutally raped and beaten to death. The MCCIS learns that she was one of the girlfriends of a dangerous drug pusher and frontman for the Vescaro drug cartel, leading to the FBI and DEA getting involved. The case proves to be even more dangerous as Ramon Vescaro starts ordering hits on those who pose a threat to his cartel, killing them through shootings and bombings. The MCCIS, however, refuses to back down, especially Jacobs and Marquez, who try pressuring one of the other frontman into turning states evidence. As a result, Vescaro orders their deaths and sure enough, Jacobs and Marquez both end up being shot in front of their children, Parker, and Queen, while celebrating the anniversary of Alice's official adoption.
A week later, the MCCIS grieves over the apparent loss of the two detectives, and tries to move on. As Parker, Queen and Zhao prepare to leave, they get a phone call to meet in an isolated location. Upon arriving, they are greeted by U.S. Marshalls...and to their shock, Jacobs and Marquez, who survived the shooting and are now in Witness Protection, along with Alice, Ava, and the twins, until the Vescaro cartel can be brought down. The two detectives say farewell to their colleagues before they and their children are taken to live new lives for the time being.
Final appearances of Josh Hartnett (J.J. Jacobs) and Christina Milian (Teresa Marquez) as regulars.
#8- "Exiles"
As Adams and Okafor investigate a high school teacher's suicide, Okafor's father (Courtney B. Vance), a criminology professor, arrives at New Orleans to visit his son and gets entangled in the case. Parker, Zhao and Queen investigate a hit-and-run accident that left three teenagers dead.
Abbie Cornish (Brianna Adams) and Edwin Hodge (Elijah Okafor) are upgraded to the main cast.
#9- "Crazy"
The grandmother from "Grandma's Revenge" mails an urgent letter to the MCCIS informing them that the staff are doing highly unethical and questionable therapy treatments to many of the inmates, her included. This forces several detectives to go undercover to find out the truth.
At the end, the facility is shut down and the grandmother is placed in a different facility, with the promise that she will very likely be released in the near future due to her assistance in the investigation.
#10 - "New Boston (Part 1)"
Captain Renko sends Zhao and Adams undercover in Boston when mob boss is shot dead and his son sends a group of hitman after the person who killed his father. Zhao and Adams have to join to find the killer of the mob boss. Back in New Orleans, McCorrea, Washington, Ashe, Bennett and Carcaterra find themselves to face their most difficult and hardest case ever: prosecuting a Russian diplomat for rape.
At the end, in Boston, Zhao and Adams found out the mob boss's son and the hitman are going to New Orleans to catch the killer and they are worried the son and the hitman will found out and in New Orleans, Washington having drink in his office when door knock. Washington answer it before the woman shot him twice after accidentally mistake as the Russian diplomat.
#11 - "New Boston (Part 2)"
Zhao and Adams return to New Orleans, as do the mob boss' son and the hitman from Boston arrived too to found out the killer of the mob boss. But when their cover is blown, Zhao and Adams try to confront the hitman to help them to find the killer. Meanwhile, Parker and Queen trying to help McCorrea, Ashe, Bennett and Carcaterra over the case after Washington is accidentally shot by the woman who accused the Russian diplomat (whom she was really trying to shoot) for rape in his office.
#12 - "Mirrors"
Parker, Queen and Renko investigate the murder of a teenage couple who was stabbed to death with shards of a mirror. Zhao, Adams, Okafor and Reyes investigate the rape and murder of a 14 year-old girl, and link it to similar crimes in the area over the past year. And Washington and McCorrea become suspicious about a man, Patrick Neil who they save him from a hit-and-run.
#13 - "Personal Effects"
A model is found dead during a fashion show. Everybody assumes that she died of a heroin overdose, due to a known drug problem, but Parker and Queen notice some inaccuracies on her body and believe she was murdered. M.E. Niobe James and Tech Analyst Kent Walker team up to found out what happened to the model, but find it not easy work together. Meanwhile, NYPD detective Riley Price (Brit Marling) visits the D.A.'s office to ask about the man, Patrick Neil (who they saved from a hit-and-run in the last episode) who is wanted in New York.
#14- "Rich 'n' Poor"
McCorrea's nephew (his cousin's son Kevin), gets roped into a gang of robbers via blackmail. The A.D.A. turns to the MCCIS for help, and Parker and Queen are put on the case. The investigation uncovers a string of blackmail against multiple young offenders to commit crimes.
#15- "Bad Mother"
A woman accuses her ex-husband of molesting their 15-year-old daughter and produces some evidence that suggests so, but the girl angrily denies any abuse whatsoever. Unfortunately, her pleas fall on deaf ears as Ashe and most of the detectives believe that she is either just saying that to protect him, as they have seen numerous times in previous sexual assault/molestation cases, or in denial. McCorrea, on the other hand, has suspicions about the woman's accusations due to a past case with similarities to this one, and the fact that the woman is not acting like the mother of an abused child, and this leads to tension between him and Ashe. Despite McCorrea's assurances, the accused man commits suicide after becoming unable to deal with the loss of his job and reputation, the media crucifying him, the death threats and hate mail, the constant vandalizing of his house, and the loss of several friendships and family relationships.
Upon hearing the news of his death, his horrified ex-wife, who never intended for him to kill himself, tearfully admits that he never touched their daughter; she had made the whole thing up, as well as falsified the evidence against him, so the court would give her full custody of their daughter, despite the fact that he was entitled to full custody due to his ex-wife's infidelity. The MCCIS proceeds to arrest and charge the woman with manslaughter, as she is technically responsible for his death since her actions led to his suicide. However, they are derailed when the vengeful daughter, who has been handed over to Child Protective Services pending placement with relatives, steals an officer's gun and takes several hostages, including her mother, at the police headquarters out of revenge for the detectives not believing or listening to her.
At the end, McCorrea, who was the only one who believed her pleas, successfully talks her down, and she is apprehended. At the end, the mother is found guilty of manslaughter, while the daughter is also convicted of her crime, but on a lesser count due to the circumstances.
#16 - "Jagged Edge"
When Simon Ethers is accused for raping and killing his wife, Adams and Zhao found themselves at each other's throats when Renko chooses them to investigate the murder but Adams finds herself attracted to the same man's charms, leaving Zhao to question her professionalism. Meanwhile, Queen's son Marcus V is carjacked, leaving Queen, Parker, and Okafor trying to find the thief and his son's car.
#17 - "Fatal Attraction"
Parker and Reyes trying to help a reporter after her former cameraman starts making threats against her. Meanwhile, Zhao and Renko start worrying about Adams's behavior, when she starts acting sullen and depressed all of a sudden.
#18 - "Basic Instinct"
Parker and his family found themselves in danger when, Guy Mathers, Paula's ex-boyfriend arrived at New Orleans and  begins stalking her. Parker and Queen start to put a protective detail on Parker's family, but Mathers tries to counter this by uses his wealthy father's resources to terrorize the Parkers. Renko then decides to take his own brand of justice against Mathers to force him to back off.
#19 - "Obsessed (1)"
After discovering Adams has been seeing Simon, Zhao learns that Simon really did murder his wife. Things turn deadly for Zhao, when she end up in a car accident on her way back to the MCCIS.
#20 - "Unfaithful (2)"
Zhao is left in a coma at the hospital, leaving the MCCIS worried. Adams learns the man she loved who is the person who murdered his wife and also the person who caused Zhao's accident. Then Adams found herself in danger when Simon is threating her life.
At his wife's funeral, Adams comes face-to-face with Simon and confronts him about his wife's murder and Zhao's accident. Simon tells her he found out his wife was having multiple affairs and he blamed Zhao for trying to ruining their relationship. Adams then reveals she was undercover all along, to get him to confess to his crime and tries to place him under arrest. Simon attacks Adams and manages to get her service weapon, but is shot dead by Renko before he can shoot her.
Season 9 (2015-16)
#1 - "Criminal Minds"
Two months after the Season 8 finale, Bennett is kidnapped by a criminal from his past. Bennett's girlfriend, Detective Amelia Narios teams up with the MCCIS to rescue Bennett. Meanwhile, while Reyes and Renko are visiting her in the hospital, Zhao wakes from her coma.
At the end, after rescuing Bennett, the MCCIS went to hospital and visiting Zhao who they learn she's woken from her coma.
#2 - "The Best Defense"
A woman claims to have killed a serial rapist in self-defense after he broke into her home and tried to rape her. Although it is proven that he did break into her home and tried to rape her, the MCCIS discovers injuries on his body consistent with torture, and the woman admits that after she subdued him, she stripped him naked, tied him to her bed, broke his kneecaps with a hammer, sodomized him with a hot curling iron, stabbed him repeatedly, then bludgeoned him with a lamp. Because of this, the woman is arrested and charged with torture and murder, but the MCCIS hits a speed bump when much of the general public stands firmly on her side.
At the end, the woman is acquitted of her crime, much to the shock of the MCCIS.
#3 - "Prey"
Parker and Queen investigate the murder of two private school teachers who were having an affair, and the suspect is a teenager boy who knew the affair. Adams enjoys a day-off before, Sean Carter, an escaped prisoner and former U.S. Marine (Sam Worthington), breaks into her house and asks her to help clear his name when he was accused to killing his ex-girlfriend and her new boyfriend five years earlier. 
#4 - "Down, Not Out"
Officers Chester North (Stephen Quadros) and Dominic Flynn (Frankie Muniz) are assigned to the MCCIS, and immediately make an impact when they foil an armored car robbery. The MCCIS investigates and discovers the robbery is part of a bigger plot to rob six armoured cars consecutively.
Meanwhile, Adams visits Carter in prison and tells him that following the discovery and death of the true killer of his ex-girlfriend and her new boyfriend in the previous episode, his record has been expunged, and he will released soon. After hearing this, Carter and Brianna kiss.
#5 - "The Tunnel"
With Zhao back at work, she, Parker, Adams, Okafor and Queen investigate a murder on a train. When a second murder occurs on the same train, the MCCIS goes undercover to find the killer.
#6 - "The General's Daughter"
Parker and Adams was choose to investigate the rape and the murder of Army General James Havelock's daughter, Captain Elizabeth Havelock when her nude body is found in river. In the course of the investigation, Parker and Adams discover Elizabeth had a secret relationship with McCorrea years ago back when he was in law school.
#7 - "Internal Affairs (Part 1)"
Parker and Queen investigate when a man is accused of pushed his lover's husband to his death after catching them in bed together. Meanwhile, Judge Solomon Harrison (Chiwetel Ejiofor) asks Zhao, Okafor and Adams for help to spy on his wife when he thinks she is having an affair with a stranger.
At the end, Okafor and Adams got a call from Judge Harrison and he asks their help. Okafor and Adams went to Harrison's house and are shocked to see the judge cover in the blood of the man, with whom his wife was having an affair.
#8 - "Judge Harrison (Part 2)"
Concluding from the last episode, Judge Solomon Harrison is arrested and accused for murder his wife's lover. McCorrea, Ashe, Bennett, Carcaterra and Washington trying to help Harrison but find it different when Okafor and Adams are forced to testify on the witness stand and they are worried about Harrison's future as a judge.
#9 - "Defense"
McCorrea gets in over his head when a law school classmate is arrested by the MCCIS and charged with manslaughter for accidentally killing a man who had tried to assault his wife. Meanwhile, Adams reunites with Sean Carter when he is released from prison.
#10 - "Stalker"
Parker and Queen investigate when a woman murders her stalker. McCorrea and Ashe are then conflicted whether or not to charge her with murder.
#11 - "Taxi"
The MCCIS track a serial killer who is murdering taxi drivers. Also, NYPD Detective Riley Price (Brit Marling), returns to track down a notorious drug smuggler. The cases become intertwined when it's discovered that the smuggler and serial killer are not only working together, but are related by blood.
#12 - "Mistaken Identity"
The MCCIS protect a young woman after some dangerous mobsters mistake her for her dead criminal twin sister. Meanwhile, Queen and Washington trying to help their sons after they are wrongfully accused of and arrested for trying steal a car.
#13 - "Machete (1)"
The MCCIS investigate a murder of a young woman who was hacked to death with the machete. Meanwhile, Adams found out Carter has been seeing a another woman, Vanessa Rice, confronts Carter who admits that she is his long estranged younger sister whom he'd just reconnected.
At the end, Carter introduces Adams to Vanessa, when suddenly some thugs pull a drive-by shooting, and both Carter and Vanessa are left wounded in the aftermath.
#14 - "The Yards (2)
Resuming from the last episode, Carter and Vanessa are rushed to the hospital. Carter recovers speedily, while Vanessa remains in critical condition. Angered and realizing that the same man who framed him for murder is behind the shooting, Carter leaves to hunt down and kill the man. Adams tells the MCCIS about what's happened, and Parker, Queen, and Reyes set out with her to find the man before Carter can kill him.
At the end, Adams talks Carter out of killing the man who framed him and wounded Vanessa, and the MCCIS arrests him. Vanessa's condition improves, though she ends up paralyzed from the waist down.
#15 - "PTSD"
The MCCIS tracks down a U.S. Marine suffering from severe PTSD, when goes on a rampage to find the men who attacked and gang-raped his wife. Meanwhile, Carcaterra and Bennett team up with Detective Narios and her trainee, rookie detective Jyothi "Jo" Qadri (Summer Bishil) to tail a criminal on trial who may be trying to flee the country.
#16 - "Snapped"
The MCCIS investigates when a gunman opens fire in a college community, killing five people. As the search for the assailant goes on, Parker and Zhao discover that the gunman is a student who snapped after his girlfriend dumped him.
#17 - "Double Life"
The MCCIS investigates the death of a local incumbent politician who was running for re-election. At first suspecting his election oppenent, the investigation turns to his wife when it's revealed he'd been having a long string of affairs with multiple women.
#18 - "No Way Out"
Parker and Queen investigates a murder of a basketball player's mistress. Meanwhile, a temporary transfer detective Carla Valentine (Kate Beckinsale), fills in for an out-sick Zhao, and is partnered with Reyes. Washington tells his colleagues that Carla is the daughter of his deceased partner who was killed in the line of duty when Washington was a detective.
#19 - "Equalize"
Detectives Narios and Qadri come under fire from IAB when they shoot a robber during a jewelry store heist, who turns out to be an undercover cop. The MCCIS teams up with D.A. investigators Carcaterra and Bennett to figure if the two had done wrong, while McCorrea and Ashe try to prove that the officer's failure to identify himself was the cause of his death.
In the end, although Narios and Qadri are both cleared, both, feeling guilty about killing one of their own, transfer out of the MCCIS; Narios returns to IAB, and Qadri heads to the Special Victims Unit.
#20 - "Pledge"
The body of a young college student is found floating in the Wolf River, prompting the MCCIS to investigate a prestigious fraternity at L.S.U.
#21 - "Playin' My Song"
The MCCIS investigates when all but three members of a popular rap group are gunned down during a perfomance at a club. The investigation leads to a conniving producer who will do anything to keep his artists under his control–even kill them. Meanwhile, Carter proposes to Adams and gets a job in Las Vegas, and proposes Adams go with him, leaving her with a tough decision to make.
#22 - "Phantom (Part 1)"
When two couples, the Riveras and the Jensens, and are found brutally tortured and murdered in their homes, the MCCIS soon realise that their deaths are connected to a major drug smuggling ring. With the help of the two young children of one of the couples, and new rookie Detective Kasey Shepherd (Vanessa Hudgens), they are able to apprehend the killer, and learn not only is he connected to the same drug cartel who forced their former detectives J.J. Jacobs (Josh Hartnett) and Teresa Marquez (Christina Milian), and their children into hiding, but that he himself carried out the aformentioned hit, which leads to the rest of the MCCIS and the D.A.'s office to learn what Parker, Queen and Zhao never told them: the two detectives and their children are all in Witness Protection. Meanwhile, Adams continues to ponder whether to go with Carter  to Sin City, or stay in the Big Easy, and is given some strong relationship advice from M.E. James.
The episode ends with the U.S. Marshals escorting Parker, Queen, McCorrea and Carcaterra to Jacobs and Marquez's new home in Montana and the two exit their home to meet their old friends.
#23 - "Phantom (Part 2)"
After seeing a photo of their would-be assassin, former Russian sleeper agent, Ruka Kadslav, aka, "The Phantom," Jacobs and Marquez decide to return home to New Orleans with their family to face their attacker, despite the risks it poses to them all. Back in New Orleans, the two get caught up with their old colleagues and manage to convince the Rivera's children, Roscoe and Eva to testify along with them against Kadslav.
In the end, Kadslav is convicted on all counts, and the MCCIS and D.A.'s Office celebrate, though without Jacobs and Marquez present, as they and their children are being moved to new identites by the U.S. Marshals, as are Roscoe and Eva Rivera. Also, during the party, Adams announces she has put in a transfer to Las Vegas in order to be with her fiance, Sean Carter and will soon leave the MCCIS and New Orleans. The episode ends with everyone congratulating her and wishing her well.
Final appearance of Abbie Cornish (Brianna Adams) as regular.
Season 10 (2017)
#1 - "Maximum Risk"
Two months after the previous season finale, Kasey Shepherd joins the MCCIS as Adams' replacement and Carla Valentine returns to join the squad full-time.
Queen and Zhao investigates three teenagers killed in a drive-by shooting on their way to school. They discover a shocking secret about the three teens, that may have contributed to their murders. Meanwhile, Parker, Valentine, and Shepherd work together to found the killer of the chief's daughter after she is found raped and strangled on a riverboat.
Vanessa Hudgens (Kasey Shepherd) joins the cast as a regular.
#2 - "Blood Sugar"
Parker, Queen, Valentine and Zhao investigate a teenager girl's murder after she was found naked, murdered and cover in sugar in the park. The investigation leads to a jealous rival who desired after the boy she was dating.
#3 - "Tracks"
Parker and Queen investigate the murder of a teenager who was found tied to a cross like Jesus Christ. Meanwhile, Valentine rescue her ex-lover and former CIA agent, James Wallace, during a hostage situation in the shopping mall.
#4 - "Shadow Dancer"
Parker, Queen, Shepherd and Zhao try to help a couple locate their children after they go missing during school hours. Meanwhile, Valentine attracts the attention of her ex-lover when she visits him following his rescue in the previous episode.
#5 - "One Night Out"
Two sisters are murdered after coming home from a night out. Parker and Queen think the killer could targeting people who go out at night. So, the MCCIS plan a night out on the town to catch the killer.
#6 - "Regression"
Parker and Queen found it hard to following the case when a father is accused for stabbing his ex-wife and his step-daughter to death. But when the man's son is attacked and left for dead, Parker and Queen ask Renko for his help in the case.
#7 - "Bad Company"
The MCCIS found it very different and tricky to follow the case when two neighbours is at war after a mentally challenged teenage boy is accused of murdering a 11-year old girl at her garden. Meanwhile, Washington learns the man who he arrested for murder 25 years ago is not his partner's killer, and the true killer is still out there in New Orleans.
#8 - "Falling Edge (Part 1)"
Parker and Queen investigate the murder of a woman, a ex-CIA agent who Bennett witnesses her getting stabbed in front of him. The killer then begins now starting to stalking Valentine's teenager daughter, Claire (Joey King) because Wallace, Valentine's ex-lover, is her biological father.
At the end of the episode, upon coming home from school, Claire is abducted and kidnapped by an intruder.
#9 - "Ultimatum (Part 2)"
It's a race against time for the MCCIS to rescue Valentine's daughter from her kidnapper, who the MCCIS learns he is ex-CIA, just like Wallace, and his victim. Meanwhile, Bennett finds himself in danger when the kidnapper gives him a ultimatum and gives him a chance to save Claire.
#10 - "The Good Hero"
A 16-year-old boy shoots and kills a burglar in self-defense, and is lauded as a hero. However, he is later arrested and charged with murder as he is about to be set free, and faces a very harsh sentence from a stern juvenile court judge who has a deep prejudice against kids who kill no matter what the reason might be. After some digging, the confused MCCIS discovers that the burglar's parents, who happen to be very wealthy and previously refused to believe that their son could do any wrong, bribed some officers and officials to arrest and charge the boy, and are currently planning further bribery to keep him locked up for a very long time. Not only that, but they were convinced by the judge, who is a close friend of theirs, that the boy, who happens to have schizophrenia and a short past history of erratic and sometimes violent behavior despite being under medication, will kill again-this time, unprovoked-if the medication were stop working. Can the MCCIS expose the corrupt judge, officers, and officials and save the boy?
At the end, the parents of the burglar are arrested for bribery, the judge is also arrested and removed from the bench, and the boy is cleared of any wrongdoing in a different court.
#11 - "Inheritance"
A man admits to hastening the death of his terminally-ill, 97-year-old father to end his suffering, but the MCCIS believes that he may have murdered his father when they discover that his father recently revised his will and left everything to his son. Meanwhile, Oscar's sisters Stella and Joyce return to town, with Stella transfering back into the MCCIS.
#12  - "Numbers"
Captain Renko finds the very first person he ever arrested as a Texas Ranger has broken out of prison and tracked him down to New Orleans, prompting the MCCIS's protection until they can bring the criminal down. Meanwhile, Washington continues hiding a secret from his colleagues and continues to found out more about his partner's death. Also, Valentine and Wallace grow closer when they spend time with their daughter.
#13 - "The Bad Hero"
The teenage boy from "The Good Hero" finds himself in trouble with the law again when he seriously injures a teacher at school after having a violent outburst due to not taking his schizophrenia medication that morning, as it was stolen from him by a classmate as a joke. Although the teacher refuses to press charges, as she knows that the outburst was not his fault, the media and general public start to vilify the boy due to the self-defense case, prompting him to run away from home after he is released to his parents. Upon hearing reports that a vigilante group is trying to hunt the boy down and kill him to get justice for both the burglar and teacher, the MCCIS desperately tries to find him. Who will reach him first?
At the end, the MCCIS, after a standoff with the vigilantes, rescues the boy. The episode ends with the boy and his family moving away from New Orleans.
#14 - "Catwalk"
When a modeling rival of Joyce Hughes is found strangled to death underneath an catwalk at an event, and the cord used to do it is found in Joyce's dressing room, she is accused of the murder and arrested. The MCCIS, including Oscar and Stella, try to prove Joyce innocent and find the real culprit. Meanwhile, Ashe goes through a rough patch with her girlfriend, and Carcaterra's wife is seriously injured in a fall at home.
Also, at the end, Washington learns that the man that he'd arrested for his partner's death had been threatened into silence by the true killer, who had taken his family hostage at the time.
#15 - "The Untouchables"
It is race against time for Washington when his partner's killer taunts him with killing a kidnapped 8-year old girl live over the Internet and dare the D.A. to find him before he does. Meanwhile, with Parker and Queen assigned to help Washington, the rest of the MCCIS as well as their D.A. allies try bring down a German diplomat who is thought to be running a sex slave trafficking ring, while getting past his diplomatic immunity.
#16 -  "Body Count"
Parker, Queen, Okafor and Valentine investigate the murder of seven teenagers and six adults after their bodies are found in a lake. Zhao assists Carcaterra and Bennett in a drug dealer case that McCorrea and Ashe are having trouble prosecuting. And Washington turns up the heat on the search for his partner's killer.
#17 - "Bloodthirst"
The MCCIS investigates the brutal killing of a lesbian Pee-Wee soccer coach by three vicious dogs. After learning that the dogs owners are severely anti-gay, and they had com into conflict with the said coach multiple times, the detectives, McCorrea, and Ashe suspect that the dogs did not escape their holdings as claimed, but were let out deliberately to attack, and aim to charge them with second-degree murder.
#18 - "X & O"
The MCCIS investigate a series of killings in which the victims have had X's and O's carved into their cheeks. They soon realize there are two killers and that they are taking turns killing their victims (first victim has an X, the next one has an O,) McCorrea runs into Lynette Goodman, an old girlfriend from his childhood, now a firefighter, when interviewing N.O.F.D. witnesses for an arson/murder case.
At the end, as Washington prepares to leave for work, he recieves a chilling message from his partner's killer that one of his colleagues will die.
#19 - "Act of Vengeance (Part 1)"
After recieving messages from his partner's killer who threatens to kills one of his colleagues, Washington is determined to find the killer and bring him to justice for his partner's murder with the help from the MCCIS, his subordinates at the D.A.'s office, and his good friend, A.D.A. Pierce Fowler (John O'Hurley).
At the end, Detective Valentine walk in the street before call from her father's killer. Then he shot three time that went miss at Valentine. Valentine hide in the park before another shot went to her arm. The shooter got away and Valentine is on the ground with her bleeding arm and is calling for help.
#20 - "Seeking Justice (Part 2)"
After the attempted murder-by-sniper of Detective Valentine, Washington places her and her loved ones under protective detail until further notice. Futher investigation of the shooting finally reveals the killer's identity: Keegan Cobb, a cold-hearted ex-Black Ops soldier who has turned psychotic and aims to ultimately destory the government from the inside out.
Cobb then targets Detectives Shepherd, Okafor, Zhao, Sergeant Queen, Investigator Bennett, A.D.A.'s McCorrea, Fowler, Ashe, and even Lieutenant Reyes in a series of snipings, car bombs, hits by professionals, etc. At the end, the last of his bombs rocks the MCCIS HQ and Crime Lab, leaving everyone's fate up in the air.
#21 - "Beginning of the End (Part 3)"
Everyone survives the attempts on their lives and the bombings, although McCorrea, Bennett, Shepherd, Zhao and Okafor are all injured in the attempts against them. At that, with only Sergeant Parker, Captain Renko, and Investigator Carcaterra remaining at his side, Washington sets out to find and take Cobb down for good.
Cobb manages to find where Valentine and her family is, and takes Claire hostage. When Washington steps up to face him, Claire breaks free, and Washington jumps in front of her as Cobb tries to shoot her, causing him to be shot and mortally wounded. Parker, Carcaterra and Renko then open fire on Cobb, hitting him multiple times. Cobb, however, is shielded from all the shots due to wearing a bulletproof vest. He is just about to shoot them all before they can reload, when suddenly, Washington uses his last bit of strength to fire a single fatal shot into Cobb's head, finally avenging his partner. Washington then dies in Valentine's arms just after she thanks him for everything. Valentine watch sunset showing and remember the last monent with her father before he went to work and getting killed by Cobb.
The episode ends with Washington's funeral at which all of his friends, family and colleagues attend and then Valentine visiting her father's grave.
Final appearance of Kevin Costner (Russell Washington) as a regular.
Season 11 (2017-18)
#1 - "Loss"
Four months later, when a ex-militant radical is found brutally shot to death in the bayou, the MCCIS takes the case. The subsequent investigation leads to a love triangle gone wrong, between the dead radical, one of his former friends, and an ex-girlfriend of both. Meanwhile, Carcaterra's wife loses her battle with multiple sclerosis, and his colleagues from the D.A.'s office (including new D.A. Pierce Fowler) and NOPD attend her funeral, during which Ashe makes a painful revelation: she has breast cancer.
#2 - "Hunted"
A psychotic arsonist and bomber escapes prison and looks to take revenge on the people that helped incarcerate him, a list that includes Parker and Queen. The two sergeants and the rest of the MCCIS must track him down and stop him before he can carry out his revenge. Meanwhile, Ashe contemplates her options for treating her cancer, and Carcaterra and his children deal with Ursula's passing.
#3 - "Father of the Bride"
A young groom is shot in the head and killed by an apparent sniper at his own wedding, and the MCCIS' investigation leads them to the ex-Army father of his bride, who was notorious in the family for being extremely controlling, strict, and overprotective of his daughter even long after she moved out. Furthermore, the detectives learn that the father was banned from the wedding and served with a restraining order because he continually tried to destroy his daughter's engagement, as he was fiercely opposed to her choice of husband. After getting enough evidence, the MCCIS arrests the father, who makes it no secret that he murdered his son-in-law. As the detectives begin building their case against the unrepentant man, they face a big challenge in the form of his high-powered, charismatic attorney, who makes several convincing arguments about the father's mental state and PTSD that could get him off completely scot-free.
#4 - "Eye for an Eye"
A series of brutal murders hits New Orleans and the MCCIS is shocked when they learn that not only are there multiple killers, but each victim was an ex-criminal from the MCCIS and NOPD's past who was either acquitted, released, paroled, or had their charges dropped. Victims include the woman from "Deception" who faked her own murder and framed her ex-boyfriend for it, the man from "Pain" who allowed his terminally-ill son to commit suicide, and the woman from "The Best Defense" who murdered her attempted rapist. While trying to locate and give police protection to the few remaining ex-criminals in the New Orleans area, the detectives manage to apprehend one of the killers, who is revealed to be part of a large, underground vigilante ring that has claimed responsibility for the mysterious murders of multiple ex-criminals in the U.S. Upon learning that the ring is based in New Orleans, Parker, Zhao, Queen, and Reyes go undercover in the hopes of destroying the ring.
#5 - "Escape"
A mentally challenged man escapes from a sanitarium after witnessing a nurse's murder by the president of the establishment, who frames him for the crime. Though the MCCIS is assigned to capture him at all costs, Shepherd starts to doubt the man's guilt when the president's story is found to have inconsistencies. Meanwhile, Zoe Shields (Hilarie Burton), fresh off of passing the bar exam, joins the D.A.'s office, under McCorrea and Ashe's tutelage.
First appearance of Hilarie Burton as A.D.A. Zoe Shields.
#6 - "Brotherly Love"
The MCCIS and general public are all divided in the case of a woman who beat her 14-year-old son to death with a shovel after walking in on the boy molesting his 7-year-old sister. Meanwhile, McCorrea and Ashe have an intense argument and bitter falling-out over what to do with the woman. McCorrea, due to his prejudice against parents who harm their children, wants the mother to be very harshly punished regardless of what her son did, while Ashe believes that the woman suffered a bout of temporary insanity and should get therapy, not jail time.
#7 - "Two-Face"
The remains of a 10-year-old girl who disappeared in 1992 are found in a sewage pipe, prompting the MCCIS to re-open the case and enlist the aid of Detective Dolphin "Dolph" Frease (Kevin Federline), who is from from the NOPD's Cold Case Unit. The investigation immediately complicated when the detectives find that nearly all of the suspects in her disappearance are either deceased, have solid alibis, or moved away from New Orleans and changed their names. Left with no other options, they declare the girl's parents, who have since become very well-known and popular child crime advocates in the U.S., the prime suspects in her death. Outraged because they were the prime suspects in her disappearance in 1992, the parents refuse to aid in the investigation in any way, which only fuels the suspicions against them; however, are they really the ones the MCCIS should be looking at? Meanwhile, McCorrea and Ashe reconcile over the fight they had in the previous episode.
First appearance of Kevin Federline as Det. Dolphin "Dolph" Frease.

#8 - "Subzero"
The remains of four teenagers who disappeared while on a cross-state road trip in 1984 are discovered by construction workers digging for a new site, forcing the MCCIS to bring in Dolph once again. As the investigation presses, on it's discovered that the teenagers are all missing something of value to them, and each was killed in a different way in order to throw off investigators should the bodies ever be found. Meanwhile, Okafor and Fowler reach out to Carcaterra to help deal with his wife's death, and Shields temporarily takes over for Ashe while the latter continues her treatment for her cancer.
#9 - "Brother and Sister"
Parker and Queen take the lead on the case of a brother-sister duo committing diamond store robberies. The investigation leads to a tangle with the Secret Service, who also suspect the duo's involvement in a counterfeit currency ring. Meanwhile, Okafor's brothers stop into town and end up getting wrongfully arrested for assault and battery by a pregnant woman forcing Okafor to seek help from Renko and Fowler.
#10 - "Backstab"
The MCCIS investigates when the body of a 12-year old boy is discovered in an old freezer by Marcus V, Jabari, and Dallas Jr. at a father-son picnic. While thought initially to have been the victim of a prank gone wrong, Queen and Zhao discover that he was actually murdered, and look to his circle of friends to find the killer, but are derailed when the kids' parents refuse to let the police do anything with their children. Meanwhile, Parker, Reyes, Shepherd and Stella Hughes continue to work with Detective Frease on the cold case in "Subzero," and learn that the four dead teens were all the same sign: Virgo. Also, Shields makes her first mistake on a case, causing her to temporarily lose her self-confidence, until Fowler sits down with her for a chat.
#11 - "Mama Bear and Papa Wolf"
A group of armed men, led by a young couple, storm the Department of Family and Children's Services and take all of the social workers there hostage, brutally gunning down two of them in the process, but allow all of the children to be released. As the MCCIS and NOPD attempt to diffuse the crisis, they learn that the couple leading the operation are doing this to exact revenge against Child Protective Services for forcing them to return an 8-year-old boy who they fostered to his still-abusive parents who later starved him to death; and the two murdered social workers happen to be the ones who took the boy away from his foster parents and placed him back with his biological parents.
#12 - "Art Work"
After the video of an unknown person turning the dead body of young woman into a piece of artwork goes viral, Queen, Hughes and Shepherd look to identify the victim and find the one responsible for the video. However, when it's revealed the woman was dead about three days before the video was made and the "artist" is simply a slightly crazed man with a fascination of making art out of the the dead, they set out to find the true killer. Meanwhile, Parker, Zhao and Frease uncover more clues in the cold case from "Subzero": the killer might have been responsible for the deaths of four more teens in a similar case in Mississippi. Also, Ashe continues her breast cancer treatment, and Carcaterra and his children prepare for their first holiday season without Ursula.
#13 - "Mugger"
A woman shoots and kills a man who tried to steal her purse while she was walking home from work one night, and the MCCIS has no choice but to arrest and charge her with manslaughter, reckless endangerment, and illegal discharge of a firearm due to the law stating that one cannot use deadly force to protect property; however, this leads to a massive outcry from the public, protests, and accusations of misogyny by a radical feminist group. As the detectives try to ignore the protests and their own personal opinions, they discover that the woman may have had a connection to the mugger and the shooting may not have been self-defense after all.
#14 - "Famed"
A troubled young actress with a history of run-ins with the law is brutally beaten and raped at the back of a nightclub. Reyes takes lead of the investigation and enlists his old friends at the Special Victims Unit for help. As the investigation continues, it's revealed that the rapist has more victims and might have either known or had prior contact with each one of them, not to mention a sort of apathy towards women, due to the brutality of the crimes. Meanwhile, Okafor shocks his colleagues with his announcement to return to Chicago to marry and settle down with his fiancé, and Ashe decides to temporarily leave the D.A.'s office to focus on her health and cancer treatment, leaving McCorrea slightly heartbroken.
#15 - "Virgo (Part 1)"
The Virgo Killer from 1984 decides to make a comeback and starts sending threatening letters to the NOPD and several media outlets. The MCCIS and Detective Frease set out to trace the letters and close the book on this cold case, but the stakes are raised when two middle schoolers who both happen to be Virgoes go missing after school, and unsettling pictures of them then show up online. Meanwhile, Okafor prepares to leave New Orleans for Chicago, Shields and Fowler learn Bennett has considered taking a job with the DEA, and McCorrea starts to consider his future without Ashe.
#16 - "Virgo (Part 2)"
As the MCCIS continues the search for the Virgo Killer, he continues to taunt the detectives by posting more and more disturbing pictures of his newly abducted online. With time running out, Renko orders that all stops be pulled to find the man before he has the chance to kill the children. During this time, Frease starts to take the case personally for some reason and refuses to tell the detectives why, worrying them that he might do something he'll regret.
Eventually, Parker, Queen and Frease are able to pinpoint the killer's location and lead a raid on the said residence. After a short standoff, they are able to rescue both children and arrest the killer who is revealed to be the school's custodian without incident. McCorrea later tells the man in prison that he is looking forward to prosecuting him, with Frease adding that he will be present for every day of the trial.
In the end, Okafor officially leaves to return to Chicago, Frease finally closes the book on the Virgo Killer's case and joins the MCCIS in Okafor's place, Bennett takes the job with the DEA, and Ashe resigns from the D.A.'s office to focus on her cancer treatment and leaves Shields in her place, but not before sharing an emotional goodbye with McCorrea and the rest of the MCCIS.
Final appearances of Paula Patton (Janet Ashe), Sam Jones III (Shilo Bennett), and Edwin Hodge (Elijah Okafor) as regulars.
Season 12 (2018-19)
#1 - "Cyberbully"
Five months later, the MCCIS and D.A.'s Office have adjusted to the new changes that have come. Frease has become an official member of the squad and has been partnered with Zhao, McCorrea and Shields have developed a working respect for each other, and Carcaterra has since been given a new partner, Ajay Jindal (Kal Penn), a Harvard Law School graduate who has settled down in the Big Easy to start anew. The two investigators are thrown for a loop in McCorrea and Shields' case of an arrogant teenage boy who cyber-bullied a rival classmate to suicide, where, after crucial evidence is thrown out they try to find new evidence to secure a conviction. When they are seemingly unsuccessful, and the case is on the verge of being dismissed, the victim's father decides to take matters into his own hands by kidnapping the boy's younger sister, and threatens to kill her live over the Internet if the boy is set free or does not plead out to his crime within a certain time. The MCCIS and D.A.'s office must try to talk the despondent father down, while gathering enough new evidence to make the boy own up to his actions before it's too late.
First appearance of Kal Penn (D.A. Inv. Ajay Jindal) as a regular.
Kevin Federline and Hilarie Burton join the regular cast.
#2 - "Training Day"
Rookie NOPD Detective Alec Evans (Justin Bieber) shoots and kills the teenage son of powerful crime lord Frankie Verceti after the latter fatally wounds his senior partner. The MCCIS is brought in to protect the young officer after Verceti puts a bounty on his head in retaliation for his son's death. After several assassination attempts, that end with more officers dead or wounded, both Fowler and the Chief of Police urge the squad to bring down the crime lord by whatever means necessary. However, a dig into the life of the Verceti family ends up causing some shocking revelations, including one about Evans that could change everything for him.
#3 - "Bully For You"
A 17-year-old boy, Paul Weaver, is found brutally beaten, comatose, and barely alive in a dumpster outside his high school, and the MCCIS' investigation immediately becomes complicated when they find out that Paul was a very cruel and sadistic bully at school who was hated by virtually everyone there, teachers and principals included. The detectives turn their attention to a Adrian Craslow, a classmate who Paul bullied the most. Several weeks earlier, Adrian unsuccessfully attempted to commit suicide after Paul played a humiliating prank on him, then took videos and pictures of the incident and uploaded them to the internet; however, Adrian and his parents, who had allegedly sworn revenge against the bully, have airtight alibis. As they continue the investigation, the MCCIS and the general public are shocked to learn that the Paul's attackers are none other than his own parents, who later state that they were punishing him for the prank and his cruelty towards his classmates.
At the end, both parents are convicted and sent to prison. As Paul, now brain damaged and paralyzed from the waist down, is about to stand trial in juvenile court for the prank, a shocking discovery is made:
The prank played on Adrian had actually been staged by Adrian himself, with the help of some classmates who Paul was also bullying, as an act of revenge against Paul. Adrian eventually confesses the truth and tells the detectives that he did everything he could to ensure that Paul took the rap for it, including stealing the latter's phone and taking the videos and photos of the "prank" and uploading them to the internet, while making sure that his own suicide attempt was unsuccessful in order to turn people against Paul.
The episode ends with Adrian, being legally culpable for the beating, being arrested and Queen and Zhao informing his hurt and furious parents that he will very likely be tried as an adult for what he did.
#4 - "Exoneration"
The MCCIS discovers that a man who has been in prison since 1995 for the murder of a co-worker is innocent of the crime when his now-adult children brings in evidence that exonerates him. Furthermore, the detectives learn that the man's ex-wife had the evidence that proved his innocence, but deliberately concealed it in order to get revenge on him for his infidelity that ended their marriage. With the unrepentant woman facing serious charges, the MCCIS begins working to free the man and find the real killer, only to learn that the imprisoned man is completely convinced of his own guilt, as the years behind bars and numerous people calling him a murderer led him to believe it himself.
#5 - "Blindsided"
A confrontation in front of a store ends in tragedy when a woman is killed in the crossfire of an apparent gang shooting. The woman's 9-year-old son is left as a witness, which becomes complicated upon the MCCIS learning that he is blind. While, Queen, Zhao, and Shepherd try to get as much info out of the boy as they can, Parker, Frease, Evans, and Hughes go through the evidence and discover that not all is as it seems.
#6 - "Internal Affair"
The MCCIS is called to investigate the murder of Avery Johns, the 19-year old eldest son of a Congressman Terrence Johns behind a movie theater. Parker and Shepherd discover Avery's drug use and dealing and suggest that whoever was his deal might have had something to with his death. The situation escalates when Johns' wife is brutally assaulted and his youngest child, 9-year old Ramona, is beaten and raped in their home. Reyes then contacts his old friends in the NOPD's Special Victims Division to assist in the case, and Caracaterra and Jindal join in as well, while Johns tries to convince McCorrea, Shields, and Fowler to keep a lid on the details to protect his family.
In the end, the two crimes turn out to be two separate incidents: the assault on Avery's mother and sister was committed by Avery's dealers, who did it in retaliation out of belief that Avery cheated them in a deal. The murder was committed by the ex-mistress of Avery's father, whom he'd recently ended an affair with, and whom Avery threatened to expose to the press when she tried to restart their relationship again. Both the dealers and the ex-mistress are arrested and charged with their respective crimes.
In the end, a teenage girl (Tristan Mays) shows up at Parker's doorstep. She introduces herself as Alisha Nelson and tells him that she's his niece by his second-oldest brother, Davis.
#7 - "10-13"
The NOPD comes on high alert when two white officers are shot to death in cold blood, in retaliation for the deaths of two young black men the officers had inadvertently caused while trying to arrest them. The MCCIS first looks at the families of the two men, but then discovers they may be dealing with a total stranger from within the community. While the search goes on, Parker tries to locate his brother while making his supposed niece feel at home.
#8 - "Depraved Indifference"
A young college student trying to "cure" his homosexuality is stabbed to death in an exorcism gone wrong, but the MCCIS' case grows complicated when they discover that he knew fully well that he could die during it and had persuaded his three friends who performed the exorcism to do it, as he was desperate to get rid of his "disease."
Regardless, McCorrea and Shields charge the friends with murder, but the victim's parents arrive and turn the case against the victims' grandparents, telling McCorrea and Shields that his grandparents, notorious in the family for being ultra-Christian and ultra-Conservative, brainwashed him into thinking that being gay could be cured. When the media learns of this, the public turns against the victim's grandparents, leading to scrutiny and death threats against them, which culminates in the victim's grandfather snapping and opening fire on a mob of protestors in front of his house, killing two, and wounding seven more.
Wanting resolution and peace, the victim's mother persuades her father-in-law and son's friends to plead out to their crimes and end the violence. Both sides eventually agree: the friends plead to criminally negligent homicide and receive 1-4 years each, and the grandfather pleads out to manslaughter and gets 10-20 years.
The episode ends with the victim's grandmother attempting to apologize to the victim's grief-stricken parents for all that she did, but they vindictively rebuff her and announce that they will be denying her all access to her grandchildren.
#9 - "Engraving"
A vicious assault on a young high school student leaves him gravely injured and with a symbol seared into his cheek. Looking at similar attacks on other people leads the MCCIS to a fanatical religious cult who is know for keeping tight reigns on it's members. Suspecting the cult is involved, Shepherd and Frease are sent undercover as new members to investigate.
Meanwhile, Parker continues trying to track down his brother, and grows closer with his supposed niece, who also grows closer with his sons (e.g. her supposed cousins).
#10 - "Care"
A young couple is involved in a car accident and the girl winds up in a coma and on life-support. Her parents order the hospital to keep her on the machine, as they have medical power of attorney over her, but her boyfriend wants to end her suffering. The MCCIS is eventually forced to detain him after he is caught trying to turn off life-support on his own. As time goes on, the MCCIS discovers that the couple was on the verge of breaking up and begin to question whether it was truly an accident.
Eventually, the boyfriend admits that he found out that the victim was cheating on him, but swears he didn't set up the accident to kill her. The MCCIS does some digging into the person who slammed into the couple and discovers that she was the comatose woman's secret, lesbian lover. When questioned, the woman breaks down and admits that she caused the accident intentionally, but to kill her lover's boyfriend, so they could officially be together a lot faster. Feeling incredibly guilty, she decides to plead out and requests the maximum sentence.
As for the victim, after signs of brain activity are detected, the doctors say she very well may recover but the how much and how long still remain to be seen. At the same time, her boyfriend decides to forgive her and keep her alive.
#11 - "Sin"
A megachurch pastor-turned-atheist is killed at an atheist convention after drinking a glass of wine that had been spiked with cyanide, and the MCCIS immediately turns their attention to his still-Christian fundamentalist family, who he had been estranged from for the past several months after unsuccessfully trying to convince them to abandon their faith. With the family disgusted with their husband and father's renouncement of his faith, especially his fanatically-religious 16-year-old daughter whose was recently expelled from school after she assaulted an atheist classmate, then called the principal a "sinning whore from hell" after being confronted over it, they seem to fit the suspect profile to a tee, but something else lurks in the shadows of the case, something neither side ever expected...
#12 - "Supremacy (1)"
In the first part of a L&O co-series crossover, NOPD officers Tito Caballero (Michael Peña) and Justin Rome (Ernest Waddell), after trying to stop the brutal lynching of an Asian man, are brutally gunned down in a shootout that also claims the life of one of the assailants, a teenage boy. When the MCCIS investigates, they discover that the teenage boy is part of the Swaztik-Skins Brigade, a violent white supremacy group branched out of the Aryan Brotherhood, know for committing some of the most violent and graphic hate crimes ever seen (arson, gang rape, lynchings, burnings, mass murders, etc.) through out the Southern United States.
Upon learning of the majority of the crimes taking place in his hometown of Dallas, Texas, Captain Renko, phones his old police academy friend, Captain Eric Dalton (Terry O'Quinn) of Dallas P.D.'s Homicide Unit. After a brief catch up, Renko inquires about the Swaztik-Skins. Dalton replies that they had captured their leader, Clancy Reddington (Hugo Weaving) last year, but at his indictment for the triple homicide of three black men two months earlier, he pulled off an escape, killing a court officer, two Dallas P.D. officers, and a Texas Ranger in the process, before fleeing the state.
Learning this, Renko asks Dalton to send everything he knows about Reddington. Dalton decides to do one better and sends not just everything about Reddington, his group, and his crimes, but also, Detectives Bianca Diaz (Dana Ramirez) and Trey Mathis (Paul Telfer) from his unit to assist in the case. Together, the MCCIS with the Dallas Homicide detectives work to shake down as many members or members' relatives to claw their way to Reddington.
Part 1 of the New Orleans/Dallas crossover event.
Dana Ramirez (Det. Bianca Diaz), Paul Telfer (Det. Trey Mathis), and Terry O'Quinn (Capt. Eric Dalton) guest star from Law & Order: Dallas.
Concludes on Law  & Order: Dallas Season 4's Homecoming (2).
#13 - "Heroes"
The MCCIS investigate the triple homicide of three people with seemingly nothing in common. However, it's soon revealed that they were all the younger siblings of U.S. Marines and all their older brothers served in the same unit. Suspecting a Marine of the murders, Frease and Shepherd go undercover as new recruits to find the truth.
Meanwhile, Parker's niece Alisha tries asks about what her father was like and why he wasn't involved in her life, which Parker struggles to answer.
#14 - "Hit (1)"
A young man is hit and killed by a driver while walking on a dirt road, after which the driver flees. Upon investigating, the MCCIS are able to identify the man as Leon Gonzalez (Taylor Lautner). They eventually find the driver and move to arrest him at his home only to find that someone has gotten to him first and beaten him to near-death. At the driver tells them that he was hired to do the job but refuses to tell who, and that a woman was the one who assaulted him. Upon looking at surveilance footage from a camera at the driver's neighbors' place, it's discovered that the assailant was the MCCIS's former adversary Jasmine Guiterrez (Michelle Rodriguez), who has been paroled from prison early. Parker and Queen place in a call to Los Angeles, and soon Detective Chloe Hartman (Jessica Chastain) returns to New Orleans to assist in the case. As the detectives try to uncover a connection between Jasmine, Leon, and the driver, a phone call from the former could change everything.
Michelle Rodriguez (Jasmine Guiterrez) and Jessica Chastain (Det. Chloe Hartman) return as guest stars.
#15 - "Run (2)"
After learning from Jasmine herself that Leon was her younger half-brother and that they had reconnected in the weeks before his murder, the MCCIS realize that Jasmine is on the warpath and seek to stop her and solve the case. The investigation leads to the son of a local Mafia don who had Leon killed for unintentionally humliating him while fighting over a female waitress. Hartman realizes that Jasmine won't stop until she avenges her brother, so she sets a trap for her and stops her, while arresting the son as well.
At trial, McCorrea pushes for the death penalty, but finds it hard to come across witnesses as no one is willing to testify out of fear for their lives. however, with Shields' and Jasmine's help, he manages to convice the waitress to do what's right, and she testifies, sealing the mob's son's fate. 
In the end, Hartman and Jasmine visit Leon's grave together.
#16 - "Undercover"
Parker, Queen, Frease, Evans, Reyes, and Shepherd go undercover in an operation to break a bank robbery gang as a new recruits. During the case, they discover that the gang's leader is an unstable psychopath who has no remorse or regard for other people's lives, when he heartlessly excecutes three innocent patrons during a robbery. With the help of one of the robbers, who is becoming increasingly scared of the leader, the MCCIS detectives try to set the gang up to catch in in their biggest score yet.
Meanwhile, Zhao and Hughes are given the task of training newly promoted Detectives Kenton Frye and Raina Villalobos (Calum Worthy and Hannah John-Kamen) the latter of whom catches the eye of McCorrea.
#17 - "Trespass"
The MCCIS investigates the death of two firefighters killed in an explosion during a fire at an apartment building. Upon the fire being found to be arson, the unit looks to who would want to destroy the apartment complex and discovers a long hidding and very disturbing secret of the landlord's son.
Meanwhile, Parker continues the search for his brother, and discovers some strange activity in his bank account, and Zhao takes Frye and Villalobos to a shooting range to test their skills.
#18 - "Hell Hath No Fury"
A man accidentally shoots and kills his 15-year-old son's best friend after mistaking the boy for a burglar when he snuck into his son's room. After a long investigation, the MCCIS begrudgingly rules it an accident and decides not to file charges against him, only for the victim's enraged and grief-stricken mother to gun him down right as he is leaving the police station. As the D.A.'s office prepares to file charges against the mother, the MCCIS uncovers new evidence that the boy's shooting might not have been an accident after all.
Eventually, the father is revealed to be a bigamist and was married to both boys' mothers, without either of them knowing, making them half-brothers. The two boy's respective younger siblings then reveal that they all recently found out about this, but decided to keep it secret. However, the father discovered that they knew and fearing his secret would get out, tried to force the boys to break off their friendship. When that failed, he killed one of them to keep his dirty little deeds hidden. Afterward, the dead son's mother discovered her husband's bigamy, and realized the killing was intentional, so she killed him in retaliation.
In the end, the dead boy's mother pleads out to manslaughter, and her two remaining children are put in her sister's custody, with their half-siblings promising to keep in touch.
#19 - "Infected"
A man's dismembered body parts are found in trash bags in front of a movie rental store. As the MCCIS investigates, they discover the man, McKenzie Pierce, was a major porn star, and was HIV-positive and his wife soon discovers that she is too. The investigation then turns to the movie production company Pierce worked for, and it's then revealed that Pierce had no clue of his HIV infection and had unknowingly spread it to other female porn stars he'd had worked with. Ultimately, Patrick Pratley the oldest son of the company owners confesses to the murder, but claims that it was self-defense.
At his trial, he takes the stand reveals an even worse crime: his parents, Fletcher and Myra Prattley had caused Pierce's infection by hiring cheap talent without checking their HIV status due to them falling behind in production, and when they discovered this, they paid the lab technician to fake the tests. When Pierce discovered his status after unsuccessfully trying to get life insurance, he went ballistic, and attacked Patrick in a rage in his office, which lead to his death and subsequent dismemberment as a cover-up.
This revelation enables Patrick to plead out to manslaughter, Fletcher and Myra to be indicted on 16 counts of first-degree assault, and the Prattley's two younger sons to take control of the company and start a special fund that will insure all the infected would have money and insurance to care for them for the rest of their lives.
#20 - "Limbo"
The MCCIS is tangled in a messy case of a drug and human trafficking ring that has the Governor of Louisiana breathing down the NOPD's neck. After coming up empty with lead after lead, the MCCIS is threatened with disbandment if the ring is not brought down, forcing the unit to work with both the FBI and U.S. Marshals to shut down the ring.
Meanwhile, Parker and Alisha finally find her father and Dallas's brother, Davis (guest star John Hannah), who confirms that she is his daughter. Davis and Alisha bond, and Davis and Dallas's father Malcolm (guest star Donald Sutherland) drops by for a visit. When Alisha asks Davis why he left, Davis and Malcolm reveal the truth: Davis owed money to a dangerous crime boss and when he struggled to pay up, the boss threatened Alisha's mother. Davis decided he had to leave, without knowing that his lover was pregnant. Malcolm was forced to pay off the men his son owed, and met with Alisha's mother and convinced her that she and Davis had to stay apart for the child's sake due to Davis' constant bad decisions (though both continued to keep watch over her). Alisha, though hurt, understands their reasons.
In the end, the MCCIS, FBI, and U.S. Marshals move into arrest the ring, but the bust turns into a shootout, the aftermath of which the lives of Officers Chester North (Stephen Quadros) and Simone Hackney (Rumer Willis) are left hanging in the balance...
Guest starring John Hannah (Davis Parker), Donald Sutherland (Malcolm Parker), Xzibit (FBI Special Agent Moses Clinton) and Genevieve Angelson (Deputy U.S. Marshal Renee Roberts)
Episode ends on cliffhanger to be resolved at the start of next season.
Season 13 (2019)
#1 - "Running Scared"
The MCCIS, FBI, and U.S. Marshals form a task force to pursues the three escaped leaders of the smuggling ring, trying to catch them before they can escape the country. However, the leaders and their remaining men continues to remain a step ahead of the task force, causing them to figure that there is a mole in one of the agencies.
Soon it's revealed that an FBI agent has been leaking information to the leaders, who are holding his wife and two children hostage. The task force eventually locates and rescues the family, allowing the agent to tell them about their escape plan at a private airport hanger. The task force then raids the hanger, starting another shoot out that kills all three of the ringleaders and many of their men as well.
In the end, the MCCIS, FBI, and U.S. Marshals celebrate, and it's revealed that both Officers Hackney and North will survive and recover from their wounds; however, Hackney's injuries have left her paralyzed waist-down and forced to take a desk job, while North has been forced to retire from his injuries.
#2 - "Comatose"
A man is convicted of the brutal beating and stabbing of his still-comatose fiancée in a seemingly open-and-shut case, but the woman wakes up from her coma and, upon learning of her fiancé's conviction, furiously insists that it was not him who attacked her. The MCCIS initially ignores her, believing that she is either delirious from the medications or saying that to protect him, but upon viewing her continuing, desperate insistence that her fiancé is innocent and making the discovery that some of the forensics in the case may not have been accurate, they decide to re-open the case.
#3 - "Angela"
Queen, Frye, Frease and Villalobos look at the crime scene of a woman who was stabbed 30 times in  the shape of a cross, matching the MO of a serial killer who attacks every few years and hasn't been caught. M.E. James finds DNA on the woman's body that matches that of another woman named Angela Williams. Queen clearly recognizes the name, but does not state it. Frye and Villalobos bring in Angela (Meta Golding) in for questioning. They find that Angela has been arrested 7 times, one of which was for stabbing a man only two weeks ago. Angela claims her innocence and gives an alibi, but neither Frye or Villalobos buy it. However, they are still forced to let her go. Angela runs into Queen on her way out of the building and makes it clear she's knows him, even flashing him a smile.
Parker talks to Queen about it and Queen says that Angela went to high school with him. She had developed an obsession with him, though he didn't return her feeling and had tried to break him and Denise up multiple times, to the point where she drugged and tried to date rape him at prom before being stopped by Denise. Queen tells Parker though, that despite the evidence and her misgivings, he doesn't actually figure her for a killer.
Frye and Villalobos still feel that Angela is their killer and interview the man she had stabbed before. The man shows them his scars, five stabs wounds that do indeed match up with the wounds the killer inflicted on previous victims. The duo then bring her back in for questioning, but this time Queen and Frease interview her. After Queen continuously grills her, Angela admits to killing the woman, saying she wanted attention from Queen, but was too shy to call, and that he wouldn't have wanted her otherwise. Queen is furious at her and the fact that she is still obsessed with him. Frease asks her if she's the serial killer they've been searching for, but Angela says that she only copycatted his work to get to Queen. Queen handcuffs and arrests Angela himself.
Afterward, Queen calls Denise and let's her know that he'll always love her and their children, while McCorrea asks Villalobos out for dinner.
#4 - Rings""
After several children disappear from a low-crime neighborhood, a symbol left at the disappearance sites suggests that the children in in the hands of a mysterious cult who plans to perform exorcisims on them. Parker, Queen, Frease and Hughes team up with psychologist Dr. Lizzie Connor (Rachel McAdams), the ex-girlfriend of Frease and the mother of his twin sons to uncover the darkest truth about the cult and find the childen before it is too late.
#5 - "Eternal"
A 5-year-old boy who miraculously survived grievous injuries in a car accident is murdered by his own mother shortly after being released from the hospital. The woman makes it no secret that she killed her son and states that while he was in the hospital, she sold her soul to Satan to save her son's life, but regretted it and murdered him to try and undo the deal upon realizing that eternal damnation was not worth her son's life. As the MCCIS tries to determine whether or not the woman is mentally ill, they try to find the person who she allegedly "sold her soul" to.
#6 - "Prayer"
A woman's headless and limb-less torso is found in a box in the middle of a street. The MCCIS is called into investigate and after discovering more body parts around the city in other locations, they find that the woman, identified as Lisa Nichols, has ties to the Vercetti crime family and is an ex-girlfriend of Det. Evans. Evans becomes determined to find the murderer, but is then drawn back into the world of his own criminal family, the Kryceks. Parker, Queen and Hughes, believe Evans is getting in over his head, and start to trail behind him.
In the end, the killer is revealed to be Vercetti family member and Evans' former friend, Joey Vercetti, who flees the city. Evans and Hughes are later called up to join a joint federal task force focused on taking down the Vercetti family. They quickly accept the special assignment and bid farewell to the MCCIS and their colleagues.
#7 - "Wrong Call"
An 11-year-old boy is apparently abducted by a couple while on his way home from school and an Amber Alert is sent out. The couple is quickly apprehended and the boy recovered, but the detectives learn that the couple were the boy's foster parents who were planning on fleeing the state with him after being ordered to return him to his drug-addicted and abusive mother, who, despite assurances from CPS, had made virtually no improvement in her behavior. Fowler then orders an investigation into CPS, which is impeded when the boy's maternal uncle takes hostages in a courtroom and orders that the boy be returned to her custody, insisting that she is a good mother. In the process, McCorrea is shot and wounded after calling the mother out on her behavior towards her child. The MCCIS then try to end the hostage situation with no further injuries or worse, and try to talk the mother into doing the right thing.
At the end, the situation is diffused, the uncle is apprehended, and the mother ultimately gives up her parental rights. At the same time, the foster couple is cleared of any kidnapping charges and decide to adopt the boy, to his delight.
#8 - "Good Kill (1)"
A shooting in a local night club leaves an Coast Guard agent dead. Parker, Frye, and Shepherd and work with USCG Agent Raven Collins (guest start Ronda Rousey) to investigate the murder. The investigation at first seems to point to the agents debt to a local loan shark, but following the murder of the officer's brother and the injury of his wife, it becomes apparent that the motive is much more personal. The killer then takes things a step further by bombing the man's house, just as the detectives try to investigate it.
#9 - "Good Kill (2)"
Following the bombing of the home USCG Agent Marshall Spencer, Agent Collins realizes who is responsible for the deed: Aleks Tsurvanovich, a Russian smuggler who's operation Agent Spencer ruined eight years earlier. Realizing that he's out for revenge, the MCCIS and Collins must work to protect Spencer's remaining family and bring him down.
Meanwhile, Frease meets with Lizzie in court to get his visitation rights his twin sons, Aiden and Ethan extended, and Fowler visits McCorrea (who's still recovering from his shooting) in the hospital.
#10 - "Family"
A 17-year-old boy is shot to death while walking home late one night and the MCCIS is later stunned to learn that the perpetrator was a 15-year-old girl who he did not even know. The detectives eventually discover that the girl's family has a tradition in which every woman has to get married on her 16th birthday--no ifs, ands, or buts about it--and that her parents were forcing her to marry the boy on her 16th birthday, which was only a week away. Even worse, the girl went to CPS, but since there were no crimes being committed, no signs of abuse, and the fact that arranged marriages in juveniles are not illegal, CPS turned a blind eye and told her to "suck it up and tough it out until you turn 18, then you can divorce him."
#11 - "Taking Amnesty"
A spree of nighttime attacks leave eight people injured and one more dead. After discovering the victims are all legal immigrants, the MCCIS suspects hate crimes are afoot. After setting up a sting with Reyes and Villalobos undercover, the team capturing the assailants, who are a bunch of rich teens, who claim that they're "cleaning the scum out of the Big Easy." McCorrea and Shields look to prosecute the teens with hate crimes, but face a tough battle with their attorneys, who claim the boys are mentally ill and need help, not prison.
#12 - "Axe"
In a four-parter that starts in Chicago, the CFD discovers the dismembered charred remains of five girls in a burning house, as well as an axe symbol embedded in the wall: the mark of "The Executioner" a long-thought-to-be-absent serial rapist and killer. After discovering that it has ties to New Orleans and New York as well, the MCCIS is called up to look into the old "Executioner" cases. Soon enough, Sergeant Olivia Benson (Mariska Hargitay) and Detective Odafin Tutuola (Ice-T) from NYPD's Special Victims Unit, as well as Sergeant Hank Voight (Jason Beghe), and Detectives Antonio Dawson (Jon Seda) and Erin Lindsay (Sophia Bush) from CPD's Intelligence Unit. However, the Executioner continues to stay one step ahead of the detectives, leaving body after body in his wake, and when he decides to take the fight to them, one detective's life is left hanging in the balance...
This is a two-hour single episode and a crossover with Chicago Fire, Law & Order: Special Victims Unit, and Chicago PD
Jesse Spencer and Monica Raymund guest star from Fire, Mariska Hargitay and Ice-T guest star from SVU, and Jason Beghe, Jon Seda, and Sophia Bush guest star from PD.
#13 - "Family Man"
Queen's relationship with Angela Williams (Meta Golding) comes back to haunt him again when he is forced to ask her for help in bringing down the serial killer she copycatted. Angela agrees on the condition that she gets a peal deal for manslaughter (for the murder she committed in "Angela") and a romantic dinner with Queen, which he reluctantly agrees to. But when the killer targets Angela herself for ripping off his style, Queen is torn between protecting her and letting her become a victim. Meanwhile, Villalobos tries to return to work before for she's ready (following the tramatic event she suffered at the hands of the Executioner in the previous episode), which almost leads to disaster in the line of duty.
#14 - "Die Easy"
The MCCIS investigates the stabbing death of a prominent student at LSU. As they go further and further in, they discover that she was involved in a prostitution ring with the school with big ties to a wealthy alumni. Parker, Frease, Reyes, Zhao, Shepherd, and Vice Detective Cleo Winston (Tamera Mowry), then go under cover as a teacher, two pimps, and their "hoes" respectively to bust both the ring and the murderer.
Meanwhile, with Villalobos on forced paid medical leave, the MCIS finds themselves short handed. Renko then decides to temporarily bring back Detective Jo Qadri (Summer Bishil) from Special Victims Unit, partnering her with Frye. 
First appearance of Tamera Mowry-Housley (Det. Cleo Winston).
#15 - "Last Days"
A series of violent and brutal rapes hits New Orleans, which leave the victims bludgeoned repeatedly in the head, to the point of brain damage. Fortunately, the perpetrator is caught, but the situation turns into a delicate one when the detectives learn that he is dying of Stage 4 brain cancer and has only 2-3 months to live. 
#16 - "Missing (1)"
When Frease's twin sons go missing before he picks them from school, the MCCIS is put on high alert to find Aiden and Ethan fast. As the time frame runs down lower and lower, the squad discovers indications that a child trafficking ring has taken the boys, along with several other children in the same neighborhood. Working with the FBI, the MCCIS must locate the twins before they are lost forever.
Meanwhile, during this time, Frease and Lizzie finally take the time to confront the issues that drove them apart.
#17 - "Flesh and Blood (2)"
As the search for Aiden and Ethan Frease continues, the MCCIS is lead to the heart of the trafficking ring who sell the kidnapped children to couples who have lost their own children. The FBI and MCCIS then move in and bust the ring, and are able to acquire the list of couples they sold the children to. Most of the couples are arrested, and the children are returned to their parents, including Ethan. However, the couple that bought Aiden refuses to give him up, and barricades themselves inside their house, threatening to kill him and themselves, if they are not left in peace.
#18 - "Resurrection (3)"
The MCCIS and FBI try to talk the couple with Aiden down, but they refuse to listen to reason. As they plan to raid the home of the couple, Frease and Lizzie try to find something in their background to try and get them to return Aiden and surrender. They discover that following the death of their young son and miscarriage of their second child, a girl (which led to the wife having a emergency hysterectomy), the couple tried adopting but were repeatedly scammed by fake adoption agencies and lost their life savings as a result. Confronted with this information, and Frease and Lizzie's love for their sons, the couple releases Aiden, but commit joint suicide rather than surrender, unable to face prison (and a life without their children). Frease and Lizzie finally resolve their differences and agree to share joint custody of their children.
Season 14 (2020-21)
#1 - "Split-Second (Part 1)"
The MCCIS investigates a spree of drive-by shootings in a neighborhood that have left four people dead so far. However, nobody in the neighborhood is willing to co-operate with each other, due to the "No Snitching" following. Forced to investigate on their own, the detectives manage to uncover a gang related connection to all the victims to one gang. However, when they look to serve a seach warrant at one of their hideouts, members of the gang open fire on them, forcing them to retaliate. Eventually, Parker, Shepherd, Frye, and Officer Flynn corner a young teenage gang member, who aims at them forcing them to shoot him dead. However, when they approach his body, they are unable to locate the weapon. When CSIs are unable to as well, IAB Lt. Trent Cutter returns to investigate. Soon the public gets wind and all four officers find themselves in the spotlight of another national protest against police violence against black men. After unable to locate any evidence to back up their self-defence claim, the D.A.'s office is forced to charge Parker, Shepherd, Frye, and Flynn with the young teen's death.
#2 - "Split-Second (Part 2)"
Parker, Shepherd, Frye, and Flynn are arrested, mugshot, and charged with manslaughter and second-degree murder in the death of teenage gang member Will Howard. They are forced to sit in jail until trial due to their families being unable to pay their high bail amounts. In addition, the threats against their family members grow from threating phone calls, to vandalism of property and assaults by angry protestors, forcing the NOPD to instill protection for them. As McCorrea and Shields try to get the four the best representation possible, Queen, Zhao, and the rest of the MCCIS continue to work to find Howard's weapon and clear their fellow officer's names. After searching for the other gang members involved in the shooting who escaped capture, they manage to find the weapon on one who turns out to be Howard's cousin. When interrogated, the cousin admits he took and hid the weapon deliberately, so that the four officers would lose their jobs and go jail, where he hoped to have them killed for Howard's death. The cousin is arrested on various charges including obstruction, and Parker, Shepherd, Frye, and Flynn are cleared of all charges and return to active duty.
#3 - "Prank"
A Halloween prank goes horribly wrong when a college student, dressed in very realistic zombie makeup, is shot and killed by his friend, who was dressed as a cop with a real gun that he believed was filled with all blanks. The friend is arrested and charged with involuntary manslaughter, but the MCCIS soon find that all the other bullets in the chamber were all blanks and believe that someone had sabotaged the friend's gun, making the death a homicide.
They look into the student's list of enemies and discover that the student was a journalist who was working on a story about the college's athletic department that would have brought it and many student athletes down in disgrace due to NCAA violations. They then question the school's top athlete who admits to planting the bullet in the blank-filled clip, but only under persuasion from the student's stepmother, whom he'd been having sexual relations with. McCorrea and Shields then discover the student's father's will that said he would get his money, unless he pre-deceased his father, at which his stepmom would inherit in his place, allowing the detectives to arrest both the athlete and the stepmom for murder and release the student's friend.
#4 - "Abused"
A woman recently paroled after serving 6 years for abusing her 9-year-old son--who is now 15,--is found stabbed to death in her home by her parole officer. Her son, who had been in foster care during her imprisonment and had been recently returned to her, confesses to killing her and claims that he was defending himself because she resumed her abusive ways and attempted to kill him, but Parker and Queen believes that there is more to the story.
The investigation leads to a local cocaine dealer, who admits that he sold the mother drugs just days before her death. It's later revealed that the mother had a second child, a daughter, while in prison, and when found the girl is discovered to have not only been put into her mother custody, but also have cocaine in her system. The detectives then realize that the boy was sort of telling the truth: the mother had resumed her abusive ways, and for some unknown twisted reason, tried to get her daughter high on drugs. Her son discovered this, and killed her when she tried to silence him.
Despite the circumstances, an ambitious new D.A. looks to charge the boy as an adult to make an example out of him, leaving McCorrea and Shields to try to get the case taken to family court, since the boy was only trying to defend his sister from their twisted, messed up mother.
#5 - "Friend with Enemy"
Ant, a local big-shot drug dealer is betrayed and shot to death by supposedly his right-hand man during a deal. At first the MCCIS dismisses it as another deal-gone-wrong. However, Frease and Shepherd then discover a note saying "For De'Andre" and figure that the killing might've actually been personal. Looking into unsolved cases, they find the case of De'Andre Mitchell, a young 10-year-old boy, gunned down three years ago in a drive-by. It's also revealed by Walker and Hughes, that Ant's gun was the one that killed De'Andre, and that Ant's right hand man was actually De'Andre's older brother Tamir. When the detectives go to arrest Tamir, they find that he has vanished and Ant's remaining vengeful men are all looking for him. It's then a race against time for the detectives to find Tamir before Ant's men do.
#6 - "Painless"
The MCCIS and public are all divided in the case of a man who mercy-killed his meningococcal meningitis-stricken college senior daughter after being told that her case was so advanced that there was really nothing that could be done for her. The controvery stirs up a statewide debate on whether or not the laws against euthanasia in Louisiana should be amended, and in the process, McCorrea and Shields find themselves severely divided over the issue (with McCorrea supporting the father's actions and Shields condemning them).
#7 - "Father's Initiative"
Officer Flynn's estranged father stops by and announces that he's getting married again and has invited much of his family and ex's family to the wedding. Flynn refuses to attend to his tumultuous history with his father. However, when a fight breaks out at the pre-wedding party, in which Flynn's father's bride is brutally beaten, and he himself arrested, the resulting trial could result in the unveiling of family secrets that could tear his family apart forever.
#8 - "Safe House"
A man is found dead from multiple gunshot wounds in his house's panic room, and the MCCIS is left to solve how he was murdered. After investigating the creator of the panic room, Parker and Frease find that somebody ordered a copy of the room's blueprints, and that there is a flaw of how the room could be infiltrated. That somebody is revealed to be the man's estranged daughter, causing her to be considered the prime suspect. However, it is her husband who is the culprit, and he admits to killing his father-in-law before he could change his will to exclude his daughter, who had wanted out of it.
#9 - "Sugar & Spice"
Zhao, Shepherd, and Shields are ambushed by shooters as they leave a bar, and are taken captive by a pair of prison escapee brothers, Robert and Seth Appel, who insist that they are innocent of the triple murder they were convicted off. The Appels take the women's cell phones and abandon them, though not before Zhao sends out an SOS to Parker, who alerts the others. With this the MCCIS puts a BOLO out on the women and the Appel brothers. As they steadily track them down, the brothers detail to the women how they were arrested for the murders of their sister Maggie, her husband, and his mother, due to having strongly opposed the former two's relationship and had done everything possible to wrecking it, to the point of having Maggie take out a restraining order on them.
When the MCCIS finally tracks them all down, Zhao persuades them to re-open the brothers' case. With the help of McCorrea, Fowler, Carcaterra, and Jindal, the rest of the MCCIS uncovers that the brothers did in fact have an alibi, though a less than noble one: they had beaten up a guy who had stolen money from their co-owned business. It's also discovered that an ex-boyfriend of Maggie's had been stalking her in the weeks prior to the homicides. After searching his home and finding the murder weapon, the man confesses that he killed Maggie's husband and mother-in-law to stop their interference, and when Maggie refused to submit to him, he killed her too out of rage.
In the end, the man is arrested, convicted, and sentenced to death, and Robert and Seth Appel are vindicated and released. The final scene ends with Captain Renko announcing he will soon return to Dallas and the Texas Rangers to stay near his still recovering son Richie, shocking the entire squad.
#10 - "Au Revior"
With the news of Captain Renko's impending departure still sinking in with the squad, everyone starts to raise questions on who will run the squad. Renko then announces that Lt. Reyes will take over as interm C.O. until a permenant replacement can be found. As this occurs, the MCCIS is called into the scene of the double homicide of a teenage boy and elderly woman (who was the co-head of a local community center), both shot to death. Parker and Queen discover that there is a possible witness, who might have recorded the incident. Upon looking for the teen, who is nicknamed Kodiak, they discover that he is the pre-teen son of an ex-girlfriend of Frease's. After the community center's second co-owner turns up murdered in his office, the detectives suspect the same shooter, and eventually manage to find and bust the man D-Silv, a local thug.
At trial, McCorrea and Shields push for the death penalty after D-Silv shows no remorse, admitting he killed the teen boy for "looking at him wrong", and the woman and her co-worker for "getting in his way". Unfortunately, the confession is rendered inadmissable at trial, and the only evidence that can convict is the still-missing footage of the killing that Kodiak has stashed away. But Kodiak, out of fear for his and his mother's lives, refuses to tell the location of the footage, leaving Carcaterra and Jindal to work with the MCCIS to find it themselves. After no luck, and with D-Silv about to be set free, Renko and Frease makes one last push to do the right thing, rationalizing that D-Silv will kill him and his mother as soon as the charges are dropped and even bring his mother to persuade him to stand up to the thug. With that, Kodiak hands over the footage of the first two murders, which allow D-Silv to eventually be convicted of all three and sentenced to life without parole.
The episode ends with Renko emptying his office and saying goodbye to the squad as he returns to Texas.
Final appearence of Chuck Norris (Colton Renko) as a regular.
#11 - "Enough is Enough"
A 19-year-old college student who still lives at home is found dead in his bed with his throat brutally slit and the investigation immediately turns complicated when all the suspects in the case have airtight alibis... except his 11-year-old brother. After finding evidence that the boy did indeed kill his brother, the shocked detectives prepare to charge the boy, only for the case to go a complete 180 after he tells them that his brother had been sexually abusing him, then produces evidence that proves so.
#12 - "Promo"
A businesswoman is discovered dead in her car with her neck broken. When the detectives find no proof of sexual assaulted, as well as drugs in her car, the detectives team up once again with Vice Detective Cleo Winston (Tamera Mowry-Housley). Their trail leads back to a secret drug ring that will do anything to keep it's business going. The detectives then learn that it was the woman's husband who was the dealer, and that when the wife discovered his stash which he was intending to sell, a rival of the husband from the ring murdered her to silence her and stole the stash, unknowingly leaving some behind. 
With the husband's co-operation, the MCCIS raids their main hideout. Though they manage to seize a large about of drugs, and arrest or kill most of the lower-rank dealers (including the woman's killer), the ringleaders manage to escape. Winston decides to stay with the MCCIS for the time being, after Parker and Reyes vow to help her find and bring down the ringleaders.
#13 - "Prodigal (1)"
The MCCIS investigates the mass murder of an accountant and five friends of his at a local diner. They soon learn the accontant, David Gunn, was an ex-employee for crime boss Sonny Cantrel (Paul Sorvino), and a witness in Cantral's upcoming criminal trial. When they call in Deputy U.S. Marshal Renee Roberts (Genevieve Angelson), who brings the team that was supposed to be protecting Gunn and his family, the detectives are stunned when they see that two of the members are none other than former squadmates J.J. Jacobs and Teresa Marquez. After meeting back in the squadroom to catch up, Jacobs and Marquez reveal that Ramon Vescaro (the drug lord that ordered their assassination) was killed in prison by a rival, and Ruka Kadslav (the hitman that tried to kill them) was extradicted to the Czech Republic to face punishment for another murder, allowing them and their children to leave Witness Protection and them to join the U.S. Marshals. They also give updates on Alice, Ava, and the twins, to their old friends and meet the new people in the MCCIS and D.A.'s office.
Getting back to the case, the MCCIS suspect a mole in the Witness Protection program, and their search leads to a hacker also in the program, who admits that Cantrel hired him to find Gunn, in exchange for $3 million. They also discover Cantrel's oldest son Michael is running cocaine via his nightclub. With pressure on him by the D.A.'s office for a lighter sentence, Michael eventually sells out more of his father's operations, causing the older Cantrel to order hits on all the members of the MCCIS and of the D.A.'s office. During the trial, which McCorrea and Shields are prosecuting, a hitman attempts to kill them both, and both Shields and Jindal are shot and wounded...
Guest starring Genevieve Angelson (Deputy U.S. Marshal Renee Roberts), Josh Hartnett (Deputy U.S. Marshal J.J. Jacobs), and Christina Milian (Deputy U.S. Marshal Teresa Marquez)
#14 - "Prodigal (2)"
Jindal and Shields are rushed to the hospital; while Jindal took two bullets in the arm and shoulder, Shields takes on in the chest and one in the abdomen, leaving her in critical condition. As both remain hospitalized, the MCCIS, Marshals, and D.A.'s office decide to take the fight to Cantrel and the rest of his family. With Michael having told everything that he can, they decide to move on more members of the Cantrel family, such as his two daughters (who want nothing to do with his criminal empire, but have knowledge of it). They bust even more operations, and even manage to foil all of Cantrel's assassination attempts.
In a last bid to stop them all, Cantrel has his remaining two sons Sonny Jr., and Victor, plant a bomb under the NOPD station, threatening to destroy it unless he and his oldest son are released and the law stops wrecking his empire. Parker, Queen, Zhao, Carcaterra, Jacobs, and Marquez go after the two sons, while the others stay to try disarm the bomb. Roberts eventually does so, (having worked in bomb squad training previously), and Parker's team takes down Sonny Jr., and Victor after a massive shootout bust.
With the Cantrel family and empire in ruins and the news of Shields and Jindal's recovery, the MCCIS, Marshals, and D.A.'s office celebrate their victory at the MCCIS's favorite bar.
Guest starring Genevieve Angelson (Deputy U.S. Marshal Renee Roberts), Josh Hartnett (Deputy U.S. Marshal J.J. Jacobs), and Christina Milian (Deputy U.S. Marshal Teresa Marquez)
#15 - "Remorse"
A woman is found brutally murdered in her home following an apparent robbery and her husband confesses to the crime; however, all the evidence tells a different story. Did the man really kill his wife or is he just saying that because he feels guilty that he did not protect her enough from the burglar?
#16 - "Voodoo (1)"
An A+ student at LSU (guest star Noah Munck) is murdered during class, leading Parker, Queen and Zhao to pursue the case. When all clues they find lead them to dead ends, they look into the student's respected professor - Professor Robert Kirkland (Beau Bridges). Just before MCCIS gets the jump on Kirkland, he evades capture, making it a race against the clock to catch him before he strikes down more innocent students. 
#17 - "Move On (2)"
Parker, Queen, Zhao, Reyes, Villabolos and Frye end up in a stand-off with Kirkland who is holding one of the students (guest star Nathalie Emmanuel) hostage. He refuses to let her go until his demands are met and reveals the reasons for murdering the students was because he was frustated with his job and blamed his pupils, who he saw as disrespectful (mainly due to their spoiled, party-animal, I-can-do-what-I-please attitudes). Parker eventually manages find him and is forced to shoot him before he kills the girl. Kirkland is injured but alive and the girl is rescued. Later, Cleo Winston arrives and introduces Detective Elena Ruiz (Maya Stojan) to the rest of MCCIS and it is clear that Reyes is immediately smitten with Ruiz.
#18 - "Bully"
A school bully, Austin Jackson was found beaten to death in the school car park. The MCCIS believe his best friend was the killer but when Frease's son, Aiden told his father, he saw somebody follow Austin on the day before he was murdered. Parker and Queen learn Austin's killer is one of the kids who he bullied at school.
#19 - "Railroad"
Reyes and Ruiz team-up on a case involving a series of murders of young women who stabbed with railroad by spikes. They find that killer is female and try to stop her before she murders another woman. Meanwhile Parker and his wife Paula (Amy Acker) go on a double date with Queen and his wife, Denise (Rekha Sharma) and they reminisce about old cases.
#20 - "Neverland (1)"
A suspicious cargo boat is seen riding from the Gulf of Mexico onto the Mississippi River. When clues reveal it is heading to New Orleans, the MCCIS is called when a old friend of Sgt. Parker--who works for the city's shipping wharfts--thought he saw a 9 year old girl walking aimlessly. Parker doesn't know and should feel Sex Crimes should handle it, but when Lieutenant Reyes who had worked for Sex Crimes is brought into this, the case soon leads them to the girl and it's discovered that she is Calleigh Price, a four-year-old girl who was abducted five years earlier from Dallas. With slow coaxing and the help of Dr. Connor, she reveals that she was abducted by the "Acolytes". Upon looking at this, they discover the Acolytes are a covert pedophile group and sex trafficking ring, thought to be responsible for the abduction and sale of children in Louisiana, Texas, Florida, and Mexico, and run by a man called "Krampus".
After looking into the disappearance of another Dallas child, 11-year-old Marc Harmon, the MCCIS discovers that Dallas Homicide detective Bianca Diaz was the junior investigator of the case and call her for help. Detectives Diaz, Mathis, and McKenzie (on loan from Forgery again) come to New Orleans again to give what help they can. Eventually, while they are unable to locate Marc or Krampus, they are able to locate Craig Unger, one of Krampus's top pedophile lieutenants, and discover he is running a webcast in which he will force an 11-year-old boy and 8-year-old girl to engage in sexual relations. Luckily, with the help of MCCIS tech analyst Kent Walker, the detectives are able to trace his location, bust him, and save the children just in time.
Craig then attempts to save himself by offering everything he knows about Krampus, in exchange for a lighter sentence. The detectives decide that they'll have to talk to the DA's office and FBI about it. However, the next morning, Craig is discovered shanked in prison, and several more killings then start to occur all in New Orleans, which are discovered to be people associated with the Acolytes. The MCCIS realizes that Krampus is tying up loose ends, and the Dallas detectives, with help from the FBI, discover that Marc is alive and still in Dallas, forcing them to return home to investigate.
Part 1 of the newest NO/Dallas crossover.
Dana Ramirez (Det. Bianca Diaz), Paul Telfer (Det. Trey Mathis), and Erica Durance (Det. Alice McKenzie) guest star from Law & Order: Dallas .
Concludes on Law & Order: Dallas Season 6's The Lost Boy (2).
#21 - "Incarnate"
The MCCIS is called in when a woman is found nude and stabbed to death with unusual symbols carved into her stomach and back. Upon investigation, Parker and Queen discover that the symbols are related to Satanic rituals and at first believe that a cult might be involved. However, the detectives then discover that the killing was committed by a single man: Kevin Greely, a schizophrenic who believes he's the incarnation of the devil himself. When Greely is captured and forced to take some new but similar medication, he insists that he refused to take his perscribed meds because of the devastating side-effects it gave him (from nosebleeds to splittng migranes, and worse, terrifying hallucinations).
As a result, the MCCIS and D.A.'s office investigate the drug company responsible for producing the medication Greely was taking. They discover that the drug was banned by the FDA under a different name due to it's devastating, but the company used fraud amd bribery in order to get the drug on the market, under a new name, which led to many perscribed patients who took it to suffer greatly (with some even committing suicide). With this, the DA's office files criminal charges against the company and its heads, and Greely pleads to insanity, and is sent to a mental health facility to recover.
#22 - "Fallen (1)"
While investigating a car bomb homicide, the MCCIS discovers that the crime is connected to the drug ring (from "Promo") that they along with Vice Det. Winston had brought down five months prior. Realizing that the ringleaders from before are making an attempt to get back into business, Parker, Queen and the rest of the MCCIS decide to push full effort to bring them down. As they get closer, the head ringleader decides to try to put contracts out on them and all his enemies. After foiling an assassination, the squad brings in a surviving hitman for interrogation and threatens to pin all of the ringleaders crimes on him if he doesn't give up their location. With this, the MCCIS is able to bust all of the ringleaders at their hideout, and McCorrea and Shields decide to send them all up the river for drug trafficking, attempted murder, and murder charges.
However, on the day of the indictment, the head ringleader's son, in an attempt to comprimise the case, attempts a drive-by shooting on the two ADAs outside the courthouse, and Det. Frye is hit and mortally wounded protecting McCorrea from harm. The episode ends later at the hospital where the squad is delivered the shocking and saddening news of Frye's death...
Final appearance of Calum Worthy (Kenton Frye).
Season 15 (2021)
#1 - "Hunters (2)"
Following Detective Frye's death, the MCCIS puts an APB out to find the killer, the son of prime leader of the ring. Despite pressure from both the NOPD and D.A.'s office, the leader refuses to give up his son's location. After chasing several leads, they eventually capture the man's fiancée and when she too refuses to talk, they give her evidence of his mulitiple affairs and him proposing him to another woman. Betrayed, she gives up the location. The squad then goes there and attempts to get him to surrender, but the son comes shooting, committing suicide-by-cop. Upon learning of this, the leader swears revenge on the MCCIS for his son's death.
The squad later gathers at their favorite bar to give a toast to Frye, with Winston deciding to join the MCCIS full-time, and Reyes later being called into a meeting with the brass, and learning that his application to fully take over the MCCIS has been denied. The end shows Det. Villalobos still at the bar, continuing to drink heavily in mourning the loss of her best friend.
#2 - "Cape Fear"
One week after Frye's death, the MCCIS continues to struggle with the loss of one of their own. Added to the situation is the arrival of new squad captain Aaron Church (Don Johnson), whom the squad stays distant of due the disappointment of Reyes being passed over for commander and Frye's loss.
The tensions are set asside when D.A. Fowler's troubled daughter, Sammi (Brie Larson) is caught in the crosshairs of the MCCIS after her best friend's mother is brutally murdered right in front of her eyes. Things get even more complicated when she identifies the man responsible: her ex-boyfriend, Brady DuPont, who is revealed to have held a grudge against Fowler for recommending his convicted rapist father to be sent to a dangerous prison where he was brutallized and eventually killed. DuPont had even had Sammi's friend kidnapped and threatened have her killed if he is brought to trial, forcing the squad to step up to find him and his victim.
Meanwhile, to Ruiz and Zhao's concern, Villalobos continues to drink heavily, and even shows up at work very hungover. Despite their pleas to her, Villalobos, still unable to deal with Frye's murder, brushes them off, as Church notices.
Eventually, after a long search and standoff, DuPont is captured, and Sammi's friend is saved. Captian Church later joins the squad at Det. Frye's funeral where he gives a eulogy (despite never formally meeting Frye), gaining the squad's respect. And Villalobos calls McCorrea, telling him that they need a break from each other, before going another drinking binge and meeting up with another man in the bar.
First appearance of Don Johnson (Aaron Church) as a regular.
#3 - "Implosion"
Parker and Queen lead the investgation of the murder Parker Travers college fraternity leader found dumped in a swamp in the Bayou. But the investigation becomes complicated when the fraternity members, sticking to their notion of brotherhood refuse to co-operate in the investigation, even going as far as to obstruct and defy a court order and search warrant. Eventually, after being held over for the night in jail for their actions, one of fraternity brothers confesses that Travers was a sadistic asshole, who took pleasure in toturing new pledges in order to make them into "men", and that he especially enjoyed torturing one, a geek named Thomas Meeks, before rejecting him from the fraternity. When questioned Thomas confesses to the murder, while also revealing that Travers had sodomized him with a stick handle the same night he was killed as a "final goodbye," leading to Meeks snapping and killing him. McCorrea and Shields are then forced with the difficult task of prosecuting Meeks for murder, and try to find way to plead him out to the judge.
Meanwhile, Detective Colin O'Bannon (Rory Culkin) joins the MCCIS as a replacement for Frye and is partnered with Winston, while after another night of drinking and promiscuous sex, Zhao, Frease, and Ruiz attempt to confront Villalobos with her substance abuse and increasingly growing erratic behavior.
#4 - "Slide"
A woman who tried to help female gang members leave the life is murdered, and Shepherd zeroes in on a vulnerable young woman whose boyfriend may have been involved. She insists that he couldn't have done it though since he was at an open house at the time, and the squad finds no fingerprints or DNA in the dead woman's apartment. However, his alibi breaks when Parker and Shepherd discover he got there an hour later than she told the squad, and that he left behind a button from his shirt with a fingerprint on it. It's ultimately revealed that a meek neighbor arranged for the boyfriend to rob the woman's place out of anger that a close friend of his was evicted before she moved in, and the boyfriend stabbed her to death when she surprised him. McCorrea and Shields later reject plea deal for either man, deciding to let them be convicted and get what they deserved.
Meanwhile, Jindal becomes devastated after learning his father is dying of cancer and turns to Carcaterra for comfort, Ruiz meets Reyes' ex-wife and children, and Villalobos goes even further in her downward spiral by abusing her perscription medication for migranes and mixing them with alcohol.
#5 - "Discipline"
A couple is accused of brutally beating their three young children bloody, but the case turns complicated when the detectives learn that the family are tourists from an Indonesian country where beating children is a form of discipline and the parents did not know about the child abuse laws in the U.S. Following this revelation, the detectives, while building their case against the parents, and public are all divided on whether the children should be placed in foster care or sent back to their home country.
Meanwhile, Jindal's father's cancer grows worse as the two continue to try to make the most of their time together. McCorrea learns about Villalobos's substance abuse and erratic behavior, and Parker, Queen, and M.E. James discover the spiralling detective stealing oxycotin pills from James's morgue.
#6 - "Collapse (1)"
The MCCIS investigates the death of a drug company president, who was found asphyxiated in his room. Though initial signs point to accidental autoerotic asphyxiation, it's then discovered that he was strangled elsewhere and then set up to look like it. The investigation leads to a looming corporate takeover and it's revealed that the president's right hand man, murdered him out of a personal vendetta, linking back to the death of the man's wife. McCorrea and Shields are then left with a difficult case, with the killer's corporate lawyer team determined to do anything to get their client acquitted.
Meanwhile, Villalobos continues to spiral downward from Frye's death by carousing the bars at night. She eventually meets old acquaintance Dallas Homicide Detective Trey Mathis (special guest star Paul Telfer), who has gone AWOL from Dallas in mourning the death of his girlfriend, Det. Alice McKenzie. The two then go for a wild drinking spree around the city and eventually become intimate in a hotel. Soon Zhao becomes worried about Villalobos after she fails to check in or call in sick at work, and is soon visited by Mathis's partner, Det. Bianca Diaz (special guest star Dania Ramirez), who has discovered her partner's disappearance from Dallas. Zhao and Diaz then set off to search for the two, and after discovering their wild following their trial, discover that they've returned to Dallas...
This is a third, but minor New Orleans/Dallas crossover.
Dana Ramirez (Det. Bianca Diaz) and Paul Telfer (Det. Trey Mathis) guest star from Law & Order: Dallas.
This is concluded in Dallas's Tough Life (2).
#7 - "Call Me Never"
The MCCIS is called in to investigate the stalking of a famous model and actress, after her stalker leaves a cow's heart in her mailbox. Parker and Queen do bodyguard detail while the rest of the team scrambles to determine who her stalker is. But things turn serious when the stalker manages to hire a team of mercenaries to kill the detectives and kidnap the woman, though Parker and Queen are able to fend them off. Captain Church then decides to pull out all the stops and eveutually the stalker is revealed to be the woman's accountant. But during trial, the defense tries to make it seem that the accountant had a mental illness, forcing McCorrea and Shields to break down this tough barrier.
Meanwhile, now on an indefinite leave of absence from the force, Villalobos begins attending Dr. Connor's therapy sessions in order to start to move past her grief and pick up the pieces of her life and career.
#8 - "Family Tragedy"
The NOPD and MCCIS go on hunt to find two men who kidnapped a 17-year-old girl after they broke into her house and brutally murdered her parents and five siblings. Thankfully, the men are caught and the girl recovered, but the detectives soon grow suspicious of her, as she does not have any injuries on her body, has no signs of any sexual abuse, and is not acting traumatized, shocked, devastated over the deaths of her family, or anything like that. The discovery that she was an out-of-control teen who had a very bad relationship with her family only fuels the suspicions against her. Does she know more than what she is letting on?
First appearance of Kima West (Jazz Raycole).
#9 - "Reunion (1)"
The MCCIS is called to a murder scene where it's learned that the main suspect is none other than McCorrea's estranged father, Lloyd McCorrea (Willem Dafoe). Lloyd attempts to reach out to his son, but is swiftly rejected for abandoning him so many years ago. Lloyd is revealed to be the owner of a successful night club, and the dead man is a former employee. While he tries to explain the man followed him and attacked him for firing him weeks earlier and the killing was in self-defense, the detectives find that he had been in a dispute with the man over thousands of dollars in stolen money. And when the incrimniating recording of an argument between the two is found, McCorrea, under orders from Fowler is left with no other choice but to charge his father with murder.
But at the indictment (which McCorrea's uncle, aunt, and cousins are attending), McCorrea gets several even bigger surprises: not only does his father have a new family, but so does his mother Dalia (Marg Helgenberger), who appears right after his father's bail is set, much to his shock...
#10 - "Reconciliation (2)"
McCorrea struggles to deal with his parents, who wish to regain their trust and relationship with their son, despite his reluctance to forgive them. Meanwhile, the MCCIS continues to investigate Lloyd's case, and find that the dead man had connections to a rival business owner who was looking to run McCorrea out of business. Realizing the man was a mole, Sgt. Parker and Det. O'Bannon look into his financials, and discover amounts similar to those Lloyd claimed were stolen from him.
Further investigation turns up that the owner is suspect in the rape and murder of one of his waitresses two years earlier. Acting on Church and Reyes' advice, the rest of the team is able to find a hole in the owner's alibi for the night, and some missed DNA evidence, enabling them to arrest him on rape, murder, fraud, embezzlment, and rackeetering charges.
In the end, McCorrea, after getting some advice from Sgt. Queen, decides to put the past behind him, and give his parents a chance to fix things with him, starting by helping his father plead out to manslaughter in his murder case. 
#11 - "Bright Light, Big City"
A Christmas party at City Hall ends in tragedy when a security guard is found stabbed and his eyes cut out. Parker and Queen find themselves working undercover as security in City Hall to catch the killer. As they do, they find that the murder was just a test run and that there is an even bigger target, a high up official leaving them a limited amount of time to find out whom and prevent the murder.
Meanwhile, Aiden and Ethan Frease attempt to get their parents together for Christmas, Shields spends her Christmas with Det. O'Bannon, and Carcaterra has his children over for the holidays.
#12 - "For Poorer or Deader"
The MCCIS investigates the death of the head of a funeral parlor, which proves difficult as his family continues to obstruct the investigation. Things are even more complicated when it's revealed that the man was a leacherous womanizer, and a thief who stole and pawned sentimental valuables from the corpses that came in to his business.
Eventually, the man's brother is revealed to have killed him after learning he'd slept with the brother's wife. At trial, the brother's attorney uses every tactic in the book to discredit the parlor owner as an unsympathetic victim, forcing McCorrea and Shields to make the jury see that in spite of the man's overall character, it is no excuse to kill.
#13 - "Abort"
The MCCIS looks into the burning of an abortion clinic, which is quickly confirmed as arson. Soon enough, the FBI is involved as it is discovered that a known radical pro-choice group is involved and has been wanted and suspected for multiple bombings of other clinics around the U.S.
After a second clinic bombing results in the death of Det. Zhao's cousin who was a nurse at the said clinic among others, the MCCIS decides to get even more agressive in the investigation and, alongside the FBI, leads a series of raids to take down the group. While they manage to arrest many of the group members, the leader, Torrance Gillmore (Rainn Wilson) slips away, with Zhao vowing to eventually find him and bring him to justice.
#14 - "Your Own Hands"
The MCCIS investigates the death of a woman found burned in an apartment. Upon finding signs of sexual assault, the search turns to a sexual predator living in the woman's neighborhood. But when the man is found dead and burned in his home as well, and the woman is revealed to be an embezzler who stole millions from her clients, the squad begins to figure a vigilante serial killer is on the loose.
Meanwhile, Det. Villalobos finally returns to active duty and is partnered with Det. Frease who is skeptical about whether or not she's ready to come back.
#15 - "Accused (1)"
A young girl accuses a church priest of raping her. Parker and Queen, however, become suspicious and believe the girl might be lying about the assault but can't figure out why. Meanwhile, Frease and Villalobos investigating the triple homicide of three female students who bodies was dumped in the bayou.
At the end, Parker and Queen make a shocking discovery in their case and at the bayou, Frease and Villalobos chase the killer before Frease fell down a well, injuring his leg. Villalobos is calls for backup.
#16 - "Villified (2)"
Following the revealation that the priest accuser was actually covering for his brother who was the true victim, Parker and Queen try to prove his claim and arrest the priest, while also protecting him from the enraged community. Meanwhile, the rest of the MCCIS rescues injured Frease and continues the search for the triple homicide killer.
In the end, Shepherd and O'Bannon corner the killer and are forced to shoot him dead, and Parker and Queen are able arrest the priest after more victims come forth.
#17 - "Blowhard"
Torrance Gillmore resurfaces after several factions of his group bomb the building of an insurance company under investigation for ripping off their clients, forcing the MCCIS to once again team up with the FBI to bring him down. Zhao, however, is the most determined to bring Gillmore down, due to him causing the death of her cousin in his last clinic bombing. But after Zhao gets unsually rough with a member of Gillmore's gang, Church and Reyes are forced to bench her for the rest of the case.
Eventually, while the MCCIS manages to stop a second bombing, Gillmore escapes again, with Zhao once again vowing to bring him to justice for his crimes.
#18 - "A Woman Scorned"
A woman on a TV show where people confront their cheating spouses or significant others suddenly shoots and kills her husband and his mistress with right in front of the camera crew, then, in her crazed state, shoots and seriously wounds the host of the show when he tries to subdue her. McCorrea and Shields figure it's an open and shut case, until toxicology reports that the woman had been drugged with a mind-suggestive drug 10 minutes before the show, and that someone hid the gun under a chair.
The MCCIS, with the help of Carcaterra and Jindal, investigates and discovers that the woman's brother did both deeds to get revenge on his brother-in-law and his mistress for breaking his sister's heart. Despite a ferocious defense, the brother is convicted and given two life sentences, while his sister is cleared of all wrongdoing.
#19 - "Tabula Rasa"
A series of rape and murder cases involving men bring Reyes, Villabolos, Ruiz and O'Bannon into a confrontation with a very strange adversary called the Watchman (guest star Jamie Bell). The following trial brings McCorrea, Shields and Kima West into a confrontation with the SVU's old antagonist, Defense Attorney Carolyn Maddox (special guest star CCH Pounder), who now resides in New Orleans to care for her ailing father. West decides to take Maddox on by herself, despite the better wishes from McCorrea and Shields. Meanwhile, a contact from the FBI alerts Zhao to a new lead on Torrance Gillmore, and M.E. James deals with her daughter's behavioral issues in school, forcing them both to take a consideration in a career change.
#20 - "Game On (1)"
The MCCIS is called to the scene of the murder of Steven Laine, the son of major real estate tycoon Patrick Laine. Shockingly, the squad discovers that Sgt. Parker's father Malcolm (Donald Sutherland) is the prime suspect in the case. Malcolm claims self-defense, saying that Steven and some bodyguards attacked him and Steven pulled a gun on him, but when no weapon is found at the scene and the bodyguards claim that it was Malcolm who came after them and Steven, Malcolm is arrested and charged, and Sgt. Parker is forced off the case by Reyes and Church.
At trial, Parker's brothers, Davis, James, and Robert (John Hannah, Dean Cain, and Tim DeKay) and their families, including niece Alisha Nelson (Tristan Mays) arrive to support their family patriarch. While McCorrea and Shields are forced to take on their toughest case yet, Parker, with the help of Carcaterra and Jindal's help decides to continue investigating the case even in spite of orders to stay away, but end up being caught by IAB Lt. Trent Cutter (Gary Sinise) in the process...
#21 - "Game Over (2)"
Following being caught by Lt. Cutter, Parker, Carcaterra, and Jindal all face diciplinary charges for insubordination, obstructing an investigation, and abuse of authorative powers. The case against Malcolm isn't going so well either, as the prosecution discovers that Laine and Malcolm had a bad history going back to when Steven cheated Malcolm in a business deal, which Malcolm claims to have gotten over, despite evidence to the contrary.
But just when all seems lost for both father and son, Zhao uses her connections with the FBI to dig up some camera footage showing Steven and his bodyguards following Malcolm into an alley and Steven pulling a gun on Malcolm, and one of the bodyguards running out of the alley with Steven's weapon in hand after the shooting. Malcolm is then cleared of all charges and the shooting is then ruled to have been in self-defense, while Carcaterra and Jindal are reprimanded, and Parker is suspended for their actions.
Later, M.E. James announces that she is resigning from her job as M.E. to look after her family, and spend more of her time "taking care of the living." At the same time, Zhao announces she has accepted a position at the FBI in order to track down Torrance Gillmore and bring him to justice. A week later, the MCCIS and D.A.'s colleagues hold a farewell party for both Zhao and James as they move forward.
Final appearance of Maggie Q (Lisa Zhao) as a regular.
Final appearance (to date) of Regina King (Niobe James).
Season 16 (2022-23)
#1 - "Sudden Deviation"
Parker returns from his four-week suspension just in time to assist the squad on the murder of four prostitutes, in a brothel. On the scene he meets new detective Tyrone Jones (Texas Battle), and new M.E. Nicole Williams (Megalyn Echikunwoke), who discovers that each woman was forcefully poisoned with drain cleaner. Not long after the culprit, dubbed the Drain Cleaner Killer by the media, strikes again killing two more, only this time, survielance footage gives the MCCIS a face to work with, and the man is soon arrested. However, when the man's defense attorney reasons that he's not competent to stand trial, McCorrea, Shields, and newly-promoted A.D.A. Kima West must prove otherwise to get justice for the victims.
Meanwhile, Winston adjusts to taking Zhao's place, and Villalobos and McCorrea reaffirm their relationship.
First appearances of Texas Battle (Det. Tyrone Jones) and Megalyn Echikunwoke (M.E. Nicole Williams) as recurring.
Tamera Mowry-Housley and Jazz Raycole join the main cast.
#2 - "Rage"
A popular high school teacher has his career, marriage, and reputation destroyed by a wealthy, popular, and vindictive student's false rape allegation (which was retaliation for him failing her). Although the squad eventually uncovers the girl's lies and clear his name, the damage is still done, and the vengeful man deliberately runs her over with his car as she is about to be arrested, killing her. The teacher is then charged with first-degree murder, with McCorrea and West (Shields is at home sick) taking lead on the case.
However, the defense is able to destroy the girl's credibility by uncovering a web of lies, deceit, blackmail, and extortion commited against both the school's faculty and stuent who testify on the teacher's behalf. In the end, the jury decides to acquit the teacher, but as he is leaving the courthouse, the girl's vindictive father (refusing to believe the testimony) tries to kill him on the courthouse steps. He only succeeds in wounding him, and a student who idolizes the teacher shoots the father dead in retaliation...
#3 - "Born to Die"
Chip Brosnan, a renowned local jazz trumpeter, finds himself the target of a deadly obsessed fan after four other fans are shot and killed at one of his shows. While Parker and Frease investigate the shooting, Queen goes undercover as a jazz singer to protect Chip from his stalker.
Eventally, Brosnan's stalker is revealed to be a former student whom he'd declined to allow to go on tour with him. The stalker escapes initally as the squad closes in, but later turns up at Bronson's house, where Queen arrests him.
At the end, as the team celebrate over finished the case at their favorite bar, a wounded man (Jake McLaughlin) runs in bleeding, and shouting for help, at which Frease recognizes the man...
#4 - "Anarchy (1)"
As paramedics arrive, Frease reveals to the squad that the man is his brother, Leon Frease. Leon is taken to the hospital where her tells the detectives and his brother about his trouble with a smuggling gang who wanted him dead.
With Leon hiding in witness protection, Parker, Queen, Frease and the rest of the squad found themselves caught between the gang.
At the end, the gang discover where Leon is, but he escapes, and later breaks into Shields' house and holds her captive. 
#5 - "Stole (2)"
Parker, Frease and the MCCIS learn the reason why the gang are after Leon, because after being cheated in a business deal with them, Leon stole a shipment of their diamonds in retaliation. While the MCCIS attempts to find Leon before the gang does, Shields found herself getting closer with Leon as he holds her captive in her own home.
Eventually, after both sides locate them and procede with a double standoff, Parker and Queen are able to sneakily get the drop on the criminals, and arrest them, while the FBI takes Leon into protective custody.
#6 - "Firestorm"
Parker and Queen investage the deaths of three firefighters in what appears to be a building fire, but when Winston proves that the fire was murder, the suspect pool grows to include the building sowner. Meanwhile, Shields returns to work following the hostage situation.
#7 - "Room"
Parker, Queen and Frease investigate for three kids who go missing on Halloween. Little does anyone know, an older recluse has kidnapped and locked them in his celler with his niece (held captive for 9 and half years) and her three children (fathered by the girl's uncle). After clues from a neighbor spying one the recluse for years, the police raid the house arrest the man and free his captives.
At the end, in the hospital, Frease gets a call from his father, who says Leon has gone missing...
#8 - "The Family"
Frease searches for his missing brother with the help from Lizzie, his father (Bill Pullman), Villalobos and the FBI. Unknown to Frease or anybody, Leon has broken from his protection detail to visit a shocked Shields at work, then he locks himself and Shields in her office as their attraction grows.
Meanwhile, Parker and Queen investage when a family man is accused of sexually assaulting his daughter and battering his wife. But the case takes a shocking, and much more serious turn after the man's son is arrested after being caught having sex with his 14-year-old cousin.
#9 - "Cover Up"
Parker's past comes back to haunt him when a woman accused him of a cover up the death of her boyfriend, Dylan Logan on the 18th anniversary of his death. Parker told Queen; years ago, while Parker was still in the academy, and Paula was pregnant with their oldest son, Paula was attacked by Dylan when he broke into their house. When he was about to kills her, he was suddenly shot and killed. 
Parker, however, remains adamant that he didn't get to fire off his gun and someone else killed Dylan. Queen attempts to find out who Dylan's killer is, before Dylan's old girlfriend makes a media circus out of the matter.
10 - "I Hate Lisa"
The MCCIS sees triple murderer Bobby Daveneux go on trial, but soon they find themselves under the spotlight when Daveneux's defense attorney Althea Li uses ruthless tactics to pick each of the detectives apart on the witness stand. Even in spite of McCorrea and West's attempts to portray Daveneux as the monster he is, Li presses for sympathy on Daveneux, citing a rough childhood involving physical, mental, and sexual abuse.
Soon, West and Jindal uncover that Li was a fierce rival of former squad member Lisa Zhao when they were in college, and they quickly figure that with Zhao having left for the FBI, she's taking her frustration out on the squad. McCorrea then uses his most ruthless and destructive tactics to break Daveneax on the witness stand and expose him as the hot-blooded killer he is, leading the jury to assert their conviction.
In the end, despite the loss, Li swears her vedetta with the MCCIS is far from over.
#11 - "Livin La Vida Rosa"
Reyes takes the next step in his relationship with Ruiz by introducing her to his family at dinner, but things go awry when a shooting occurs in the very restaurant he's in, which also results in the death of popular Latina model Rosa del Baez. Although suspicion initailly falls on a stalker who'd been obsessed with Rosa and had followed her to the restaurant the night she was shot, Jones and Winston find some oddities in her finances that seems to point out that someone close to Rosa is the killer.
Eventually, the MCCIS finds that her former personal assistant had been stealing from her and figure that she'd killed Rosa when she got too close to finding out. At trial, however, the assistant attempts to justify what she'd done, painting Rosa as a cruel stuck-up diva and boss, who severely underpaid and overworked her, causing her to skim from her accounts to get the pay that she felt she'd truly earned but claims her innocence in the murder.
However, the squad's tech analyst Kent Walker then finds from security footage that the killer was wearing designer stillettos (which was missed in the earlier investigation) and the detectives recognizing them from Sofie Kirkendall, Rosa's biggest enemy. Sofie admits to killing Rosa for stealing one too many modeling jobs from her and is promptly arrested by Parker and Jones.
#12 - "Criss-Cross"
A boy from Aiden and Ethan's school is found dead in a local park. Parker, Frease and Queen learn the victim had playing an online MMORPG become friends with another user on the game, but unknown to him, his "friend" was a online predator.
The case takes dangerous turn when three more children (another boy and two girls) was found dead. Frease figures out they made friends with the same user and that his own sons maybe the next targets. Taking matters to his own hands, he joins in the online game. With the help from Kent Walker, Parker, Jones, Villalobos, and Leon (as other users), Frease ventures online to catch this deadly predator before he can strike again.
#13 - "Never Say Never"
A couple is found bludgeoned to death in their hotel room. Parker and Queen investigate and at first, believe the husband's ex-lover could be involved in their murders, but they soon start to think there was another person involved after discovering the couple's recent big lottery win.
Meanwhile, Shields spends the day with Leon as they take their relationship to the next level, and Shepherd's boyfriend proposes to her.
#14 - "For Justice (1)"
Parker and Queen are caught in a war between two feuding Mafia families, and try to prevent the feud from escalatting into a war, before discovering a unsolved case involved the famillies: the discovery of the remains of a woman connected to one family who disappeared 20 years earlier. The detectives must then put the pieces together from this cold case, solve the murder, and quell the feud once and for all.
At the end, when speaking to the press, Parker gets shot by a sniper. Seconds later, Frease gets a call from unknown caller, telling him, he has his parents, Robert and Anna (Joan Allen), threatening to kill them if he doesn't turn Leon over to him to "face justice".
#15 - "For Justice (2)"
With Parker in critical condition in the hospital, the MCCIS scrambles to find his shooter, while Frease confides in Leon and Jindal about his problem. Frease is contacted again and Leon recognizes the man's voice as that Peter Davis, a former acquaintance, whose sister Lyla had dated Leon in high-school. Peter accuses Leon of getting Lyla into drug use and turning her into an addict who recently overdosed on heroin, and wants revenge for this. While Leon admits to them using drugs back in the day, he insists it was nothing stronger than weed, and someone else got her hooked on the hard stuff. Frease must crack this case in order to find his parents and bring Peter in quietly.
However, a break in the case comes from Leon himself, as he recalls a young charasmatic schoolmate, named Billy Osmond, who seemed to have an unlimited influx of cash back in the day, and attracted Lyla to him. Figuring he was the dealer who got Lyla hooked, Frease, along with Winston visit and end up busting him for drug possession, seizing five liters in heroin from his home. They then force Billy to admit to getting Lyla hooked and apologize for it. Now faced with the truth, Peter releases Frease's parents and surrenders peacefully.
#16 - "Shades of White"
A bride is found decapitated and dismembered on her wedding day, and the MCCIS takes the case. At first suspecting a jealous ex, the squad looks in a new direction after one of the bridesmaids turns up shot to death, execution-style. Soon the groom's brother is revealed to be the murder, having been obsessed with the bride for years, and killed and dismembered her for rejecting her advances, as well as the bridesmaid after she figured everything out. In court, Althea Li (guest star Ming-Na Wen) returns to defend the brother and clashes once again with the squad and D.A.'s office, in trying to prove his innocence. Despite her cuthroat tactics, the brother is convicted and given a double-life sentence without parole.
Meanwhile, O'Bannon deals with his deliquent sister, who's in trouble with the law again, and at the end, the D.A.'s office is visited by none other than former ADA Janet Ashe (special guest star Paula Patton).
#17 - "Blue Eye"
Queen, Frease and Winston investage the murders of three seemingly random people, they soon suspect a serial killer is at work, when they find that all the victim's eyes are blue.
Meanwhile, Ashe reveals she is awaiting test results of weather or not her cancer is in full remission, Parker's family visits him in the hospital, and McCorrea and Shields once again clash with Althea Li in court.
#18 - "To Hell and Back"
#19 - " "
#20 - " "
#21 - "Level Red (1)"
#22 - "Level Red (2)"
Spin-off
A spin-off, Hartman, focusing on popular recurring character Chloe Hartman, premiered in October 2019. Set in Los Angeles, California, the series follows former L&O: NOLA officer Hartman as she, now married and an LAPD detective, navigates her work as a cop and her duties to her family.
Critical Reception
Community content is available under
CC-BY-SA
unless otherwise noted.