TO ALL READERS OF THIS ARTICLE: YOU ARE ALLOWED TO ADD NEW EPISODES, JUST AS LONG AS THEY ARE NOT RIDICULOUS.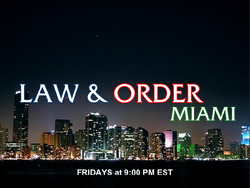 | | | |
| --- | --- | --- |
| " | In the city of Miami, the people are represented by two separate yet equally important groups: the Miami-Dade Police Department, who investigate the crime, and the District Attorney's office, who conduct the people's case. These are their stories. | " |
| | ~ The opening narration by Steven Zirnkilton. | |

Law & Order: Miami is an American police procedural/legal drama series set in Miami, where it is produced. Created and produced by Dick Wolf, the series premiered on USA Network on May 23rd, 2012, as a replacement to Wolf's successful spin-off series, Law & Order: Criminal Intent. On January 1st, after roughly nine years on USA Network, it was announced by Dick Wolf via his Twitter page that the series will be transferred to NBC due to the overwhelmingly positive ratings the Season Nine Finale received. The series ended on August 2nd, 2034, after 21 seasons.
Set in Miami, Florida, the series follows a two part approach. When a crime is committed, the victims are represented by two separate yet equally important groups: the Miami-Dade Police Department, who investigate the crime, and the Miami District Attorney's office, who conduct the people's case in the trial. In almost every episode, the first half hour focuses on the investigation by the detectives, followed by the second half the of episode focusing on the prosecution of the offenders by the district attorneys.
In the style of the original Law & Order, episodes are often "ripped from the headlines" or loosely based on a real crime that received media attention.
Investigating the crimes are a team of elite detectives, who all report to their ranking captain. It is their job to investigate the crime, collect evidence, interview witnesses and then, when the evidence points to a suspect or suspects, place the suspect(s) under arrest. The matter is then taken over by the prosecutors of the Miami District Attorney's office. They discuss deals, prepare the witnesses and evidence and conduct the people's case in the trial.
Both teams work with the Medical Examiners Office, Crime Lab and psychiatrists from both the police department and DA's office.
Cast
*Characters who did not make a credited appearance in the pilot episode.
Current Cast
Law
Greg Kinnear as Senior Detective/Lieutenant Colin Harper
Maggie Gyllenhaal as Senior Detective/Sergeant Ashlee Boyd
Brandon Keener as Junior/Senior Detective Vince Kinney (seasons 2–21)
Meagan Good as Junior/Senior Detective Aishia Dupree (seasons 6–21, main; 4-5, recurring)
Michael Fassbender as Senior Detective/Sergeant Issac Fisher (seasons 12–21)
Julia Ormond as Psychologist Dr. Paula Gyson (seasons 13–21)
Dorian Gregory as Junior Detective Virgil Smith  (seasons 18–21, main; 17, recurring)
Milena Govich as Junior Detective Nina Cassady (seasons 18–21)
Tom Welling as Tech Analyst/Junior Detective Michael Lytar (season 21, main; 19-20, recurring)

Order
Orlando Jones as Assistant District Attorney Quincy Roland (seasons 17–21)
Jessica Alba as Assistant District Attorney Juliet Ortiz (seasons 18–21, main; 17, recurring)
Laurence Fishburne as District Attorney Derrick Moore (seasons 18–21, main; 14–17, recurring)
Recurring Characters
Former Characters
News
Season 18 news:
Will premiere March 4th, 2014.
Will consist of 20 episodes.
Kristin Bell and Mary Steenburgen will depart the series.
Neither of their characters will be killed off; Lambert will accept a promotion in the first two episodes, and April will leave to stay close to her fiancé (who goes overseas to Haiti) in the sixth episode. Both will return for guest appearances in future.
Harper will be given control of the CIFB.
Four new characters will join the cast: An officer we have previously seen, a transferred Detective from a previous L&O series, a ADA partner for Roland, and a new Tech Analyst.

Two of those characters (Detective Virgil Smith and A.D.A. Juliet Ortiz) joined the cast at the beginning of the season.
The third character, Det. Nina Cassady, from the original Law & Order series, joined in the eleventh episode.
The fourth character will join most likely in Season 19.

Richard Belzer will guest star as John Munch, now a DA Investigator, mid-season.
Danny Huston will reprise his role as CIFB Captain Russ Griffith in the season's fifth episode, when Harper visits him for leadership advice.
Jesse Plemons will appear as a tech analyst who will appear near the end.
Kelsey Grammer will have a recurring arc (the last five episodes) as a controversial talk show host who will try to dig dirt against the CIFB and shares beef against Smith.
Laurence Fishbourne will guest star as Derrick Moore, the District Attorney of Miami-Dade in a episode dealing with a political scandal that reaches all the way to the governor's office.
Season 19 news:
Will consist of 22 episodes.
Tom Welling will have a recurring role as the team's new Tech Analyst Michael Lytar.
David Keith will reprise his role as Det. John Hawkins, now working with the F.B.I., for five episodes.
Mary Steenburgen will reprise her role as Lt./Cpt. Erika Lambert in the season's 17th episode.
The season finale will be a three-part crossover with NCIS.
It was announced by Dick Wolf after the season finale that L&O Miami had been renewed for it's 20th and 21st seasons.
Season 20 news:
Will consist of 22 episodes.
There will be no cast additions this year.
Fisher, Boyd, Harper, and Dupree will be promoted due to their successful leadership in last season's finale; Fisher and Boyd to Sergeant, Harper to Lieutenant and Dupree to Senior Detective.
There will be more focus on the cases this season and less on the cast and their personal lives; though Fisher and Ortiz will strike up an attraction with each other it will not be elaborated on that much.
Season 21 news:
Will consist of 26 episodes.
Will be the final season of Law & Order: Miami.
Maggie Gyllenhaal and Brandon Keener will remain part of the main cast, but will only appear in half of the season's episodes as their characters recover from their injuries.
Tom Welling (Michael Lytar) will be upgraded to the main cast as his character trains to become a detective.
Dylan McDermott (Bobby Williams) will return for eight episodes.
Many previous cast members will return to guest star in this season.
References to old cases from the early days will be made.
A TV movie may very well be in the works to come after the series' end.
A mid-season two-parter might serve as a backdoor pilot to a possible spin-off.
Episodes
*Episodes in italic font represent a "ripped from the headlines" case, meaning that it is based off an actual case.
Season One (2012-2013)
#1 - "Swan Song"
When a famous singer is found murdered in an alleyway, Detectives Vaughn and Carlson learn that the singer had a stalker for most of her career.
#2 - "Turning Point"
A daring daylight bank robbery leads Detectives to an underground ring of mercenaries with an edge to grind.
#3 - "Haunted"
When Detective Vaughn is forced to shoot a suspect, he is put on trial by Internal Affairs.
#4 - "Dead of the Night"
Detectives struggle to catch a suspect who preys on women in the night.
#5 - "Beached"
When a young woman is found raped and murdered on a nearby beach, Detectives uncover a web of lies and secret affairs that go beyond the murder.
#6 - "Undone"
The Detectives try to rescue a young girl who was kidnapped from her home by her schizophrenic father.
#7 - "Control"
Detectives try to solve the rape of a young girl, who won't reveal the name of her attacker.
#8 - "Levity"
A comedian suddenly dies while performing on stage, which thrusts the Detectives into a mysterious case of jealousy and deceit.
#9 - "Amen"
Detectives are left with little leads when a minister is murdered in his own church.
#10 - "Situation"
When a convict escapes from prison, the FBI takes over the case, leaving the Detectives on edge.
#11 - "Odds"
When Detectives nab a suspect for double murder, the evidence suddenly goes missing, causing unrest in the CIFS.
#12 - "Boundaries"
Detective Harper crosses the line when he discovers that the rapist of his sister is the prime suspect of another rape.
#13 - "'Till Death"
A married couple is brutally murdered on a romantic cruise, leading Detectives to the wife's former boyfriend, who had violent altercations with her in the past.
#14 - "Agenda
When Detective Carlson is kidnapped, the team fears that his kidnapper may be a suspect from a previous case looking for revenge.
Season Two (2013-2014)
#1 - "Danger"
The CIFB must solve a case involving a crazed bomber who's threats are posted via the internet. Meanwhile, Vince Kinney, a rookie detective, joins the squad.
#2 - "Cause and Effect"
When a murder of a well-known politician leads Detectives to implications of incest, a media outrage is sparked.
#3 - "Signature"
Detectives must track down a serial killer who leaves behind a signed note at his crime scenes.
#4 - "Vindicated"
A new lead from an old case in Captain Griffith's past comes up, which prompts him to take charge of the investigation.
#5 - "Jericho - Part 1"
A retired cop who happens to be Detective Vaughn's grandfather shares some information regarding a cold case involving his brother who kidnapped a 6-year old girl and was never caught. Part 1 of 2.
First two-parter episode of the series.
#6 - "Jericho - Part 2"
Detective Vaughn is thrust into a grueling case involving his uncle, who kidnapped a 6-year old girl and was never caught. Part 2 of 2.
#7 - "Resolve"
The detectives must find a little girl by tracking the suspect's messages and clues on a computer.
#8 - "Differences
Captain Griffith must settle the bickering between Detectives Vaughn and Juarez while Detective Boyd is put on trial for attempted murder.
#9 - "Close to the Chest
ADA Mathers' decision to put a mentally ill suspect on trial causes a conspiracy in the Miami court systems, meanwhile, Detective Vaughn discovers a shocking revelation about Captain Griffith.
#10 - "Forbidden"
When a teenager goes missing, the missing teenager's family won't cooperate with the CIFB.
#11 - "Inhuman"
Detectives come across a secret human trafficking service within Miami.
#12 - "Frozen"
Detectives must identify a corpse who is found frozen in a meat locker.
#13 - "Falling"
A man suspiciously falls off a roof, which leads Detectives to the victim's sons, who may be hiding something crucial to the case.
#14 - "Panic Attack"
Captain Griffith's anxiety overcomes his ability to work, forcing him to be temporarily replaced by Lieutenant Erika Lambert, meanwhile, Detectives Vaughn, Carlson and Juarez must work together with the Miami CSI in order to solve the disappearance of a sailor.
Special appearances by David Caruso, Emily Proctor and Adam Rodriguez.
#15 - "Fall From Grace"
A new team member arrives while Captain Griffith is examined by a therapist for his extreme anxiety, meanwhile, ADA Meyers' life is threatened, prompting Detectives to protect her as she proceeds through her dangerous trial.
#16 - "In Memoriam"
The CIFB race to find the suspect who shot ADA Meyers. Meanwhile, Captain Griffith returns to the team, and appoints Lieutenant Lambert as primary leader of the CIFB.
Final appearance by Catherine Keener as Marsha Meyers.
Season Three (2014-2015)
#1 - "Aberrant"
When the CIFB investigate the death of a 9-year old boy, the victim's parents accuse the boy's neighborhood friend of the crime.
#2 - "Unseen"
The CIFB investigates the case of a teenage girl who mysteriously vanishes from her school.
#3 - "Developments"
The CIFB meets their new ADA, meanwhile, a series of home invasions occur all over Miami.
#4 - "Remain Calm"
The CIFB is held hostage by a group of armed individuals.
#5 - "Gone Dark"
Detective Boyd goes missing while personally investigating a case in Tampa.
#6 - "For the Record"
A news journalist is murdered while filming a documentary about local gangs in Miami.
#7 - "Deep Cover"
Detective Juarez goes undercover as a drug dealer in order to find the suspect behind a string of murders.
#8 - "Believe"
A psychic helps the CIFB solve a cold case involving a teenage girl that was killed in 1985.
#9 - "The Truth"
Detective Harper faces his sister's rapist once again when he learns of a new lead to a rape case that happened in 2009.
#10 - "Terms and Conditions"
A young man comes across a live video featuring a woman being raped and killed, sending the CIFB through a series of conspiracies and shocking rumors.
#11 - "Explosive"
A hospital explodes, prompting the CIFB to look at a previous case involving several bomb threats against public places.
#12 - "A Cold Day in Hell"
The detectives interrogate a psychopath who is suspected of murdering several women by hanging them.
#13 - "Bada Bing Bada Boom"
The CIFB must get creative in order to catch a group of robbers who hold up jewelry stores.
#14 - "Crunch Time"
A pyromaniac burns down several buildings, leading detectives to investigate the arsonist's background and associates in order to catch him.
#15 - ".45"
Detectives are thrust into a full-on gang war as they try to catch a drug dealer who murdered several of his clients.
Season Four (2015-2016)
#1 - "Forgetful"
Detectives have a hard time catching a rapist who uses sedatives on his victims to commit his crimes without being identified.
#2 - "Basis"
The CIFB welcomes a former teammate back to the squad. Meanwhile, Detective Carlson's brother may be involved in a string of thefts and robberies.
#3 - "O Children"
Detectives must investigate a case involving a possible group of pedophiles who kidnap children off the streets.
#4 - "Followed"
April is stalked and put under extreme emotional pressure by one of her ex-husbands, which leads detectives to discover April's ex-husband might be the culprit behind a line of deadly assaults that were never solved.
#5 - "Civil - Part 1"
Detective Juarez gets personally involved in a case that haunted him early in his career, which puts his life at risk.
#6 - "Civil - Part 2"
Detective Juarez recovers from a deadly gunshot injury, meanwhile, detectives try to catch Juarez's shooter.
#7 - "Civil - Part 3"
Juarez's shooter is put on trial and tries to expose Juarez's vices.
#8 - "Hide and Seek"
Detectives struggle to find a family's murderers when the only credible witness is a little boy who hid while the suspects killed his family.
#9 - "Never Forget"
A war veteran is accused of his wife's murder, while ADA Harris tries to help save the veteran from life in prison.
#10 - "From the Ashes"
The HQ is blown up, while several of the CIFB members are trapped inside.
#11 - "The Act of Revenge"
Detectives try to look for a bomber who may have been behind the destruction of the CIFB's HQ.
Season Five (2016-2017)
#1 - "Deputized"
April Haynes becomes a detective of the CIFB, meanwhile, Lieutenant Lambert goes on a trek with the US Marshals to find a criminal in Louisiana who may have terrorist links in Miami.
#2 - "Mystery"
Lieutenant Lambert's actions in Louisiana are questioned by Internal Affairs, meanwhile, Detectives apprehend a doctor who is accused of purposely giving an over-abundance of medications to his patients to kill them.
#3 - "When In Miami"
Lambert's actions in Louisiana are made public, which severely damages her reputation as a law enforcement officer, meanwhile, Detective Haynes and Detective Kinney become friends while being partnered on a case.
#4 - "Disaster"
Lambert's suspect fom Louisiana is shot and killed, landing her in the Miami Police's sights as a possible suspect, meanwhile, the CIFB defends Lambert.
#5 - "Unthinkable"
Lambert is arrested and prosecuted, putting detectives in an anxious state of mind.
#6 - "The Trial - Part 1"
Lambert's trial begins; the CIFB are questioned on Lambert's behavior in the precinct.
#7 - "The Trial - Part 2"
ADA Harris feels guilty about being the one against Lieutenant Lambert, meanwhile, the Detectives secretly pursue evidence that will clear Lambert's name.
#8 - "The Trial - Part 3"
ADA Harris tries a new tactic that might help Lambert, meanwhile, Detectives continue to pursue evidence that would prove Lambert's innocence.
#9 - "The Trial - Part 4"
Detectives find evidence that leads them to the real killer of Alejandro Ahad, meanwhile, Lambert testifies.
#10 - "The Trial - Part 5"
Detectives help prove Lambert's innocence, meanwhile, the Detectives question Al-Abid-Laaid. Meanwhile, Hawkins accepts a job with the FBI and bids farewell to the CIFB.
Season Six (2017-2018)
#1 - "Square One"
While having drinks with friends, Dante remembers a case from his earlier years as a detective that begins to haunt him; meanwhile, a case of mistaken identity causes troubles for the CIFB as they try to solve the rape of a teenage girl.
#2 - "Sins of the Father"
Aisha Dupree (portrayed by Meagan Good), a detective from Tampa, joins the CIFB temporarily to help solve the murder of a young girl.
#3 - "Corpus"
Detective Kinney's father is shot and killed in a drive-by, prompting the CIFB to probe a gang that has been suspected of several other drive-by shootings.
#4 - "Seize the Day"
Aisha Dupree returns to the CIFB for help in the capture of a spree killer.
#5 - "Seize the Night"
Tyson Valdez, an infamous spree killer, targets Detective Dupree and the other CIFB detectives.
#6 - "Fallen"
Spree killer Valdez brutally attacks Detective Boyd at her house, sending Detectives, Vaughn, Carlson and Juarez on a trail to find and capture him.
#7 - "Hatchet"
While Detective Boyd recovers in the hospital, Detective Vaughn uncovers a murder that Boyd was accused of committing years before.
#8 - "Missing Link"
Boyd learns about a rape case involving her old roommate and takes personal measures to keep it from the CIFB.
#9 - "Marsha"
Detective Carlson learns about a case that is connected to the murder of Marsha Meyers.
#10 - "Scared"
Detective Vaughn's girlfriend, Tricia, is the target of man whose murders fit that of another killer who died 40 years ago.
#11 - "Biblical"
Detectives Boyd, Dupree and Juarez try solve a murder that is based off a story from the Bible, meanwhile Dante finds out that Tricia is pregnant with twins.
#12 - "Nuptials"
Detective Vaughn decides to marry Tricia, meanwhile, Detectives investigate the death of a bride and her husband.
Season Seven (2018-2019)
#1 - "Inner Torment"
Detective Boyd struggles to cope with the brutal attack that was inflicted on her several months earlier, meanwhile, Detective Kinney helps Detective Haynes get past a terrible, personal crisis.
#2 - "White Death"
A member of the CIFB will fall as the team investigates a string of anthrax attacks.
The final appearance of Danny Huston as Captain Griffith as a regular until Season 10.
#3 - "Afloat"
The body of a young woman is found floating in the Everglades, prompting the CIFB to investigate a prestigious boat club.
#4 - "Family Matters"
When Captain Griffith's sister Marnie (potrayed by Lisa Kudrow) comes to the CIFB for help after she is raped by her brother's escaped killer, Detectives Vaughn, Jaunrez, and Dupree go a mission to find him.
#5 - "Amnesia"
Detective Vaughn loses his memory after he is attacked by a vicious gang, meanwhile, Detectives Haynes and Kinney investigate an underground fighting club.
#6 - "Premonition"
A woman claims to forsee the deaths of people, causing a rift between the detectives who believe her and the ones who don't.
#7 - "Haunting"
Tricia's cousin Lara is murdered in the same fashion as Dante's sister was years ago, resulting in a statewide search.
#8 - "Leaving"
Detectives Juarez and Dupree try to solve the rape and murder of a 12-year-old girl, but it soon becomes very personal to Juarez.
#9 - "Drowning"
Detectives must catch a suspect who uses drowning as his method of killing.
#10 - "Failure"
The CIFB must investigate a case involving a young mother who is suspected of killing her five year old daughter.
#11 - "Deride"
The CIFB discovers harrowing death threats on a school's website, and as the detectives delve deeper into the threats, they discover a plot set up by several unknown individuals to terrorize the school.
#12 - "Deathly"
The detectives race against time to find a rapist who might be purposely spreading AIDS.
#13 - "Warning"
The CIFB must catch a group of burglars who steal prized artifacts from wealthy homes.
#14 - "Noctem"
The CIFB discovers a conspiracy that may have resulted in the death of Captain Griffith.
Season Eight (2019-2020)
#1 - "Behind the Scenes"
A movie star is found dead in his trailer, leading Detectives to suspect the actor's agent.
#2 - "To Die For"
While on a date with April at a restaraunt, Kinney is shot when a group of armed men storm the restaruant; meanwhile, the CIFB remembers Captain Griffith.
#3 - "Tuxedo"
The CIFB faces off against the Mafia when a professional hit is committed against a family man with a dark secret.
#4 - "Checkmate"
The CIFB must track down a suspect who uses Chess strategies and logistics in his murders.
#5 - "The Wedding"
Dante and Tricia's wedding begins; meanwhile, the CIFB must catch a sniper who randomly kills people in public places.
#6 - "Go Fish"
Detective Carlson must go undercover and join an eccentric, yet suspicious Poker club where losing costs lives.
#7 - "Play It Again"
The CIFB must find a kidnapped boy who may be in the hands of a serial killer.
#8 - "Bloodthirst"
The CIFB must delve into the creepy aspects of Miami when a young college student is found dead with half of his blood drained.
#9 - "Silenced"
A witness is murdered a day before she was supposed to testify against a suspected rapist, which leads the CIFB into a dangerous situation involving hitmen and greed
#10 - "Found Out"
Dante is threatened by an unknown individual, leading him to fear for his family.
#11 - "Devil in Disguise"
Detectives interrogate one of their most evil suspects: a murderer who killed many children in the the southern Miami area.
#12 - "Temptations"
The CIFB investigate a teacher who may be having sex with one of her students, who is fourteen-years old.
#13 - "Bonnie and Clyde of Miami"
The CIFB investigates an odd couple who use methods that were used by the infamous Bonnie and Clyde to commit their crimes.
#14 - "Theatrical"
The detectives must investigate the death of a man who was murdered in a movie theater.
#15 - "Some Wounds Never Heal"
Dante discovers the man threatening him is the same person that killed his sister years earlier; meanwhile, a man is found dead on his boat, floating at sea.
#16 - "Last Words"
Tricia is kidnapped, sending Dante into a downward spiral of fear; meanwhile, Barry Ketch stands trial.
#17 -"Dishonored"
Vaughn struggles to find Tricia and rescue her from Miles; meanwhile, Lieutenant Lambert visits Captain Griffith's grave.
Season Nine (2020-2021)
#1 - "Bottle"
The detectives must think outside the box after a young man is bludgeoned to death in his home with no evidence but a half-broken beer bottle, which may have been the murderer's, but there is no DNA on it, which makes the case far more difficult for the CIFB.
#2 - "Respect"
The principal of a prestigious school is found dead in his car, which leads the detectives to believe that one of his students might have had an axe to grind and murdered him out of revenge.
#3 - "Crash"
A car crash involving a man and woman leads to a cluttered case of he-said, she-said as the detectives suspect more than just an accident took place, and that someone wanted the other dead.
#4 - "Power"
The detectives must protect Judge Weston after he is directly threatened by the mafia.
#5 - "Explaination"
Detectives work on their most gruesome case yet as they must track down the killer of a young woman who was bludgeoned, raped and slashed by her attacker.
#6 - "Collide"
When a runaway teenager from 20 years ago returns to her family, she is disowned and turned away after being accused of being an imposter, leading detectives on a twisted case involving lies, deceit and trickery as they suspect that the runaway may be more than just an imposter.
#7 - "Falling Apart"
Lieutenant Lambert observes her crumbling CIF team. Meanwhile, a series of car bombings surfaces in Miami, sparking widespread panic and fear.
#8 - "Delivery"
Vaughn speeds to the hospital to help his wife as she is going in labor. Meanwhile, the CIFB investigates a triple homicide as the killer may be more than they suspected.
#9 - "12:00"
The detectives must track down a psychopathic serial killer who murders his victims at midnight.
#10 - "Wrapped"
A young woman is found wrapped in a bedsheet inside a dumpster, leading detectives to question the victim's racist family, who did not like her dating her boyfriend, who is black.
#11 - "Arc"
The CIFB must find a mentally-ill suspect who escaped from a psychiatric hospital and killed several people.
#12 - "Skeptical"
The detectives are thrust into their weirdest case yet as they must catch a murder who drinks the blood of his victims.
#13 - "Struck"
When a woman is found beaten almost to death, the detectives struggle to catch her attacker, but it is hindered due to the victim becoming comatose.
#14 - "Roll of the Dice"
The CIFB uncover an elite gambling ring in Miami that may have been the cause of a patriarch's untimely death.
#15 - "Underdog"
Detectives must find a suspect who may be behind a string of deadly rape cases.
#16 - "Seven"
The CIFB looks into their most grueling case ever as they must investigate the murders of seven people who were at a party.
#17 - "Slate"
The detectives must investigate the death of a defense attorney who may have been part of an elaborate cover-up.
#18 - "Grave Consequences"
The CIFB have difficulty catching a killer who buries his victims after death.
#19 - "Riddled"
The detectives are thrust into a civil murder case involving an anti-gay movement leader and his involvement in the killing of a young, openly-gay man.
#20 - "Ivy-League"
Conspiracies unfold as Detectives Vaughn and Carlson investigate an Ivy-League school in Miami after one of its students is found murdered.
#21 - "Fever"
The detectives must investigate a twisted case involving a thirty-nine year old woman's intimate relationship with her son's fifteen year old friend.
#22 - "Frustration"
Detective Vaughn becomes depressed when he can't spend time with his children; meanwhile, a wealthy business tycoon is found poisoned in his office.
#23 - "Illness"
A terminally ill woman must help the detectives solve a case involving her nurse's rape and murder.
#24 - "Trouble"
The CIFB must decide who's telling the truth in a crazy case involving two teenagers and the murder of a woman.
#25 - "Home Sweet Home"
Detective Vaughn returns to Tallahassee to weave the problems he left behind; meanwhile, the CIFB must catch an arsonist who uses a blowtorch in his building-burnings.
#26 - "Damnation"
The detectives are faced with their strangest case yet as they must delve into the mind of a priest who is suspected of murdering a local athiest who tormented him.
#27 - "Estate"
When the body of a real estate agent is found in a brand-new house, the detectives suspect a jealous co-worker could be a suspect.
#28 - "Axis"
Detectives are met with the suspect of a triple homicide: a shrink who was apparently angered by the victims' outlooks on psychotherapy.
#29 - "Double Double"
The CIFB uncover a strange inconsistency in Captain Griffith's death, leading the detectives down a path involving Griffith's past. In the end, it all boils down to the moment that will shock the CIFB.
Season Ten (2021-2022)
#1 - "Peturbed"
Detectives investigate one of their most heart-wrenching cases ever as they must find a little girl who was kidnapped by her nanny.
Danny Huston returns to the main cast as Captain Russ Griffith
#2 - "Lies"
Detectives investigate a satanic cult who may have been behind a string of murders in downtown Miami.
#3 - "To Whom It May Concern"
The CIFB are thrust into a civil case involving a wealthy family matriarch who may have been murdered by one of his kin in order to receive a large sum of cash contained in the man's will.
#4 - "Diagnosis"
The detectives try to catch a serial killer who murders doctors who have been accused of malpractice.
#5 - "Demons"
Detective Vaughn tries to forget the psychological trauma that Miles put on him months earlier; meanwhile, ADA Harris is gaslighted.
#6 - "Injection"
Detectives must pursue a suspect who may have been behind the poisoning of a police officer.
#7 - "Wrong Way"
The CIFB teams up with the U.S. Marshals to track down a man who killed several cops in cold blood.
#8 - "Unnatural"
Detectives investigate a case invoving an abortionist who may have performed his procedures illegally.
#9 - "Movement"
The CIFB invesigates the murder of an african-american couple who were reportedly targets for murder after trying to end discrimination.
#10 - "Morale"
The CIFB investigates the rape of a fifteen-year old girl.
#11 - "Encore"
The detectives investigate the murder of a famous actress.
#12 - "Sinking"
The CIFB struggles to catch a group of Somali pirates who take over ships and cruises.
#13 - "Jam"
The detectives investigate the death of a man who had a secret career as a drummer for a punk rock band.
#14 - "Monument"
The CIFB investigates a secret cult that is comprised of high-schoolers.
#15 - "Inflammatory"
The CIFB struggles to catch a suspect who murdered a senator.
#16 - "Black Book"
The CIFB investigates an underground prostitution ring.
#17 - "Revelations - Part 1"
A detective will fall as the team investigates a case involving the murder of a powerful, wealthy couple.
#18 - "Revelations - Part 2" The CIFB tracks down Owen's killer and uncovers more shocking secrets that will all lead down to the ending that will change the CIFB forever.
Final appearance of Harry Lennix as Owen Juarez.
Season Eleven (2022-2023)
#1 - "Copycat"
The CIFB must track down a suspect who uses and copies the motives of Ted Kaczynski, the Unabomber.
#2 - "M.I.A."
The CIFB must find a former Marine who may have been kidnapped by his own brother.
#3 - "Mean Streets"
The CIFB must catch a drug lord responsible for the deaths of roughly fifty people in the Miami area.
#4 - "What Evil Looks Like" The CIFB teams up with the Behavioral Analysis Unit to help find a wanted fugitive who brutally murdered a fashion designer and his wife.
#5 - "Brand New Day"
The Detectives must track down a rapist who assaulted several young girls in the Downtown Miami area; meanwhile, Captain Griffith retires.
The final appearance of Danny Huston as Captain Griffith as a regular.
#6 - "Anarchy"
The Detectives try to stop a fundamentalist who has been ordering his followers to murder innocent people.
#7 - "We Are Legion - Part 1"
The CIFB investigates a notorious hacker group.
#8 - "We Are Legion - Part 2"
The CIFB continues their investigation of Legion, a notorious hacker group that posesses threatening capabilities.
#9 - "Monkey Wrench"
The CIFB investigates the death of a businessman who was involved in a brutal car crash. After further investigation, the Detectives discover that the businessman's car had been sabotaged an hour before the accident.
#10 - "The Devil's Hands"
The CIFB investigates the homicide of a teenage girl who may have been murdered based on her religious beliefs.
#11 - "Impudence"
The detectives probe the rape of a school teacher who claims that the attacker was one of her students.
#12 - "Writing On The Wall"
While probing the murder of a Russian diplomat, the Detectives uncover a plot to destroy the CIFB.
#13 - "Throwback"
When a man is killed during a Civil War re-enactment, the Detectives believe that the man was killed by the his former friend.
#14 - "Magic Trick"
The detectives investigate the murder of a magician who reportedly made enemies of several people during the course of his career.
#15 - "Full Circle"
The CIFB's investigation of a rape goes awry when the victim is kidnapped.
#16 - "House Call"
The detectives try to catch a group of teenagers after they murdered a family in their home.
#17 - "Deniable"
Detectives Vaughn and Carlson investigate a politician after he is accused of poisoning his wife.
#18 - "One In The Eye For"
The CIFB team up with the FBI's Counterterrorism Division to help track down a dangerous fugitive.
#19 - "The Die is Cast"
Detectives Vaughn, Carlson, Dupree and Haynes are sent to Washington D.C. to help the 52nd Precinct capture a notorious criminal who killed over 10 women along the East Coast.
Season Twelve (2023-2024)
#1 - "Frenetic"
The CIFB goes after a suspect who was involved in a hit-and-run incident that killed four people.
#2 - "Raucous"
When a gang of hoodlums terrorize a convenience store, the CIFB are pointed towards a religious organization that takes in homeless or hungry children.
#3 - "Airborne"
The CIFB investigate a plane crash that might have been intentional.
#4 - "Ultimatum"
The CIFB must protect an Argentinian diplomat and his family after they are directly threatened by a group of thugs.
#5 - "Millionfold"
The CIFB and the FBI investigate the assassination of a millionaire.
#6 - "Urban Genocide"
The CIFB investigate the murders of several homeless men in the downtown Miami area.
#7 - "Heredity"
The CIFB attempts to catch a rapist who was responsible for six other rapes that went unsolved. Meanwhile, Issac Fisher, a detective from Boston, joins the CIFB.
Michael Fassbender joins the cast as Det. Issac Fisher.
#8 - "Living Large"
The detectives investigate the strangulation of a celebrity.
#9 - "In the Blink of An Eye"
The detectives race against time to find a little girl who went missing from her parent's house in the middle of the night.
#10 - "Jokers Are Wild"
The detectives try to catch a serial killer who leaves Joker cards in the hands of his victims.
#11 - "Empathy"
The detectives investigate the murder of a little boy and find that the case fits the contents of another case that went unsolved in 1988.
#12 - "Permanent Solution"
When the detectives investigate the murder of a teenager, they begin to suspect the bullies who tormented him before he died.
#13 - "Come Together"
The murder of a musician prompts detectives to investigate the musician's friends, who reportedly despised him.
#14 - "Reservation"
The detectives investigate the murder of a restaurant waiter who was butchered post-mortem.
#15 - "Liability - Part 1"
When a mother frantically enters a hospital saying her children were shot, the detectives begin to question her liability when certain clues and evidence don't add up.
#16 - "Liability - Part 2"
ADA Harris tries to convict Christina Evans while the detectives find more evidence.
#17 - "Understanding"
The detectives investigate the intentional suffocation of a mentally-ill boy.
#18 - "Scathed"
The detectives investigate the rape of an adolescent girl.
#19 - "Obstacle Course"
The detectives try to find a mother and her daughter who both went missing from their home.
#20 - "Not All What it Seems"
The detectives are caught in a shootout at an airport while investigating a quadruple homicide.
Season Thirteen (2024-2025)
#1 - "Weekend Warriors"
Paula Gyson, a psychiatrist from New York, joins the CIFB while the detectives try to catch a serial killer whose victims are all soldiers who served in Iraq.
#2 - "Burly"
The detectives investigate the murder of a world-famous wrestler. Meanwhile, Paula tries to adjust to the precinct.
#3 - "Trapped"
The detectives struggle to learn the location of a little girl who is slowly suffocating, but the kidnapper won't give them the girl's whereabouts.
#4 - "Overdose"
The detectives investigate the overdose of a famous musician that might have been intentional courtesy of the musician's doctor.
#5 - "Self-Righteousness"
The detectives try to catch a killer who makes his victims' deaths look like suicides.
#6 - "Captial"
The detectives chase after a wanted fugitive who is holding a police officer hostage.
#7 - "The Messenger"
The detectives investigate the poisoning of a respected police captain.
#8 - "Long Way From Home"
Detectives struggle to find a judge's son who may be in the hands of a stalker who terrorized the judge and his family for months.
#9 - "Pieces"
Detective Fisher is caught in a deadly puzzle as he must help a former DA rescue his daughter from a crazed serial rapist.
#10 - "Days Of Years Past"
Detectives uncover an underground drug ring with a shocking past.
#11 - "Contributing Factor"
Detectives try to nab a man who was accused of raping over fifty women in Orlando.
#12 - "Gunshot"
When a democratic representative is shot in the middle of a crowd, the Detectives struggle to identify the shooter and how he managed to escape without attracting attention.
#13 - "Haters"
Detectives investigate the murder of a gay man who was reportedly behind the rape of a bartender.
#14 - "Scrap"
The detectives investigate the murder of a teenager who was dumped in a junkyard.
#15 - "Wholesome"
Paula and the CIFB are put to the test in order to find Detective Harper, who is slowly drowning by the hands of a notorious killer.
#16 - "Parental"
The detectives try to protect a little girl and her family from a dangerous stalker.
#17 - "Ballroom Blitz"
When a teenager and his girlfriend are killed at their high-school prom, the detectives suspect an old nemesis.
#18 - "Benefactor"
The detectives investigate a family conflict that soon turns deadly.
#19 - "Predator and Prey"
The detectives hunt a man who kills his victims while they sleep.
#20 - "Overseas"
Detectives Kinney and Haynes travel to Italy to follow up on a lead in a murder case from Tampa.
#21 - "The Garden of Good and Evil"
The detectives investigate a case involving a crooked real-estate organization that soon turns dangerous as a detective pays the ultimate price.
Final appearences of Alan Tudyk as Lance Carlson and John Mahoney as Walter Alston.
Season Fourteen (2025-2026)
#1 - "Grudge"
While still reeling from personal loses, an open and shut case for the CIFB takes a turn for the worst, when the trial judge lets a dangerous suspect free without bail, giving no regard to those put in danger, and going as far as arresting Detective Boyd for contempt.
#2 - "Indoctrinated"
The prosecutors have a tough decision on their hands, deciding whose to blame when it appears that a group of 5th graders are responsible for the beating of a school board member, and his subsiquent death.
#3 - "Punishment"
The CIFB must protect a women after unknown perp thats broken into her home, and continues to stalk and harass her family. But the Detectives don't know whose side they should be, when they discover that the women is using an alias, to hide a criminal past thats left a trail of bodies in her wake.
#4 - "Toys"
The detectives must sort out the case of a dead woman killed during an apparent house invasion. First it appears that the perpetrator was out to steal valuable colletables that belonged to the husband, but when the sci-fi memerobelia is located, it appears that something much more terrifying occured on the night of the break-in. Meanwhile, Detective Boyd gets a disturbing message from a man in a werewolf mask.
#5 - "Bird of Prey"
The CIFB pursue the arrest the teen responsible for bombing a Catholic Church. Part of a group of extremely bigoted and racist zealots, the courtroom becomes a circus as they exploit the opportunity to voice their discriminatory prejudices. To make things worse, the guilty verdict is at risk of being overturned, because of an ill-timed "tweet" by one of the jurors.
#6 - "Into the Sunset"
The detectives investigate the kidnapping of a little boy that soon turns deadly as more and more shocking revelations come to light about the criminal's true identity and their motives.
#7 - "Gross Act"
The detectives investigate the brutal death of an elderly woman.
#8 - "Syndrome"
The detectives pursue a possibly schizophrenic U.S. marine who killed his team after returning from a covert mission in Pakistan. As the case unfolds, the CIFB are stonewalled by the Central Intelligence Agency, who are also tracking the soldier.
#10 - "As I Walk Through The Valley"
The detectives investigate a series of sacrificial murders committed by blackmarket organ dealers, who try to mislead the CFIB, by painting local voodoo worshippers as the culprits, thus turning the scared public against them.
#11 - "Possibility of Evil"
The detectives catch wind of a imminent hit about to go down within a hour, leaving the CIFB scrambling to figure out the target's identity, and stop the drug cartel that ordered it, in real time. In the aftermath, more information is discovered about the figure in the werewolf mask, leaving one Detective with the theory that he may be connected to several unsolved killings.
#12 - "Faded Giant"
The detectives investigate the murder of a nuclear physicist and learn of a conspiracy that may be related to a nuclear meltdown that occured two years earlier.
#13 - "Way of All Flesh"
After a dead body is found in a warehouse by the docks, the detectives learn that the M.O. matches that of a suspect who is wanted for three murders in Texas.
#14 - "Just Business"
A dangerous hitman feeds the detectives information that would lead to the arrest of an infamous mobster thats be on the lamb for decades. After heading to California and teaming up with Detectives Morales and Jaruszalski to bring the gangster to justice, the CIFB learns an FBI agent living in Miami has been feeding the fugitive information for years to stay one step ahead of the authorities.
#15 - "Low Road"
The CIFB investigates the disappearance of a district attorney who was working on a rape case that went cold in 1994.
#16 - "Occupation"
A case of corporate espionage leads to the murder of three industrial workers. As the investigation progresses, the detectives learn that a much bigger plot may be unfolding.
#17- "Thus Says the Lord"
The hate group responsible for several Catholic Church bombings is back, with a vengeance. The CIFB now believes one of their members has murdered a well-respected priest. After a near-siege erupts at their base of operations, the trial becomes an outrught nightmare. The group's lawyer tries to paint the victim as a pedophile, using of the word of several dozen families that just so happen to come out of the woodwork at the right time. The cops and lawyers become divded on what to believe, only agreeing that the hate group is trying to blind the jury with the stigma of the abuse controversies in the Catholic Church.
#18 - "Retribution"
Two popular young girls are found brutally murdered, with their bodies left hanging outside the football field with severe post-mortem cuts. The investigation leads to none other than an enraged parent, whose daughter committed suicide after constant torment at the hands of the victims. He apparently snapped when they crashed her funeral and mocked how she looked in her own casket. His attorney tries to hold the state government responsible, for not approving anti-bullying legislation that would have expelled the victims for their abusive behavior. If that wasn't bad enough, the families of the dead bullies try to seek their own retribution against the perp's remaining loved ones.
#19 - "Today, I Will Join You in Paradise"
The detectives track a madman who crucifies random victims after killing them. But before the vicious killer can be put on trial, a new mystery erupts, when it appears that the werewolf-masked killer somehow manages to execute the crazed suspect, in his cell at the precinct!
#20 - "Hindsight"
The detectives uncover a quadruple-homicide case that went cold five years earlier and learn that the case may be linked to the recent murder of an FBI agent.
#21 - "Nightfall"
The pursuit of a corrupt CEO who murdered one of his clients leads detectives to a clue that may hold the key to finding out the truth behind the masked vigilantw, known now as the "Wolfsbane Killer".
#22 - "Bad Moon Rising - Part 1"
More celebrities and past criminals that escaped conviction are being executed one by one, as part of a psychopath's twisted pursuit of vigilante justice. Toying and terrorizing with the CIFB as he commits this rampage, the detectives' only lead so far is the random spottings of the werewolf masked serial killer.
#23 - "Bad Moon Rising - Part 2"
After an attempt to catch the "Wolfsbane Killer" ends in three dead cops, the CIFB and FBI increases their efforts to catch the vigilante. The case becomes much more complicated, when Fisher discovers that the killer got his start executing high-profile individuals back in New York City. Former detectives Logan and Stabler are called down to Miami to aid in bringing the maniac to justice, as his killings continue and become more brutal by the day.
#24 - "Bad Moon Rising - Part 3"
The Wolfsbane Killer has finally been apprehended, now the real challenge begins for Harris and Lambert to convict him of over 30 high-profile killings, all of which his lawyer defends by citing each victim's criminal backgrounds to win over the public and jury. What's more, New York fights for jurisdiction to prosecute the young monster, while Logan finally discovers the killer's secret, one that connects him to personal tragedy over 20 years ago.
Season Fifteen (2026-2027)
#1 - "Aesop"
The detectives track a killer who leaves behind notes containing fables from the ancient Greek author Aesop; meanwhile, Dante makes a tough decision.
Final appearance of James Marsden as Dante Vaughn as a regular.
#2 - "Within the Pale"
The detectives investigate the kidnapping of a little girl and soon discover that there's more to the kidnapping than they initially thought.
#3 - "Pious"
The detectives hit a dead-end after discovering that a lead in a cold murder case traces all the way back to a small religious sect run by a charismatic leader.
#4 - "Shambles"
The detectives try to resolve a terror plot that threatens to destroy a school.
#5 - "Bedtime"
The detectives investigate the murder of a rising actor who was poisoned in his sleep.
#6 - "Money"
A widespread manhunt ensues after detectives learn of a possible link between the murder of a security guard and the armed robberies of trucks transferring money between banks.
#7 - "Powerhouse"
Detective Kinney assists Dupree in a personal investigation involving a girl who disappeared from her peaceful hometown without a trace.
#8 - "Acquittal"
Detectives scramble to save an innocent man from death row after new evidence arises in the murder of a housewife that proves his innocence; however, an unknown source may be holding back the investigation.
#9 - "Break"
Fisher uncovers a lead in the cold case of his parents' murders; meanwhile, Harris announces his run for the seat of Miami's district attorney.
#10 - "Jailbreak"
Notorious criminal Randall Jefferson escapes from prison; meanwhile, Kinney and Dupree discover a horrifying truth in the disappearane of Emma Carver.
#11 - "Peverted Justice: Part 1"
Detectives Fisher, Dupree, and Harper track a serial child kidnapper and rapist, and are joined by Detective River Landon, whose own daughter Lindsay fell victim to the criminal. However, Harper ends up making a crucial mistake during the arrest that leads to Harris being forced to drop the charges, prompting Landon's teenage son Zeus to take the law into his own hands on the courthouse steps.
#12 - "Peverted Justice: Part 2"
As pedophile Tom Segel lays in the hospital paralyzed, the Detectives try to track down Landon's son, while also trying to uncover more evidence to take down Segel for his heinous crimes.
#13 - "Speed Date"
Detective Boyd goes undercover at speed dating to catch a serial rapist.
#14 - "Wrongly Accused"
A popular and well-known college professor, William Sinpar, loses his job and has his life, marriage, and reputation destroyed when an ex-student, Brittani Herzog, falsely accuses him of rape out of revenge for flunking her. When the truth comes out and his name is cleared, the vengeful William deliberately hits Brittani with his car as she is about to be arrested, seriously injuring her and sending her into a deep coma. He is arrested and charged, but his lawyer argues that he was completely unaware of his actions because all the anger and hatred he felt towards Brittani caused him to go into a period of temporary insanity.
#15 - "Abused"
Jenny Cutter, a woman recently paroled after serving 6 years for abusing her 9-year-old son, Ian, who is now 15, is found stabbed to death in her home by her parole officer. Ian, who had been in foster care during her imprisonment and was returned to her upon her release, confesses to killing her and claims that he was defending himself because she resumed her abusive ways and attempted to kill him. Most of the general public side with Ian, as do several detectives, but Dupree believes that he murdered her in cold blood in order to return to the loving foster parents, that he had come to call his own, that he had been living with for the past 6 years.
#16 - "Innocent"
An ex-teacher, Zack Morgan, holds people in the police station at gunpoint to try to clear his name after he was accused of murdering one of his students. Detective Boyd hopes she can help him and Detective Fisher becomes the lead hostage negotiator. When Zack let his hostages go, so he and Boyd can talk, he takes Fisher hostage. Can Boyd talk to him before he kills Fisher?
#17 - "Prank"
A Halloween prank goes horribly wrong when a college student, dressed in very realistic zombie makeup, is shot and killed by his friend, who believed him to be a real zombie due to how realistic the makeup was. The friend is arrested and charged with involuntary manslaughter, but some new evidence arises that makes the detectives believe that it may have been murder.
#18 - "Brotherly Love"
An 11-year-old boy accused of killing his 17-year-old brother by slitting his throat with a razor blade tells the detectives that his brother had been sexually abusing him for the past several years. When it is discovered that he is telling the truth, the question is asked: Who is the real victim?
#19 - "One Shall Stand" (Part 1)
A legal uproar is caused, when a black man guns down a wannabe cop, then uses the controversial "Stand Your Ground" law as a defense. Tensions flare, brutal decisions are made, and sour memories are brought to the surface of the Zimmerman trial that divded Florida and the country.
#20 - "One Shall Fall" (Part 2)
With the suspect who killed a failed vigilante found not guilty, violent protests occur against the neighborhood and the "Stand Your Ground" law... only after a black man was able to use the defense. While litigators and state officials try to use Federal prosecution to re-try the suspect, the Detectives fight against while also trying to keep the man in question and his family safe from reprisal.
In the end, a supporting detective and friend of the team falls in the line of duty when the protests turn to race riots against the black community.
Final appearance of Jared Leto as Detective Marko Crucious
Season Sixteen (2027-2028)
#1 "Clan"
The precinct is fractured in the aftermath of horryfing race riots, and the death of one of their own. While they deal with the trauma, and while Lambert tries to put away the suspects responsible... Klan activity is on the rise in the Miami. In its wake, a detective starts his own brand of off-duty retribution against them.
#2 "Kidnapped - Part 1"
A young woman who is Detective Boyd's young sister is kidnapped. Detective Fisher promise Boyd, they will find Danielle and the kidnapper. When she held, Danielle got something, she did not like. Old face from her past who is her kidnapper.
#3 "Kidnapped - Part 2"
Danielle's kidnapper is Jake Boyd (Ethan Hawke), Ashlee and Danielle's older brother. Detective Boyd found out her dangerous brother is Danielle's kidnapper and learn about her brother's crime.
#4 "Kidnapped - Part 3"
Is race against time for detectives to find Danielle, they did not know her brother abducted his youngest sister.
#5 "Blasphemy"
The famous pastor of one of the biggest megachurches in America, located in Miami, is found stoned to death shortly after he resigned from the church, renounced Christianity altogether, and became an atheist; an act that shocked, angered, and saddened his family, congregation, and millions of Christians in America. With a massive amount of suspects, the case gets more complicated by the minute and ends up going in a different direction when it is discovered that he had been stealing money from the church and living a secret double life as a pimp.
#6 "Help Me"
In a crossover with Law & Order: SVU, Fisher, Boyd, Haynes, and Kinney travel to New York and team up with the SVU team to search for a man who kidnapped several young women in order to sell them to a large human trafficking ring in New York.
#7 "Staged"
A 5-year-old girl is kidnapped during a family outing at the beach and an Amber Alert is sent out. Boyd grows suspicious of the girl's mother, however, because the woman is acting very calm and collected and almost unfazed, whereas most parents who have had young children kidnapped act very distraught and hysterical. This, along with an anonymous phone call, leads Boyd and Fisher to believe that the mother may have paid a man to "kidnap" her daughter in order to get sympathy and attention.
#8 "Cousin"
Fisher's cousin, Tessa are arrested for killing her teacher. ADA Harris released her and let her go. But Tessa find herself in wrong turn and Fisher try to help his cousin, with Dupree's help.
#9 "Black Justice"
The war between police and group of black people about the death of 11 years old girl who got shot by police turn deadly. Detective Boyd seeks the help of her sister and her brother's past could lead them to a shocking revelation.
#10 "Terminal"
A 12-year-old boy with terminal cancer and only a few weeks to live is smothered with a pillow by his grieving parents, who could no longer bear to see him in such pain, in a case that divides the detectives and general public.
#11 "Sleepwalking Murder"
A 15-year-old girl, Christine Harrison, is found wandering in the street, covered in blood, sleepwalking, and holding a bloody knife. Detective Fisher and Boyd grows suspicious and find out that something was already wrong with Christine before she began sleepwalking.
#12 "The Hater"
The leader of a notorious anti-gay group is shot to death during one of his speeches, and all evidence points to his sister, who left the group many years ago..
#13 "Sleepless"
Detective River Landon's son, Zeus, who is serving a 9-12 month sentence in juvenile hall for the attempted murder of his sister's rapist, and Ian Cutter, the boy from "Abused", who is incarcerated in the same facility until his 21st birthday for the murder of his once abusive mother, mail an urgent letter to Dupree and Fisher, informing them that a number of the guards have been sexually abusing many of the younger boys. After interviewing the boys, Fisher, Dupree, Kinney, and Haynes go undercover to find the truth.
#14 "The Truth about Murder"
Fisher believes that close friend killed a teenager by pushing her in front of a train but he found out somebody else was there at the night when a teenager girl's death. Fisher and Boyd go undercover to find the girl's real killer.
#15 "Who Shot Harris? (Part 1)"
With the murder of teenager schoolgirl, Boyd worried ADA Harris is going releases a murder suspect without the detective know. But disaster for Harris, he found out somebody know he going to releases a murder suspect and his life is in danger, Harris is shot and left to died.
#16"Who Shot Harris? (Part 2)"
When taking her sister home, Boyd found ADA Harris shot and bleeding. Harris was admitted to a hospital, the detective try to find Harris's shooter. Boyd told Fisher, Harris' secret. He was going to releases the murder suspect.
Meanwhile, after in the last episode, he was found passed out, not breathing by the guards and his wrist bleeding, Jake survive and he is in hospital but in prison. Then at night, Jake escape from his hospital bed, kills every prison guard and run to Miami to found his cop sister.
At the end, Boyd suspired when her brother escape from jail and asking for help at her own home.
#17 "Who Shot Harris? (Part 3)"
After her house broken in and her things got stole. Boyd know about Jake's past. With murder suspect is releases, Fisher think murder suspect could be part of Harris' shooting and ADA Harris took the worse. 
#18 "Who Shot Harris? (Part 4)"
Haynes and Lewis worried about Harris' heath, the detective are close to find Harris' shooter, Fisher shocked and found out about Jake, Danielle are shocked to see her brother again and Fisher are arrested for attempted murder for ADA Harris.
#19 "Who Shot Harris? (Part 5)"
With Fisher on the run, Boyd is shocked and found out when Jake and Danielle found. It's a race against time to clearing Fisher's name before Harris' shooter could kill Harris in the hospital.
At the end, after finally capturing the shooter and exonerating Fisher, the team recieves the tragic news that Harris has died from complications of his gunshot wounds. The episode ends with the CIFB attending Harris's funeral.
Dedicated to the memory of Phillip Seymour Hoffman (1967-2014). This is his final appearance as Reuben Harris.
Season Seventeen (2028-2029)
#1 - "Pressing On"
Three months later, the team is still coming to terms with the loss of Harris. Harper decides to take the Sergeant's Exam, Boyd and Kinney seek promotions in order to do more, and the whole team struggles to make their new A.D.A., Quincy Roland feel welcome. This is put to the when Dupree and Haynes take charge of a quadruple homicide of a family, with the only two survivors being the two youngest children. Both traumatized and unwilling to talk, Roland comes into conflict with the team when he tries to push them to remember the killer's face.
First appearance of Orlando Jones as A.D.A. Quincy Roland.
#2 -"High Tensions"
Roland's first few weeks as the CIFB's A.D.A. take a really sharp turn when the case of a black teenage girl's murder uncovers a long string of blackmail and racist bullying by several fellow white students. Boyd worried about Roland letting his anger get the better of him, so she help him to become a good ADA, while Roland tries to keep his cool down. This proves to be difficult when the parents of the lead suspect try to have Roland taken of the case, simply due to his race.
#3 - "Life of a Cop"
Miami PD Officer Greg Peterson is killed in a seeming hit-and-run accident. Upon investigation the team discovers that the hit was intentional, meaning somebody wanted to kill Officer Peterson out of revenge. As they dig into his personal life to find out who and why, Haynes makes a deep discovery about Peterson that the late officer had taken huge steps to hide.
#4 - "October's Death"
Three business people are found dead. The team struggles to piece together a motive and find the killer, which is soon complicated when another two businessmen were also found dead. The investigation uncovers a massive Ponzi scheme. ADA Roland worried when his birthday coming up soon on Halloween.
#5 - "Full Contact"
The team is called in to investigate the death of former NFL player Carson Felton. Intially thought to be a heart attack, they rule his death to be murder after ricin is found in his system and at the scene. Dupree calls in her old colleagues at the FBI to assist in the investigation, which leads the discovery of Felton's mountain of debt with a high-stakes underground gambling ring, who has a reputation of betting mightily on NFL games.
#6 - "Satan's Awaitin'"
A six-year old boy vanishes while walking home from his friend's house. Fisher and Haynes first investigate the parents whom are currently in a bitter custody dispute, but their alibis turn out to be clear. When another young boy and then two young girls are kidnapped and a Satanic-like symbol is found at all of the scene. The symbols is then traced back to a group of cultists who apparently intend to sacrifice the children in the days leading up to Halloween, leading to the team to race against time to find the children. Meanwhile, Harper, Boyd, and Kinney learn the results of their promotion pursuits.
#7 - "The Night Before Halloween (Part 1)"
When an old girlfriend of Roland's from his law school days is found tortured, stabbed and brutally raped eight days before Halloween, Fisher and Harper take the case. When two more women turn up dead in the same manner in the next two days, Dr. Gyson's findings point to that of a serial rapist/murderer who loves to control women by any means neccessary, and kills them when they try to resist. Meanwhile, the team finds out a bit about ADA Roland's past as they try to celebrate his upcoming brithday, which happens to fall on Halloween. 
#8 - "The Night After Halloween (Part 2)"
On Halloween, ADA Roland's birthday turn into madness when off-duty FBI agent Jack Crowley is gunned down on the steps of a courthouse after testifying against serial rapist murderer Stan Gold. The next day, the team found out more of ADA Roland's past and Roland's life is in danger when he recieves massive threats from the same shooter. And Roland is brought face to face with his past, when his ex-wife, Carla and estranged daughters, Ashley and Hayley drop by.
#9 - "Rear Window"
A private investigator, Billy Hawke comes into conflict with the team who are investigating the shooting of a teacher at University of Miami School of Law. During this time, Harper investigate a married, promenent lawyer, Robert Lawton, who is having an affair with one of the school's professors and one of ADA Roland's colleagues, Andrea Johnson. But when pictures of the affair that were found in the teacher's desk as evidence are leaked to the press by the P.I., the still-recently promoted Sergeant Harper (who was responsible for the handling of the pictures) is held responsible and faces the possible ruin of his case as well as possible disciplinary action and a civil suit for the story.
#10 - "Cross the Pond: Part 1"
In the first of a two-part crossover with Law & Order: UK, Kaden Holt, a gun-smuggler from London arrives in Miami in order to distribute his arms on the streets. Upon learning he's in town, the team immediately starts looking for him, and end up coming into conflict with London MPS DS Ronnie Brooks and Joe Hawkins (special guest stars Bradley Walsh and Ben Bailey Smith) as well as Interpol Agent Alphonse O'Donnell (guest star David O'Hara). The two sides must work together in order catch Holt and put and end to his gun-trading.
#11 - "Cross the Pond: Part 2"
In the second of a two-part crossover with Law & Order: UK, Fisher, Harper, and Dupree head to London with Brooks, Hawkins, and O'Donnell to catch Holt once and for all. But when Holt tries to make a last escape attempt by planting a bomb within the streets, the detectives must race against time to stop both.
#12 - "Cross Examined"
The CIFB is put under the scope of Internal Affairs when, during a shooting in a bank robbery, at which Detective Dupree is at by change, a hostage is caught in the crossfire and killed. The intial investigation seems to point that Dupree's bullets killed the hostage. As Roland tries his best to defend Dupree, who undergoes much harshness and pressure by IA and the media, Lambert orders the rest of the CIFB to find those behind the robbery, leading to a shocking revealation.
#13 - "The Crime of Bullying"
While driving home from a family dinner with his ex-wife, Carla and his daughters, Ashley and Hayley, ADA Roland accidentally runs over a 10 year-old girl when she suddenly runs out in the middle of the road, and he hits her with his car. As the girl recovering in hospital, Roland is deeply troubled by the incident and considers resigning from the DA's office, while Boyd and Dupree discover that the girl was being physically abused by her 15-year old brother and was being constantly bullied at school before her death. It's learned from her tormentors that she was being chased by her bully, when they decided to pick on her again as she was coming home from the store, causing her to run out into the street and be hit by Roland.
#14 - "Heartfelt"
After watching the execution of a crook the CIFB put away back at its inaugural season, the team takes the rest of the day, a Saturday, off. For the first time, we get to see the lives of the team. Fisher is shown to be single and an eligible bachelor. Kinney is married with two children, whom he takes out for a day on the town. Boyd is shown to be divorced with two young daughters, one of whom is having a birthday party, at which her old partner, Dante Vaughn (special guest star James Marsden) drops by. Harper is divorced with two sons and two daughters whom he is very protective of. Haynes is engaged to a cardiac surgeon, whom she meets for lunch. Gyson does therapy for regular patients. Dupree is married to a firefighter, but with no children...yet. Lambert is twice divorced, but maintains contact with her two grown children. And Roland spends the day with his two daughters at a Miami Heat game.
Special Guest Appearance by James Marsden as Det. Dante Vaughn.
#15 - "The Law"
Black Miami officer Virgil Smith (guest star Dorian Gregory) investigated for killing a white teenager who allegedly attacked him and his white female colleague/lover. The team worried about that Officer Smith could be in danger after it's revealed the teenager was part of a dangerous white supremacy group. Meanwhile, Roland becomes worried about his older daughter, Hayley when she and her friends protesters to help another friend to get her baby back after a social worker takes it because of the baby's biracial ethnicity.
#16 -  "Lost and Found (Part 1)"
Justin and his youngest sister Jessica Lewis go missing from school. Fisher, Harper, Haynes and Dupree found out Justin and Jessica are step-siblings and they run away from the school to plan a heist with several others. It is race against time to stop them, but then Lambert and Roland found the shocking truth about Justin and Jessica's family. Boyd plan to see her sister, Danielle but when she visit Danielle, she found out Danielle has gone missing.
At the end, Harper and Roland found themselves in danger when somebody kidnapped them and drive away.
#17 - "Blue Blood (Part 2)"
Fisher and the team found out Harper and ADA Roland are missing, Carla told the team, Roland did not come back home and last seen with Harper together. Boyd asks her old partner, Dante Vaughn (special guest star James Marsden) for help when Harper and Roland gone missing and she worried about her sister, Danielle. Harper and ADA Roland saw a private investigator, Billy Hawke return and asks Harper and Roland for a help when Robert Lawton's son, Joey has been kidnapped and Boyd's sister, Danielle is also kidnapped when she was seen with Joey. Roland found out Boyd and Danielle's brother, Jake escape from prison and think he kidnapped Joey and Danielle.
At the end, the truth is revealed, Jake is Danielle and Joey's kidnapper along with four fellow escaped prisoners who helped Jake kidnap Danielle, while Harper and ADA Roland are revealed to have been buried alive in an unknown location.
Special Guest Appearance by James Marsden as Det. Dante Vaughn.
#18 - "Out Of Time (Part 3)"
The CIFB splits up to locate Harper and Roland and Danielle and Joey. Boyd, Dupree and Vaughn look for the two kidnapped teens, and rekindle old bonds along the way. Fisher, Kinney, and Haynes search for their colleagues who have been buried alive with the help from Billy Hawke, while Lambert puts out an APB on Jake Boyd and the other escaped prisoners.
At the end, after catching one of the prisoners as he's out buying groceries, the team, with the help of ADA Juliet Ortiz (guest star Jessica Alba), convinces him to tell him the location of the kidnapped people. They are able to successfully rescue Harper and Roland from their underground confinement, but Jake and his accomplices are tipped off about this and go on the run again with Danielle and Joey.
Special Guest Appearance by James Marsden as Det. Dante Vaughn.
#19 - "End of the Road (Part 4)"
While Harper and Roland recover from their experiance and are reunited with their families, the rest of the team continues to pursue Jake, who is on the run with the other three escaped criminals and still holding Danielle and Joey hostage. During this time, Gyson, looking over Jake's files discovers the reason for his criminal behavior, which Boyd confirms: Years ago, when just a teenager, Jake fell in with the wrong crowd, and ended up becoming an accomplice to a drug related murder. Even though he was just an accomplice, and did not actually partake in the murder, Boyd's parents, not wanting their son's crime to soil the family name, turned their backs on him and didn't even try to give him a decent legal defense, causing him to get a sentence of 15-to-life. This, coupled with his parent's doting on the successes of his sisters, caused Jake to develop a seething hatred for his family and attempt to destroy them.
At the end, the team locates Jake and his men, leading to a shootout that kills the prisoners. Boyd frees Danielle and Joey, and then faces off against her brother for the last time. The two and Danielle (who wants to get Jake to surrender) have a brief talk about some of the good times they had as kids and about the incident that lead them to this moment. Boyd and Danielle try to urge him to surrender peacefully and he seems to do so, and tells his sisters he loves them...before firing a missed shot at them, forcing Boyd to fatally return fire, just as Jake had intended. As Jake dies in his sisters' arms, they tell him they love him too.
Special Guest Appearance by James Marsden as Det. Dante Vaughn.
Final Appearence of Ethan Hawke as Jake Boyd.
#20 - "Cryptic"
Still recovering from the previous episodes' events, the CIFB team tries to keep it together during the case of a teenage girl's rape at a party. During this time, they are reunited with Virgil Smith (guest star Dorian Gregory), who has since become a detective and is headlining the case.
Meanwhile, Gyson holds psychiatric sessions with Harper, Roland, Danielle, and Joey. Roland refuses the sessions at first, until he viciously snaps at the rape suspects in court and nearly suffers a breakdown, which leads to him reccusing himself and Juliet Oritz (guest star Jessica Alba) to take over and finish the job.
Also, Ashlee and Danielle angrily confront their parents about their treatment of Jake years ago, and Lambert offers Vaughn a chance to return to the CIFB, which he respectfully declines.
Special Guest Appearance by James Marsden as Det. Dante Vaughn.
Season Eighteen (2029-2030)
#1 - "Resurrection (Part 1)"
Picking up four months after the end of last season's finale, the CIFB team has seemingly returned to normal. They next pick up on a jewelry store robbery, in which the robbers stole nearly $3 million in jewelry, and shot 3 people, killing 2 of them. After investigating similar robberies in the last 3 weeks, Fisher draws the conclusion that this is all a setup for a bigger score.
Meanwhile, Roland is partnered with A.D.A. Juliet Ortiz, in order for the D.A.'s office to keep and eye on his mental health following his harrowing kidnapping ordeal, Detective Virgil Smith joins the CIFB, and Lambert is conflicted is offered a promotion to Captain, which would require her to transfer to Miami's Drug Enforcement Unit.
Jessica Alba and Dorian Gregory join the main cast as A.D.A. Juliet Ortiz and Detective Virgil Smith respectively.
#2 - "Reincarnation (Part 2)"
The CIFB closes in on the suspected robbers when they hit another jewelry store, resulting in another three fatalities. Deciding the crooks need to be stopped at all costs, the team manages to get the getaway driver of the gang, thanks to a witness who noticed a distinct freshly-inked tattoo on his arm, and Roland and Ortiz try to push him into giving up the big score's location.
Meanwhile, Smith finds himself partnered with Boyd and tries to help her cope with having to kill her brother, Roland and Ortiz adjust to their partnership, and Lambert decides to accept the promotion and tranfer, and bids farewell to the CIFB, though not before arranging for Harper to be left in charge.
Final Appearence of Mary Steenburgen as Lt. Erika Lambert as a regular.
#3 - "Falling Angel"
The sexually assulted body of a 9-year old boy found on the burial site of the late Reuben Harris. Harper, Boyd, and Kinney take the case wondering who would desecrate their late friend's burial site. Smith, after looking through Harris's files, discovers that Harris put away a large number of pedophiles in his time, and suggests that one of them did this as an act of payback at Harris for putting him away.
Meanwhile, the CIFB team remembers Harris as they decide to hold a party to celebrate what would have been his birthday.
#4 - "Bulletproof"
When an 8-year old girl is shot and left in a coma in her older sister's sweet sixteenth birthday, Fisher and Haynes are put on the case. When it's revealed that the girl's next door neighbor, a 14-year had accidentally fired of the shot while showing off his dad's revolver to his friends, Roland and Ortiz attempt to have the case tried in family court. However, when drugs are found in the boy's backpack while he's out in his parents custody, the girl's family's lawyer, Joseph Green, who is notorious for turning the press and public against people, does so with the kid, turning him into a pariah and driving him to the point where he unsuccessfully attempts to hang himself. Boyd, being a former lawyer, then goes under cover as a new ADA to try to prove misconduct out of Green's actions. 
#5 - "Neighborhood"
Neighborhood block captain Katherine Maxwell is found beaten to death in her home. When Detectives Fisher, Boyd, and Smith question the neighbors, they discover that Katherine was a tyrant who used bullying lies and deceit to get what she wanted, essentially making everybody a suspect. The later finding of the murder weapon leads to the most startling discovery ever for the CIFB.
Meanwhile, Harper begins to doubt his position as leader of the CIFB after a sting operation on child porn distributers goes wrong and leaves two officers injured, so he visits his old friend, retired Captain Russ Griffith (special guest star Danny Huston) for leadership advice. Also, Haynes recieves news from her fiancé that leaves her to make a tough decision.
Special Guest Appearance by Danny Huston as Captain Russ Griffith.
#6 - "Yee Shall Overcome"
A 14-year old African-American boy and 12-year old Latino girl are both found stabbed to death in an alley. Detectives Smith and Dupree take charge of the case and find that the evidence leads up to businessman and ex-militant Rick Murdock with a long history of racist action, including several violent ones. Things come to a head when Murdock attempts to viciously attack Roland when pressured on the witness
Meanwhile Boyd, still struggling with her brother Jake's memory, turns to her neighbor Nancy (guest star Charlotte Gainsbourg) for advice. Also, at the end, Haynes announces that she is taking a career break from the force and CIFB, in order to stay close to her fiancé (who is moving to Haiti for a few years to help with the disaster relief), and bids an emotional farewell to her colleagues.
Final Appearance of Kristen Bell as Det. April Haynes as a regular.
#7 - "Looking Ahead"
With the departures of Lambert and Haynes still being felt, the CIFB tries to resume business as they adjust. Kinney and Smith take the lead of a the case of a trio of spoiled rich boys who have been attempting to clean the streets their way by beating up the homeless. When their latest attack results in a homicide, Fisher goes undercover as a homeless man to stop them before they can carry out their biggest plan: destroying a homeless shelter.
#8 -  "Beauty and the Beast (Part 1)"
Boyd and Smith takes the case of two siblings, a 11-years old boy and 8-year old girl being kidnapped from their home. The case hits home when Boyd learns from the parents that the boy was heading in the same direction, Jake was when he was growing up.
#9 -  "Battle Scars (Part 2)"
Boyd's life is in danger after being stabbed in the abdomen by the kidnapper when she follows up on a lead solo and try to arrest the kidnapper. The team worried about Boyd when she fails to check in and tries to find her and the children. In the process, they make a stunning discovery on who the kidnapper is.
At the end, the team arrived find the kidnapper and his brother making their escape. The kidnapper escapes with the kids but his brother is arrested. Fisher ask him Boyd's whereabout. He leads them to Boyd who is unconscious and losing blood rapidly. Smith call the ambulance for Boyd and the police take in the kidnapper's brother.
#10 - "The Coma (Part 3)"
Boyd is taken to the hospital in a coma from blood loss after her stabbing. Fisher stays at the hospital to keep her company while Smith and the rest of the team continue to track the kidnapper and the kids. In the end after a long standoff in a grocery store, the kidnapper is captured and the kids returned to their parents. Boyd awakes from her coma later with Fisher helping her, Boyd visits Jake's grave.
#11 - "Letting Go"
Boyd returns home from the hospital to recuperate after her brutal stabbing. Boyd find herself in the different choice when a 13 years old pregnant teenager come into her house and ask her to get the person who raped her and got her pregnant. Boyd worried she could ruin the girl's future so she asks Dupree, Ortiz, and Roland for help. Meanwhile, Detective Nina Cassady, a new transfer from New York, joins the squad.
First Appearance of Milena Govich as Det. Nina Cassady, who joins the main cast in the same episode.
#12 - "The Smoke (Part 1)"
A fireman was killed in a suspicious explosion & fire at an low-rise apartment complex. The team is discovers similarities between that fire and a string of arson. One night, another fire put people in Miami in danger. Fisher worried about Boyd when she attempts to return to work ahead of her perscribed time. When Fisher, Harper, Smith, Cassady and Dupree arrived at Boyd's flat, Boyd and her daughters end up in danger after the gas explosion at her flat.
#13 - "Reignited (Part 2)"
Boyd and her kids struggle to escape from the dangerous fire and the rest of the team try to get her out. Fisher then risks his life and manages to save the three. The CIFB, however, faces a situation when the arsonist begins rigging multiple buildings at once and turn to Dr. Gyson to determine who is starting the fires and why.
#14 - "Aftermath"
Boyd returns to work following her stabbing and the fire. She is partnered with Cassady in order to show her some more of the ropes. The CIFB then takes charge of a case when a trucker is busted for unknowingly carrying a large drug shipment, which happens to be for one of the most wanted and murderus drug runners in Miami, Chicago, Baltimore, and New York. They are joined in this investigation by New York DA Investigator John Munch (special guest star Richard Belzer) who has been after the runner since his days as a Baltimore detective.
#15- "The 13th Floor"
A 15-year old girl falls to her death from the 13th floor of a building. While investigating her suicide, Fisher and Cassady discover that girl was the victim of cyberbullying. The CIFB are soon able to trace the bullying back to three classmates of hers. When the last message sent to her is reveal to have to told her to commit suicide and a specific location of where (which is the same location which she died), Roland and Ortiz try to have the three teens charged with manslaughter. Meanwhile, Boyd, long with her daughters, move into a new apartment after the fire.
#16 - "Arranged"
A 17-year-old boy is shot to death while walking home late one night and the CIFB is later stunned to learn that the perpetrator was a 15-year-old girl. The CIFB then discovers that the girl's family had a tradition in which every woman had to get married on their 16th birthday, no ifs, ands, or buts about it; and that her parents were forcing her to marry the boy on her 16th birthday, which was only a week away, despite the fact that she did not know him. Even worse, the girl went to Social Services, but since there were no crimes being committed, no signs of abuse, and the fact that arranged marriages in juveniles are not illegal, Social Services turned a blind eye and told her to "suck it up and tough it out until you turn 18, then you can divorce him." As the CIFB prepares to charge her as an adult, it is discovered that he raped her, turning the case in a new direction.
#17 - "Reckless Abandon"
When a 12-year-old homeless child with no name is found dead left in a trash can, Detectives Boyd and Smith take the case and try to identify the unnamed victim. However, it is harder than they thought when try to retrace the victim's last steps. However, a break in the case by an anonymous caller gives them the best lead to a broken foster care agency. Boyd thinking about her children is focused to try to find out the intent of the boy's murder. However, everything is turned around when the CIFB uncover a link between the boy, the agency, and Alistair Weyden (guest star Kelsey Grammer), a powerful media mogul and host of Weyden On Point political talk show who unbeknownst to the squad has beef with Smith and is trying to keep something stay secret.
Meanwhile, Ortiz calls in a old friend, Jasmine Stern, who is a Children's Rights activist to help her and the detectives to learn more about the shady foster care agency and ponder is more children like their victim is being victimized by the agency's broken system and see if Weyden knew and tried to keep it quiet.
#18 - "Far from the Right"
A political cloud is storming up around Miami when a city councilmember is found dead in an elevator. The CIFB are put in to investigate the complicating murder. However, as they try to find more details about the murder, they stumble upon a conspiracy deep that leads them all the way to the governor's office. And when they discover the governor is linked to this bridge scandal that is connected to the murdered councilmember, who tried to cover it up, the CIFB and the district attorney's office is going to be in a nasty fight against the governor that will shake the entire state of Florida.
Meanwhile, Roland ponders should he indict the governor for obstruction while it puts Roland against his boss, Miami District Attorney Derrick Moore. The CIFB are frustrated even more when Weyden (guest star Kelsey Grammer) tries to dirty up the squad for their investigation in this case. Smith feels Weyden is seeking revenge against them after they exposed the 12 year old boy who died in the trash can was Weyden's illegitimate child.
First appearance of Laurence Fishbourne as District Attorney Derrick Moore.
#19 - "Taking Points"
Detectives Kinney and Cassidy probe the death of a undercover DEA agent who has been inside a drug smuggling ring that has been disturbing a special breed of heroin. Detectives Fisher and probe a user's death and uncover mysterious drugs. Fisher ponders if their case is connected to Kinney's, so Fisher seeks help from a emerging FBI forensic specialist, James Brewer (guest star Jesse Plemons) to find the connection. Meantime, Harper wants to know the past Smith has with Weyden after Weyden continues spreading dirt online. Boyd is having nightmares of her stabbed and fire and seeks help from Dr. Gyson and Boyd's daughters, Ella and Samantha stay with their father, they are shocked and found out their father are not their biological father.
#20 - "Broken Public"
Weyden (guest star Kelsey Grammer) continues spreading his filth and reveals to his audience a interview with a former CIFB informant who exposes the mishandling of a doctor's controversial murder case ten years ago Boyd and Harper did. When Weyden releases it through the public, it reaches a huge outrage at City Hall and at the District Attorney's office. Now the CIFB has to reexamine the case, but when Internal Affairs want to handle the case and see how the CIFB screwed up. Moore (guest star Laurence Fishbourne) wants answers. Roland and Ortiz have their hands tied trying to thread who to trust in this mess. However, Weyden won't stop until CIFB is done. Smith and others try do something to charge Weyden. However, CIFB careers are put on the line. The city is turned upside down in the police's motives, and in the end Weyden wines up dead and lying on his body a note signed from "Watchdog".
Season Nineteen (2030-2031)
#1 - "Family Reunion (Part 1)"
The team try to find Weyden's killer. The next day, Boyd's daughters, Ella (Sterling Jerins) and Samantha (Mckenna Grace) skip to school to find their biological father, Bobby Williams (Dylan McDermott) who is a FBI agent. They did not know their mother had relationships with their father before and after she was married to a man who believe was their father. Their long affair ends and Bobby move away. They find their father before Boyd found them. At school, Boyd pick up her daughters and spot Bobby as he save a teenager girl who about to kill herself by run over in the school bus. Fisher found out Bobby has save the girl's live but he found out Bobby is the father of Ashlee's daughters.
At the end, when Ashlee talk to Bobby about letting him seeing his own daughters. Before a man run to the CIFB and asking help when he got shot and chase. Bobby told Ashlee, that man is his brother.
First appearance of Dylan McDermott as Agent Bobby Williams
#2 - ''"Eye for an Eye (Part 2)"
After helping Bobby's brother and get the bullet out of his stomach. The team think Bobby could be Weyden's killer when the gun who shot Weyden is Bobby's. Bobby told Ashlee, his gun was stole when the night Weyden was killed. Fisher is not sure to trust Bobby when Bobby and Ashlee's older daughter, Ella is kidnapped after school club. With the killer who is chasing people and holding Bobby's gun, can Fisher trust Bobby?
#3 - "Hours (Part 3)"
Fisher, Boyd and the team try to find Ella and her kidnapper before the kidnapper kills Ella. Fisher found out the kidnapper is Weyden's killer and who stole Bobby's gun to shot Weyden. Bobby worried his youngest daughter, Samantha and try to protect her. Smith and Harper found out Bobby take Samantha and worried what he going to do but found out Bobby planning to see Ella's kidnapper and let her go. Meanwhile, Michael Lytar, a new tech analyst joins the CIFB, to work with Clara Lewis.
At the end, Ashlee reunited with Ella, Samantha and Bobby. At home, Ashlee thanks Bobby for his help. Bobby and Ashlee then kiss, apparently reconciling their relationship.
First appearance of Tom Welling as T.A. Michael Lytar. 
#4 - "Booze"
Things slowly start to return to normal for the CIFB. Then Harper then takes charge of a case involving a drunk driving traffic accident in which his eldest son, A.J., is a passenger in on of the cars. A.J. miraculously sustains nothing more than a broken arm, but many of the other occupants of the three involved cars are not so lucky, including three who are killed in the accident. When it's revealed that the car A.J. was in was the car that caused the accident, and the driver is nowhere to be found (havng fled), the CIFB, the FBI, Roland and Ortiz appeal to him to ID the driver, who is one of his best friends, Neil Ganz. However, in court, A.J. refused to turn on his friend, prompting the case's judge to throw him in jail for contempt. Harper must then convince his son to do the right thing.
#5 - "The Line"
After three criminal let off on legal technicalites are found murdered in a week, D.A. Moore urges the CIFB to investigate. The trial leads back to a group of former and current police officers who have taken up vigilante methods to clean up the streets. Meanwhile, Dupree helps the grandnephew of her old babysitter, who has been falsely accused of rape (the victim had mistakenly picked him out of a police lineup) and Kinney and Lytar are able to help her uncover DNA evidence that would prove his innocence. However, before this becomes public knowledge, the crooked cops murder the boy and it becomes a personal issue for Dupree, who resolves to take the group down once and for all.
#6 - "DNA"
Boyd visits Carla, Roland's ex-wife and talking about their children. After visiting, Boyd visit Roland and look at old case. Samantha was a witness to her babysitter was stabbed to death when she was 4 years old. The case remained unsolved for years. When the CIFB catches a suspect in a strikingly similar killing,  Ashlee tells Bobby about Samantha's babysitter's murder and their daughter is a witness. Ashlee and Bobby try to protect Samantha who know about witness of her babysitter's death. Fisher shocked and found out his niece got arrested for accidentally shooting her cousin's friend after thinking he was trying to mug her. Can ADAs Roland and Ortiz can help Fisher and his niece and prove it was an accident?
#7 - "Gravity"
Detective Smith and Sergeant Harper take the case of tracking down a black widow titled "Lady Embolism" due to her game of marrying sick elderly men and then killing them with an syriange full of air. Elsewhere, Kinney and Lytar decide to set Fisher up on a blind date with out his knowledge.
#8 - "Trial By Fire"
When the CIFB's good friend and colleague Isabella Curry, is implicated in the murder of her ex-boyfriend who turns up dead beside her in bed, she is arrested for his murder and despite her claims of innocence, DNA evidence seems to prove her to be the killer. When all seems lost, it's revealed that the DNA evidence was actually tampered with and overwritten to make it seem like her, leaving the detectives to just find how, who and why.
#9 - "Fire With Fire (Part 1)"
When a mob boss's son was murdered along with his girlfriend. The team found out FBI was leading and following the mob for years. The next day, the mob boss's wife was killed in a car accident. Fisher and Boyd found out Bobby was one of the FBI agents who was following the mob boss's older son, who raped and murdered Bobby's youngest sister years ago. Ashlee found out the father of her daughters could be next target after the mob caught him and try to kill him.
#10 - "Mob Crime (Part 2)"
ADA Roland and his two daughters, Ashley and Hayley has been kidnapped by the mob. The team try to search for Roland and his daughters and worried they could be next victim from the mob. With Bobby's cover blow out, Fisher and Ashlee took the life to protect Bobby from the mob and worried the mob could come for them. The war between mob and police is getting very toughter.
#11 - "Seeing Things"
ADA Roland find himself in trouble after learning about Bobby and how to become a FBI agent. Roland found out Bobby become private investigator before become a FBI agent. Roland follows a detective who found out having affair with his partner's wife years ago. But Bobby found out what Roland has been doing and the affair. Roland's future as an ADA then becomes danger when he is being sued for invasion of privacy by the detective who found about his affair.
#12 - "The Missing"
Ashlee worried Bobby has gone missing after visiting his boss. Ashlee found out Bobby is looking for a Russian killer and later, Bobby has been kidnapped and locked in the meat locker by the killer's son who wanted revenge for locking up his father months ago. Ashlee try to find Bobby and his kidnapper. Roland's daughter, Ashley has gone missing after her friend's party. Fisher and Harper try to help Roland and Carla to find Ashley.
#13 - "Missing and Found"
The detectives try to locate Bobby and Ashley by any means nessecary as well as track down the killer. Things become complicated, when the killer starts targeting the team and those they care about. Harper after being shot at with his four chldren present, then puts out an APB for the killer.
In the end, Bobby and Ashley are found, and Harper kills the Russian and paralyzes his son at the same time.
#14 - "Seeking Justice"
After Bobby's partner is killed in an undercover operation gone wrong, Boyd becomes worried her relationship with Bobby is faltering after the death of his partner who is push her and himself to find the killer and she worried the most is Bobby's temper. Also Detective Smith's girlfriend becomes worried about her best friend after her husband beat her up so she asks Fisher, Harper, Kinney and Smith to help.
#15 - "Vantage Point"
A long range of sniper attacks hit the Miami area, resulting in the deaths of 4 people. Due to the similarities to a sniper rampage case he investigated years ago, Kinney decides to take charge of the case. However this puts a target on his back, as the sniper targets him while out with his 11-year old son and 7-year old daughter. The CIFB must uncover the sniper's identity before Kinney or anyone else is hurt or killed.
#16 - "Hawk"
John Hawkins (special guest star David Keith), now an FBI Agent, returns to the CIFB and is partnered with Bobby. They and the team investigate when the arson of a mansion uncovers a possible terrorist plot against the visiting Israeli Ambassador. Meanwhile, Dupree's husband, firefighter Damon Dupree (guest star Darius McCrary) approaches her with a pressing matter: becoming parents.
Special Guest Appearance by David Keith as Detective/Agent John Hawkins
#17 - "The Code"
The team found out a unsolved case and a missing goverment access code. Fisher, Harper, Smith and Boyd visit Lambert about the missing code but they discover Bobby and Hawkins got here before them. They found out Lambert worked with Bobby years ago to find the missing code after a robbery at New York City. Lambert temporarily join the team with Bobby and Hawkins help to find more missing code at Miami. Roland told Carla, he love her in his life and wanted her back and Dupree thinks about becoming a mother.
Special Guest Appearance by David Keith as Detective/Agent John Hawkins and Mary Steenburgen as Lt./Cpt. Erika Lambert.
#18 - "Killjoy"
A college student is found dead in a classroom. When the CIFB investigates, they discover that she had been abusing perscription drugs in order to stay awake. However, they also discover that the drugs she had taken before her death had been laced with drain cleaner, making her death a homicide. The result unravels a fierce rivalry, a bitter spurned love interest, and a hard-nosed teacher.
#19 - "Boom!"
The CIFB investigates an apartment building explosion which killed 5 people, including a six-year old girl. When it's discovered that the boiler of the building had been rigged with C4, the CIFB uncovers a scheme of insurance fraud and embezzlement by the conniving owner of the building.
#20 - "Navy (Part 1)"
In the first of a three-part NCIS crossover finale Agents Leroy Jetro Gibbs and Tony DiNozzo (Special Guest Stars Mark Harmon and Michael Weatherly) arrive in Miami and team up with the CIFB as well as Hawkins and Bobby to find renegade Naval Officer Ian Jacobs (Julian McMahon) who has been killing off Muslim and Arab people at random.
Special Guest Appearance by David Keith as Detective/Agent John Hawkins
#21 - "Navy (Part 2)"
The team closes in on Jacobs who then starts targeting other Miami PD officers and the team's families' to send a message to back off. In the end, Smith's girlfriend Officer Shannon Yates (guest star January Jones) and Dupree's husband Damon are both wounded by a car bomb, and Jacobs and five hired hands storm Harper's home and kidnap his two youngest children (10-year old Keith and 6-year old Georgia), leaving a message for Harper with his wife Deborah and his two oldest kids (17-year old AJ and 14-year old Tessa) and the team to come and find him.
Special Guest Appearance by David Keith as Detective/Agent John Hawkins
#22 - "Navy (Part 3)"
As Yates and Damon lay in the hosptial to recover, Harper recieves the news of his children's kidnapping. Gibbs, having lost a child himself, pushes himself, DiNozzo, Bobby, Hawkins and the CIFB team to find the kids before they are excuted live online and Jacobs declares all out war on the Muslims and Arabs living in Miami. With the help of Lytar and Gibbs' friend Abby Scuito (Pauley Perrette), they are able to narrow down the location of
Eventually, the team rescues Keith and Georgia, all of Jacobs accomplices are killed in a massive shoot out and Harper, Gibbs, and Bobby corner Jacobs, who then commits suicide by setting off a massive amount of C4 strapped to him.
At the end, Smith and Dupree visit Yates and Damon in the hospital and Hawkins and Bobby are re-assigned to Washington, leaving Bobby to leave Boyd, Ella, and Samantha again, with the promise of keeping in touch.
Special Guest Appearance by David Keith as Detective/Agent John Hawkins
Season Twenty (2031-2032)
#1 - "Murder at Miami (Part 1)"
6 months after last season's finale, Boyd's teacher from high school is found murdered at his own home. The team found out the teacher's daughter, Helen (Alexandra Daddario) is in Washington. She decides to go to Washington to find Helen with the help from Fisher and Smith. At the end the three find Helen at her house, but also discover she is an FBI agent and are shocked to see Hawkins and Bobby at Helen's house.
Special Guest Appearance by David Keith as Detective/Agent John Hawkins
#2 - "Murder at Washington (Part 2)"
Boyd tells Bobby she's is in Washington to find Helen to tell her about her father's death but Helen overhear  their conversation, forcing her to tell Helen as well. Helen realizes who's responsible: a stalker who stalked her years ago started again and was warning her, he would go after her father. The next day, Fisher, Smith and Boyd try to find the killer at Washington but this results in two of FBI agents being shot to death. Smith, Boyd and Fisher worried Helen, Hawkins and Bobby could be next.
At the end, Boyd captures the killer when he try to shoot Bobby and Hawkins. Helen thanks Fisher, Smith and Boyd for their help to captured her father's killer. Boyd find Bobby when the doctor look at his shoulder after getting shot and the two share a hug while Smith and Fisher watch her.
Meanwhile, for their leadership in taking down Ian Jacobs, Harper, Fisher, Boyd and Dupree all recieve promotions from the higher-ups of the department, which Fisher and Boyd learn upon their return.
Special Guest Appearance by David Keith as Detective/Agent John Hawkins
#3 - "Dead Calm"
A body of 11-years old girl found in the river having drowned. While intially though to be an accident, the team discovers a blow to her head, meaning she was murdered. out somebody push her into before her death and it is very difficult to find the person. Meanwhile, Smith and Boyd have a talk about her relationship with Bobby.
#4 - "Black Swan"
At ballet class, where Ella and Samantha attend after school, a young teenage girl falls from her death during an audition for the lead part of Swan Queen Ballet, when her harness wire snaps. The team suspects one of girls who was at the ballet club is the one who killed the girl and trying to win the highly coveted lead role. Detective Smith's girlfriend accuses Boyd to having an affair with Smith due to their seemingly close relationship, until Boyd tell Shannon that they were just talking about Agent Bobby Williams. Smith worried about Boyd and advises her to tell her daughters the real truth. Boyd then lets Roland and Carla to look after Ella and Samantha while she meets with somebody.
At the end, after she and Fisher arrest the killer of the dead girl, Boyd arrives home to found the door is open. she enters the kitchen and is shocked to see Bobby, back in Miami after Washington for 6 months.
#5 - "Fatal Attraction"
A man is found shot to death in an alley. The CIFB quickly traces the killing back to his wife who it's discovered he'd been cheating on with  a married woman. Fisher and Ortiz is strike up an attraction with each other during an arguement when Ortiz refuses to allow Fisher to interrogate the woman, when the detective starts to take a personal role in the case. Roland worried about Fisher and Ortiz and the case who is push them too far. Boyd, unsure of how to deal with her ex, tries to hide her and Bobby's relationship from their daughters. But when Ella coming back home after having coming down with the stomach flu, Ella saw her mother and father kiss each other.
#6 - "Obsessed (Part 1)"
Roland told Harper, Cassady, Smith and Boyd about Fisher and Ortiz after the case when a woman kills her boyfriend. Fisher gets upset at Ortiz for not letting him to interrogate the suspect when everytime, Fisher asks Ortiz. When Roland let Fisher to talk the suspect, Ortiz became furious and told Fisher to leave. Roland asks Ortiz to apologised to Fisher. When Ortiz went Fisher's home to apologize, their attraction end up grows.
Meanwhile, the CIFB, tracks down three escaped prisoners: Curtis Jones, a bank robber, Enrique Saldivar, a big-time drug dealer, and Willy Bradford, a serial rapist/murderer.
#7 - "Obsessed (Part 2)"
The CIFB try to find the escaped prisoners after they rob several establishments and then rape a 17 year-old girl. TA's Lewis and Lytar must push their skills to the max in order 
Meanwhile, the day after Fisher and Ortiz sleep together, Bobby discovers their tryst by accident. When in the car park Bobby talks to Fisher, telling that he must keep a level head about his night with Ortiz. When Fisher told Boyd about him and Ortiz, Boyd told Fisher, Bobby told her and she ask Fisher to not tell Roland or the rest of the team.
#8 - "Good Blood"
A teenage boy is shot in a bank robbery. The CIFB are force to work with FBI to catch the killer who shot the boy and kill six teenagers. Meanwhile, Bobby and Boyd continue to rebuild their relationship, and Fisher and Ortiz struggle with the secret of their new relationship.
#9 - "The Office"
Boyd witness a murder of a teenager girl at school while she picks up her daughters from elementary school. The CIFB and the FBI investigate the girl's death asks Boyd about the girl's death. The FBI asks Fisher if they can hide Boyd and used somebody's identity that the killer can't find her. Bobby reacts very negatively about Boyd using somebody's identity and working as a FBI Agent. Fisher and the team worried about Boyd and the killer of young girl. Things get even more dangerous when Harper and Smith found out the killer is searching for the witness against him and now, he is after Boyd.
Meanwhile, Roland and Carla's relationship grown after their daughter, Hayley, is brutally stabbed while trying to stop her friend's ex-boyfriend from beating her. Fisher and Ortiz become worried about their secret relationship, and soon they found out Bobby told Harper and Smith about them by accident after argument about Boyd's safety.
#10 - "8 Hours"
ADA Roland, Carla and Ashley coming to get Hayley home from the hospital but they and five other people get trapped in the elevator and targeted by a crazed bomber who holds them all for ransom unless his demands are met in 8 hours. The CIFB and the FBI must work together to get Roland, his family and the other people out of the elevator before the time expires and the bomb blows.
#11 - "Seven"
A gunman shoots and kills 6 people at random and wounds a seventh. The CIFB and FBI must investigate and protect the final victim, who is being hunted by the killer to finish his masterpiece. Meanwhile, Dupree accidentely uncovers a conspiracy to bring down Bobby from within the FBI. Smith and Kinney worry for Harper when he does not turn up for work, only to find out something surprising.
#12 - "Who I Am?"
The CIFB worried Harper when he gone missing for 2 weeks now. Boyd and Bobby later find Harper outside their home, unconscious. Harper wake up in the hospital and don't know who he is and found out he has a memory loss. Fisher, Smith, Kinney and Roland try to help him to found out who is he. Durpee told Boyd about the conspiracy about somebody bring down Bobby from FBI. Boyd and Durpee team up to found the person who is planning to bring down Bobby from the FBI.
#13 - "Conspiracy Theory"
After the last episode, Boyd and Dupree planning to hide Bobby so nobody could find him after a person who the detectives arrested informed them about Bobby's dangerous past. Fisher, Roland and Kinney try to help Harper and try to get him to remember what happened to him.
At the end, Boyd and Durpee got a call from a woman (Connie Nielsen) an ex-FBI agent who is the one who wanted to bring Bobby down. Boyd and Durpee saw she has kidnapped Bobby taken him hostage. She told Boyd and Durpee to find a black car. Boyd and Durpee find the black car and no soon do they do, they are ambushed, kidnapped and put in the trunk.
#14 - "The Set Up"
Boyd and Durpee found out a ex-FBI agent, Michelle Rampart (Connie Nielsen) set them up and believe she has Bobby. She did not tell Boyd and Durpee about Bobby and lock them. The team worried about Boyd and Durpee when they fail to check in. Harper, mena regains his memories and found out Boyd and Durpee know about Bobby's disappearance.
At the end, Boyd and Durpee found out Bobby is alive and has escape before they was kidnapped. Boyd and Durpee run to Boyd's house and find Bobby with Carla with Ella and Samantha, which instigates a happy family reunion, after which Bobby decides to get out of FBI field work for a while.
#15 - "The Boss"
ADA Roland found himself faced with a difficult choice when Moore asks him and Ortiz to help his son Leroy after he's arrested for his girlfriend's murder, believing his son has been framed. Boyd asks Bobby to visit Michelle Rampart (Connie Nielsen) and asks her about the kidnapped and her plan in prison. Harper returns to his family
#16 - "Teacher's Pet"
Hayley's algebra teacher is arrested under the accusation of sexually assaulting a 15-year old teenager girl. When the truth comes out, his name is cleared and Roland and Ortiz let him go. But one day, Hayley and two of her friends find the girl stabbed, beaten up and sodomized. M.E. Anderson concludes the girl died from blood loss and blunt force trauma. The teacher goes on the run and and the CIFB tries to locate him.
One night, Hayley is brutally attacked by the teacher in the school when while serving detention, before Harper saves her by shot him in the head.
Bobby told Boyd, Rampart was mad at him for costing her job when he was a rookie agent and found out she was accepting bribes and ratted her out to the higher ups.
#17 - "Remember"
A small blonde hair on Harper's coat is Rampart's hair. Harper and Durpee visit Rampart and ask her about the hair. Rampart wanted Boyd and Bobby not Harper and Durpee. The next day, Bobby and Boyd visit Rampart and told her if she attack Harper. But the DNA is found out, the team need to force Rampart to tell the truth about the night when Harper attack. Carla's sisters, niece, nephew and aunt come to visit.
#18 - "Clown"
A clown in the circus found dead after hit in the head. The team found out it could've been an accident or a murder but find it difficult to find the official cause of death due to the clown's obesity. The team worried Rampart's plan to kill one of their family and Rampart's plan getting dangerous, everbody is worried about their family.
#19 - "Time and Time Again"
A shooting leaves two Miami PD officers and two teenage white boys dead. The case takes a surprising turn when it's revealed that the boys were both a part of a violent white supremacy group infamous for targeting cops. Things get heated when I.A. officer Henry Fowler (guest star Ed Harris) tries to take over the case to see if the shooting was justifyed, putting him at odds with the CIFB as well as Roland and Ortiz.  
#20 - "Falsely Accused"
Smith and Cassady take lead on a case of a homeless man who apparently sexually assaulted two teenage girls. At first the man is vilified by the press as a monster, but when Gyson notes that several things in the girls' story don't add up, the case turns into a he said-she said case, and this forces the detectives to seek the help of William Sinpar, the ex-professor from "Wrongly Accused" who is serving 20 years for running over and killing the ex-student who falsely accused him of rape. Meanwhile, Roland finally finds out out about Fisher and Ortiz, and while shocked, decides to allow it. Meanwhile, Lytar decides to train to be a detective and Boyd found out Rampart escape from prison.
#21 - "Countdown (Part 1)"
The team scrambles to locate Rampart after her escape and finds that she has targeted each of their families one at a time, causing them to scramble to get them to safety. While getting Dupree and her husband to safety, Boyd and Kinney spot Rampart in a car and go after her on a lengthy car chase. When they finally corner Rampart, she tells them it's not over yet, before detonating a bomb in her car, killing herself and grieviously injuring the two detectives.
#22 - "Countdown (Part 2)"
With Boyd and Kinney struggling for life, the rest of the CIFB tries to make sense of what Rampart meant by "it's not over yet". They discover she has planted multiple bombs in Miami's FBI headquarters, they then set about evacuating the building and clearing the streets. And despite that the close calls and time elapsed, they manage to find all four bombs and disable them.
In the end, the CIFB learns that Boyd and Kinney have pulled through, but neither will be able to return to active duty for quite a while.
Season Twenty-One (2032-2033)
#1 - "Unfinished Business"
Bobby and his new partner found Roland's niece, Gemma is found stabbed by a robber who is run away from the robbery and later dies in the hospital. Roland and his family struggle with this devestating loss while the team, with new trainee Lytar, try to find Gemma's killer and find out the motive.
Tom Welling joins the main cast as Tech Analyst Michael Lytar.
#2 - "Welcome Home"
Boyd are shocked to see her sister, Danielle, having dyed her hair red and she visits her nieces and planning to stay with her sister as she. Bobby worried letting Danielle stay with him and her giving her past encounters. Also, while taking case when a man's daughter was raped in a school gym, Fisher worried about Roland's state of mind after the death of his niece.
#3 - "Riverside"
When Mafia boss Tony Marcheli turns up in a cement overcoat, the CIFB must dive deep into the world of the mob to find his killer. Along the way, the team uncovers a huge money laundering scheme inside Marcheli's nightclub, and suspects his right-hand man overthrew and murdered him to take control of it.
Meanwhile, Harper and Dupree visit Kinney at his home as he continues to recover and spend time with his children.
#4 - "Sister"
An 11-year old girl found strangled to death. Upon investigating Smith worried her older sister, who has shown under-developmental tendancies might have killed her. He and Cassady convince Ortiz (who has temporarily taken over as Roland has taken time off to grieve for his niece) to look into the girl's history for
With Bobby away, Boyd, still recovering at home, promises to get rid of Danielle before he returns. But when Boyd spots Danielle who has dyed her hair, black she tells her she is staying to help care for her and she is not going to leave her.
#5 - "The Cop (Part 1)"
Fisher, Harper, Smith and Cassady team up with one of Fisher's old colleagues, Orson George (T.R. Knight), from Boston to find a New York cop who has been missing for 48 hours. The investigation leads to a possible ring of corrupt cops. At Gemma's funeral, Carla finds a pregnancy test in the bin and asks some of the attendants people if pregnancy test are theirs. They are all surprised to find out the pregnancy test is Dupree's. Dupree admits that's she is pregnant with her and Damon's first child and is very excited .
#6 - "Time Left (Part 2)"
It is race against time for Smith, Harper and Cassady to rescue Fisher after being kidnapped by the dirty cop. When Dupree starts worrying about her pregnancy, a schoolgirl asks her to arrest her teacher, for allegedly raping her at school. Dupree asks Lytar (due to his youthful looks) to be undercover as student at the school where the schoolgirl's teacher work.
#7 - "The Lady In The Lake"
Smith and his fiancé Shannon discover the body of a dead woman in a lake. Smith, Lytar and Harper try to found out what happened to the lady before she ended up in the lake. Boyd and Kinney continue working on getting their strength back and returning to active duty. Dupree seeks out the advice from Carla and Harper's wife Deborah about being a good mother.
#8 - "Red Blood"
A 17 years old boy is arrested for killing his father, mother and sister. Oritz and Roland found out about the boy's past sexual abuse, as well as his sister's, by both of their parents and try to get some sort of deal. Ortiz end up getting the case alone after Roland has a breakdown in court, leading to his recusal. Boyd thinking about getting rid of Danielle after she begins acting weird and changing her look. Damon is thrilled when he learns Durpee is pregnant with their child.
#9 - "The Good and The Evil"
A unsolved case emerges when the remains of Peter Winstead, a 23-year old man who was murdered 11 years ago are exhumed. Devin's mother, Sandra Winstead (Jessica Lange) blamed the CIFB for failing for sending her son's killer to prison. When looking up Peter's murder, Cassady and Smith find out Harper was lead detective the case, but then something happened. It was forn found out Peter's killer was let go after Harper lost control and beat the murder confession out of him, forcing the department to drop the charges. Sandra Winstead has since held a grudge against him.
#10 - "Number of the Beast"
Boyd wants to returning to active duty, but Danielle is worried about her health. Danielle need her sister's help to find a pregnant woman who she saw when she was 13-years old screaming that her child was the devil's child. They are trying to found out the truth behind the now-grown up baby.
Kinney is rushed to hospital after falling ill from an infection when visiting the CIFB to request re-enstatment. Fisher worried about Kinney's heath and strength. Dupree and Cassady apprehend a shoplifter that points them in the direction of a whole ring of retail thefts. Harper worried about Sandra Winstead (Jessica Lange), when he visits her, she refuses to forgive him and says she will never forget how he denied her justice.
#11 - "The Return"
Boyd continues to prep for the evaluation to return to active duty and finds out about Kinney. She visits him to find that he is working on getting his strength again. Cassady teams up with Fisher and Harper to find a young girl who is taken away by her father to get back at wher mother. Dupree goes to a doctor's appointment about her pregnancy.
#12 - "New Orleans (Part 1)"
Fugitive killer, Andrew Sanders who escaped prison in New Orleans, Louisiana following Hurricane Katrina continues his killing spree in Miami. The CIFB teams up with New Orleans Detectives Dallas Parker (Brendan Fraser) and Marcus Queen (Isaiah Washington) who were the ones to capture and imprison Sanders to track his movements, and try to stop him from killing again.
#13 - "New Orleans (Part 2)"
After Sanders escapes back to New Orleans, Fisher, Cassady, Smith, Lytar, and Dr. Gyson travel to New Orleans with Parker and Queen, and meet their fellow detectives in New Orleans's Major Criminal Case Investigation Squad (MCCIS). Together, they bring in several members from Sanders' family (who are trying to protect him) and eventually find out that he intends to kill the one person he blames for making him into a killer: his hard-nosed father.
#14 - "Grave Thoughts"
A politician's two young sons are kidnapped and buried alive. The CIFB must scramble to locate them within 36 hours before the container they're buried in runs out of air. Meanwhile, Boyd and her sister continue to have disagreements until Dante Vaughn (special guest star James Marsden), now a Sergeant himself, drops by to see Boyd and steps in to settle things between the two. Also after a three month leave of absense, Roland returns to work alongside Ortiz, just in time to catch this case.
Special Guest Appearance by James Marsden as Det/Sgt. Dante Vaughn.
#15 - "Run"
Detective River Landon (Jonathan LaPaglia) and his wife Terri (Kerry Washington) return and turn to the CIFB for help when their son Zeus (Jaden Smith), who was released from juvenile detention two months early for good behavior, goes on the run after being wrongfully implicated in a gang-related homicide. Boyd and Kinney, now recovered for the most part, begin her proceedings to return to active duty. Also, former D.A. Walter Alston (special guest star John Mahoney) returns to see everyone and gets caught up with current events. 
Special Guest Appearance by John Mahoney as District Attorney (ret.) Walter Alston.
#16 - "Remember the Times"
Boyd and Kinney finally return to active duty and the CIFB throws a party for them, with Vaughn and his wife Tricia, Kinney, and Alston helping. The CIFB, plus Roland and Ortiz then get caught up with their old friends and reminice on all the good times they've had together and the bad as well, including their promotions, the satisifaction of justice from the convictions of the worst crooks the departures of their friends. They also reminice about the deaths of their colleagues, such as Sgt. Juarez, Detectives Carlson and Crucious, and ADAs Harris and Meyers.
At the end, as they congratulate themselves for their accomplishments, April Haynes makes a reappearance  at the door to their office.
Special Guest Appearances by James Marsden as Det/Sgt. Dante Vaughn, Allison Mack as Tricia Vaughn, John Mahoney as District Attorney (ret.) Walter Alston, and Kristen Bell as Det. April Haynes.
#17 - "Navras"
Haynes returns to the CIFB announce that she and her fiance, Dr. Jeffrey Frost (Dax Shepard) have returned from Haiti and set a wedding date. She gets caught up with all of her friends and is especially elated to learn about everyone's promotions, Dupree's pregnancy and Fisher's new love with Ortiz. She does however clash with young rookie Lytar, over several petty differences.
The team then must stop a mysterious hacker who has breached the Miami PD's database and is stealing copies of the profiles of every single cop on the force. Haynes must put their petty differences aside and use their T.A. skills to track the hacker down before it's too late.
Special Guest Appearances by James Marsden as Det/Sgt. Dante Vaughn, Allison Mack as Tricia Vaughn, John Mahoney as District Attorney (ret.) Walter Alston, and Kristen Bell as Det. April Haynes.
#18 - "Days and Hours"
Boyd worried about Danielle when she goes missing. she learn found out Danielle has not been to see their parents. Vaughn (having transferred back into the CIFB) and Harper try to help Boyd to find Danielle. Haynes and Roland set Fisher and Ortiz a date.
At the end, after finding Danielle who was visiting Lambert, Boyd got a call from Bobby and say he will coming back in a few weeks.
Special Guest Appearances by James Marsden as Det/Sgt. Dante Vaughn, Kristen Bell as Det. April Haynes, and Mary Steenburgen as Lt./Cpt. Erika Lambert.

#19 - "Stay"
A young woman found stabbed in the stomach and rush to the hospital. Smith, Kinney and Fisher found out somebody stab her of a revenge. Vaughn and Roland found out she here a boyfriend is a Russian mobster's son and she had recently ended their relationship before her death, makeing him the number one suspect.
Lambert and Captain Griffith come to visiting the CIFB. Haynes announces that she intends to return to the CIFB after her wedding. Harper finds himself in a tight spot when he clashes with Derek Winstead, the older son of Sandra Winstead (Jessica Lange) who blamed him for his young brother's murder case going out the window. Boyd becomes worried about Danielle and her plan of visiting before Bobby coming back.
Special Guest Appearances by James Marsden as Det/Sgt. Dante Vaughn, Kristen Bell as Det. April Haynes, Mary Steenburgen as Lt./Cpt. Erika Lambert and Danny Huston as Cpt. Russ Griffith.
#20 - "Blind Love"
Vaughn and Smith team up to find Tricia and Shannon after they was kidnapped by a killer who enjoys killing men's wives, girlfriends or fiancés. Vaughn and Smith become increasingly worried about their safety as the sea. Lambert told Boyd, when Danielle visit her and ask her about her sister's past and family. Dupree and Damon go to the doctor and find out their child is a girl.
Special Guest Appearances by James Marsden as Det/Sgt. Dante Vaughn, Allison Mack as Tricia Vaughn, and Mary Steenburgen as Lt./Cpt. Erika Lambert.
#21 - "Past Encounters"
Lytar completes his training and is promoted to detective, just in time to take a case that hits him very close to home: a 8-year old boy is molested outside of a school, and the suspect is discovered to have driven a Catholic church van. Intially, Lytar suspects the priest, but Vaughn and Cassady prove otherwise, that it was actually a worker who'd done it. Later, Lytar reveals his harrowing experience as an altar boy to his colleagues, which led him to suspect the priest in the first place.
#22 - "A Time to Kill"
When a black father kills his daughter's rapists, who were white, on the courthouse steps after they end up acquitted and is put on trial for the killings, Roland and Ortiz are selected to prosecute. They, however, feel sympathy for the man, and try to cut a plea deal with him. When he refuses their offers, they, with D.A. Moore's help, decide to hand the case to the defense.
Meanwhile, on a quiet day, the CIFB helps Haynes with her wedding plans, and Dupree finds herself on desk duty as she enters her second trimester.
#23 - "Greatest Day"
Fisher's day off to having time with Ortiz end up going bad when Fisher's car gets stolen during his lunch break. Harper, Kinney, Boyd, Smith and Vaughn try to find the person who stole Fisher's car and uncover a major chop shop ring in the process. Meanwhile, Haynes, Dupree and Cassady try to ask Lytar's opinion on her choice of her wedding dress and cake.
At the end, Bobby finally returns to Boyd and Danielle left lonely and worried.
#24 - "Today Is The Life (Part 1)"
As the team gears up for April's wedding, a man is found brutally beaten in the city dump. He's identifyed as Zach Voight, the killer of Peter Winstead, which shakes Harper to the core. Due to him having many enemies, the CIFB goes on red alert on all of them, including the Winstead family. Also, Bobby and Fisher decide to propose to Boyd and Ortiz respectively, and Kinney, Smith, and Cassady, buy Dupree some baby clothes
At the end, as the men gets ready to have a bachelor party at Harper's house, Derek Winstead appears and shoots at Harper, but ends up hitting Bobby in the shoulder and Harper's wife Deborah in the chest, before running off.

#25 - "The Justice's Revenge (Part 2)"
Bobby and Deborah are taken to the hospital. Both survive, but Deborah is paralyzed from the waist down. Enraged, Harper puts the entire team on high alert and prioritizes capturing Derek at all costs, while Derek does whatever he can to avoid capture, including wounding two police officers, and a civilian in a shootout.
Meanwhile, Walter Alston announces his run for mayor of the city of Miami in next year's election.

#26 - "End of the Beginning (Part 3)
The chase for Derek Winstead continues as he hires mecrenaries to take out the CIFB. Haynes, Lambert, Griffith and even Agent Hawkins return in this last effort to stave off the hired hands and capture the unstable Derek. Eventually, Harper and Derek stand off for the last time, and Harper tries to convince him to give up his pursuit of revenge, as he'd already killed his brother's murderer. Derek refuses and prepares to shoot Harper, but the Lieutenant, havng discovered his family, including two young sons, shows a picture of them he got from his house and asks Derek to think about them. Derek hesistates for a moment, before finally breaking down and surrendering to the police.
The end comes with Bobby and Fisher finally proposing to Boyd and Ortiz respectively, and the whole CIFB (including former members) and their families, co-workers and loved ones attending April and Jeffery's wedding.
Special Guest Appearances by James Marsden as Det/Sgt. Dante Vaughn, Allison Mack as Tricia Vaughn, John Mahoney as District Attorney (ret.) Walter Alston, Kristen Bell as Det. April Haynes, David Keith as Det./Agt. John Hawkins, Mary Steenburgen as Lt./Cpt. Erika Lambert and Danny Huston as Cpt. Russ Griffith.
Guest Starring Sienna Miller as M.E. Emily Anderson, Allison Lohman as Forensic Specialist Isabella Curry, Angela Basett as Tech Analyst Claira Lewis, Laurence Fishburne as District Attorney Derrick Moore, Dylan McDermott as FBI Special Agent Bobby Williams,  January Jones as Officer Shannon Yates, Dax Shepard as Dr. Jeffrey Frost, Jonathan LaPaglia as Det. River Landon, Kerry Washington as Terri Landon, Jaden Smith as Zeus Landon, and Quvenzhané Wallis as Lindsay Landon.
TV Movies
#1 - "Justice: A Law & Order: Miami Movie"
4 years after the final episode, Walter Alston is running for re-election as Mayor of Miami. While making a speech at City Hall, an assassin makes an attempt on his life. His old friend Captain Russ Griffith, who has taken another job as Alston's personal bodyguard, sees this in time and takes the bullet, leaving him in critical condition. As Griffith fights for his life, Alston calls the CIFB into action once more, and both past and former members and allies return to track down the shooter and bring him to justice.
But after following a lead to an apartment, Ashlee get the shock in her life when she is attacked by the shooter and it's discovered that Ben Knox who one of the prisoners that had helped Boyd's brother Jake years ago and she is shot him down in End of the Road (Part 4) is alive. But where the truth is revealed, the CIFB are left in the big panic to find the shooter who happens to be just a hitman working on something bigger.
DVD releases
Universal Studios Home Entertainment holds rights for Law & Order: Miami. Almost every season with the exception of Season 16 has been released.
Critical Reception
Law & Order: Miami used to air on USA Network after Burn Notice every Friday night before it was switched to NBC. While it was on USA, Law & Order: Miami received overwhelmingly positive reviews.
| Seasons | Episodes | Rating |
| --- | --- | --- |
| 1 | 14 | 9.1 |
| 2 | 16 | 8.8 |
| 3 | 15 | 9.4 |
| 4 | 11 | 8.0 |
| 5 | 10 | 7.5 |
| 6 | 12 | 8.5 |
| 7 | 14 | 10.6 |
| 8 | 17 | 10.1 |
| 9 | 29 | 9.8 |
After the successful ratings the Season Nine finale received, it was announced by Dick Wolf that Law & Order: Miami will be switched over to NBC as an exclusive show. On June 25, 2021, Law & Order: Miami had its Season Ten premiere, which had an overall approval rating of 9.6.
| 10 | 18 | 9.6 |
| --- | --- | --- |
| 11 | 19 | 9.9 |
| 12 | 20 | 10.9 |
| 13 | 21 | 12.1 |
| 14 | 24 | 15.3 |
| 15 | 20 | 16.1 |
| 16 | 19 | 16.7 |
| 17 | 20 | 15.9 |
| 18 | 20 | 15.4 |
| 19 | 22 | 15.2 |
| 20 | 22 | 15.5 |
| 21 | 26 | 17.1 |
Metacritic
Season One: 71
Season Two: 76
Season Three: 75
Season Four: 82
Season Five: 68
Season Six: 64
Season Seven: 79
Season Eight: 70
Season Nine: 92 - universal acclaim
Season Ten: 86
Season Eleven: 78
Season Twelve: 69
Season Thirteen: 93 - universal acclaim
Season Fourteen: 93 - universal acclaim
Season Fifteen: 80
Season Sixteen: 74
Season Seventeen: 89 - universal acclaim
Season Eighteen: 85
Season Nineteen: 66
Season Twenty: 70
Season Twenty-One: 93 - universal acclaim
Community content is available under
CC-BY-SA
unless otherwise noted.