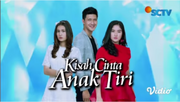 Kisah Cinta Anak Tiri is a Indonesia Television Series production by Sinemart
Plot
Diandra has a kind heart, is gentle and loving. He and his sister Elsa live happily with his father, Harun. But all that changed when Lena and her daughter Clara entered the lives of Diandra and Elsa because Aaron married Lena. Clara is a girl of Diandra's age who has temperament, likes bullying, is evil, is jealous and doesn't like anyone more than her. On the day of Aaron's and Lena's wedding, Diandra was accidentally locked in the bathroom. Clara and her mother both did not like Diandra and Elsa. The day passed, Lena and Clara continued to treat Diandra and Elsa unfavorably, differently when there was her husband. Because they both go to the same place, Diandra is often bullied by Clara and her two friends. He does not like Diandra who is kind and clever to be the center of attention and envy. Especially when Ben, a famous guy, rich, both began to be interested in Diandra. That made all the other students not believe him until Clara felt jealous of that.
Cast
Jennifer Paz

as Diandra (

Zoe Abbas Jackson

)

Eugenio Derbez

as Ben (

Aditya Zoni

)

Shelby Rabara

as Clara (

Ochi Rosdiana

)

Taissa Farmiga

as Shireen (

Icha Nabilah

)

Grace Fulton

as Yulia (

Dinda Mahira

)

David Koechner

as Harun (

Sultan Djorghi

)

Diane Lane

as Andini (

Annisa Trihapsari

)

Faithe Herman

as Elsa (

Richelle Georgette Skornicki

)

Amy Cheng

as Lena (

Sisca Magdalena

)

Courtney B Vance

as Tatang (

Achul Wiraperwata

)

Alanna Masterson

as Felly (

Adzwa Aurell

)

Jovan Armand

as Aldo (

Rizky Djanbi

)

Asher Angel

as Marcel (

Jeremie Moeremans

)
Jack Dylan Grazer as Ronald (Muhamata Youda)
Former Cast:
Sylvester Stallone

as Damar (

Anjasmara

)
Cast (Hindi Version)
Vrushika Mehta

as Diandra (

Zoe Abbas Jackson

)

Avinash Mishra

as Ben (

Aditya Zoni

)

Rashami Desai

as Clara (

Ochi Rosdiana

)
Trivia
Jennifer Paz and Shelby Rabara are Steven Universe cast members.