Kira's Finest Hour is a potential movie by user Our Green Tornado, based on several dreams she had and featuring a lot of underrated movies. It is based on the 2015 underrated movie Pixels and the 2018 movie Ready Player One with elements from the 2016 underrated movie The Angry Birds Movie. The Green Lantern bits are taken from the director's brainmade movie "Revolutionary Lantern Leyenar:Our War Game", the StarCraft bits are taken from several movie and cartoon moments the director has seen over the ages while the Star Trek bits and the Avengers bits are direct imports from the director's own imagination.
Plot
"The best fighters do not show off their anger."
"The wisest warrior wins without a battle."
"The flexible willow tree does NOT fight against the fierce wind—yet it survives."
"She who conquers her own mind is the greatest warrior."
"The mind is stronger than the flesh. It can defeat any opponent, no matter how strong."
The year is 2045, and humankind has opened up to space and met various alien species. Most of them are friendly towards the Earth while others are hostile. In order to defend Earth from the hostile aliens, Kira Kaiser, an ordinary 14-year-old girl is selected by the U.S Government as the Ultimate Weapon without her knowledge or consent. Her main enemies are the aliens from the planet T0M4T0(meant to be a reference to Rotten Tomatoes), whom she easily defeats using only her brain.
In brightest day, through blackest night,
No other gang shall shed their light!
Let those who try to stop what's right,
Burn like my power—Agent Kaiser's Light!
Starring
Notable Underrated Movies Club/Super Galaxy Underrated Movies Club Members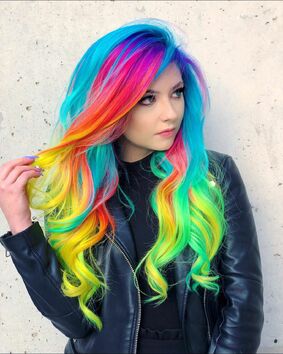 Kira Kaiser, Average Intelligence—The 14-year-old titular protagonist who lives with her older sister and maternal aunt in the Bird Alien District, and the youngest member(also the only 14-year-old) of a teenage group called the Underrated Movies Club(which later becomes the Super Galaxy Underrated Movies Club). She is a nerd, an outcast, a tomboy and a blonde punk who has dyed her hair many colors, and she was turned into the Ultimate Weapon against her will(i/e:an electronic brain). The government dresses her in a futuristic battle suit, and starts calling her "Agent Kaiser" when it is revealed she is the Ultimate Weapon. She signs up to play in the aliens' Infinite Multiverse Arcade when she realizes her sister and aunt are in danger, and later gets a girlfriend. Her favorite underrated movie is Pixels, which the movie heavily focuses on. She uses kind tactics that leads the aliens to self-destruction. According to the director, she is "the exact result you get when you cross Carrie White with Elder God Demonbane", and is also a Trekkie who writes more Spirky versions of the Star Trek reboot trilogy which she calls "Kirk 'N' Spock:Black Hole Starship Heroes" based on her favorite movie series, Volcano Biker Cops.
Laurel "Red Feather"—Kira's 15-year-old Native American best friend and her partner in the arcade. Her favorite underrated movie is Disney's Chicken Little.
Coltrane Cartelli—An 15-year-old racing and spying fanatic and Laurel's love interest. His favorite underrated movie is Cars 2.
Sacre Bleu—a French-American 16-year-old space nerd. His favorite underrated movie is Independence Day:Resurgence.
Carl Schadowski—an 16-year-old who is obsessed with prehistoric mammals(i/e:mammoths, saber-toothed tigers, etc). His favorite underrated movie is Ice Age:Collision Course.
Mimi and Nini Jones—17-year-old twin sisters who always agree on (almost)everything. Mimi's favorite underrated movie is Transformers 3 and Nini's favorite underrated movie is Transformers 5.
D.W Calvert—the 18-year-old Pacific Rim enthusiast. Her favorite underrated movie is Pacific Rim:Uprising.
Mikaela "Mikey" Knight—An 19-year-old African-American girl who is the leader of the gang and the best friend of Kira's older sister Kelly. Her favorite underrated movie is the honored Ghostbusters 2016 Reboot.
Various 15-year-olds, 16-year-olds, 17-year-olds, 18-year-olds and 19-year-olds(the 19-year-olds, nicknamed the "Diamonds", are the highest social class in the group.)
Others
Kelly Kaiser, Kira's older sister and Mikey's best friend. She always daydreams of a knight in shining armor that will carry her away on his noble steed and refuses to believe that women can also be cool. However, in the end, she realizes that her "knight" is actually her sister.
Julie Day, Kira and Kelly's 26-year-old maternal aunt and Kira's mentor. She is considered a wise helper and a sage, and marries David in the end.
David "Yard Ape" Sage, Julie's love interest and later fiance(whom Kira despises, but later gets to like). He works as a vet in Honeypot Hill, a village right next to the Bird Alien District and opts to fight the aliens when they kidnap Julie. In the end, he and his daughter gets to live in the Bird Alien District with his new wife and her nieces.
Bo Sage, David's daughter from his previous marriage.
Sean Ford, Kira's former boyfriend and the coolest boy in school. He dumps her for a girly girl named Lucille.
Lucille, Kira's rival and former best friend, and the coolest girl in school. The two reconcile after Kira begins dating Obsidian Fury.
Mrs. Witherspoon, Kira's strict teacher who does not approve of the Underrated Movies Club. She is also a famous critic who refuses to believe that "underrated" is a word until she loses the case in the ending court scene and her job.
Holly Mallow, American Intelligence—Kira's other mentor and a member of the Terra Defense Force.
Kido Meade, American Intelligence—Holly's fellow Terra Defense Force member who has a crush on her.
Fleur, a bird alien who lives nearby Kira's home. Her species is one of the friendly aliens.
Odette, a swan who lives at the Galaxy Lake, Kira's favorite place in the Bird Alien District. She is the same species as Fleur and an old friend of Julie.
Prime Minister Shirley Ellis, supreme leader of the Galactic Federation centered around Earth. After Kira defeats the invaders, she awards her with a Galaxy Medal, a honor no man or woman has ever received before.
Planet T0M4T0 Aliens
The aliens are all colored, and their respective colors are described in ()s beside their names.
Samantha(Burgundy), the leader of the planet T0M4T0 who bears a striking resemblance to Art3mis.
Obsidian Fury, an algorithm created by the Aliens who is smitten with Kira. She is based on the Jaeger of the same name and later downloads herself onto Kira's electronic brain. Her main inspiration is Nia Teppelin.
Jordyn(Orange), an alien who learns the error of her ways and joins the Super Galaxy Underrated Movies Club. She can't speak English but can understand it, and becomes the new leader after Samantha is arrested, assisted by her parents until she reaches adulthood.
Randolph(Cadmium Green), an alien general who falls in love with Julie.
Floyd(CG Blue), an alien general who controls an entire army of Centipedes.
Kevin(Red), Jordyn's father who is a pacifist.
Jenna(Yellow), Jordyn's mother who is also a pacifist.
Moose(Green), an alien soldier who is defeated via Kira's tactics in the fifth round.
Tucker(Blue), an alien soldier who is defeated via Kira's tactics in the fifth round.
Ralph(Purple), an alien soldier who is defeated via Kira's tactics in the fifth round.
(Programmes)
Fraps
Adobe Premiere Elements 9
After Effects CS4
Adobe Photoshop
LSMaker
WavePad
Bandicam
Trainz 2004
Trainz 2006
Trainz 2009
Trainz 2010
Trainz 2012
Microsoft Train Simulator
Speakonia
Cepstral
Loquendo TTS 6.5.5
Loquendo TTS 7 Director
TextAloud
GIMP 2.8
Sony Vegas Pro 11
TGATool2
CrazyTalk
Lightwave 3D
Blender
Unity
Stop Motion Animator
Vision Lab Studio
Traction 2
Premiere Pro
MMD
Camstasia
Adobe Premiere Pro
Gimp
Chameleon
Artoonix
GameMaker
Trainz Paint Shed
MSTS Paint Shed
Windows Live Movie Maker
Windows Movie Maker
Sketchup
and more
(Sound Effects)
ay2_sfx.zip
Looney Tunes Sound Effects
Looney Tunes Voices
Cartoon Sound Effects
Train Sound Effects
Car Sound Effects
Explosion Sound Effects
Goofy Yell
Thunder Sound Effects
Sword Sound Effects
Mario Sound Effects
Sonic Sound Effects
Rain Sound Effects
R2D2 Sound Effects
Chewbacca Sound Effects
Goofy Holler
Goofy Yodel
Hanna Barbera Sound Effects
Looney Tunes Sound Effects
FXHome.com Sword Sounds
FXHome.com Sword Battle Sounds
Train and Rolling Stock Sound Effects
Vehicle Sound Effects
Rayman Sound Effects
Animal Sound Effects
Rain Sound Effects
Ray2_FX.zip
Soundtrack
Surrender-Cheap Trick (main theme)
Ashes-Celine Dion (opening credit song)
You Make My Dreams-Hall & Oates
Wannabe-Spice Girls
All I Know-Five For Fighting
One Little Slip-Barenaked Ladies
It's The End Of The World As We Know It-R.E.M
Can't Hold Us-Macklemore
Stir It Up-Patti LaBelle and Joss Stone
Wake Me Up Before You Go-Go-WHAM!
Fireball-Pitbull feat. John Ryan
Roses Are Red-Aqua
Cannonball-Kiesza
In The Blue Sky Arrange Version-Various Artists
Working For The Weekend-Knyght Ryder
Wires-Impactist
I Will Survive-Demi Lovato
It Ain't Gonna Rain No More-Various Artists
I Can't Defeat Airman-Team Nekokan (Maximum Insane Obstacle Challenge™ theme)
Fire And The Flood-Vance Joy
How I Love You-Rob Laufer (wedding song 1)
High Score-Henry Jackman (wedding song 2)
Nobody's Fool-Brad Paisley
Ain't No Mountain High Enough-Diana Ross (end credit song)
Score
Prelude-Back To You
Hello, I'm Kira Kaiser
Average Intelligence
Real World Consequences
An Unexpected Guest
Welcome To The Resistance
This Is Gonna Be Awful
Weirdos
Kira VS Moose
Kira VS Tucker
Kira VS Ralph
Does None Of This Seem Wrong?
Kira Falls In Love
How Kira Kaiser Broke The Internet
Expecting The Unexpected
All Eyes On Me
Captain Marvel Blues
Congratulations! It's A...
Sicko Mode
The Battle Of Two Minds
Uncontrollable
Awakening
Don't Mess With My Fury
Lullaby
What Little Girls Are Made Of
Get Me Out Of This
Stone Cold
Red Flag
Helium
Fire On Fire
You Have No Idea
On The Edge For Eternity
Diamonds & Terrazine
I Do, I Do, I Do, I Do, I Do
The Checkup
Blunder & Nightwing
There's Something I Need To Do
Totally Foolproof
Up To Speed
Fight For Me
We Did It
Your Honor, I Object
Samantha Punked
Kira Wins/Flawless Victory/Fatality
Segments
Level 1-Mecha Mayhem
Level 2-Chain Reaction
Level 3-Winged Avenger
Level 4-Sinestro 3.1
Level 5-White Lightning
Level 6-Cheat Challenge
Level 7-Return Descender
Level 8-Block Busters
Level 9-Sweet Revengeance
Level 10-Paintball Panic
Level 11-Shock Tactics
Level 12-Radar Riders
Level 13-Let The Nerds Take Over
Boss Level-The Kaiser Strikes Back
Featured Movies(AKA How Leyenar Oh Defines 'em)
Cool movies are written in bold.
Every good character out of an awful or overrated movie is written as (~ totally nailed it).
Underrated
Pixels
Chicken Little
Ice Age:Collision Course
Independence Day:Resurgence
Transformers 3 and 5
Pacific Rim 2
Cars 2
Flubber
Oliver & Company
Ghostbusters:Answer The Call
The Spy Who Dumped Me
Alvin & The Chipmunks:The Road Chip
The Angry Birds Movie
Actual Masterpieces
Every movie ever made by MARVEL, most notably The Avengers Series
Every movie ever made by Disney and Pixar
Every movie ever made by DreamWorks, most notably the Kung Fu Panda Series
The Lego Movie and The Second Part
The Angry Birds Movie 2
Every installment in the Despicable Me Series
Every installment in the Alvin & The Chipmunks Series
Every installment in the 007 and Mission:Impossible Series
Every installment in The Land Before Time series
Mamoru Hosoda's Summer Wars
James Cameron's Avatar
Every Hayao Miyazaki movie
Lu Over The Wall
Smallfoot, 2018
Flushed Away, 2006
The Fifth Element, 1997
The Iron Giant
Bumblebee, 2018
Rogue One:A Star Wars Story
Tengen Toppa Gurren Lagann The Movie ~Childhood's End~ and ~The Lights In The Sky Are Stars~
Overrated
Jurassic World 1 (Rexy totally nailed it)
Star Wars Sequel Trilogy (Kylo Ren totally nailed it, the 93% and 91% rating on Rotten Tomatoes are all thanks to him)
Star Trek Beyond (Jaylah totally nailed it)
Actual Crap
Venom, 2018 (Riot totally nailed it)
Jurassic World 2
Gods Of Egypt (Set totally nailed it)
The Amazing Spider-Man 2 (Electro totally nailed it)
Something Leyenar Can't Say It's Underrated Because A Sequel Is Coming
Power Rangers 2017 Reboot
Something Leyenar Can't Say It's Overrated Because Spielberg
Trivia
The director revealed that Kira Kaiser is pansexual, with a preference for non-human females in particular.
Kira's uniform was inspired by this.
Kira's parents were abducted by unknown aliens when Kelly was 5 and Kira had just been born.
Kira is the only one who calls David "Yard Ape", but after David and Julie get married, Kira finally calls him "Uncle David".
Kira, Kelly, and Julie's house is meant to be a reference to the Infinity Acceptance Center in The Angry Birds Movie.
Fury calling Kira "Kira-Kaiser-Average-Intelligence"(though only in signals) is meant to be a reference to the Ben 10 episode "Alone Together" along with the line "Ben would have known what Reiny was saying.".
Kira and Fury's relationship is strongly implied like that of Korrasami, save for these lines:
D.W:Hey, Big K, is that your Jaeger?
Kira:Girlfriend.
The wedding scene in the end is meant to mirror Peaches and Julian's wedding in Ice Age:Collision Course.
Kira's nickname for Fury is "Iron Jaeger", since her particle charger resembles Iron Man's uni-beam.
In the opening credits, a young Kira is shown playing with a miniature Obsidian Fury(which is destroyed after the house gets blown up, leaving only a piece of chainsaw). Much to everybody's surprise, that toy actually is something that belongs to the director.
The final "battle" resembles a court scene from legal drama movies, with everybody present and a Maximum Insane Obstacle Challenge™ added in the final moment. The director also drew inspiration from the Tal'darim Rak'Shir, a formalized duel system whereby someone may challenge another person to individual combat, but was more like a legalized coup.
Before "Kira's Finest Hour", there was "Leyenar's Finest Hour", a movie about the director herself exploring underrated movies and telling people why they are great. But when she looked upon it later, it was far from perfection. So she decided to remake it into a Pixels-based movie.
"Kira's Finest Hour" is also based on a book the director read in her dreams. She can't remember the title exactly but it DEFINITELY had "Secret Society" in it. The book was about a group of teenagers making the coolest machine in the whole entire universe, and there was a court scene too. It ended with the phrase "Every person is a good person". Does anybody know where that book went? Is it even real? But one thing is for sure:The director wants to read it again!
The armored red Arcader uniform Laurel wears is inspired by what the director wears in her daydreams.
Possible sequel
In the end, Kira hears from her aunt about what happened to her parents and swears revengeance on the aliens who abducted her parents, leaving the door wide open for a sequel but the director hasn't confirmed or denied anything yet.
She only mentioned a title, "Kira's Finest Hour 2:Super Ultra Dead Rising 3 Arcade Remix Hyper Edition Ex Plus Alpha" and also said if there ever is a sequel, it's gonna further exploit on what happened to Kira's parents, how Kira got the electronic brain, if the Big A's(Kira's way of saying Artanis and Alarak together) actually ended up going on that date or not, why the DC comic writers kept Hal and Sinestro apart for so long and will also involve the second installment of "Kirk 'N' Spock:Black Hole Starship Heroes" as well as a Totally Lethal Unfair Obstacle Challenge™.