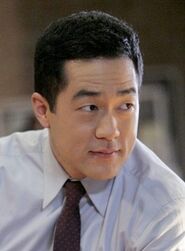 Kevin Choy is a main character in the American crime drama, Hartman.
Biography
Born in Sacramento, California, in October 1978.
Hartman
Season 3
TBA
Season 4
TBA
Season 5
TBA
Season 6
TBA
Season 7
TBA
Season 8
TBA
Personality
Choy was a down-to-earth investigator who was often by-the-book stoic in his demeanor, but cared about those who matter to him most. His edietic memory allowed him to piece together facts to help his colleagues while helping them in his final moments when Choy rushed to protect James Greico's son Oliver from criminal Trent Donahue for the second time, saving Oliver's life in the courthouse shooting by shielding the boy as Donahue shot at him, killing the noble investigator in the process. After his funeral, James and Choy's boss Ellis Fontana praise his heroic sacrifice.
Relationships
Ginny Kim (wife)
Anthony Choy (son)
Ethan Choy (son)
Jenny Choy (sister)
Trivia
Community content is available under
CC-BY-SA
unless otherwise noted.