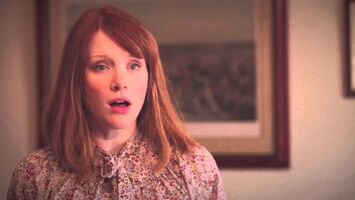 Katherine Sullivan is one of the main protagonists in the TV series, The Sullivans.
Biography
Born in New York City, New York in March 1990, Katherine was the third oldest of the four children of NYPD detective Gordon Ashford and Elizabeth Ashford. When Katherine was 10, Gordon was about to present damning testimony against a notorious New York mob boss after witnessing the boss and one of Gordon's police colleagues who had turned corrupt murder an informant and record video of the killing. After he hid the video, Gordon and his family, including Katherine, were about to put in witness protection when a mob hitman known as "The White Tiger" murdered her parents, her two older siblings Doug and Barbara, and several of her father's police colleagues. She and her younger Joey managed to escape to the subway and hide from the danger. After the tragedy, she and Joey were raised by their paternal uncle Henry, a sheriff of a New York county, and his relatives. In adulthood, Katherine and Joey became estranged when the former wanted to find and catch the hitman responsible and the latter wanted to forget the tragedy and move on.
After getting a law degree in Yale, she moved to Denver for a fresh start.
The Sullivans
Season 1
TBA
Personality
A tough, hard-nosed Executive A.D.A. After she and her younger brother Joey witnessed the murders of their parents and two older siblings by a mob hitman, she became dedicated to protect families from suffering the same fate she endured in adulthood. She is a very intelligent woman and is known to be feisty and stubborn at times, like her husband Drake. As a prosecutor, Katherine is stern and uncompromising against those who commit unthinkable crimes against families, women and children, but she is very compassionate towards victims of domestic violence, child abuse and rape. She is a good wife to Drake and loving and sometimes overly protective mother to their children, Finn and Mary.
Relationships
Trivia
Community content is available under
CC-BY-SA
unless otherwise noted.