Katherine Tracy Sullivan (born March 28, 1990) is one of the main protagonists in the TV series, The Sullivans.
Biography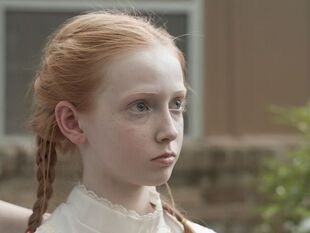 Born in New York City, New York in March 1990. Katherine was the third oldest of the four children of NYPD detective Gordon Ashford and Elizabeth Ashford. When Katherine was 10, Gordon was about to present damning testimony against a notorious New York mob boss after witnessing the boss and one of Gordon's police colleagues who had turned corrupt murder an informant and record video of the killing. After he hid the video, Gordon and his family, including Katherine, were about to put in witness protection when a mob hitman known as "The White Tiger" murdered her parents, her two older siblings Doug and Barbara, and several of her father's police colleagues. She and her younger Joey managed to escape to the subway and hide from the danger. After the tragedy, she and Joey were raised by their paternal uncle Henry, a sheriff of a New York county and his relatives. In adulthood, Katherine and Joey became estranged when the former wanted to find and catch the hitman responsible and the latter wanted to forget the tragedy and move on.
After getting a law degree in Yale, Katherine moved to Denver for a fresh start. She joined the Denver D.A. office and soon became an ADA. One night, she met Drake Sullivan at the bar and they flirted with each other, despite their differing personalities. Then Drake's ex-girlfriend Sharon Carlyle showed up and after some time talking with both of them, Drake opted to drive Sharon home. Katherine herself left a while afterward. Shortly afterwards, Drake was accused of murdering Sharon and Katherine ended up as second chair to the ambitious EADA Milo Stetler on the case. Remembering how Drake was with Sharon and noticing some inconsistencies in Stetler's opening statement, she came to believe that he was innocent. With help from some allies, including then-ADA Andrew Bishop and then-Sergeant Eugene Winder, they discovered that Stetler had deliberately suppressed video evidence that exonerated Drake of the murder, and that the real murderer was another one of Sharon's ex-boyfriends, Henry Addison, the son of then-Senator Louis Addison, who was complicit in covering up his son's crimes with Stetler. After proving his innocence, Drake profoundly thanked her for clearing his name and asked her out on a date, which she accepted.
After three years of dating, Katherine and Drake were happily married. Afterwards, she gave birth to their son Finn in 2019. In 2021, her daughter Mary was born during COVID-19 pandemic when Katherine was high-risk of the virus due to Placenta Previa. However, her obstetrician Dr. Gary O'Meara and the other doctors did a C-Section to save Katherine and Mary was delivered safety. As her conviction record was high, Katherine became Executive Assistant District Attorney.
Since she and Drake started dating, he had given Katherine combat and firearms training in order for her to fend for herself and their family if needed. She is also licensed to carry firearms.
The Sullivans
Season 1
While working on other cases, Katherine still continues to find the hitman who murdered most of her family with Drake's help. Her uncle Henry shows up for a visit and he reveals to her that he has some health issues and that Joey is further isolating himself from the family. When she learns Joey came to Denver for a book signing, she and Drake went to his book signing. Joey told his older sister to not to check in on him in the future, but his girlfriend Sarah Foxworth reveals that they are having relationship problems and Katherine hints that they had a childhood tragedy. Joey furiously confronted Katherine in front of Drake and Katherine for telling his girlfriend about their childhood trauma. Katherine and Drake stood up to him as Ryan orders him to leave his premises.
During a murder of a nurse whose adopted son Wayne Prescott has schizophrenia, they found a diary has her father's badge number and the date of her family's murder. She and the others discovered that Wayne was born Wayne Curry, whose father Sam Curry was a NYPD analyst who worked with Katherine's father. Wayne revealed to her, Drake, Sergeant Nicole Richter and the others that Katherine's father came to Sam after an informant was murdered by the assassin known as the "White Tiger" by order of the mob boss Richie Altieri. He revealed that the "White Tiger" also killed his parents, but his father hid the video before he was killed. Before he can revealed where it is, they were attacked by assassins. Although Katherine survived unstarched, Wayne was critically wounded and was told that he died. Later, Drake revealed to Katherine and Richter that Wayne survived, but is in a coma and he, Cohen and forensics psychologist and criminal profiler Dr. Kendall Fleiss kept him hidden so the White Tiger wouldn't finish the job. Although upset with Drake about keeping Wayne's survival a secret from her, she understands her husband's motivations to protect her and their children and to keep Wayne alive so they can find the White Tiger.
She, Drake and their colleagues later teamed up with Captain Chloe Hartman and her MCS colleagues again on a case of child sex slave ring.
Season 2
Katherine works with Alicia Pearce and her colleagues from Denver P.D.'s Vice Unit over sex trafficking case. During their investigation, they rescue a some group of missing girls but struggles of who is behind the ring. As Katherine and her family were returning home from vacation, they came to the aid of abused children of oil billionaire John Fitzgerald who murdered their mother. While she and Cohen with Fitzgerald's son Justin at the safe house, they were attacked by Fitzgerald's and his men. Katherine hid her cell phone for Drake to listen to what's going on as one of Fitzgerald's men ties her up. Using her quick-thinking, she got him to confess to the murders of his father and his wife which Drake and the others heard on the phone. As Cohen fights the henchmen, Katherine breaks free and fights Fitzgerald until Drake and others arrives, leading to Fitzgerald's arrest.
Also, Katherine discover Mary's new friendship with Audrey Evans. She and Drake grew to like Audrey but she is left concerned about Audrey's adopted father and her past. Katherine attempts to finds out Audrey's past or biological parents but struggles to find any leads. On Christmas, after prosecuting five spree rapists dressed as Santa Claus, Katherine is given gifts from her family, including a lovely necklace by Drake. She gives Drake a expensive watch with their names craved on it.
While working on the case, Katherine search more information about Audrey's personal life. But she was presents for a trial, somebody broken into Katherine's office and delete the files of Audrey on the computer. But then, Hessa Cohen and Mario Nazario arrive at the office where they found the man in the office. The man knocked them out before locking Cohen and Nazario in the office and then setting it on fire. Katherine, Trent Doyle, Jeremy Peake and Lance Quelling rushed to the office where they rescue Cohen and Nazario but the evidence of Audrey was destroyed. Katherine later showed Drake at home that she copied information of Audrey on her USB drive. During a case where a high-risk pregnant woman was abducted, she met up with Dr. O'Meara, where she remembers what her old OB doctor did for her. After saving the woman's baby, who died after giving birth, she and her family attend to O'Meara's retirement ceremony and gives an emotional speech about how she wouldn't be with her family and put away so many bad people if he hadn't saved her and Mary.
When Andrea's brother Mikey was investigated for a murder charge, she called Katherine who called Emily to represent him. When Katherine and Drake met up with a witness who told them that she saw Mikey with the victim, but another woman followed him. But en route to the FJU, a car pulls up and the driver fired at them and the witness was killed despite Drake and Katherine's efforts to save her. Katherine convinced Emily not to drop out of Mikey's case due to the death threats she received. But Mikey was later exonerated, thanks to a mystery witness (Audrey). Then, Katherine has the deal with the situation when Mary reveals the video of Andrea and Evans' argument.
Later, when Drake, Katherine and the FJU had to deal with another situation when Hannah Wie's pregnant sister Lisa was severely beaten up by her husband Jason when she finally tells him that she is leaving him. Lisa is taken to the hospital and Jason is arrested after being caught trying to skip town. Lisa gives birth to a baby girl but tragically dies from the stress of the childbirth and Jason's beating. After an angry Drake chastises Jason for murdering Lisa before arresting him, Katherine told the Wie family that Jason will get the full ride for his crimes. After this tough day, Drake and Katherine comfort each other in her office.
Then, Andrea and Jackson arrive at the office where Andrea tells Drake and Katherine about her abusive relationship with Evans before revealing herself as Audrey's biological mother. Katherine and Quelling informs Drake, Winder and Alicia about Evans' meeting with Congressman Dean Ryder. Drake and Alicia has a bit disagreement about the plan but Katherine tells them that they should keep the info about the mastermind. Then, Ryan arrives with Finn and Mary, telling Drake and Katherine that Audrey has gone missing. Drake worries that Audrey might have met a similar fate as Lisa but Katherine assures him not to go there yet. While dealing the situation about Evans, Katherine gives Hannah some solace over Lisa's death.
After a tense showdown, the FJU finally arrested Evans, Ryder and the other men while Audrey is found unharmed with the help from Finn and Mary. Katherine reunite with her children where she and Drake praise them for saving Audrey and tipping them off about the restaurant, but express disappointment and ground them for running off to find Audrey and nearly getting themselves killed in the process. Mary and Finn accept their punishment.
Season 3
Three months after the human trafficking trial, Katherine and Doyle prosecute Jason Russo for the murder of Lisa, but have faced with Stetler and his lawyer nephew Zack, hoping to win the case for revenge against Katherine. After the Stetlers got vital evidence thrown out, Katherine and the others received much needed momentum when Jason's ex-girlfriend Jessica Palermo came forward and reveal his abuse on her, which Jason has a juvenile record for. Using this, Katherine confronts Jason for abusing Jessica and Lisa, causing him to snap and attempted to attack her, which destroys the defense team's creditability and leading to Jason's conviction.
Katherine gets involved when a family was murdered by a Russian hitman working for a Russian crime syndicate that is connected worldwide. During the case, she asks Fleiss about Stetler and she notes to that he is an unprincipled grandiose narcissist, and that he'll do anything to win against someone he feels has wronged him. Later, she receives some tragic news that her uncle Henry passed away. She and her family traveled to upstate New York to attend his funeral. She was reunited with her brother and her two cousins, Benjamin and Tracy.
TBA
Personality
A tough, hard-nosed Executive A.D.A. After she and her younger brother Joey witnessed the murders of their parents and two older siblings by a mob hitman, she became dedicated to protect families from suffering the same fate she endured in adulthood. She is a very intelligent woman and is known to be feisty and stubborn at times, like her husband Drake. As a prosecutor, Katherine is stern and uncompromising against those who commit unthinkable crimes against families, women and children, but she is very compassionate towards victims of domestic violence, child abuse and rape. She is a good wife to Drake and loving and sometimes overly protective mother to their children, Finn and Mary.