Kaleb Nikolas Jovanovich (b. October 25th 1974, Melbourne, Australia-) is an Australian musician best known as the vocalist and lyricist for doom metal band Winter's Soil since the band's formation in 1995. He also performed in the funeral doom duo Decaying Sorrows alongside Michael Tägtgren of Yggdrasill Burning.
Biography
Personal life
Kaleb Nikolas Jovanovich was born on October 25th 1974 to Russian mechanic Nikolas Borisnev Jovanovich and English actress Christine Jovanovich née Green; born a few months after his family migrated from England, where his older brother Anthony was born. He also has a sister, Alexandria, born in 1980. His brother is a successful lawyer in Sweden and his sister is the wife of fellow Winter's Soil bandmate Nick Hales since 1997.
Kaleb began dating contempary artist and gothic musician Alana Stone in 1998 after meeting at a local concert where both Winter's Soil and Alana'd band The Deadpuppets performed. They were married on June 18th 2005; with their first child Ambrielle born in 2006. Jovanovich suffers from clinical depression; having been diagnosed at age 15. He has said that whenever his family or friends got angry at him he became depressive and sad, and found solace only in his music. His father Nikolas was a Vietnam veteran, and suffered from chronic back pain due to injuries, drinking heavily to cope with stress and pain. He often showed favoritism over Kaleb's older brother than himself. Nikolas tried to commit suicide when Kaleb was 17; by trying to hang himself. In 2003 after a phone call with his father; who had recently had back surgery, Kaleb was called by his mother who had found Nikolas dead with several gunshot wounds on his bed. Jovanovich has said his father's suicide spurred him to attempt so himself, but his girlfriend intervened.
In writing the extremely depressive lyrics in his bands Kaleb has frequently suffered from episodes of severe depression. He has said that in many interviews that although the songs make him depressed, they also give him solace. He currently resides in Melbourne with his wife and daughter.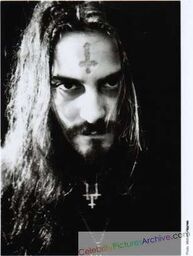 Musical career
After finishing school in 1992, Kaleb and his brother Anthony took a two month holiday in Sweden. Whilst there Kaleb became deeply engrossed in the local doom metal scene; befriending members of the doom band Yggdrasill Burning.
Community content is available under
CC-BY-SA
unless otherwise noted.