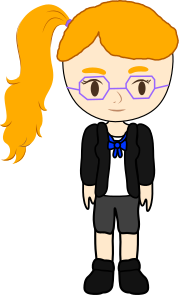 Justina Ramirez Jones is a female scientist/historian working in the Theodore Roosevelt Science Research Facility.
She first appeared in the video game/short YouTube film with the working title The Roaring Twenty-Twenties, and was first voiced by Starlight the Cat.
Biography
A feared mad scientist-turned member of the Theodore Roosevelt Science team, Justina Ramirez was known to have discovered Dud13's ancestor, Anna "Capone" Jones and her craze for the Gros Michel Banana variety, in which Justina also learnt that Anna Jones may also be her ancestor as well.
Justina was also known for her tendency to create new chemicals behind closed doors.
Life and work
Early life
Part 1
Justina Ramirez Jones was born in Albemarle County, Virginia in the community of Ivy on September 18, 1982. She was the son of David Tapscott,[1] of Welsh ancestry, and Janet Ramirez,[2] of English ancestry. After her father was rushed to the emergency room of hypothermia in November 1984, she moved with her mother and stepfather Jabarrie "Lopez" Ramirez to Georgia.[3] They lived in a sincere development in Oglethorpe County. She sort of grew up as an orphan, causing her to resent foster parents. In elementary school, in about 6th grade, Justina Ramirez was called in sick, while she actually was hidden under a desk looking for a sharpened pencil in the classroom. Instead of the teacher reporting her to the principal, he hesitated and asked her to stand up.
Part 2
Justina had no formal education until she was 13 years of age, but during her time in Georgia she enhanced her skills as a hunter and outdoorsman/lumberjack on the weekends (and when there is no school) while going to elementary school on weekdays before she turned into a teenager. She would often venture out in the middle of the night in the dead of winter with only her toy weapons to go hunting. Even at an early age, she was interested in natural history, which would develop into a lifelong passion. Her mother taught her how to gather wild herbs for medicinal purposes. At the age of 20, she started to hunt on her own using real weapons and now drives a Chevrolet in the forbidden woods.
In the Broad River Valley, Justina first dealt with Spanish-Americans. Justina seems to have been a champion for them among her own people. While in Georgia, she met a scientist from Black Mesa, who encouraged her to travel on weekends and do science at 25 years old on weekdays. At age 13, she was sent back to Virginia for education in public schools. Her father's older brother Nicholas Francis Jones became her guardian while at home and her protector out in the woods.[3] One of her teachers was Mary Sparkles, aka Mrs. Sparkles, a unexpectedly nice and strict middle school teacher. In 1993, She moved to California to attend Fresno High School. It wasn't until 2000, that she graduated from high school. In 2004, Justina graduated from California State University, Fresno.
Her Job
In 2004, she moved to Green Hills with her real parents and got hired to be a scientist in the Theodore Roosevelt Science Research Facility.
Physical Appearance
Roosevelt Employment Outfit
In Roosevelt, Justina wore a white lab coat and had her ID attached to the lab coat, she wore a white t-shirt underneath without anything on it, and she wore grey trousers. She still wore her hair in an off-center ponytail or braid on the right side and she still had school bus yellow hair.
First Everyday Outfit
Outside Roosevelt, Justina had a Victorian-Edwardian clothing style. She wore a black frock coat and a light yellow tweed waistcoat over a wing-collared shirt with usually a dark blue ascot tie or ribbon tie and tartan trousers. She wore her hair in an off-center ponytail or braid on the right side and once had a scar on the left side of her face that went away completely. She had school bus yellow hair and had clothes that heavily resembled the first doctor from Doctor who as Justina's clothing style was derived from her ancestor.
Second Everyday Outfit
Justina wore a dark grey t-shirt without anything on it, and she wore light grey shorts. She still wore her hair in an off-center ponytail or braid on the right side and she still had school bus yellow hair.
Behind the Scenes
The scientist's appearance is influenced by the First Doctor from Doctor Who. She is voiced by Starlight the Cat.
Justin Ramirez is the first member of the Jones family to have ever been seen in a film.
Appearances
The Roaring Two-Thousand Twenties (first appearance)
Cite error: <ref> tags exist, but no <references/> tag was found
Community content is available under
CC-BY-SA
unless otherwise noted.