| | |
| --- | --- |
| | The owner of this page is iloveandimack. According to policy, no other user, with the exception of admins, may edit this page without the owner's permission. If they do, they will receive an automatic 3 month block. If you are the Owner, and someone edits your page, alert Chris6d immediately. |
The Just Dance: Ariana Grande Version will come out in 2022. 99 tracks, plus 22 Unlimited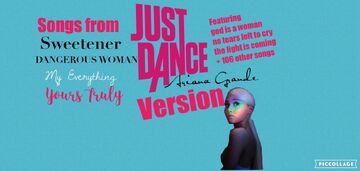 Exclusives.
Songs (listed by album): 142 Tracks + Unlimited Exclusives+ Singles+ EPs
k bye for now (swt live)
raindrops (an angel cried) (live)
god is a woman (live)
bad idea (live)
break your with your girlfriend, i'm bored (live)
r.e.m (live)
be alright (live)
sweetener (live)
successful (live)
side to side (live)
7 rings (live)
love me harder (feat. The Weeknd) (live)
breathin (live)
needy (live)
fake smile (live)
make up (live)
right there (feat Big Sean) (live)
you'll never know (live)
break your heart right back (feat. Childish Gambino) (live)
nasa (live)
tatooed heart (live)
only 1 (live)
goodnight n go (live)
in my head interlude (live)
everytime (live)
the light is coming (feat Nicki Minaj) (live)
into you (live)
my heart belongs to daddy (live)
dangerous woman (live)
break free (live)
no tears left to cry (live)
thank u, next (live)
thank u, next
imagine
needy
nasa
bloodline
fake smile
bad idea
make up
ghostin
in my head
7 rings
break up with your girlfriend, i'm bored
thank u,next
ɹǝuǝʇǝǝʍs
raindrops (an angel cried)
blazed ft. pharrell williams
the light is coming ft. Nicki Minaj
r.e.m
god is a woman
sweetener
successful
everytime
breathin
no tears left to cry
borderline ft. Missy Eliott
better off
goodnight n go
pete davidson
get well soon
Dangerous Woman
Moonlight
Dangerous Woman
Be Alright
Into You
Side To Side ft Nicki Minaj
Let Me Love You ft. Lil Wayne
Greedy
Leave Me Lonely ft. Macy Gray
Everyday ft. Future
Sometimes
I Don't Care
Bad Decisions
Touch It
Knew Better / Forever Boy
Thinking Bout You
My Everything
Intro
Problem Ft. Iggy Azalea
One Last Time
Why Try
Break Free ft. Zedd
Best Mistake ft. Big Sean
Be My Baby ft. Cashmere Cat
Love Me Harder ft. The Weeknd
Just A Little Bit Of Your Heart
Hands On Me ft. A$AP Ferg
My Everything
Bang Bang ft Nicki Minaj,Jessie J
Only 1
You Don't Know Me
Yours Truly
Honeymoon Avenue
Baby I
Right There ft. Big Sean
Tattooed Heart
Lovin' It
Piano
Daydreamin'
The Way ft. Mac Miller
You'll Never Know
Almost Is Never Enough ft. Nathan Sykes
Popular Song ft. MIKA
Better Left Unsaid
Unlimited Exclusives (Unreleased Songs)
Four is released each 2 weeks, do quests to unlock them.
My Way (sweetener)
She Got Her Own (sweetener)
Sober (sweetener)
You (sweetener)
Ain't About What You Got (Dangerous Woman)
Intro (Dangerous Woman)
It Ain't Right (Dangerous Woman)
I've Heard It Both Ways (Dangerous Woman)
She Got Her Own (Dangerous Woman)
Not Afraid Of Love (My Everything)
Ridiculous (My Everything)
The Way It Is (My Everything)
Boyfriend Material (Yours Truly)
Do You Love Me ( Yours Truly)
La Vie En Rose (Yours Truly)
Nobody Does It Better ( Yours Truly)
Pink Champagne (Yours Truly)
Put Your Hearts Up ( Yours Truly)
Stick Around (Yours Truly)
Suitcase ( Yours Truly)
Voodoo Love ( Yours Truly)
Your My Only Shawty (Yours Truly)
Extreme Version
thank u,next
sweetener
Dangerous Woman
My Everything
Yours Truly
Singles
Jason's Song (Gave It Away)
Focus
Santa Tell Me
Put Your Hearts Up
boyfriend (feat. Social House)
Eps
Christmas Kisses
Last Christmas
Love Is Everything
Snow In California
Santa Baby ft. Liz Gillies
Christmas and Chill
Intro
Wit It This Christmas
December
Not Just On Christmas
True Love
Community content is available under
CC-BY-SA
unless otherwise noted.